---
Advertisements

---
This one is for the gallows or corpse humour, one supposes; say your jokes and make your peace.
Wedding Ceremony at Nirvana Memorial Garden
A wedding ceremony is one of the biggest milestones in a person's life, doubly so if it's something that they've always planned on or have been looking forward to.
The religious hold them in their respective temples of worship, pragmatic ones just grab a few witnesses and head to the Registry of Marriage, and some go the extra mile with fancy function halls that's decked to the nines.
Last Saturday (23 Jul), Huang Yuanjie and his wife Zhuo Xingjuan chose an unorthodox venue for their Chinese wedding ceremony.
A columbarium called Nirvana Memorial Garden to be exact.
Naturally, it was located in the second scariest place in Singapore after Yishun, which is Choa Chu Kang.
Why did they pick such a unique location though?
Where I Met Your Mother/Father
Apparently, it was where the couple first met.
The 34-year-old groom told Shin Min Daily News that they first became acquainted a few years ago.
His 24-year-old wife had been paying her respects to her deceased relatives while he was touring in the area.
"It's fate," Mr Huang says, adding that they have already registered their marriage two years ago, and they haven't held the wedding ceremony yet.
---
Advertisements

---
Which is completely understandable, considering how the pandemic was raging worldwide.
It's quite odd that the couple chose to take their wedding photos there, and for good reasons too.
Wedding ceremonies are viewed as auspicious occasions, while funerals or anything dealing with the dead is inauspicious.
In the past, there were even traditions where all weddings or auspicious occasions (like New Year Celebrations or an infant's full month celebration) would be totally cancelled to observe a mourning period that can last for as long as three months to three years.
Join our Telegram channel for more entertaining and informative articles at https://t.me/goodyfeedsg or download the Goody Feed app here: https://goodyfeed.com/app/
However, since the parents on both sides were very "open-minded" and supportive of their decisions, they allowed the couple to hold their wedding at the columbarium.
The groom elaborated that it was also a way for him to "inform" his deceased relatives that he was getting married and pay respects to them at the same time.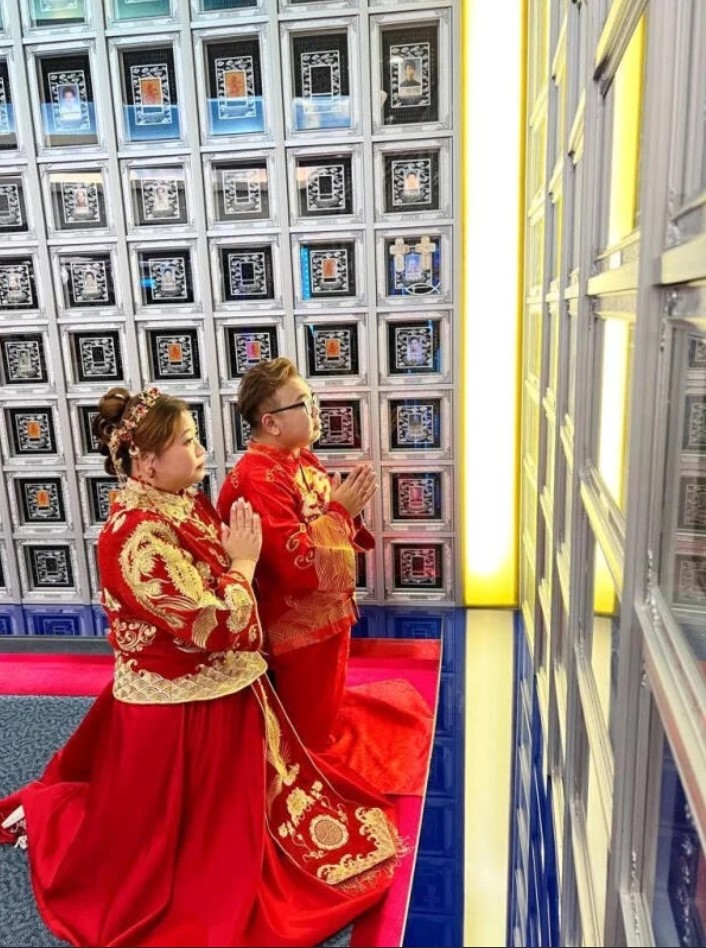 Well, all the power to him, taking the traditional three bows to Heaven, Earth and Parents all the way to his ancestors and cousins, however many times removed.
It should also be noted that the columbarium does have a few locations which make good backdrops.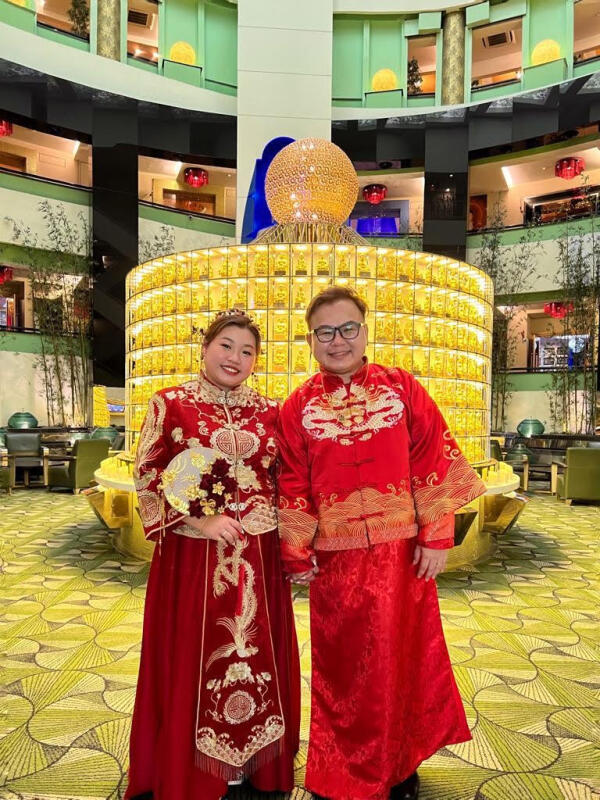 Rare But Not Unheard Of
According to the person in charge of the columbarium, Mr Huang and Ms Zhuo are the third couple this year that came to a place of mourning and ancestral worship in their traditional wedding costumes.
He sees it as a sign that the mindset of the younger generation is changing, as the older generation are more inclined to believe that it's a taboo to do so.
---
Advertisements

---
In any case, happy wedding to the newlyweds!
Read Also:
Featured Image: Shin Min Daily News (新明日报)

Your parents are wrong: MSG (Monosodium Glutamate) is good for you (sort of). Here's the truth:
Read Also: