When I first joined Goody Feed and asked how much I'd be paid, my boss chuckled and said I'd be paid peanuts.
I laughed too, until I discovered he literally pays his writers in peanuts.
Boss: At least they're sugar-coated, right?
Sure, the sugar really helps with paying the electricity bills.
Boss: You're welcome
As we all know, some business owners are only concerned with making money and couldn't care less about the welfare of their employees.
But if you think your boss was bad, try working for this design company.
Startup Looks for Experienced Designers to Work for Free & Exposure 'Coz They're Not Making Revenue
Need a job? Well, there's a company looking for designers with lots of experience.
There's just one hitch though: you'll have to work for free. 
On Wednesday (24 March), Reddit user u/lonerphantom shared an image of a job listing he came across on the social networking site Linkedin.
The user seemed incredulous with the demands of the company, given that they weren't prepared to offer employees any financial compensation.
In the listing, the company asked for a designer with the following qualifications:
Education background in Graphic Design or a related field
Proficiency in Adobe Creative Suite and other graphic design software
3+ years of experience in Photoshop, Illustrator, and InDesign
Experience in designing logos, icons, infographics
Good knowledge of typography and layouts
Knowledge of editorial designs, magazine layouts, and print designs
Now, given the long list of requirements, and the fact that the employee has to have around 3 years of experience, you'd expect the company to offer a decent salary, but nope.
Under the subheading "Compensation", here's what the company said:
"As of now, the work that the candidate is expected to put in will have no immediate monetary compensation, as the business is not making any revenue".
Yes, you'll have to work for free.
---
Advertisements
---
This is the part of the ad where designers probably had to pick their jaws up from the floor.
Don't be put off, though, there are other intangible forms of compensation, as the company listed.
This includes:
"exposure in working with an early-stage startup and directly with its co-founding team"
"personal growth for resume, future careers, etc"
"recommendations"
"possible payroll when the business becomes profitable"
Yes, even when the business becomes profitable, you'll only possibly get paid.
Here's the full job listing: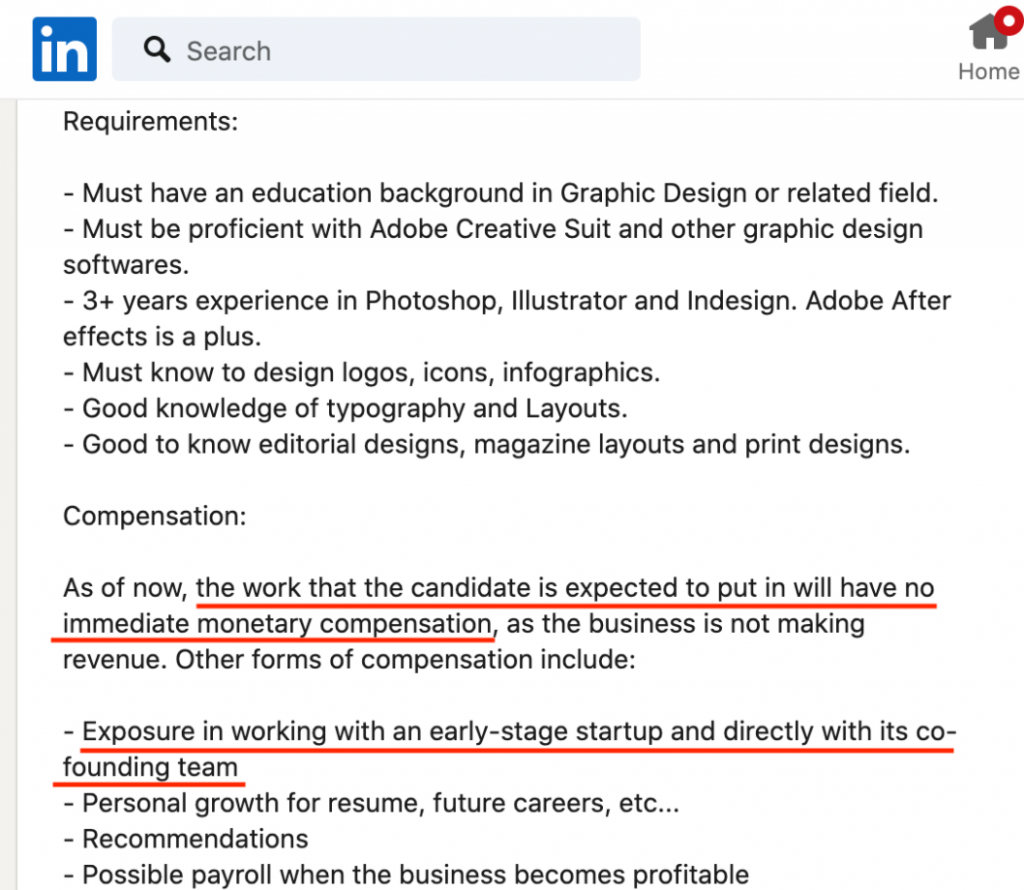 Netizens' Reaction
As you can image, netizens weren't too pleased with the company's unreasonable demands.
---
Advertisements
---
Others joked about the ridiculous ad.
With the pandemic emptying our bank accounts faster than bubble tea discounts, a job where we get paid in exposure is not exactly what we need right now.
As for me, I'm planning to ask my boss to give me a raise and pay me in macadamia nuts. Wish me luck.
Featured Image: Reddit
---
Gong Cha and Heinz have collaborated to come out with a Tomato Bubble Tea series. We tried them and died. Here's why: