In case you've missed it, Xiaxue is no longer cancelled.
The Twitter user who goes by the handle @elouease took to the social media platform on 4 Nov 2020 to apologise for the allegations she made against Xiaxue and retracted them.
Revealing herself to be Elouise Quek Li Bin, she admitted that she has made a "folder and document containing similar allegations about Xiaxue" before circulating it to the public with the intention to get Xiaxue's business partners and sponsors to stop working with her.
"I understand and realise that the allegations have caused Xiaxue to suffer financial losses and I regret this. I did a mediation with Xiaxue and had the opportunity to hear her views.

"I am sorry that my conduct has caused Xiaxue distress, loss, and damage."
You can read more about the apology here.
But it seems that the acclaimed queen of blogging is now embroiled in another public spat, this time with a political figure that we're all familiar with.
Charles Yeo.
Shooting into stardom(?) with his memorable attempt to cover up for missing teammates during the GE2020 live broadcast, Charles Yeo has been making waves on the internet for the past months.
First with his razor-biting remarks to the CEO of Razor, then the entire incident with Imran.
And now? The queen of the Internet, Xiaxue.
Xiaxue & Charles Yeo Trade Blows in IG Stories After Xiaxue's 'Victory' with Twitter User
On 6 Nov 2020, it was made known that Charles Yeo, current chairman of Reform Party and social affairs commentator took to his IG stories to give his two-cent view about the Xiaxue-Eunice saga.
Okay, more like 2-dollar views since his comments are as explosive as C4.
Calling Xiaxue out for bullying, Yeo said that he believes that he will "have the opportunity to take her down a few notches."
He also expressed his unhappiness with her political beliefs and called her an "ugly old irrelevant joke" who's not worth anybody's time.
You can read his IG stories below: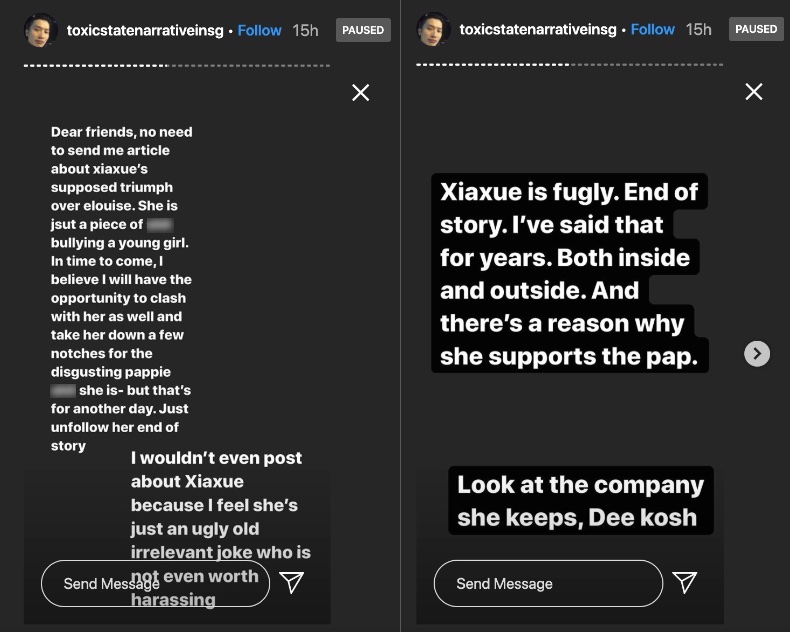 ---
Advertisements
---
Xiaxue Retaliates
Calling Yeo's comments a flashback to "good old days", she likened him to the internet haters she used to have back in the heydays.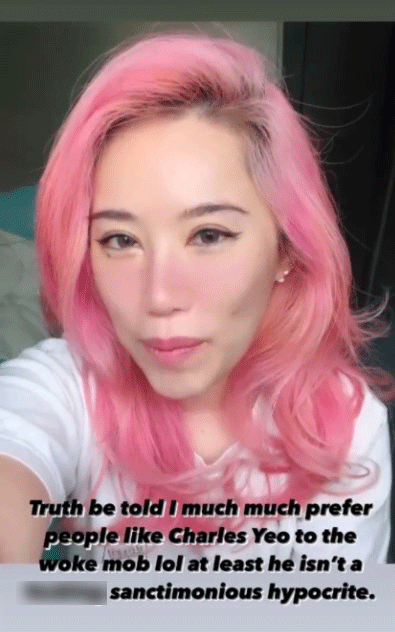 "The people who disliked me are exactly like Charles Yeo — they are angry ugly guys who are probably not getting any sex. They are on Hardware Zone, talking about who they are masturbating to."
Of course, she doesn't hesitate to drag in the "woke crowd" which got her into this messy situation in the first place, and says she prefer people like Yeo who isn't as hypocritical.
And because this is Xiaxue, you know she has to go one level above.
In the following post, she searched out pretty female influencers that Yeo had "liked" on Instagram.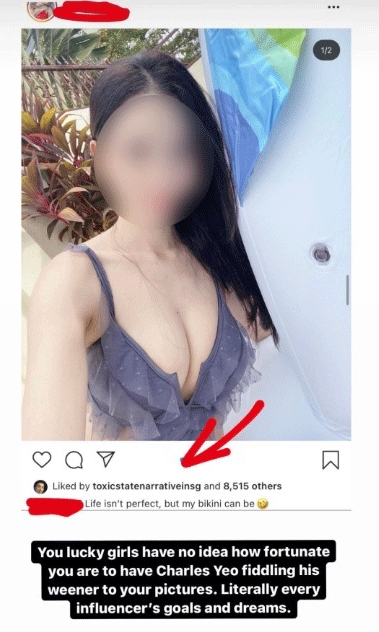 ---
Advertisements
---
Charles Yeo Responded Via Facebook Video
As with every internet saga, when one party fires, the other party has an obligation to respond.
And Yeo responded with a 27-minute Facebook video. Yes, the platform where he claimed in the video to have deactivated previously.
Not the entire video is about Xiaxue. He spent the first 20 minutes of the video discussing another individual, Jonathan Auyong, so if you're interested in watching the video below, you can fast forward to the 20-minute mark.
While he acknowledged that Xiaxue is "genuine", he called her views ignorant and explained why "people in power" don't like a "woke crowd".
He also had a problem with Xiaxue's actions which he perceives as bullying.
---
Advertisements
---
You can watch the full video below:
Well, one thing for sure, now that we're (somewhat) done with the saga for now, let's focus on other more important matters like how nightlife in Singapore is going to get restarted soon.
Like writing? Goody Feed is looking for writers! Click here for more info!