---
Advertisements

---
While it's no secret that celebrities and other public figures may often get hate comments from those around them, how the celebrities choose to respond to the comments differ from individual to individual.
And in local actress XiXi Lim's case, it seems like her response to hate comments might be the model response for how public figures can reply to unkind remarks in the future.
Received Multiple Fat-Shaming Comments Through Instagram
Yesterday (28 June), Lim uploaded a series of Instagram stories on her account to address hate comments that an anonymous user on Instagram has been sending her constantly as of late.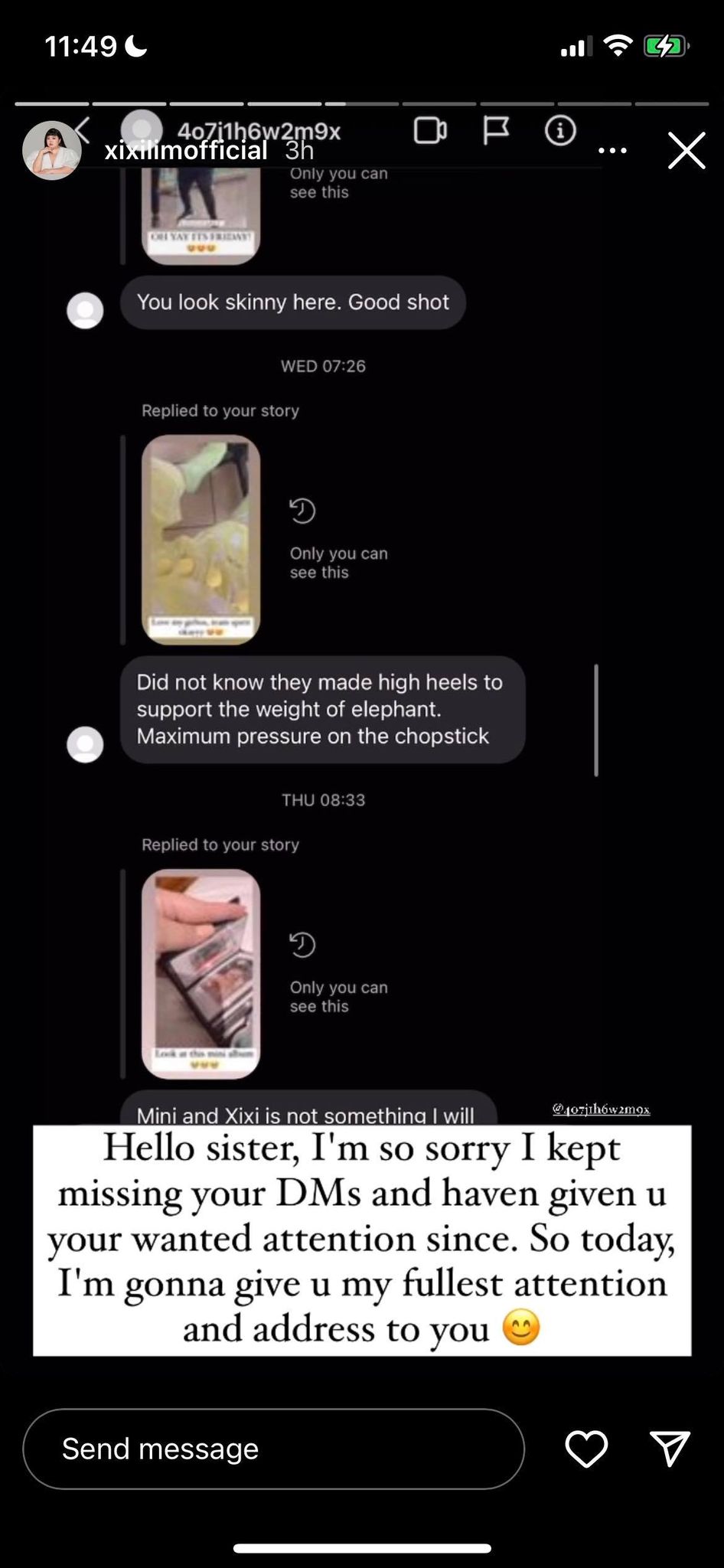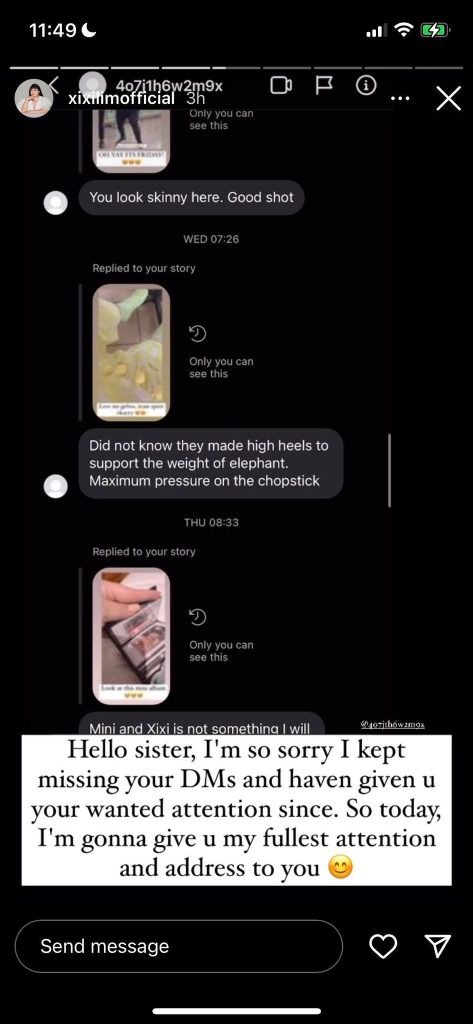 The remarks, which were mostly meant to fat-shame the 34-year-old Ah Girls Go Army (AGGA) actress, were written as replies to Instagram stories that Lim had posted on her account.
As seen above, the user even gave a backhanded "compliment" by saying that Lim looked slimmer in a photo that she posted on her Instagram stories.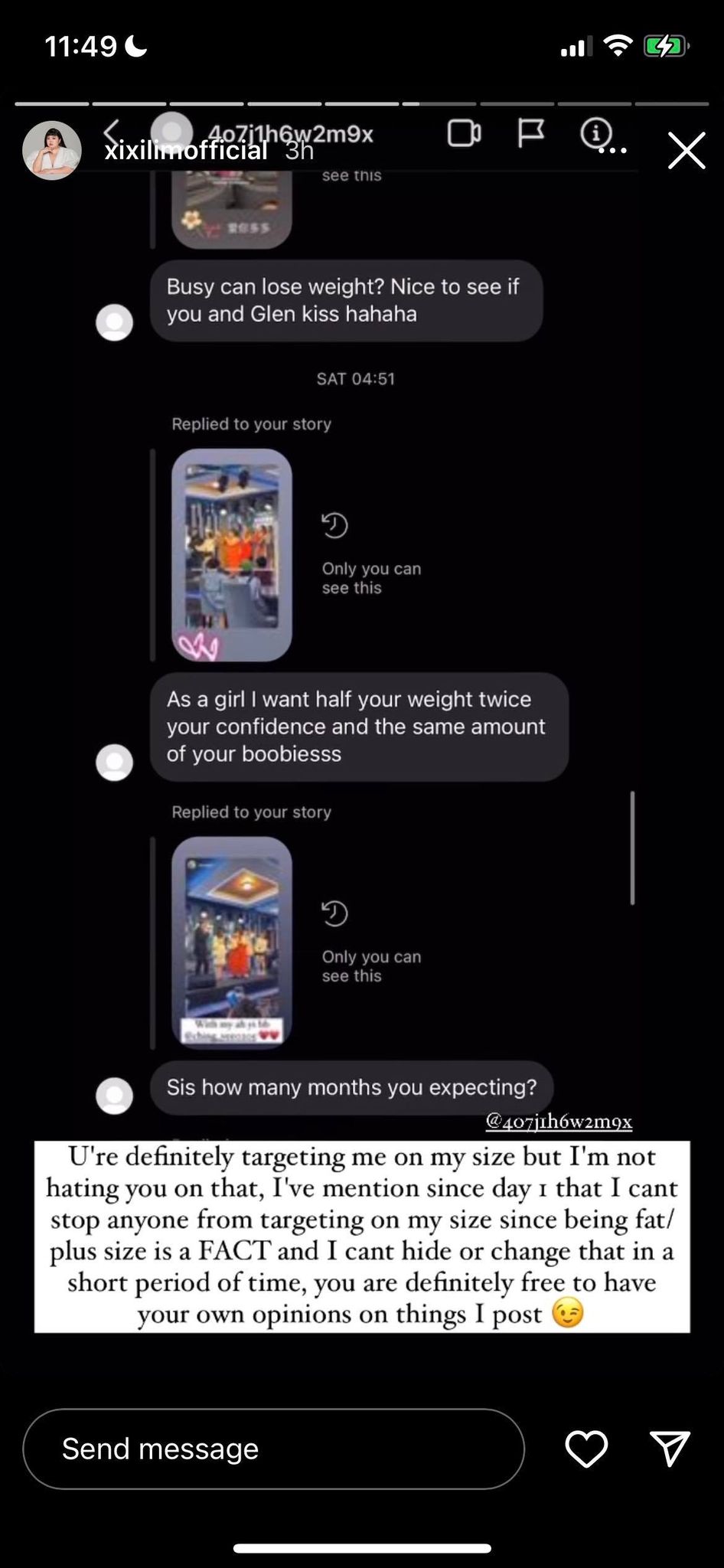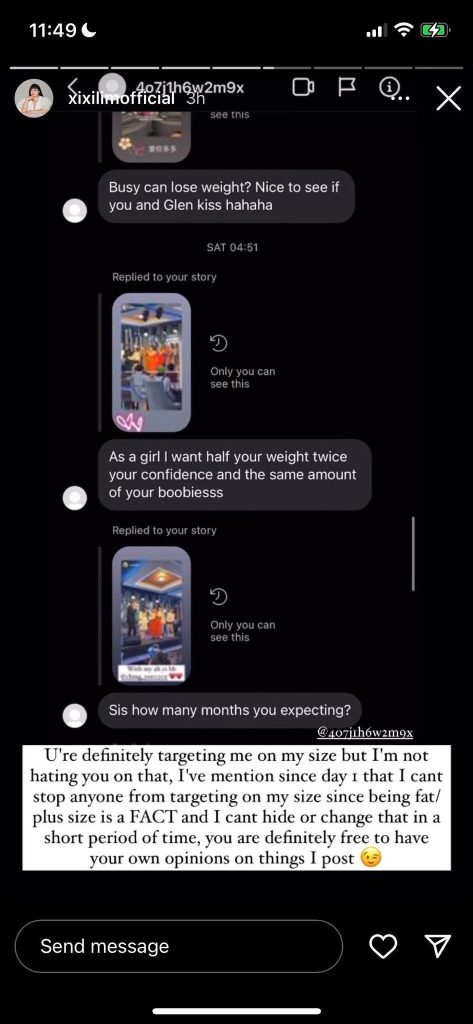 The user, who said that she was a girl, also wrote about the friendship between Lim and fellow actor Glenn Yong, who have been co-stars in various works and are friends beyond work as well.
The pair is also known to fans as "Glenxi", which is their "ship" name.
---
Why the Ridout Road Colonial Houses Saga is Actually NOT a Saga:
---
In particular, the user implied that Yong was "too good" for Lim, given her physical appearance and size.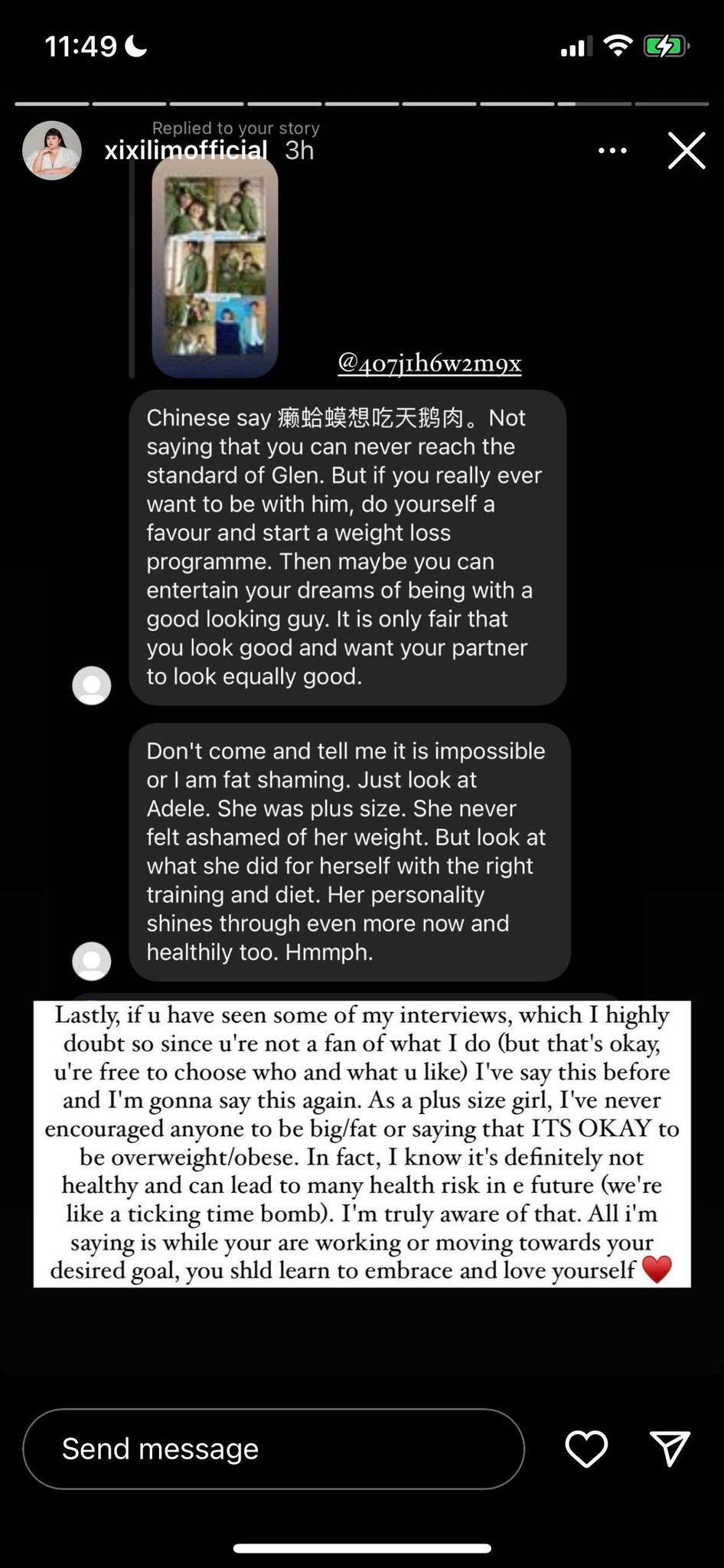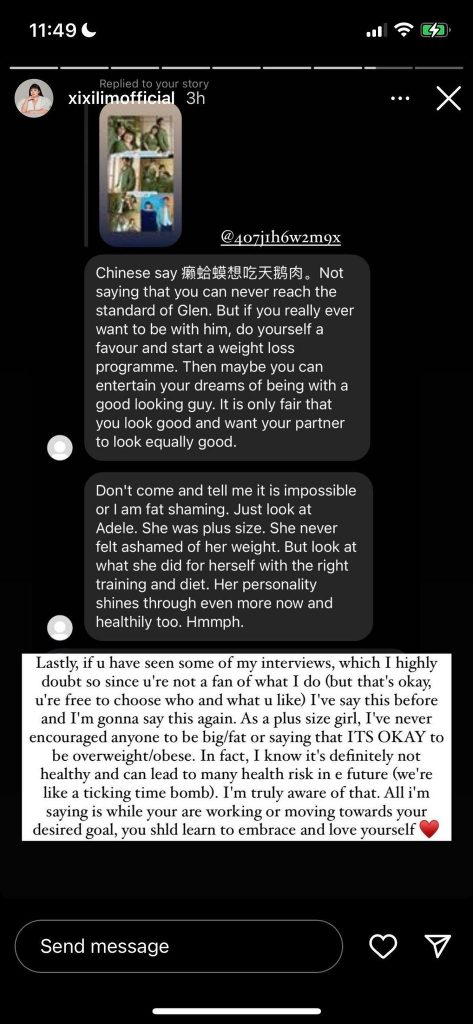 She even told Lim to "start a weight loss programme" before "[entertaining her] dreams of being with a good looking guy".
The user then added, "Don't come tell me it is impossible or I am fat shaming", although most people might raise their eyebrows at the user's claim that she did not fat-shame Lim.
Lim's Response
Along with the screenshots of the user's messages to her, Lim candidly said that her "being fat/plus size is a FACT" and that she cannot hide change her physical appearance in a short period of time.
---
Advertisements

---
She also wrote that everyone has the right to their own opinions, that the user is "definitely free" to have her own too and that she does not "hate" the user for her opinions.
The actress then highlighted, "I've never encouraged anyone to be big/fat" and that she never said that it was alright "to be overweight/obese" since she knows about the health risks that come with obesity.
Despite that, she added that one should "learn to embrace and love yourself" when working towards certain goals in life.
Lim concluded her series of Instagram stories by sharing that she has been "trying to cut down on [her] weight" through exercise, and that she knows the importance of being physically healthy.
She also emphasised that she is doing so for herself and not to "match" the standards that others may set for her since "everyone [deserves] to be loved" regardless of their appearance.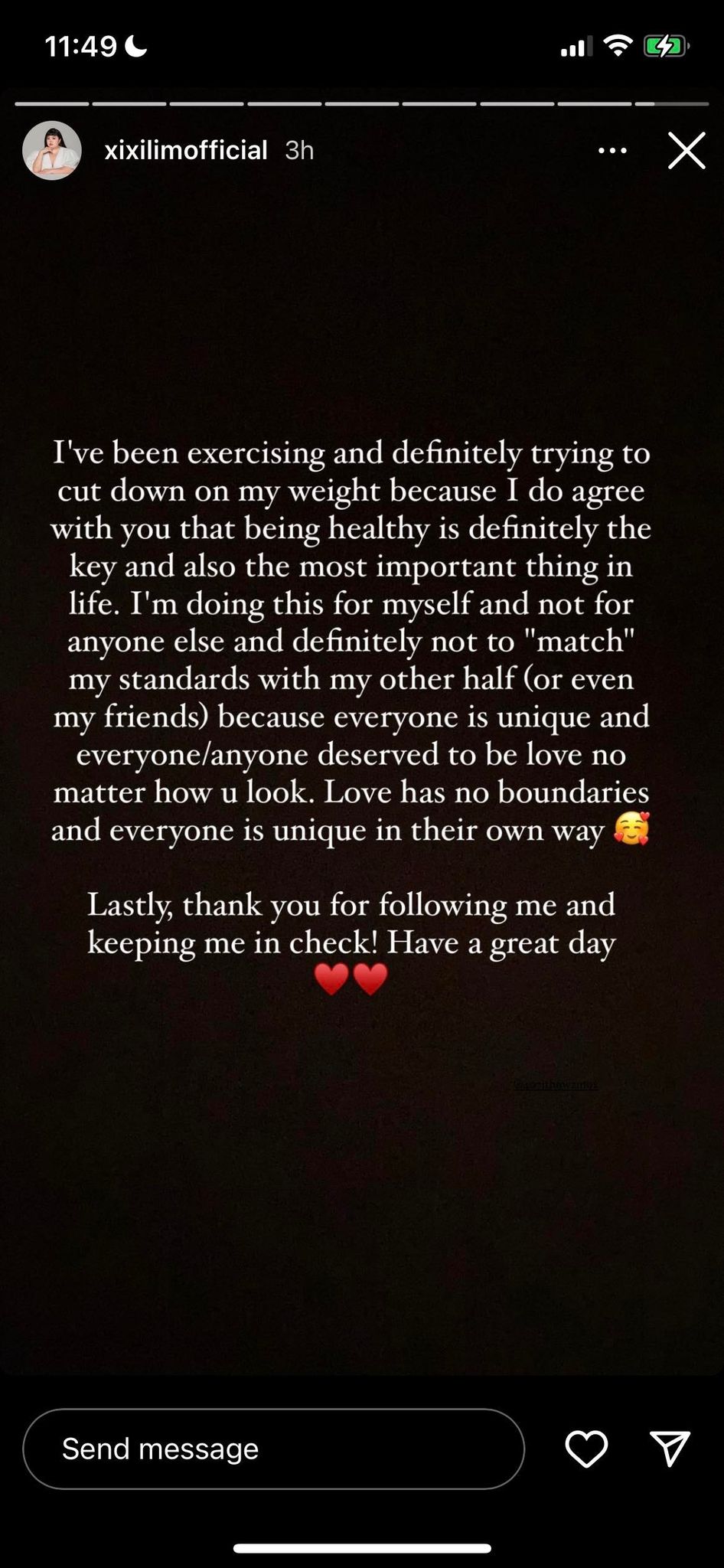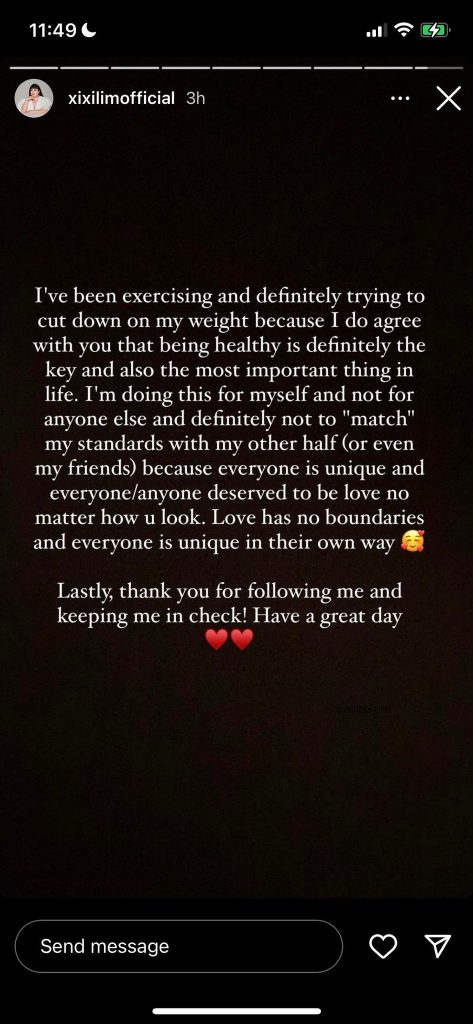 She also took the opportunity to thank those who checked in with her after she revealed the nasty comments that she received.
Criticism of AGGA Character Name
Earlier this year, Lim's weight and appearance came into the spotlight as well after her AGGA character was named "Yuan Yuan Yuan".
"Yuan" means "round" in Chinese, and is often used to describe those who, well, have a "rounder" or larger physique.
Back then, many questioned if the movie was trying to fat-shame Lim on purpose through her character's name.
Both Lim and director Jack Neo responded to the criticism that the movie received, with Neo claiming that Lim's character would exceed the audience's expectations.
---
Advertisements

---
On the other hand, Lim addressed the issue by acknowledging that she is unable to stop the public from discussing her physical appearance and how it may link to her character's name, but she hoped that others would "give her and her characters a chance"
She added that Yuan Yuan Yuan is simply "just a name".
Join our Telegram channel for more entertaining and informative articles at https://t.me/goodyfeedsg or download the Goody Feed app here: https://goodyfeed.com/app/
Lim's Past Struggle With Body Image
However, despite Lim's positive outlook on others' opinions about her size and looks, the actress previously admitted to struggling with her body image when she was younger.
When speaking to L'Officiel Singapore last March, she revealed that she went on diets in her teenage years in an attempt to fit in.
She even described her teenage years as "horrible".
The turning point for her was when she saw a model with a tooth gap in a lingerie store, and that was when she realised that the "difference" in the model was what made her "memorable".
---
Advertisements

---
This inspired her to stop trying to fit in with others, and instead use her appearance as a way for her to be unique and stand out.
Lim has also talked about the reasons behind her advocacy for plus-sized women with Zula, where she revealed that she underwent "a lot" previously.
She explained that she speaks up for plus-sized women as she is aware of the struggles they go through and hopes that others do not have to endure the same kind of pain that she went through in the past.
Read Also:
Featured Image: Instagram (@xixilimofficial)