---
Advertisements

---
From sushi to Muji, Don Don Donki and Uniqlo, Singaporeans just love everything Japanese.
And now, it's time to embrace the latest addition to our island—Nitori.
Established in 1967, it's Japan's largest furniture and home furnishing retailer, with 692 stores in Japan, and 90 more in China, Taiwan, United States and Malaysia.
Its Singapore flagship at Orchard Road opens to the public on 31 March (today!) so here's all you need to know about the new furniture brand.
Household Name in Japan (Literally)
Nitori might be newly established in Singapore, but it is already well-known in Japan. In fact, it is quite literally a household name over there because Japanese homes are filled with Nitori's products.
Speaking to CNA Lifestyle, Soichi Oda, Nitori's executive officer and head of ASEAN, said, "Everyone in Japan knows Nitori.
"Most Japanese homes contain at least three Nitori products, whether it's a cup or furniture. Parents buy our baby bedding for their newborns, and our study desks and chairs when their kids start elementary school," he said.
"When young adults move out of their parents' to a bigger city for university or their first job, our kitchen, bedroom and living room 'starter packs' provide the basics for solo living. Empty nesters wanting to turn their kids' former bedrooms into a study come for desks and office chairs."
Japandi Styling
It's not hard to see why Nitori's products appeal so much to the Japanese.
Most Nitori furniture features organic Japandi styling, a soft neutral nature-inspired palette and affordable price points.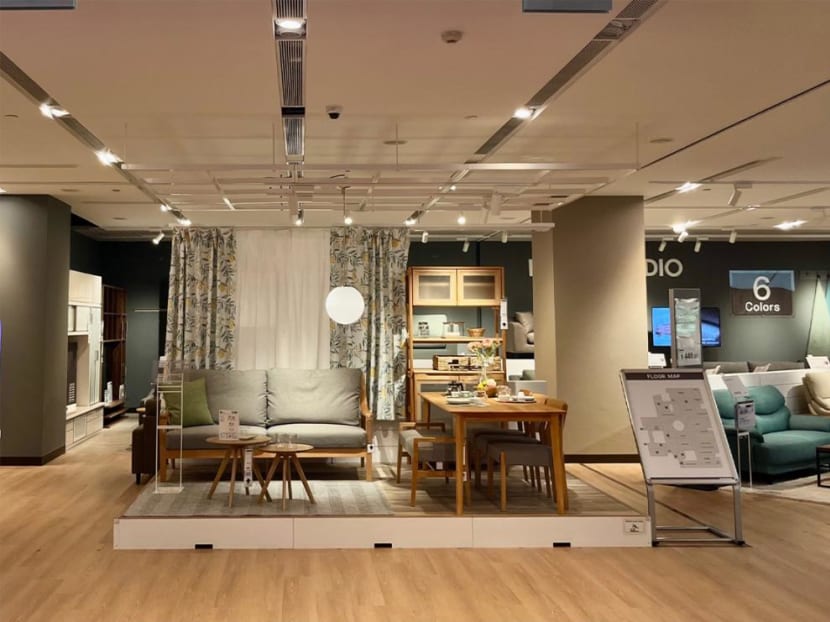 If you aren't an interior design nerd, Japandi style is a mix of Japanese and Scandinavian styles. The former focuses on simplicity, contentment and slow living while the latter focuses on comfort and cosiness.
---
Advertisements

---
Both styles have been on the rise lately in interior design, making Japandi essentially the best of both worlds.
Catered for Asians
But beyond just aesthetics, Nitori also prioritises practicality—especially for Asians.
It's no secret that Asian homes are smaller than their Western counterparts. As such, Nitori designs its furniture to be more compact and comfortable for the smaller home and person.
Dining tables are 5cm to 6cm lower than standard European ones, and narrower too.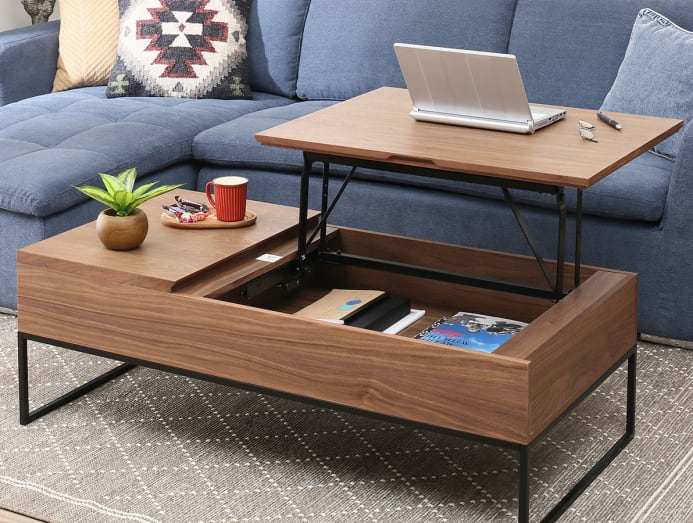 By incorporating vertical storage, the industrial-chic S$279 Lavoro 93 desk takes up a surprisingly small footprint; the S$449 L-shape desk folds in on itself like a Swiss army knife.
The sofas sit more upright and shallow. This not only saves space but provides better back support. Some are ready-made, while others can be customised with your preferred choice of fabric or leather.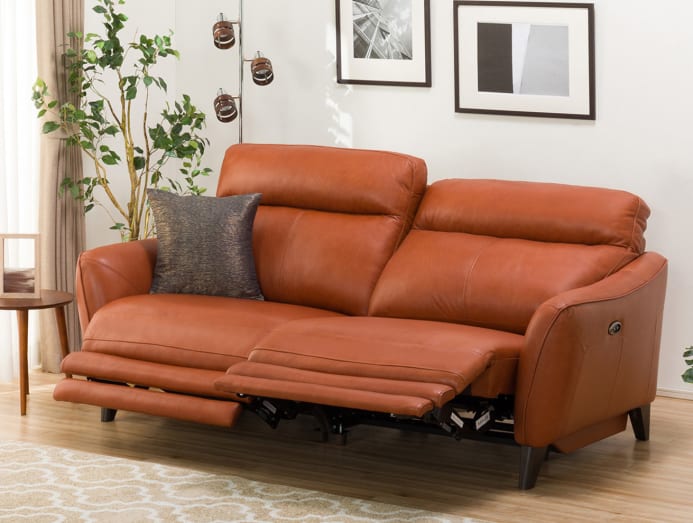 "Our furniture is designed for Asian builds while bearing in mind that homes and household sizes are getting smaller," Oda explained. "Some people say our furniture seems too small at first encounter, but end up realising they feel more comfortable in it."
Pillow Haven
If there's anything we love (and need) most in Singapore, it's a good sleep.
And Nitori gets us.
The newly-opened outlet features two aisles' worth of pillows, pillows and more pillows.
---
Advertisements

---
It features all types of pillows—poly-fill, memory foam, honeycombed latex, feathers, buckwheat, even hollow plastic tubes.
Priced from S$7.90 to S$89.90, these cater to all varieties of sleepers whether it be back, side or front sleepers, snorers, or those who just love hotel-style comfort.
There's even a weird-looking P-shaped pillow-bolster hybrid, and a cool-to-the-touch bouncy one titled Mochi Mochi, promising the same springiness as the Japanese glutinous rice cake.
The best part of it all is you can even try out the pillows before purchasing them.
Next to the display of pillows is a bed for pillow-testing and in the true hygienic Japanese manner, it also comes with a dispenser for disposable pillow cases.
Just don't get too carried away with the testing and drift off to snoozeville.
---
Advertisements

---
N-Cool Collection
What really takes the cake though, is Nitori's N-Cool series.
There's nothing we dislike more than the heat here and the N-Cool collection is exactly what we need to combat it.
N-Cool features Nitori's "Cool-to-the-Touch" technology that promises to reduce heat from the body while being antibacterial, deodorising, water-absorbent, quick-drying, and machine-washable.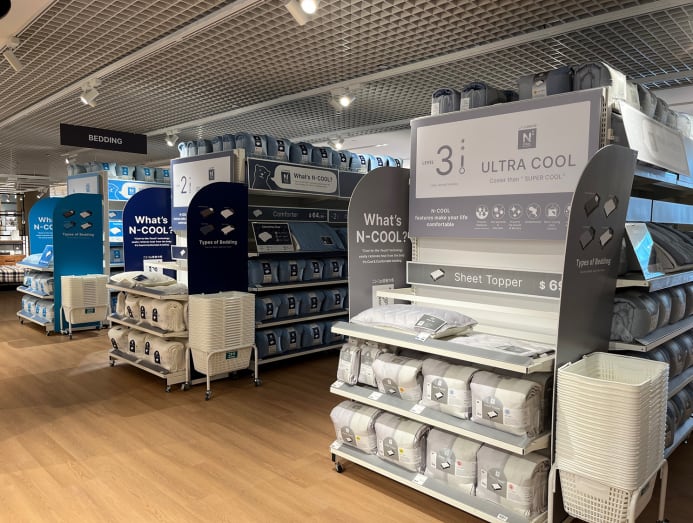 The sheet toppers come in three levels: N-Cool, N-Cool Super, and N-Cool W Super, all of which are on display and available for visitors to touch.
Besides sheet and pillow toppers, the N-Cool collection includes fitted sheets, pillow covers, rugs, and cushions.
---
Advertisements

---
Join our Telegram channel for more entertaining and informative articles at https://t.me/goodyfeedsg or download the Goody Feed app here: https://goodyfeed.com/app/ 
Lots of R&D
Another thing Nitori takes very seriously is research and development. It manages all aspects of the business from product planning, design, manufacturing, distribution and sales of over 90 per cent of its products.
Most Nitori items are market-tested via focus groups or customer surveys. Anything that receives less than an 80 per cent approval rating gets canned.
It even has an app for employees to suggest new products, as well as internal competitions with cash prizes to reward the best ideas.
Close attention is also paid to social media to monitor what's trending. That's how Nitori knows exactly what you want to see on their shelves.
To keep things affordable, almost 60 per cent of the household items are made in China, while its N-cool fabrics, dining furniture and kitchenware are made in Vietnam. Many of its wood items come from Thailand, while sofas are made in Malaysia.
Before launching in Malaysia, Nitori staff visited eight Malaysian families living in terrace houses and condominiums, measuring everything from ceiling heights to kitchen sizes.
They also observed details such as how often and what they cooked, what pieces of furniture they owned, what colours they liked, and even whether they used "room shoes", slippers specifically for wearing indoors.
"This information helped us decide what the Southeast Asian market wants," Oda explained.
---
Advertisements

---
High-Tech and Wide Range of Products
Nitori's detailed production and technology creates some of their most unique products.
The company's traditional-looking ceramic plates, cups and bowls glazed in beautiful deep green, blue and yellow hues may look pretty, but that's not all there is to them.
Nitori managed to make its own kind of ceramic that's thinner, lighter, and dishwasher and microwave-safe.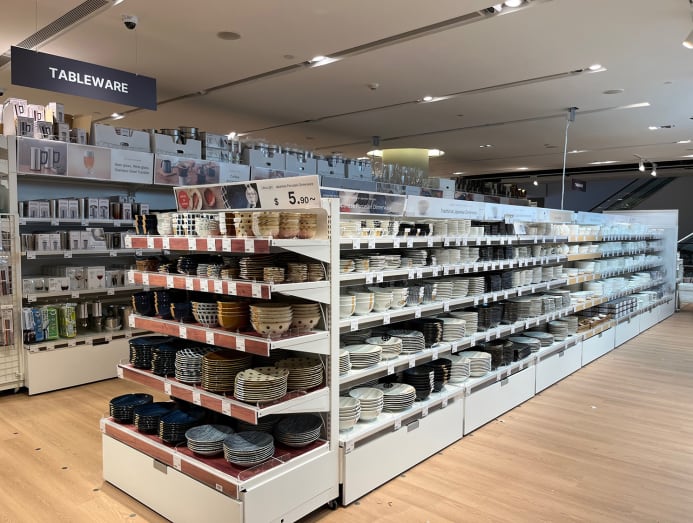 It also sells ready-made curtains and gives you the option to get custom-tailored ones.
Their most amazing feature? The day curtain has multiple benefits such as UV protection, heat reduction, opacity, and even dust-proofness.
Not forgetting the bathroom, Nitori has a selection of diatomite bath mats. These mats feel like stone but have miraculous moisture-absorption properties.
With many of us enjoying home-cooked meals, Nitori caters to this with a diverse range of pots and pans. They even have special tamagoyaki pans and kettles that can double up to cook instant noodles for one.
Easily Assembled Furniture
Nitori also boasts furniture that is easy to put together. Branded as N-Click, the system claims to allow one to assemble a chest of drawers in 10 minutes without tools and screws.
View this post on Instagram
This is mind-blowing because other DIY furniture usually requires at least an Allen key, screws, and an hour to set up.
But yes, even 10 minutes is too much time for the busy Singaporean.
Nitori takes that into account and charges a delivery fee for purchases, with the fee covering free assembly too.
How it Differs from Muji and IKEA
Alright, time to address the question you are all curious about.
We are all familiar with the Swedish retail furniture bigshot and the zen-minimalistic Muji, so how does Nitori differ from the two well-known brands here?
Well, Oda answers, "Ikea is more European in terms of style and size and more colourful. While Nitori has a more Japanese aesthetic, like Ikea, we both provide our customers more quality of life.
"While Muji is Japanese like us, its aesthetic and product range are more narrow, strict and minimalist; Nitori is priced lower than Muji, yet provides more variety and more choice."
In essence, Nitori strikes a good balance between the homey feel of IKEA products and the Japanese style of Muji.
Promotions
If you are all ready to head down to Nitori, you would be even more stoked to know there are some ongoing promotions.
From 31 March to 18 April, shoppers can enjoy these opening promotions:
Redeem a free shopping bag, while stocks last, with a minimum purchase of S$70 in a single receipt.
Receive a free N-Sleep pillow pad when you purchase an N-sleep bed mattress
Enjoy free furniture delivery (worth S$40) when your purchase exceeds S$599
Nitori is located on the fourth floor of Courts Nojima the Heeren and is open from 11am to 10pm daily.
So what are you waiting for? Head down and achieve your lifelong dreams of a Japanese-style home now!
Read Also:
Featured Image: Nitori

Here's why a 4-day workweek might finally really be possible in Singapore soon:
Read Also: