---
Advertisements

---
Before 1993, there was just one day a year where singles were reminded of their lack of a significant other and how empty their beds were in the morning – Valentine's Day.
But that year, Nanjing University created Singles' Day or Bachelors' Day, which seemingly had the same purpose as Valentine's Day – to make singles depressed.
In reality, it was actually created to celebrate singlehood rather than lament it, which is what singles do on 11 Nov every year.
That's why single folks all over the globe use this day as an excuse to treat themselves, as a reminder of the gloriousness of being unattached.
Now, with more online stores than stars in the sky, there isn't exactly a dearth of options when it comes to the best deals to get your hands on that special day.
Reader: But there are so many deals out there, which one should I go for?
That's a great question, dear fictional reader. Fortunately for you and your single soul, I've compiled a list of the best 11.11 deals out there, so get your wallets out, dust your kitchen, and bathe your dog, because here we go!
Shoppee: $60 Cashback All Day
We'll have to start with a local giant of e-commerce – Shoppee. 
According to an Instagram post last month, Shoppee will be offering $60 cashback all day on 11 Nov this year, $500k worth of giveaways every two hours, and an extra $6 off $50 discount on over 2,000 brands!
View this post on Instagram
All you have to do to win their big giveaway is:
Follow @shopee_sg
Like the post above
Repost this giveaway on your IG Stories & tag @shopee_sg
Comment and tag a friend
Head here for more information.
Lazada: $6 off Every $60
Head to Lazada's website and you'll know all about their 11.11 sale as they're hyping it up to be their biggest single-day sale ever!
In celebration of Singles' Day, Lazada is offering $6 off for every purchase of $60.
Huge discounts and vouchers on a variety of products will also be on offer, on everything from skincare products to smartwatches!
Shoppers who make purchases on Lazada can on Singles' Day also stand to win a condominium worth $1,000,000, according to their website.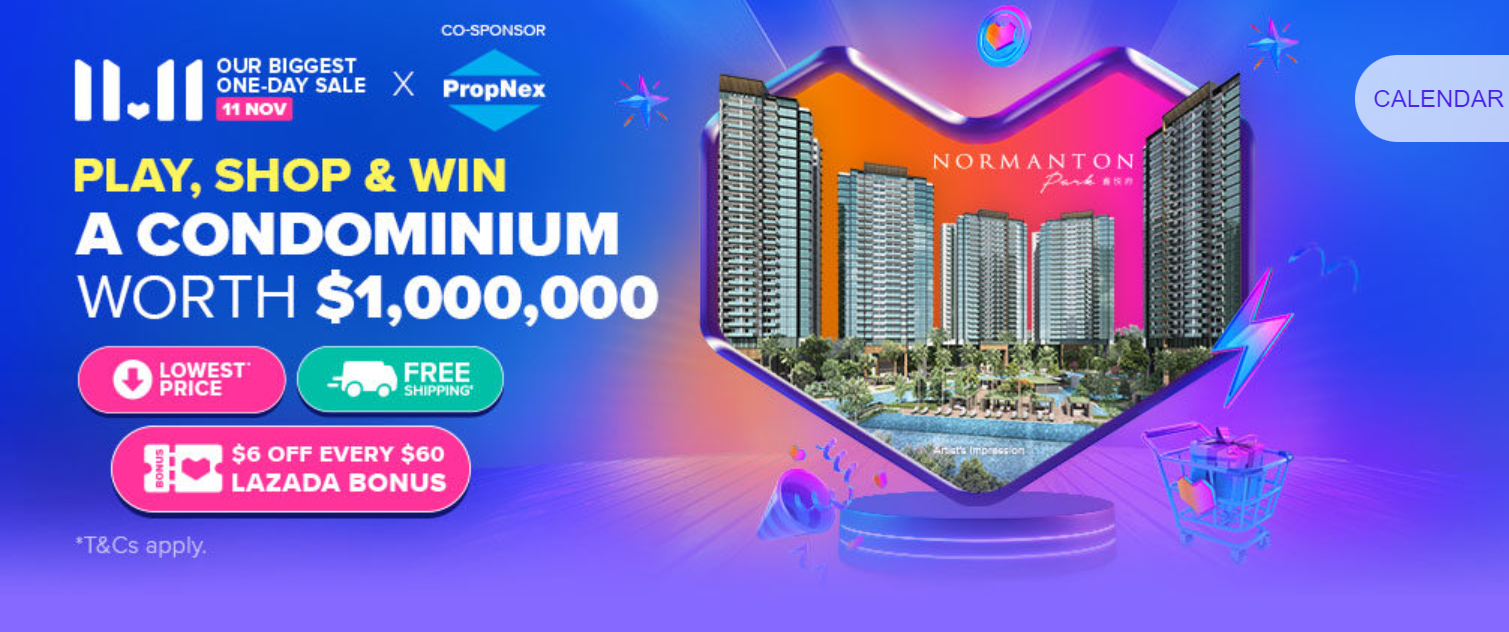 Head here for more details.
Zalora: Deals Offering up to 80%, Vouchers, & Cashback
Zalora caused quite a stir in the online shopping world on Singles' Day last year when they offered 50% off on some top brands including Adidas and Dr Martens.
Well, they're certainly not slacking off this year, as they giving discounts of up to 80% from 1 Nov to 14 Nov!
They will also hold a special livestream event on 11 Nov, and are offering vouchers and cashback schemes as well.
You can also try their new "Spin and Win" feature where you can spin your way to some exclusive vouchers.
---
Advertisements

---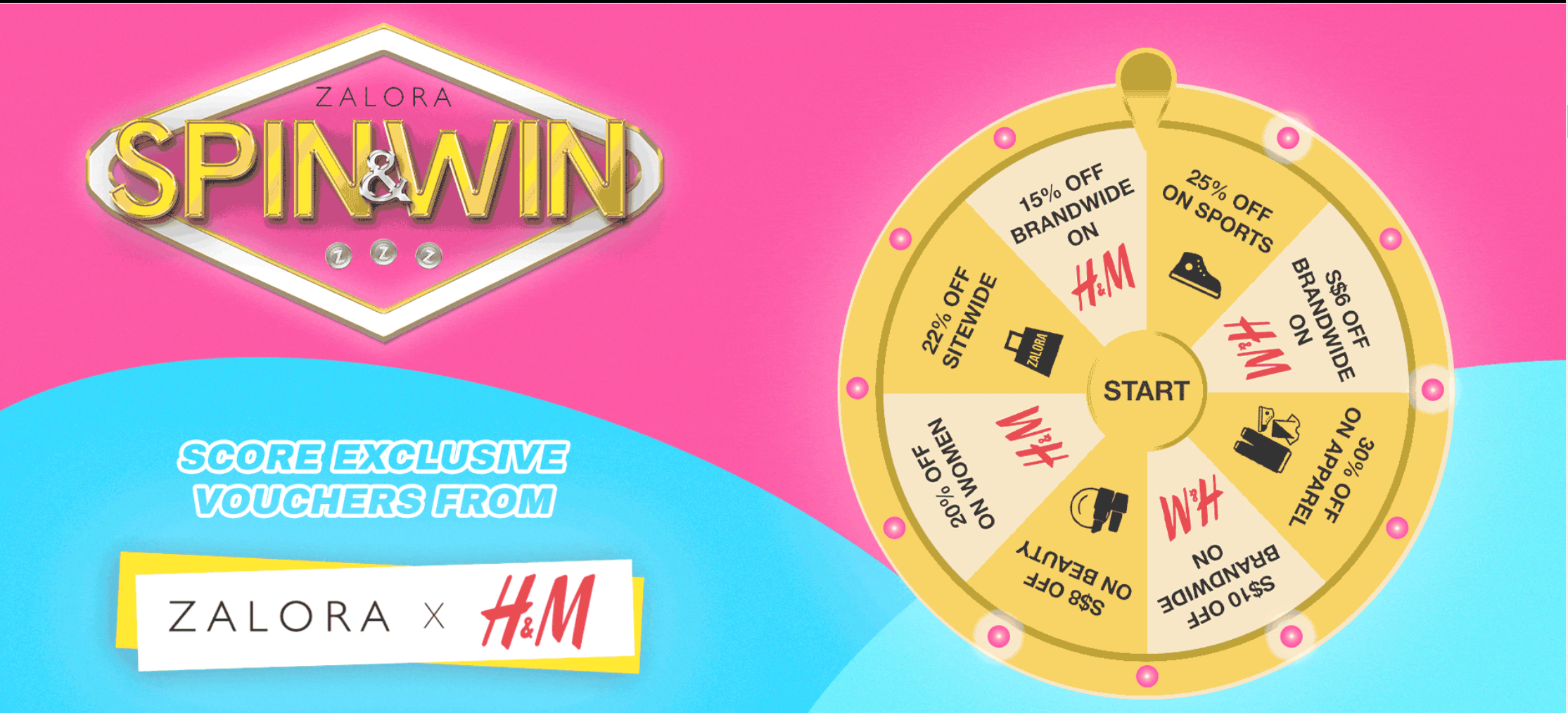 Head here to find out more.
Klook: Up to 70% Off Activities & 1-for-1 Deals
Thinking of having a staycation with your single friends? Want to spend a relaxing day in a Japanese onsen or scream your lungs out on the rollercoaster rides at Universal Studios? Your best bet for Singles' Day this year might be Klook then.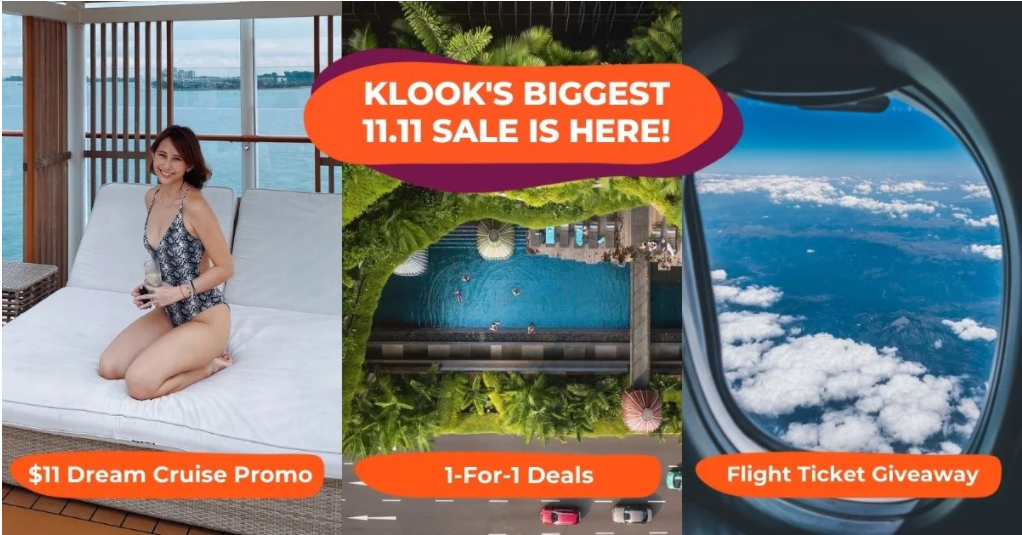 Klook is offering up to 70% off for staycations and 1-for-1 deals for attractions. The best part is that you can even use your SingapoRediscovers vouchers for some of these deals.
Head here to find out more.
Huawei: Up to 38% Off Selected Products
Need a new laptop or phone? Well, you might want to put off your purchase until 11 Nov.
It seems that tech giant Huawei is offering up to 38% off laptops, tablets, and smartwatches, among other products, on 11 Nov this year.
---
Advertisements

---
Customers will also receive a Huawei gift pack worth $68 with every $200 spent in stores.
Head here to find out more.
Pizza Express: 50% off the Entire Menu
Pizza Express' deal may not be specifically for Singles' Day, but what better way to celebrate singlehood than to eat an entire pizza by yourself!
Believe it or not, Pizza Express is offering 50% off their entire menu for the whole of November, which includes pasta, beer, wine, and of course, pizza. 

Head here to find out more.
---
Advertisements

---
Porcelain: Up to 50% off Treatments 
We'd all love a day in the spa, but just thinking about the idea makes our wallets cower in fear.
The good news is that Porcelain, a facial spa in Singapore, is giving customers who sign up early up 50% off on their treatments!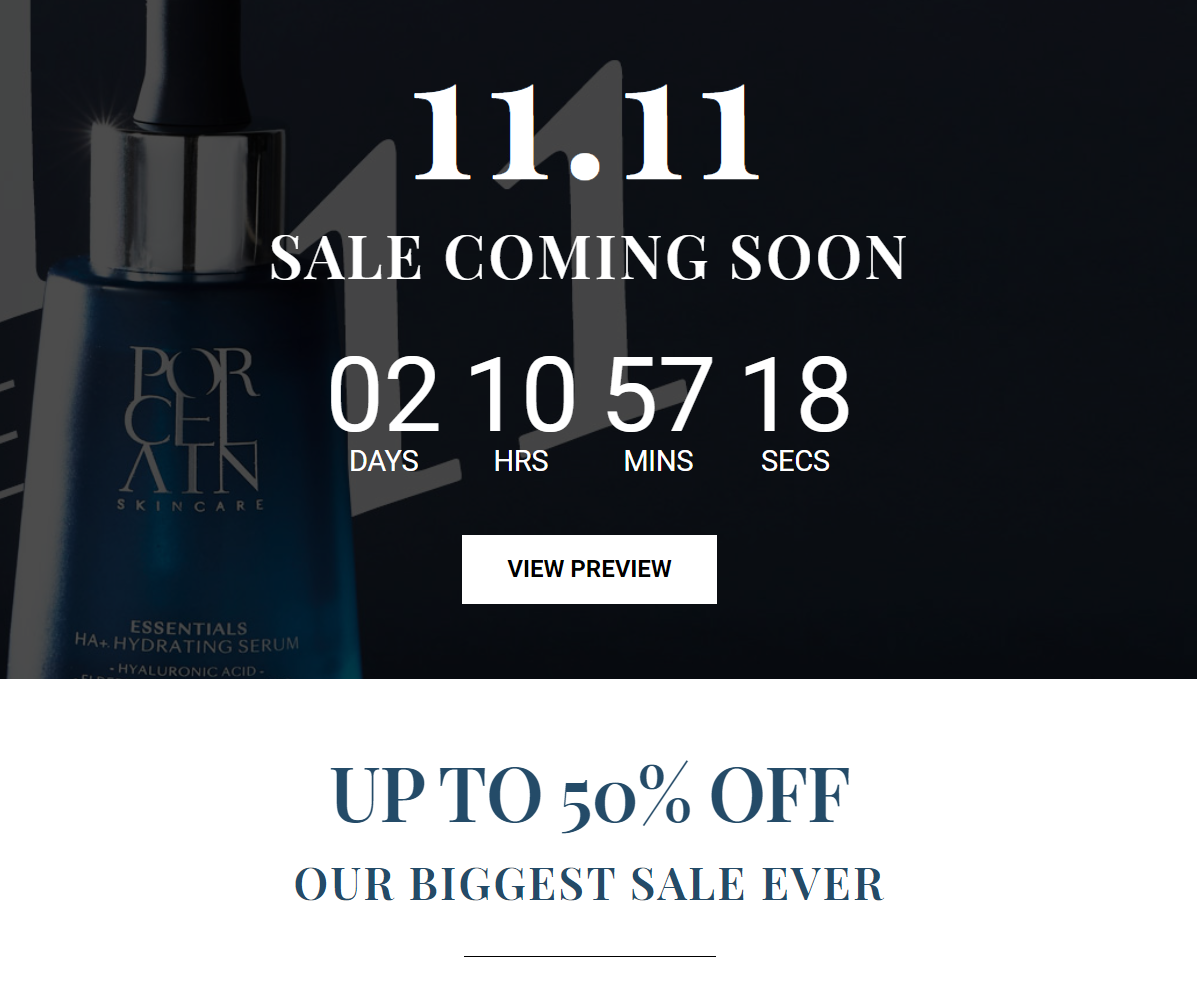 They're also offering one-for-one deals and gifts worth over $100 with purchases.
Feel like pampering yourself? Head here to find out more.
Love, Bonito: Up to 80% Off 
Popular fashion brand Love, Bonito is offering all sorts of deals this Singles' Day.
Scroll through their 11.11 page and you'll see cardigans, dresses, skirts, tops, and many more with a little box below that says "80% Off".
That's right, the store is not only offering a 15% discount for a minimum spend of $85, but they've also slashed some of their prices by 80%!
Heck, I don't wear dresses and even I want to buy something there.
---
Advertisements

---
Head here for more information.
KrisShop: Up to 60% Off
KrisShop, Singapore Airlines' flagship retailer, is offering an extensive selection of products at a discounted price.
And when I say discounted, I'm talking 60% off.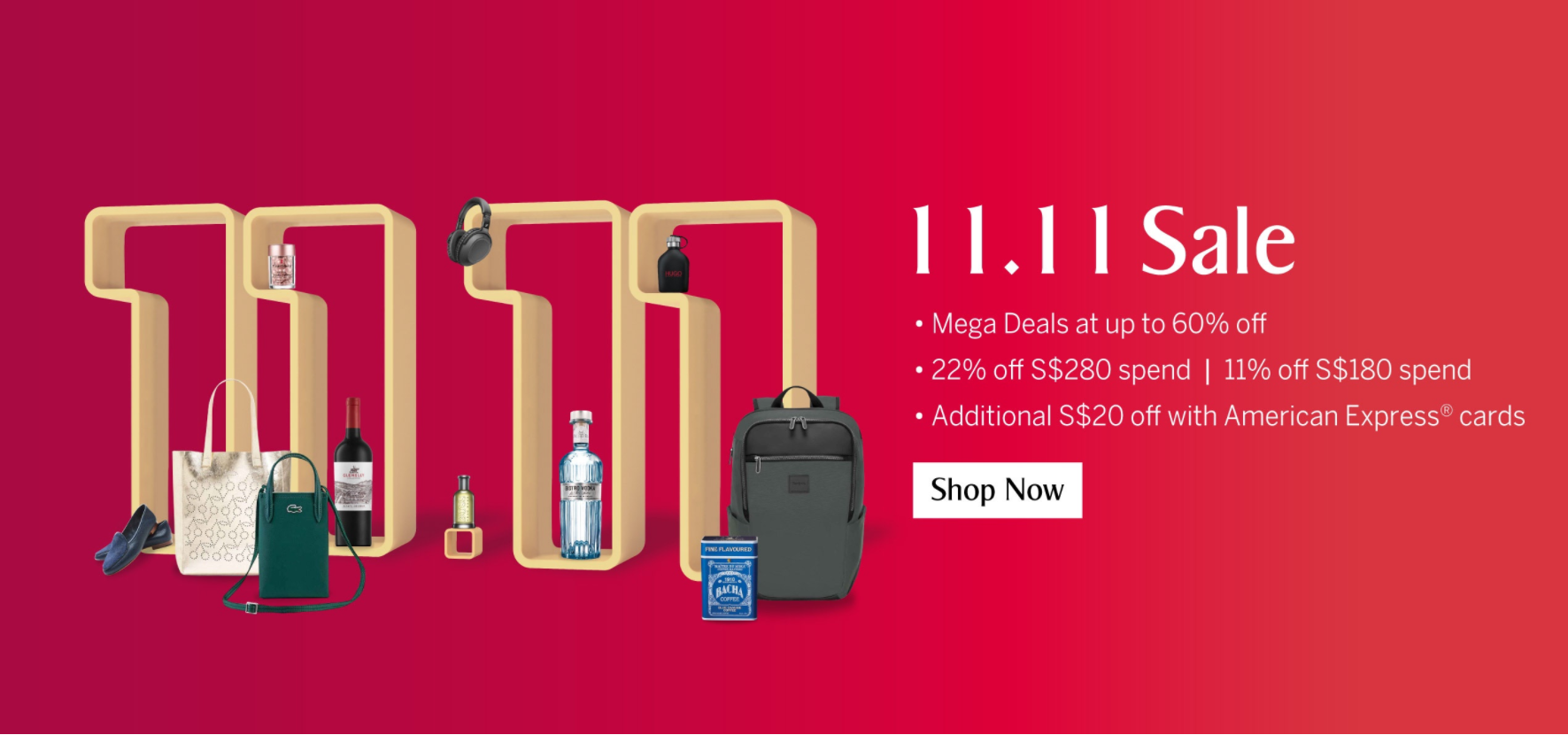 Clothes, alcohol, luggage bags, and perfumes are just some of the many things you can purchase for less on 11 November this year.
The store is also cutting prices by 22% for purchases of at least $280, and giving 11% off for a minimum spend of $180.
American Express card holders get an additional $20 off.
Head here for more information.
Innisfree: Up to 78% Off Beauty Essentials
If you're a fan of Korean beauty products, you must be familiar with Innisfree.
Innisfree has grown in popularity in recent years as it promotes the traditional Korean approach to skincare, which prioritises prevention and protection.
Of course, quality products like these don't come cheap, which is why you should mark down this deal for 11 Nov as the store is offering up to 78% off beauty essentials!
It recently launched its holiday collection as well, which will be sold with a 20% discount on Singles' Day.
You can head to Ininsfree's store on Lazada for more information.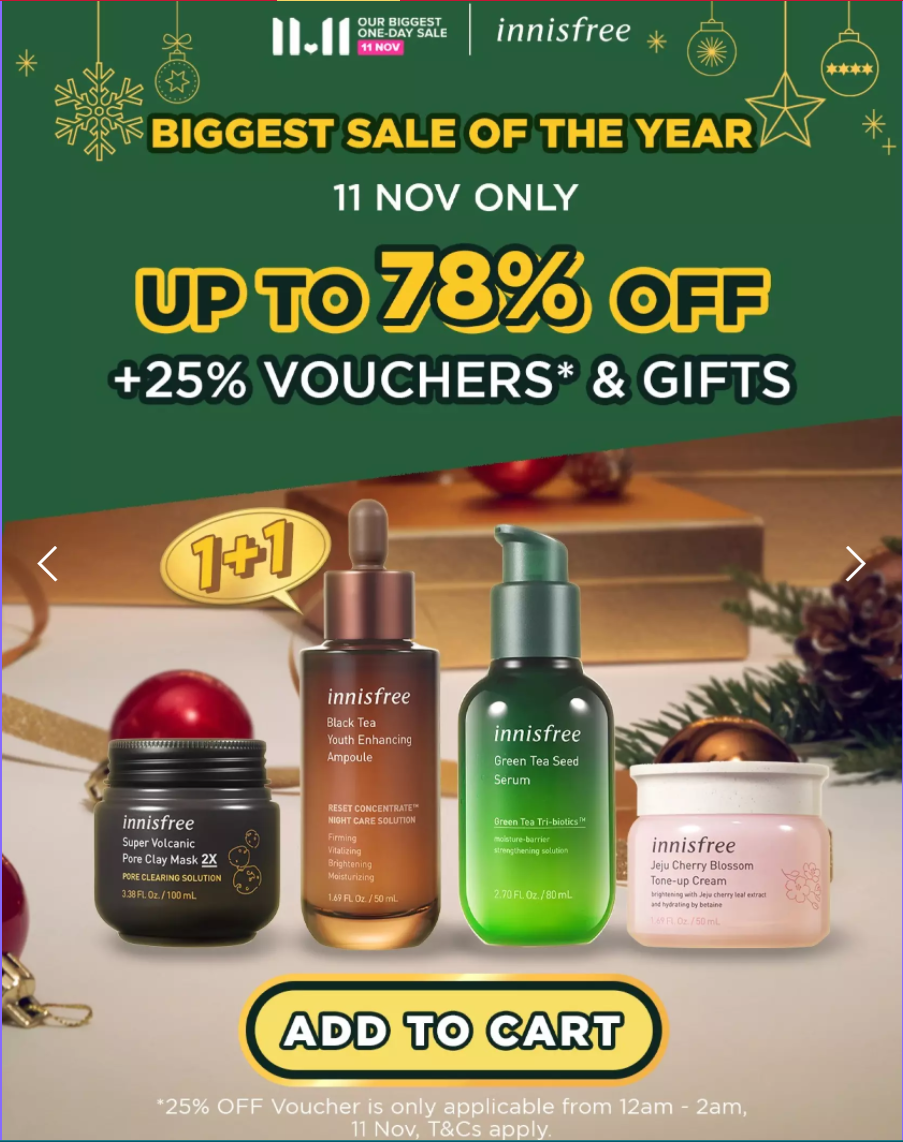 Enjoy!
Read Also:

Fresh grads, you don't need any experience to earn up to $4,200 with this "secret":
Read Also: