We are nearing the end of the month, and that elusive paycheck has never been more visible and prominent. But the fact remains that we still have a number of days to go before our bank accounts get refilled;
A notion that would surely disappoint those who're having cup noodles for lunch and dinner.
But hey, life is not just preservative-filled noodles and intense sadness. It's also about fun, entertainment and most importantly, Goody Feed's 10 Best-est Deals series.
So before you start banging your head on the noodles in utter self-pity, please grace through our latest issue first.
You may just find an affordable enough deal to sub for your noodle meal tonight.
10 Best-est Deals Happening This Week (19 Apr–25 Apr) That Kiasu S'poreans Cannot Miss
1. Free McSpicy And/Or 50% Off Nuggets Till 22 Apr
Both McDonald's and Monday start with the same letter M. Coincidence?
I think not.
Though instead of their blue-y cousin thrice removed, McDonald's is not out for blood, but instead out to get us through the week.
According to Telegram group SG Kiasu Foodies, McDonald's will be hosting day and night promos from now till 22 April 2021.
From 12:00 p.m. to 5:45 p.m., make any purchase and get rewarded with a kick-ass, entirely free McSpicy.
And from 6:00 p.m. to 1:30 a.m., enjoy 50% off Spicy Chicken McNuggets (9pc) + Chicken McNuggets (9pc) with any purchase.
Cost-saver deals have never been more… delectable. 
Redeem the deal via the McDelivery app today!
Promotional period: 19 to 22 April 2021
2. KFC 5 Piece Chicken W/ 3 Pcs Nuggets For Just S$9
It appears that our midweek may have just gotten a whole lot better.
---
Advertisements
---
According to the Facebook page for KFC Singapore, they will be releasing an absolutely staggering promotional venture this Wednesday (21 April 2021).
At a paltry sum of just S$9.90, you'll be able to feast on an entire 5 piece meal comprising of 5 pieces of juicy fried chicken and 3 pieces of golden nuggets!
As KFC Singapore so aptly puts it:
"#DontSayBoJio for this 1-day exclusive, mark your calendars & enjoy this deal with a friend."
Don't say bojio indeed.
Do take note that the promotion is available for Dine-in, Takeaway and KFC Delivery. Terms & Conditions apply.
3. S$2.95 Zinger & O.R. Twister For Dine-in / Takeaway
But if you're not a fan of KFC's fried chicken, you can still rest assured because KFC's currently running a spate of promotions that cater to everyone's tastebuds.
From now until 6 May 2021, make your way to your nearest KFC outlet to enjoy two smashing deals.
---
Advertisements
---
One is for breakfast hours while the other is for after-breakfast hours.
For just S$2.95, you can get your hands on a Zinger burger or an O.R Twister.
The promotion is valid for orders made through KFC's website or its app for dine-in or takeaway with any purchase.
To find out more, you can click here. To find KFC's outlets, click here.
On a separate note, did you know that KFC is now offering waffles at selected outlets?
---
Advertisements
---
Nice.
4. 50% Off Daily Deals At Crystal Jade La Mian Xiao Long Bao
Fancy a sumptuous, yet affordable meal at household name Crystal Jade La Mian Xiao Long Bao?
You can now do so until 30 April!
According to the Singapore-based culinary brand, you'll be able to enjoy a staggering 50% off your favourite dishes every Monday to Friday for the next two weeks!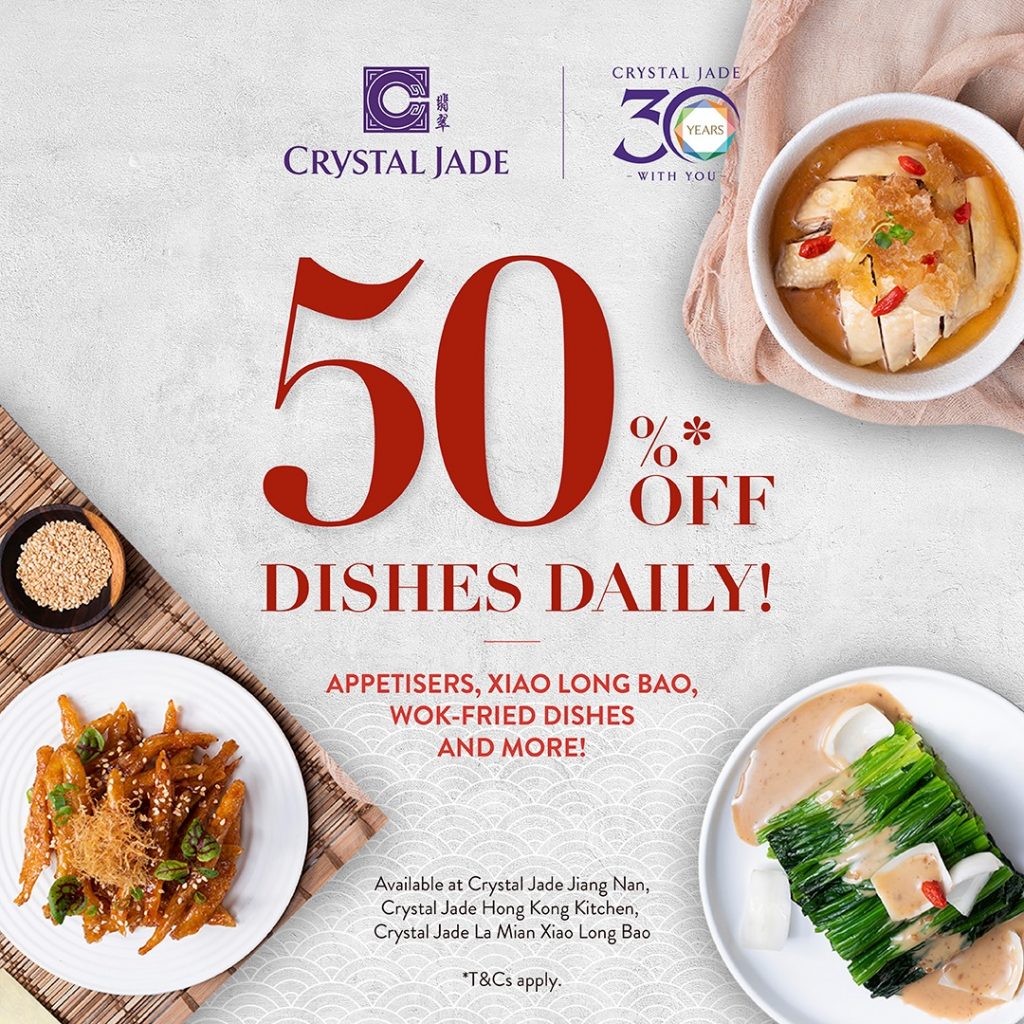 ---
Advertisements
---
Each weekday will pertain to one specific category. For instance, you'll be able to relish a hefty discount off xiao long baos on Monday, and appetisers on Friday.
Here's the complete line-up of daily goodies for your perusal:
Monday: Xiao Long Bao category
Tuesday: Rice & Noodle category (excluding Shanghai Thick Noodle Soup with Shredded Pork & Cabbage)
Wednesday: Poultry & Meat category (excluding Pork Collar with Fresh Szechuan Peppercorns & Preserved Pickled Vegetable, and Signature Crispy Roasted Peking Duck
Thursday: Vegetable & Tofu category
Friday: Appetiser category
Do, however, note that certain terms & conditions apply. You can check them out here.
Nothing like a myriad of luxurious dishes to tide you over the dreary work week, and all for a more than reasonable price!
Promotional period: 1 Mar–30 Apr 2021
---
Advertisements
---
Locations: Available at all Crystal Jade La Mian Xiao Long Bao outlets (except T1)
5. Domino's Pizza Online Flash Deal
Discounted pizza slices may not be able to halt worldwide issues such as global warming…
But they can sure do a lot of difference to our dreary workweek.
From now till 26 April 2021, get your Domino's Pizza fix at an even greater value. We're talking two entire pizzas for as little as… S$20.
And two extra-large renditions for just S$40!
---
Advertisements
---
Finding your perfect pair has never been more affordable and sumptuous.
Promotional period: From now till 26 April 2021.
6. Incredible Discounts Over At Texas Chicken
It appears that Texas fever is upon us, despite the lack of travel.
From now to 30 April 2021, feast your way through Texas Chicken's delicious fare, all at heavily discounted prices.
---
Advertisements
---
We're talking 8 pieces of chicken and tenders—8 pieces, mind you—for just S$9.90.
Also, an entire BFF meal for just S$11.90.
Monday blues may be very real, but news like this one certainly alleviate some of that heart-wrenching pain.
Terms and conditions apply.
---
Advertisements
---
Click here to find your nearest Texas Chicken outlet!
Promotional period: Till 30 Apr 2021
7. 1-For-1 Fish & Chips At Big Fish Small Fish
Regardless of whether you're a fan of big fishes, or small fishes, one thing can't be denied: fish is tasty (sorry, vegetarians).
And that's especially so when it comes with a hefty discount.
From now to 30 April 2021, enjoy half the price for Fish & Chips when you bring someone along to Big Fish Small Fish.
---
Advertisements
---
Simply flash the following post and show that you are a GoodLobang subscriber to redeem!
Please note that relevant terms & conditions apply.
You can also click here for more details on the eatery chain.
8. S$3 Off Unlimited Taxi Rides With Zig
After months of monopoly by the all-conquering Grab, it appears that the local ride-hailing industry finally has a new contender;
Which would, conventionally, mean enticing promotions for prospective consumers.
---
Advertisements
---
Finally.
So lest you're unaware, local taxi service provider ComfortDelGro has released a new ride-hailing service: Zig. And to announce their arrival, as well as signal an ill-hidden intention to upset Grab's monopoly plans, they have introduced a really attractive promotional venture:
From now till 18 May 2021, enjoy S$3 off unlimited taxi rides with Zig!
Simply use the promo code 'ZIG3OFF', and you're on your way to a super-affordable ride.
---
Advertisements
---
Promotional period: From now to 18 May 2021
And while we're at it, new users also get to enjoy $5 off your first taxi when you use the promo code "ZIGMYRIDE".
9. S$1 Delivery Fee When You Order With Deliveroo
Has Circuit Breaker turned you into an absolute food delivery addict? No more fussing with cash, no more needing to hop onto public transport or walk to get your meals… what a life.
But sometimes, the delivery fee just shatters your dreams of convenience.
However, with Deliveroo, there's no need to fear!
The popular food delivery platform will be lowering its delivery fee to just S$1 for all orders till 30 April 2021. Do note that minimum order and service fees still apply.
If you're a UOB cardholder, you'll also be eligible for an additional perk!
Use the promo code UOBAPR6 to enjoy S$6 off when you spend a minimum of S$25 on your food delivery order.
You can even combine both deals in a single order. Terms and conditions apply!
10. 50% Off All Ala Carte Food At Marche
Marche Movenpick may not exactly be known for its affordability, but it seems that things are kind of different from now till 22 April 2021.
In collaboration with Telegram group @kiasufoodies, Marche has slashed a staggering 50% off all their ala carte options, with no minimum spend required!
This means that you can now enjoy all the previously-pricey ala carte fare at a much more wallet-friendly rate.
Do take note, however, that the promotional venture excludes bakery, merchandise, platters, beverages and promo items.
It's also only applicable from 3:00 p.m. to 6:00 p.m.
To redeem the awesome deal, just flash the following Telegram post at the entrance!
Location: [email protected] L1 Discovery Walk, Suntec City #01-612 to 614, VivoCity #03-14
Promotional period: From now till 22 April 2021
Featured Image: Facebook (Crystal Jade Singapore/ Texas Chicken Singapore)
Like writing? Goody Feed is looking for writers! Click here for more info!