Break ups are terrible, but they are even worse when you've planned something special and it ends up for naught.
Take it from Facebook user Hrmn Wong.
In his post, he wrote that he has been away from Singapore for a year, and he had been looking forward to seeing his girlfriend again.
---
Advertisements

---
He made extravagant plans too: he booked a three day two night (3D2N) staycation at a premier room in Marina Bay Sands, and he was going to decorate the room with anything and everything that has a romantic connotation.
Red roses, petals forming a heart on the bed, pastel balloons, champagne, and an 'I Love You' sign he bought from a Bugis shop.
Wong was ready to wine and dine her.
Alas, his dreams were broken (again) as they broke up before the staycation could happen.
---
Advertisements

---
Looking For Someone Else To Take The Room
Now that Wong doesn't have a significant other anymore – bro, there's always more fishes in the sea – he doesn't really have any use for the hotel room.
Hence, in the spirit of making the best out of everything, Wong took to Facebook to advertise the room and hopefully find another occupant.
He starts by playing the pity card masterfully.
Wong writes, "I have no one to on this staycation with except for myself and myself and only myself. You can't expect me to decorate some balloons and instead of having "I love you" change to "love yourself before you love others" correct anot."
Yes, you're absolutely correct.
You should love yourself though, self-care is important.
Therefore, Wong has come to the conclusion that he should let another happy and loving couple have the room instead.
Wong acknowledges that this is very abrupt, since the hotel room is booked from 18 to 20 October, but he thinks that a staycation will be a very pleasant surprise to spring onto your partner.
---
Advertisements

---
He even offers to decorate the room for the takers, since he already has the supplies.
There are images attached to the post as suggestions.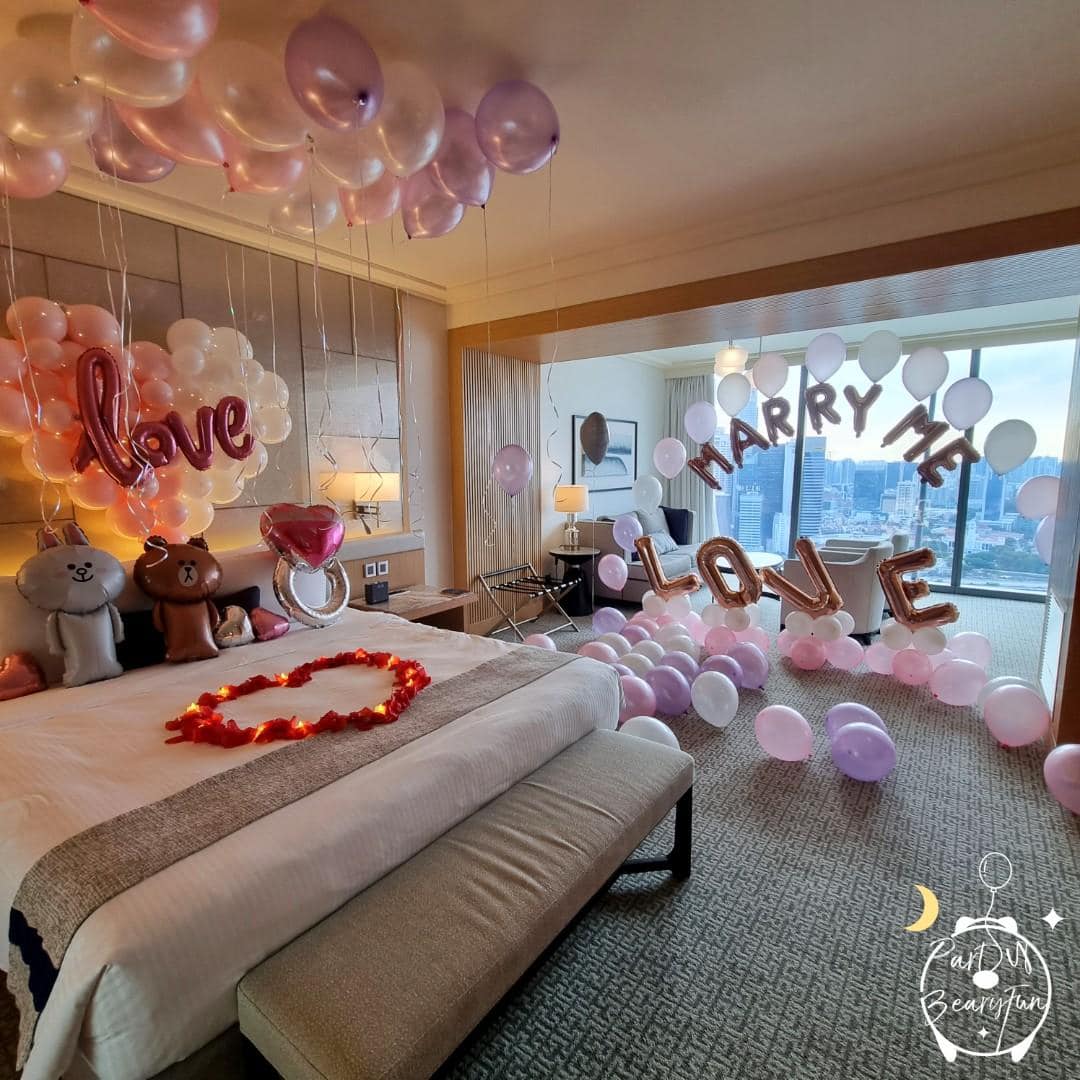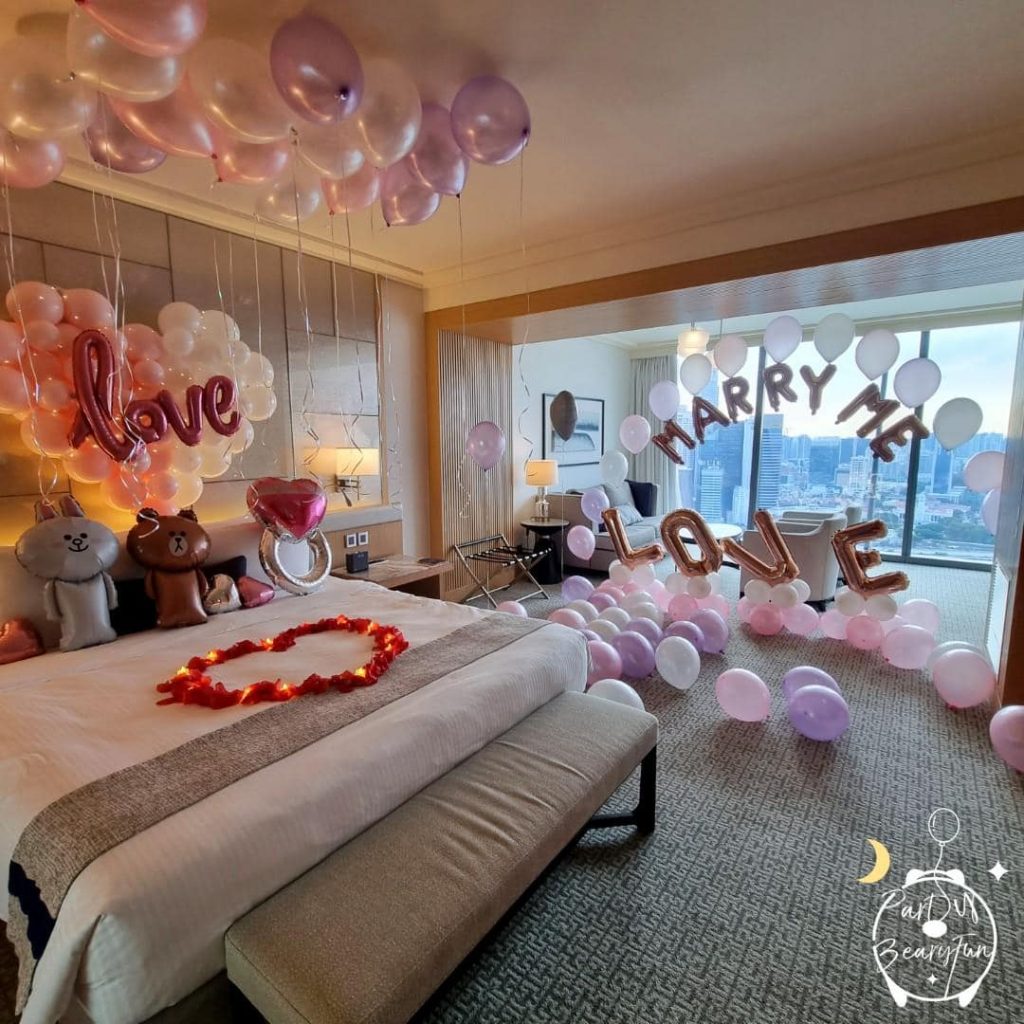 But if the red and romantic theme isn't up to the couple's speed, that's okay too.
"Just nice Halloween is around the corner, just ask your girlfriend or wife not to have any makeup on and she will totally suit the theme for Halloween and at the same time surprise her [with] this room and [then] surprise herself when she look in the mirror."
Dude, I think I know why your girlfriend doesn't want you anymore.
Nevertheless, MBS should really hire this man as their sales executive to sell any spare rooms that they have. His pitching skills are amazing.
Calling Out Any Takers
If you're a lonely soul like Wong is, that is fine too.
---
Advertisements

---
He won't discriminate against your choice of company.

He goes on to say that you can dabao (takeaway) your 小三 (mistress), fling, or FWB (friend with benefits) to this staycation.
Your partner can also be the KTV girls aka your laopo laogong (wife/husband), your "siamdui girls aka your teerak aka the girl you hang 5000SGD one night", club girls, bar hosts, or boys club host.
Regardless of who your companion is, Wong will help you keep it a secret.
He promises that it will be a wonderful and clandestine 3D2N experience, just for the cheap price of $750.
---
Advertisements

---
Wong urges anyone who wants the room to private message him on Facebook as soon as possible.
Apparently, a lot of random people have been messaging him at random so he added another line at the end of his post: "Don't GONG WU GONG BO ASK ASK ASK FOR FUN LA PLS TOLONG LA."
In actual English, he's telling people to stop making idle talk under the sky and stop asking for fun, come on, please.
Join our Telegram channel for more entertaining and informative articles at https://t.me/goodyfeedsg or download the Goody Feed app here: https://goodyfeed.com/app/
Netizens' Response
His sales pitch goes viral.
As of writing this article, the post has been shared 506 times, with 104 comments.
---
Advertisements
---
The netizens take the post with good humour, praising his advertising skills and his unique writing style.
Others started tagging their own friends and partners to ask if they're free from 18 to 20 Oct.
When asked about adding more "features" or "benefits", Wong goes above and beyond to entertain.
"The room got power of the universe bo," asked one Facebook user, to which Wong replied, "I settle for you".

And although he doesn't have any girls, Wong is willing to offer himself up to make sure the taker has a good time too.
---
Advertisements

---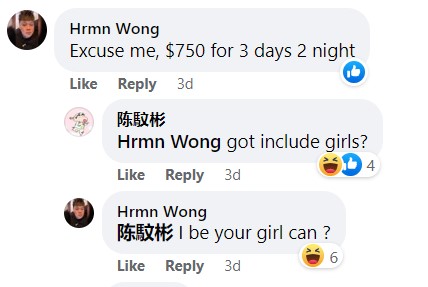 Fortunately, a wonderful family from Thailand does take him up on the offer, despite the short notice.
Wong's trip to Singapore might have started and ended in heartbreak, but at least he didn't waste his money and he made another family's day.
Read Also:
Featured Image: Facebook