---
Advertisements

---
More information about the $32 million scam has been revealed by the victims, and it sure is an elaborate one.
Here are five new facts about the scam, guaranteed to make you more cautious about your purchases in the future.
Recap
Wait, who are they again?
The couple has been identified as Singaporean Pi Jiapeng, 26, and his Thai national wife Pansuk Siriwipa, 27.
The couple exploited the grey area of the luxury goods market: acting as unofficial resellers of hard-to-secure items, which could be sold for thousands more than their official price due to how limited they are.
Most customers ordered the items to resell them for a profit. The couple even gave their customers the choice of reselling the items back to them, since they always had customers.
Customers would pay either in cash or through bank transfers, after which they would receive a soft copy of the receipt.
The customers' first few orders went smoothly, which also emboldened them to keep buying from the couple. However, their last few orders never arrived, and the couple fled.
Here's how they managed to pull the scam off.
How The Couple Built Legitimacy
According to one victim, she decided to order watches from Tradenation, the scammer couple's company, because it had seemed legit.
This is due to the legitimacy the company has built up, through getting Instagram influencers to promote the company, as well as through the many positive reviews on their Carousell site. They were apparently zero negative customer reviews.
---
Advertisements

---
Additionally, Tradenation and Tradeluxury were registered as precious stones and metals dealers. They even have a certificate from the Ministry of Law, and posted a screenshot of it on their Instagram to establish legitimacy.
The victim also shared that when she first met Pansuk to collect her first watch, the Thai national even took her to a watch shop in Orchard Road. The watch was then authenticated by the shop, which cemented the victim's trust in the couple.
In 2022, the couple even opened a physical store for Tradenation and Tradeluxury. This invited even more first-time buyers to fall prey to their scam.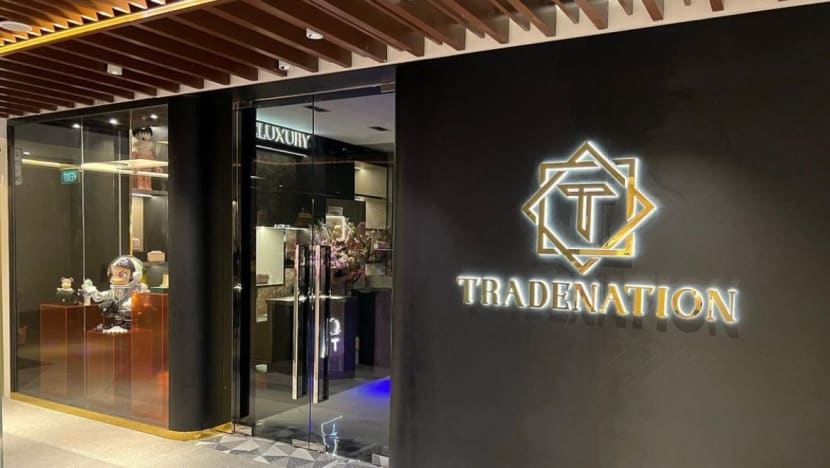 Friends to Scams: "I Can Sue You"
A couple, who were friends with the scammers, shared with CNA on how their friendship turned into a large scam.
Pansuk asked the couple out for dinner on the same day that the couple collected their first watch from Pansuk. The Thai national then invited the couple to her home.
Using her charm and friendliness, Pansuk and Pi quickly clicked with the couple and became friends with them. They even encouraged the victims to also start an account on Carousell to buy and sell watches for profit.
They met up almost every other day, and would chat, have meals, and go shopping together.
This seems to be a common tactic used across other victims as well, where Pansuk and Pi would become friends with them to get their victims to buy more. When the victims didn't get their orders, they were less likely to file police reports due to their close friendship with the scammers.
And when they did file a report, Pansuk will send messages saying "Very disappointed when you all know us for a while, but still like this." Guilt-tripping to the max.
Additionally, Pansuk would often threaten the victims by saying that she can sue them. With many victims also being business owners, they didn't want to get into any trouble either, especially since they didn't have concrete evidence that the two were scammers.
---
Advertisements

---
Thus, with the power of friendship and plausible deniability, Pansuk and Pi managed to pull off their scam for a pretty long time.
Red Flags like Private Chefs?
The same couple started distancing themselves from Pansuk and Pi in late 2021, due to supposed red flags.
For instance, Pansuk invited them to their home to meet Pansuk's grandmother. There, they even had meals cooked by a private chef.
This made the couple feel uneasy, as "nobody does things to that extent".
I mean, I guess the situation does seem pretty ridiculous.
Convinced Victims to Buy More
Another victim revealed that the couple would convince him to buy more watches.
---
Advertisements

---
For instance, when the victim bought two Rolexes, they would say that another customer has bought more Rolexes that will be delivered soon. They would then spin a tale, saying that the customer needed cash urgently, and asked the victim if he wanted to buy over some of those watches.
And really, when this means that your watches will be delivered more quickly and you get to help out someone in need of cash… Many ended up agreeing and buying more.
Join our Telegram channel for more entertaining and informative articles at https://t.me/goodyfeedsg or download the Goody Feed app here: https://goodyfeed.com/app/
Don't Ask for Refunds Please
Additionally, another victim shared that Tradenation was selling a Rolex Submariner for about 10% cheaper than its retail price. Getting the watch through an authorised dealer would mean paying more and waiting for several years, while buying from Tradenation was a cheaper and faster alternative.
The couple would also say that the watch was "stuck in customs" due to certain tax issues. Upon hearing this, the victims would believe that the watches will be delivered much sooner than the authorised dealer method, and wouldn't ask for a refund.
Overall, this really was an elaborate scheme that played on many weaknesses of the victims, explaining how the couple managed to take off with $32 million. Pansuk and Pi have been rumoured to have fled to the north of Thailand, and are currently on the Interpol wanted list.
---
Advertisements

---
Read Also:
Featured Image: Instagram (Siriwipa Pansuk)

Your parents are wrong: MSG (Monosodium Glutamate) is good for you (sort of). Here's the truth:
Read Also: