---
Advertisements

---
How does it feel to be living our dreams?
One lucky person won the $7.2 million TOTO jackpot on 30 January, and they only spent $1 on a QuickPick Ordinary Entry to get the winning ticket.
Only One Winner for the Group 1 Prize 
The winning numbers for the 30 January draw ended up being 13, 23, 25, 26, 44, and 45, with an additional number of 38.
The "Group 1 Prize", or the jackpot, snowballed to $7,239,827 for the draw since nobody won in that category for the past two draws.
The jackpot is usually split between a few winners, but Lady Luck seemed to have only been smiling down on one person. That single lucky winner will get to take the entire sum of over $7.2 million home.
Meanwhile, there were six winners for the Group 2 Prize, where each winner will take home $136,161.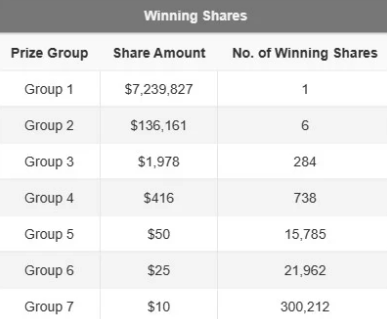 Huat Outlet at FairPrice in Punggol's Oasis Terraces
The jackpot winner bought his ticket from the Singapore Pools outlet in Oasis Terraces' FairPrice, in Punggol.
This isn't the first time this outlet has produced a jackpot ticket. The last time it produced a winning ticket was 26 February 2021, where the jackpot winner won $2,386,178.
Their QuickPick Ordinary tickets also yield pretty good results, with multiple Group 1 and Group 2 Prize winners.

Would you try your luck there next time?
Join our Telegram channel for more entertaining and informative articles at https://t.me/goodyfeedsg or download the Goody Feed app here: https://goodyfeed.com/app/ 
Hopes Dashed for a Major Hong Bao Draw
If nobody won the 30 January Group 1 Prize, the TOTO jackpot would have snowballed to an estimated $20 million for the Hong Bao TOTO draw.
For those unfamiliar with TOTO, the prize money will keep snowballing if nobody wins the jackpot.
TOTO also has a special Hong Bao draw every Lunar New Year, which starts with a prize of $12 million pre-snowballing. Since the prize money accumulated in the fourth round generally reaches $8 million, if nobody won on 30 January, the Hong Bao Draw winner could get $20 million.
Although the $20 million dream has been dashed, there's still $12 million up for grabs. It will be drawn on 3 February, Friday, so you still have some time to get a ticket and try your luck.
May the odds be ever in your favour. 
Read Also:
Featured Image: shutterstock.com / Tar_photo

Fresh grads, you don't need any experience to earn up to $4,200 with this "secret":
Read Also: