---
Advertisements

---
On Wednesday (21 Sep), the Ministry of Health (MOH) submitted the Healthier SG White Paper strategy to the parliament.
Here's what you need to know about this initiative, since it'll most probably affect you.
What is Healthier SG?
The main goal of this new initiative is simple: to encourage preventive care against illnesses and chronic diseases, rather than just reactively caring for those who are already sick.
In order to achieve this, MOH believes it is necessary to anchor Singapore residents with a family doctor to build community support for healthier lifestyles.
If residents manage to sustain healthy lifestyles and catch the onset of illnesses before it worsens through regular health screenings, it will also lessen the frequency in which a resident may need to go to the hospital or A&E department.
In the long run, it would be less expensive and more cost-effective.
One Resident, One Doctor
Under the Healthier SG Programme, the MOH invites eligible residents above the age of 60 to pair up with a family doctor and/or primary care clinic of their choice via SMS.
Those in the age group between 40 to 59 will be invited to enrol in the following two years.
The first consultation under this programme will be free.
During this consultation, the doctor and patient will come up with a health plan that proposes diet adjustments, an exercise regimen and regular health screenings and vaccinations.
Nationally recommended health screens and vaccinations for Singapore citizens will be fully subsided.
Residents will no longer need to co-pay 15% of their medical bills in cash when using MediSave for the treatment of common chronic conditions under the Chronic Disease Management Act.
Another important change for drugs for common chronic diseases is that the drug prices for participating general practitioner (GP) clinics will be made cheaper and comparable to polyclinics, through enhanced drug subsidies and drug price limits.
This means that patients will not have to end their working relationship with their GPs simply because drugs for chronic conditions like diabetes or hypertension are cheaper at polyclinics.
The drug prescriptions will also be more affordable, and easier and more convenient to retrieve.
Another benefit to this arrangement is that your family doctor will have a better understanding of your medical condition over a long period of monitoring, which will allow them to better cater to your needs and refer you to more specialised help if it becomes necessary.
Health Points Reward System
Some Singaporeans may already be aware of the Healthy 365 app that has the National Step challenge and the Eat, Drink, Shop Healthy Challenge.
The National Step Challenge is linked to trackers that the government issued to every resident (if they bothered to collect it) a few years ago. If a participant walks 10,000 steps per day, they can earn individual healthpoints.
The Eat, Drink, Shop Healthy Challenge can be summarised as such: as long as you eat, drink, or buy something with the Healthier Choice label, you will receive a QR code that will give Healthpoints.
Every 150 Healthpoints is equal to $1.
You can use the Healthpoints to redeem HPB eVouchers, HPB Credit$ and other rewards.
---
Advertisements

---
Think of it like CDC vouchers or points on the Grab superapp: as long as the store is a participating merchant, you can use the HPB Credit$ to purchase goods or use the redeemed vouchers at the specified shop.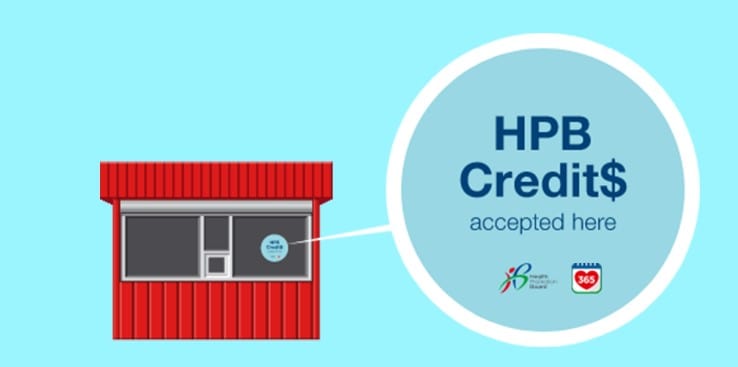 Among others, FairPrice, Guardian, Yole, Mr Bean and Cathy Cineplexes are partner merchants with Healthy 365.
Oh, there's LiHo too, so there's your bubble tea incentive.
Do it for the bubble tea.
Those who complete their first consultation under the Healthier SG programme will receive Healthpoints as well.
MOH intends to expand on the active usage of the Healthy 365 app, so you can look forward to more ways to gain Healthpoints and more unique rewards.
---
Advertisements

---
Join our Telegram channel for more entertaining and informative articles at https://t.me/goodyfeedsg or download the Goody Feed app here: https://goodyfeed.com/app/
Community Partners
As previously mentioned, a good health plan involves three moving parts: regular consultations and health screenings, an exercise regimen, and a well-balanced diet.
The Healthier SG programme is linked to the Active Health initiative run by Sport Singapore (SportSG), which aims to educate residents on how healthy lifestyle habits correlate to better health.
For more tips on how to maintain a healthy lifestyle, and to understand your own body better, approach a Active Health coach.
They will conduct a multi-disciplinary functional performance assessment before customising a regimen that is geared towards health and wellness.
The People's Association (PA) will continue to offer an array of health and wellness lifestyle activities, interest groups and courses.
---
Advertisements

---
It may even be possible that doctors will refer their residents to these health programmes.
Covering Three Common Chronic Conditions
For Singapore's healthcare sector, there are two major concerns:
Ageing Population
By 2030, one in four citizens are expected to 65 and above, which is an increase from one in six today.
Singapore boasts a high life expectancy, but this can be a double-edged sword as people are more liable to fall sick or suffer from disabilities as they grow older.
While Singapore tries to keep its healthcare affordable through MediSave, MediShield, and MediFund, these medical expenses can build up quickly and turn into a financial burden.
Rising Impact of Chronic Disease
When comparing the National Health Survey conducted by the Epidemiology & Disease Control Division in 2010 and 2020, the MOH has noted a spike in the prevalence of chronic disease and obesity.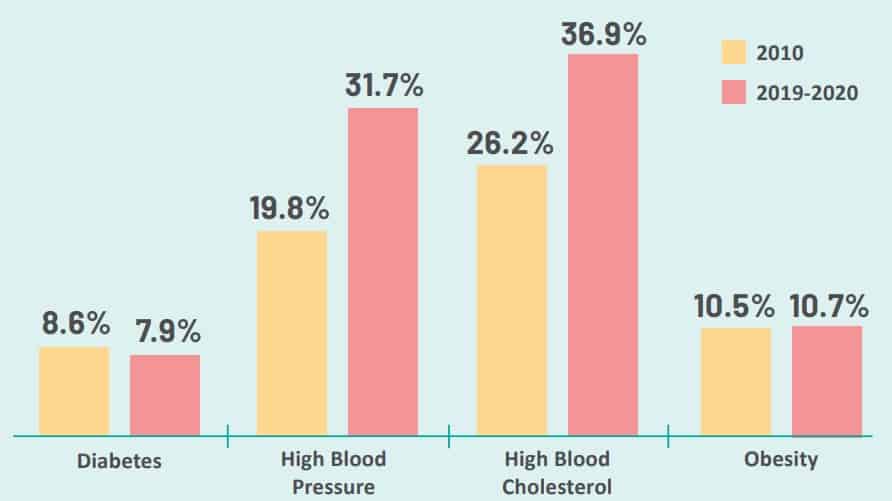 These chronic diseases tend to be driven by lifestyles, with the common factors being a lack of physical activity and unhealthy diets.
Again, if these lifestyle risks remain unchanged, there will be a higher disease burden, great health care needs and higher healthcare expenditure.
---
Advertisements

---
Hence, the importance of preventative care cannot be understated.
These chronic diseases can be avoided.
In the same vein, MOH acknowledges that medication for these chronic diseases—diabetes mellitus, hypertension, lipid disorders—can be costly in the long term.
For a start, MOH will be developing 12 care protocols to deal with these three common chronic conditions, from recommended health screenings, medications, lifestyle changes, and escalation to specialise and acute care if proven necessary.
More chronic conditions will be covered with time, and it will also increase the specific screenings required for seniors.
The Healthier SG Programme hopes that in 10 years, it will cover complicated medical conditions such as mental health and end-of-life care.
For chronic conditions listed under the Chronic Disease Management Programme (CDMP)—which mainly serves to allow residents to use Medisave to pay for chronic care—citizens who are eligible for subsidies can be referred to Community Health Assist Scheme (CHAS) general practitioners directly to Specialist Outpatient Clinics for subsidised care, without needing to go through a polyclinic.
This will shorten the process, cut down the queues in polyclinics, and ensure residents get the help they need in a timelier manner.
Technology Upgrade
Presently, most family doctors use the Clinic Management Systems to run their operations.
However, the official system that links medical institutions, hospitals, and clinics is the National Electronic Health Record (NEHR).
The government will be providing a one-off grant to family doctors to negate the costs of IT adoption to facilitate the sharing of clinical notes, data, and monitoring of patient outcomes.
In order for Healthier SG to succeed, it will require close collaboration among family doctors (the first point of contact), healthcare clusters, as well as a wide range of community partners.
The easiest way for them to cooperate better is to share information through a common platform online.
With the acceleration of digitalisation in the medical sector, it means that it will be easier to ensure good continuity of care as healthcare professionals will have easy access to the pertinent information.
Dataflows will become seamless.
How will this affect us, you might ask?
Well, some of us might worry that the collation of such data may be a security and health risk, should there be an information breach,
Rest assured, there will be safeguards in place to protect the information.
Parties who mishandle the data will be subject to severe penalties.
The collation and sharing of data will eventually reach the patients too; patients will eventually have access to the relevant information through an enhanced Healthhub, where they can view their screening results and their health plans.
In the Health Information Bill proposed by MOH, patients can choose to limit the amount of data provided to NEHR due to specific concerns.
End Goals
In the long run, the government hopes to tackle and bring down the prevalence of chronic diseases and the rate of obesity.
It also hopes to cover other chronic diseases, such as asthma, acute myocardial infarction, congestive heart failure, chronic obstructive pulmonary disease, stroke, and pneumonia, just to name a few.
If possible, the Ministry wants to bring down the avoidable emergency department attendance rate and the admission rate of fall-associated injury among the elderly.
After consulting more than 6,000 residents and extensively engaging with stakeholders, it is believed that preventive healthcare starts with a healthier lifestyle.
There is no time like the present to change for the better.
Seriously, medical bills are stupidly expensive; maintain a healthy lifestyle now and save your future self from some grief.
Read Also:
Featured Image: Healthier SG

Fresh grads, you don't need any experience to earn up to $4,200 with this "secret":
Read Also: