---
Advertisements

---
Singapore Billie Eilish fans, rejoice.
The iconic singer has recently released two new music videos and both were shot entirely in Singapore's Cloud Forest at Gardens by the Bay.
The songs that she used were "TV" and "The 30th" and featured her brother Finneas on the acoustic guitar. It was also filmed live, aka she sang them on the spot.
The videos were directed by a Singaporean director Choann and were done in partnership with Singapore Tourism Board as part of their international recovery campaign, SingapoReimagine.
What also stood out in the videos was that they were taken in one shot.
According to Billie, Singapore was one of the first places that she went on tour, and fell in love with it after a day.
"The Cloud Forest is one of the most beautiful places I've ever seen in my life," she said.
"It just felt really comfortable to do it in a place as beautiful as the Cloud Forest."
Both music videos have achieved over 224,000 views on Youtube and are currently available on streaming platforms. "TV" is also trending at #49 spot on YouTube.
Billie Eilish World Tour in Singapore
Billie recently came down to Singapore as part of her Happier Than Ever tour in August.
Tickets were sold out and fans were extremely excited to see her. But of course, there are also many who could not make it in time to snag a seat.
---
Advertisements

---
I guess one fan didn't want the rest to be left out and tried to "capture" the air inside the concert venue.
What's even more interesting was that they tried to sell it on Carousell for $15,000.
According to their listing description, they wrote, "I stood at the very front and managed to get her air in the plastic when she scream her lungs out during the concert! For those who missed the concert u can buy this!! Very rare air!!"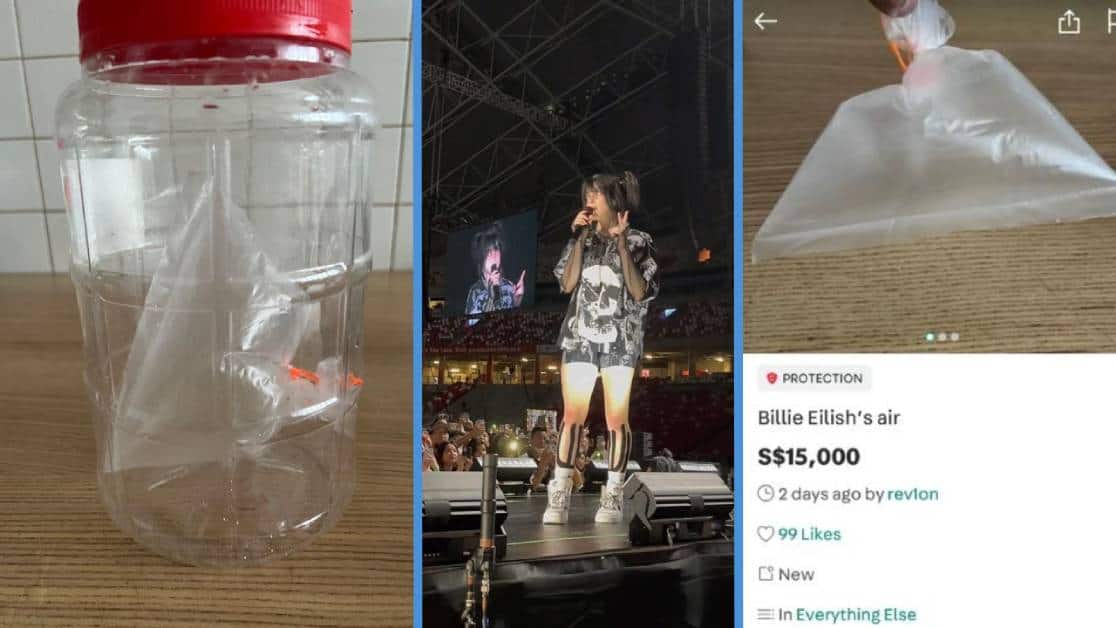 Thank you?
The listing was uploaded on 23 August but has since been taken down.
Read More:
Featured Image: Youtube (BillieEilishVEVO)

Here's why a 4-day workweek might finally really be possible in Singapore soon:
Read Also: