---
Advertisements

---
For Jack Neo's latest movie Ah Girls Go Army, a collection of cute non-fungible tokens (NFTs) will be given away for free with the purchase of two advanced tickets to the movie.
This announcement was made by mm2 Entertainment and J Team on 21 January.
The Ah Girls Go Army NFT Collection
Of course, since they are NFTs, one of their fundamental aspects is that they are limited edition, with only 8,888 NFTs being given out for free, while stocks last.
The pixelated and miniaturised versions of the movie's main cast in pop-colour album style is certainly rather appealing.
Of course, it comes with conditions attached, where the purchases must be made from Cathy Cineplexes exclusively. The purchases can be made via their website or mobile application.
Moreover, first access to future "Ah Girls Go Army" movie-related events and merchandise will be provided to the owners of these NFTs.
Essentially, these cute digital assets also serve as a notification system to any exclusive goods produced in honour of the movie, or an advanced pass to any fan interaction meetings, should one be so keen to delve into the world of female army life, or have a bias for one of the characters in the movie.
The Lunar New Year movie will be released in Singapore on 1 February, and advanced ticket sales will start on Friday, 28 January, at 12pm.
Not a moment earlier, not a moment late.
Therefore, if you're really fixated on those NFTs or you just want to watch the movie at the earliest date possible, make sure you keep your eyes peeled on the Cathay Cineplexes website.
---
Advertisements

---
Honestly, I just hope that the Cathy servers don't crash from an overload of traffic, though that would be a hilarious story to tell.
Join our Telegram channel for more entertaining and informative articles at https://t.me/goodyfeedsg or download the Goody Feed app here: https://goodyfeed.com/app/
Marketplace for Entertainment Collectibles
The NFTs will be available for collection on the Metaviva NFT marketplace.
Considering the recent hype about NFTs in the artist community, and the rise of the IreneDao tokens, it does seem like digitalising merchandise or intellectual property might be popularised soon.
If this is the first time you've heard of Metaviva NFT Marketplace, don't worry, you're not alone because this is the first time I've learnt of its existence too.
According to The Business Times, the marketplace was created by mm2 Entertainment on 11 January, with the Ah Girls Go Army being its first set of NFTs available on the website.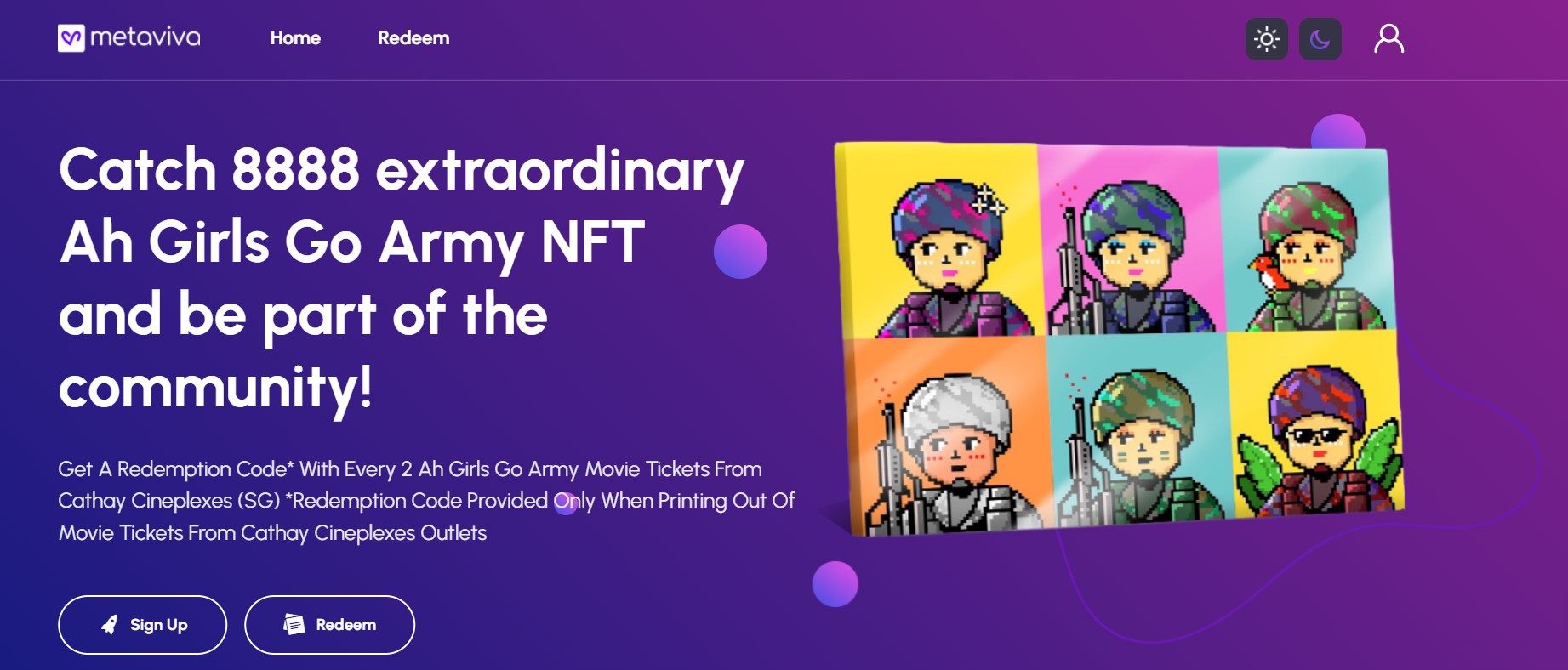 It has made claims that other collectibles will be featured on the marketplace soon, including exclusive key art, audio visual footage, music, animation, merchandise, and actual props from the movies, television series, and events.
Essentially, it will be the place where all its official goods will be gathered, which is double insurance to ensure that there is real separation between any future attempts at hoaxes.
In order to redeem the unique Ah Girls Go Army NFTs after the advanced purchase, all movie-goers need to do is use the unique code that is listed on their printed tickets from Cathy Cineplexes at the Metaviva NFT Marketplace.
Read Also:
Featured Images: Facebook (Ah Girls Go Army)

Worker's Party just agree with PAP on something, but there's another reason why they did that. Watch this to the end and you'll understand:
Read Also: