---
Advertisements

---
Last Updated on 2022-10-01 , 12:40 pm
It says a lot about Singapore's complaint culture when we have a Facebook page created for the sole purpose of it called "Complaint Singapore".
Sometimes, you have to live up to the stereotypes, you know?
Alleged Bad Service
On Sunday (25 Sep), a user by the alias of Chua Michael took to the Facebook page to complain about the bad service rendered to his wife.
In his post, he mentioned the vegetarian food stall at the hawker centre under Block 409 Ang Mo Kio Avenue 10.
Mr Chua's wife had originally ordered a Curry Mee Hoon, to which the stall auntie replied that they did not have mee hoon (a type of noodle).
The wife proceeded to change her order to "curry with rice".
The stall auntie responded that she didn't have rice, before telling Mr Chua's wife that she "don't want to sell to [her]" and called for the next person.
Mr Chua felt that the stall auntie's rude attitude was "unacceptable" and told the netizens that they should avoid eating at her stall due to its bad service.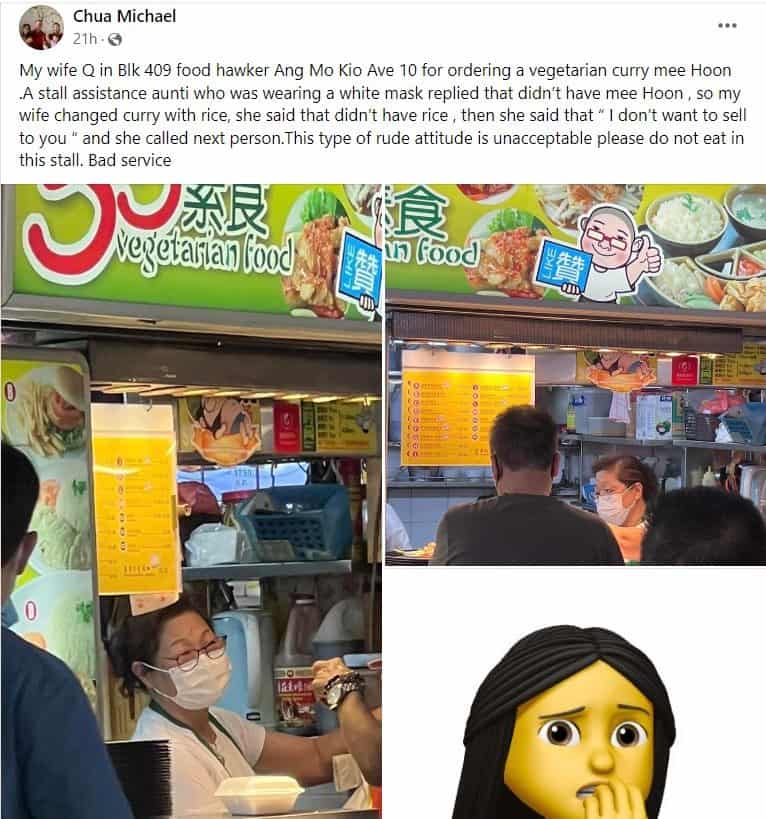 The Other Side Of The Story
In less than a few hours after Mr Chua put up the post, another Facebook user who had apparently witnessed the scene stepped forward to tell the full story.
In her comment, Tricia Tan related that the stall was limited in its options.
---
Advertisements

---
For the curry dish, it is only served with noodles, there is no bee hoon option.
This might seem odd but think of it this way: the curry noodles can't be changed to bee hoon just like how you can't change laksa noodles for rice.
When Mr Chua's wife later asked for "curry with rice", it was not that there was no rice at the stall.
Rather, the stall "only had (vegetarian) chicken fragrant rice left".
Afterwards, Tricia saw Mr Chua's wife leave the line almost immediately, so the auntie moved on to the next customer.
Tricia also revealed that the atmosphere was always "tight" whenever it was busy because the stall workers want expediency to ensure that their customers don't have to wait in line for too long.
She goes on to ask for netizens' understanding, stating that the auntie didn't have any bad intentions in hurrying people along.
On a day-to-day basis, Food & Beverage (F&B) stalls move at a fast pace, and everyone is trying their best to make a livelihood for themselves.
Tricia adds, "Imagine if they work really hard to meet everyone's demands, then they see this kind of thing… How [would] they feel? Then [what] if one day people suddenly do this to you or when you [are] at work and you do your best but then people still scold you and misunderstand you, how would you feel?"
To be perfectly honest, we could work to be more polite and understanding of each other, instead of making our lives more difficult.
---
Advertisements

---
Join our Telegram channel for more entertaining and informative articles at https://t.me/goodyfeedsg or download the Goody Feed app here: https://goodyfeed.com/app/
Netizens' Response
After scrolling through the comments, the netizens are evidently favouring one side.
It is not Mr Chua and his wife's side, surprisingly enough.
Many patrons who have frequented the stall immediately came to the auntie's defence, stating that she has been nothing but kind and friendly to their customers.
One commenter wrote, "This auntie is very friendly with good attitude. I have been eating the vegetarian chicken rice for many years. It seems like your wife might have made her angry then she refused to sell to you."
Even before Tricia revealed the full story, some users were already doubting the authenticity of Mr Chua's account, as they pointed out that the vegetarian chicken rice stall has never sold bee hoon to begin with.
Some also noted that it is strange for a stall to not sell both bee hoon and rice, so there must be more to the story that Mr Chua was withholding.
---
Advertisements

---
The floodgates of admonishments only started after Tricia gave her account.
Immediately, people started accusing Mr Chua for only giving one side of the story.
Some even went as far as saying that it is his wife who needs to reflect on her attitude, since she was someone else's business just because of her own dissatisfaction.
It's a harsh comment, but nevertheless true.
It should be said that there were a few users who agreed that the auntie had a rude attitude, but it was a bit hard to tell if they were being sarcastic or not.
---
Advertisements

---
This whole incident is practically the Rashomon Effect happening in quick time.
If you don't know what the Rashomon Effect is, watch this video until the end:
The best advice given by the internet is simple though: if you don't like the stall, don't patronise it.
Save your breath on complaining online too, because this auntie clearly has a loyal customer base in Ang Mo Kio.
Read Also:
Featured Image: Facebook (Chua Michael)

Fake IMH doctors flooding TikTok videos with comments are related to 4D. Here's why:
Read Also: