---
Advertisements

---
Five days after the elections, we finally know who'll be Malaysia's next Prime Minister.
It'll be Anwar Ibrahim.
And this time, it won't be fake news as the palace is the one that announced this.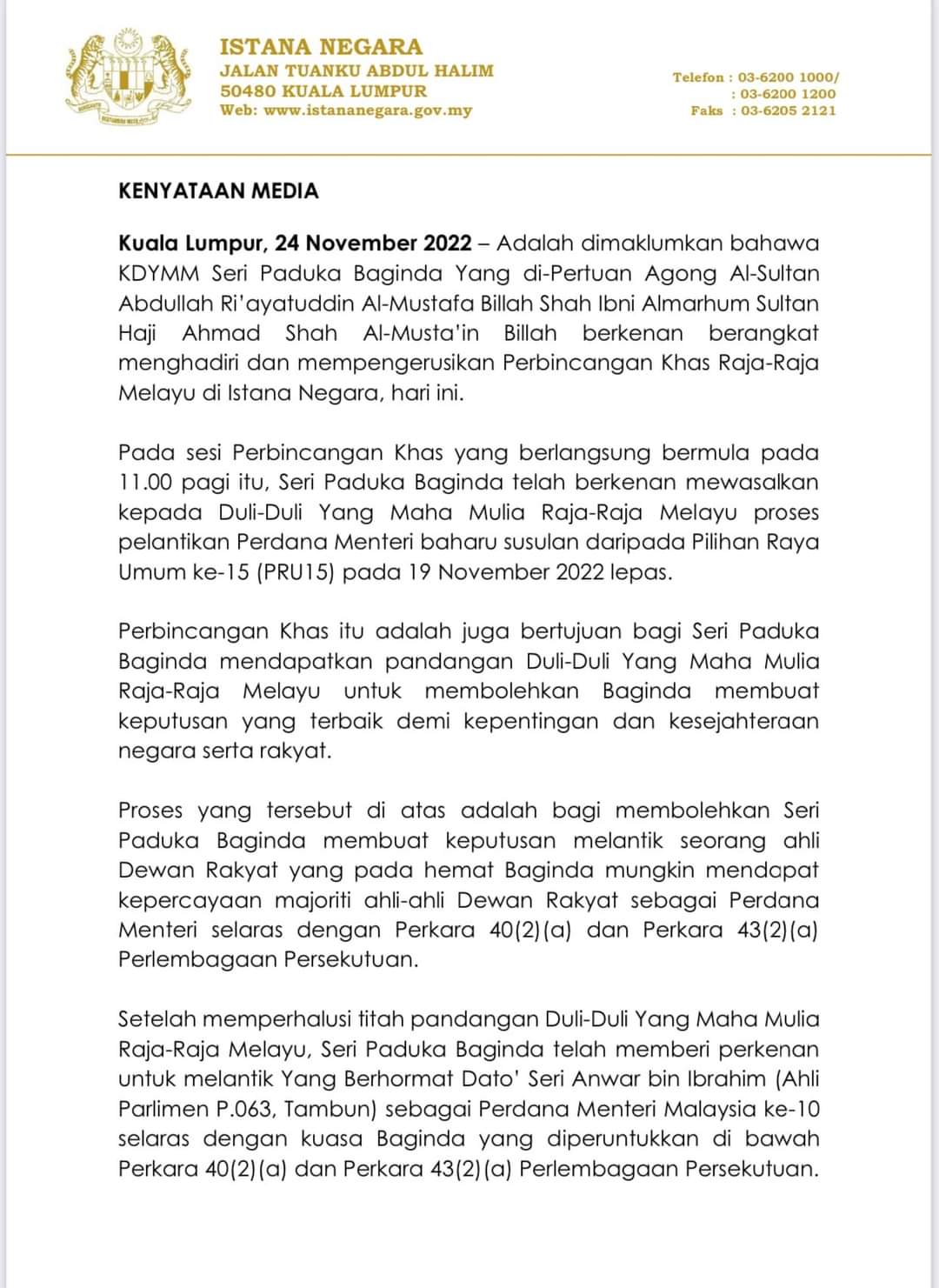 Basically, the wait is finally over.
Why Anwar Ibrahim, and What Happened…Before It Happened?
A blue cat has summarised everything pretty well.
But if you'd like more context, here's what happened:
After the General Elections, no coalition party managed to get a simple majority. They'd therefore have to form a new alliance to obtain one.
The two biggest winners are the Pakatan Harapan (PH), headed by Anwar Ibrahim, and Perikatan Nasional (PN), headed by Muhyiddin Yassin.
They refused to form an alliance, which meant they'd need to form one with other parties.
---
Advertisements

---
Join our Telegram channel for more entertaining and informative articles at https://t.me/goodyfeedsg or follow us on Twitter : https://twitter.com/goodyfeed
On Monday, neither party could produce a confirmation, prompting the Malaysian King to extend their deadline by 24 hours to Tuesday (22 November) 2pm.
In what has already been a rollercoaster of an election, we all thought that that would be the final rule to seal the fate of Malaysia's parliament.
Unfortunately, we all thought wrong.
As of 2pm today, no alliances have been formed, and the parties are at a post-election impasse.
The key kingmaker and once-powerful Barisan Nasional (once headed by Najib), has decided that it would sit on the fence and not back either bloc. Instead, they prefer to be the opposition.
However, both PH and PN kept on insisting that they had support from other parties, so the King brought in individual MPs yesterday for a meeting.
That appears to be fruitless as well, and so the King had a discussion with his fellow rulers at a special gathering at the national this morning.
It's unknown how it happened, but while Muhyiddin Yassin has publicly declined to work to PN to form a unity government, PN did publicly mention that they would consider a unity government.
They said, "The meeting agreed to weigh up the suggestion of a unity government that involves discussions with like-minded parties for the sake of the public and national stability."
However, it's still unknown if there have been any alliances being formed by any parties or whether Anwar would be a caretaker PM or not.
---
Advertisements

---
Nevertheless, the in-fighting between parties has finally ended, and the real party has started.
Anwar will be sworn in today at 5pm. Do follow our Telegram channel for the latest updates.
Read Also:
Featured Image: YuriAbas / Shutterstock.com

Your parents are wrong: MSG (Monosodium Glutamate) is good for you (sort of). Here's the truth:
Read Also: