Yesterday, we wrote about the start date of the Hong Kong-Singapore Air Travel Bubble (22 Nov 2020) and predicted that you need to spend a bomb to get on a seat to Hong Kong.
Turns out, we should've bought 4D numbers too because today, news filtered in confirming our prediction.
Tickets to HK Almost Sold Out For the First Week of Travel Bubble
11 hours after the announcement by Transport Minister Ong Ye Kung, air tickets to Hong Kong for 22 Nov 2020 was completely sold out.
Yes, 200 people made the decision to fly out of Singapore for some well-deserved R&R in less than half a day.
In fact, the first week of Air Travel Bubble (ATB) flights operated by Singapore Airlines and Cathay Pacific are completely sold out, according to Google Flights: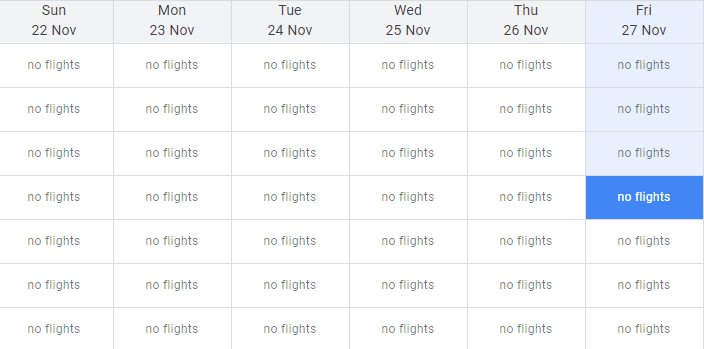 Economy Class Ballooned to Over $1k
According to CNA, which has been keeping track of the situation, the prices of ATB air tickets to Hong Kong has surged beyond anything you've imagined.
During normal days, return fares for air tickets between Singapore and Hong Kong range between $314 and $533.
However, on 11 Nov 2020, the price ballooned to S$800 at 10am, then to over S$1,000 at 3pm on the same day.
For Cathay Pacific, the air tickets were spotted to be over S$900 in the late afternoon of 11 Nov 2020, a far cry from the normal price of S$422.
Now, it could range up to $1,500 for a return ticket to Hong Kong depending on your date of departure.
In other words, if you want to travel to Hong Kong with your family for some vacation, make sure to book it fast and be prepared to fork out a ton of money for it.
As of the time of writing, the earliest available date for ATB flight tickets is on 28 Nov 2020, a full week after the travel bubble kicks off.
And as of time of you reading this, it might not be available le if you've come in to this article through Facebook, as Facebook would show you even old posts due to its algorithm.
The solution is to follow us on Telegram or download our app instead, both which are free from any algorithm's biased hands.
Other Details About The HK-SG ATB
If you're looking to travel via the ATB, here are a few more things you want to take note of:
---
Advertisements
---
In order to enter Hong Kong, travellers must have tested negative on the polymerase chain reaction (PCR) test 72 hours before they depart.
To find out more about taking a PCR test for the departure to Hong Kong, you can click here.
Travellers must also fill in a health declaration form.
Upon arrival in Hong Kong, travellers are required to take another PCR test, which must be booked and paid for beforehand.
According to Mr Ong, travellers will be made to stay at the airport while waiting for their test results, which typically takes around 4 hours.
Travellers from Hong Kong coming to Singapore, however, isn't required to take any PCR test.
---
Advertisements
---
Instead, they have to download TraceTogether and apply for an Air Travel Pass.
Previously, it was mentioned that travellers visiting Singapore must keep the TraceTogether app on their phone at least 2 weeks after their departure from our country.
This is so that if they were tested positive for Covid-19, the authorities here can easily get their TraceTogether data to conduct contact tracing quickly.
To find out more, and apply for, the Hong Kong-Singapore Air Travel Bubble, you can click here.
Featured Image: ESB Professional / Shutterstock.com & Google Flights
---
Advertisements
---
Like writing? Goody Feed is looking for writers! Click here for more info!