---
Advertisements

---
The time is confirmed: The 2023 Budget Statement will be delivered on Tuesday, 14 February 2023 at 3:30pm by Deputy Prime Minister and Minister for Finance, Mr Lawrence Wong, in Parliament. 
So if you're wondering if there would be any ang bao given this year, make sure your Valentine's Day date isn't scheduled for high tea.
Where to Watch
There will be live television and radio coverage of the Budget Statement.
Viewers can tune in to watch the Statement broadcasted live on Channel 5, CNA, CNA938, CNA website, CNA YouTube, CNA Facebook, Capital 958, 8 World News, 8 World News YouTube and Facebook as well as on MediaCorp's meWATCH. 
Singapore Association for the Deaf (SADeaf) will also provide simultaneous sign language interpretation of the Budget Speech on Channel 5.
A link to a live webcast of the delivery of the Budget Statement will also be available on the Singapore Budget website, while the full Budget Statement will be published on the website after delivery. 
Real-time updates of essential Budget announcements would be available for the public on the Ministry of Finance (MOF) Facebook page and Twitter account.
Join our Telegram channel for more entertaining and informative articles at https://t.me/goodyfeedsg or download the Goody Feed app here: https://goodyfeed.com/app/
The Public's Views And Suggestions Are Welcome 
The government had created certain websites such as REACH's Budget 2023 microsite and REACH's e-Listening Points to allow the public to share their views and suggestions ahead of the Budget 2023. 
After the Budget Statement is delivered, you can still share your feedback on the Statement through five different websites created by the government for the public to access.
These include the Singapore Budget Website, REACH Budget 2023 Microsite, REACH Singapore Facebook, REACH Singapore Instagram and PA Ask Kopi Kakis #shareyourviews Webpage. 
REACH have also organised two physical Budget conversations on 17 February and 20 February, in English and Mandarin respectively.
---
Advertisements

---
It will feature Senior Minister of State for Finance and Transport Chee Hong Tat alongside REACH chairman Tan Kiat How at the English session, while REACH deputy chairperson Eric Chua will be present at the Mandarin session.
Further information on these sessions are available on REACH's Budget website. 
REACH will also organise a series of radio talk shows and a podcast episode featuring REACH advisory panel members who will discuss concerns about this year's Budget.
There will also be in-person feedback areas at "high traffic nodes" around Singapore set up to allow Singaporeans to share their views on this year's Budget.
For further details on these feedback areas, visit REACH's Budget website as well. 
The People's Association (PA) and its grassroots organisations would also be facilitating post-Budget dialogues to connect with residents on the latest Budget 2023 measures.
If interested, residents can register at go.gov.sg/postbudget23. The deadline for registration is 28 February, 2:00pm. 
More About Singapore's Budget 
Each financial year begins on 1 April and ends on 31 March the following year. 
The Singapore Budget in essence includes the revised government revenue and expenditure projections for the current financial year. It also consists of government revenue and expenditure estimates for the upcoming financial year.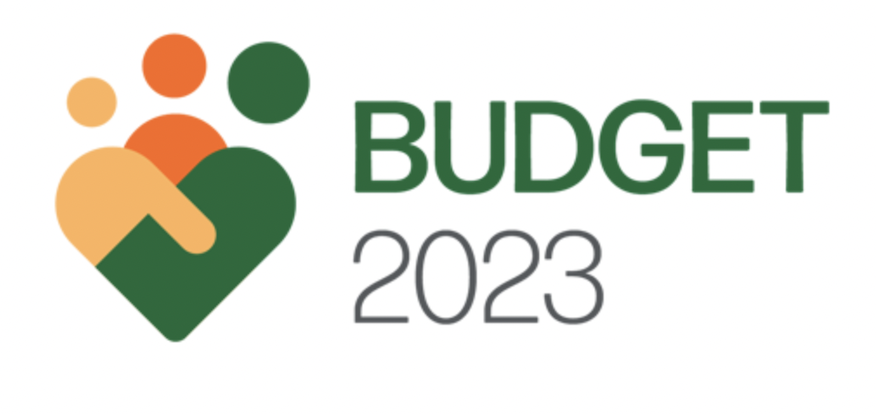 This year's logo is designed to illustrate that Singaporeans lie at the heart of each Budget.
---
Advertisements

---
According to the MOF website, the three figures supporting one another symbolise the unity of our people, coming together with tenacity and commitment to explore new opportunities together and to reach new frontiers as One Singapore.
To learn more about the logo design as well as the Budget Process, visit the Singapore Budget website, where there are short and concise videos and posters that educate one on the National Budget process. 
You can watch our recap of Budget 2022 over here:
And if this kind of delivery is your cup of tea, you're weird, but please do subscribe to our YouTube channel.
Read Also:
Featured Image: Facebook (Lawrence Wong)

How much cash are you getting in December 2023 from the Government? Here are the facts simplified for you:
Read Also: