---
Advertisements

---
In the same way every server has their horror stories about terrible customers, customers also have their own grievances about their servers.
Everyone is entitled to their opinions, but it doesn't necessarily mean it's always right.
The Dining Experience at Clementi Swensen's
For a Facebook user that goes by the alias of Sindu RK Johnson, she and her son went to Clementi Mall's Swensen's for lunch on National Day (9 Aug).
After the mother and son were called into the restaurant by an attending waitress, they were pointed towards a free table instead of being ushered.
It wasn't even in a polite manner either, Sindu writes, adding that she felt like a cat that was being beckoned around.
Upon reaching the designated table, Sindu notices another problem: there was still water condensation smeared across the table like there was a cold drink that was previously placed there.
The mother proceeds to catch the attention of one of the waitresses and gestured for her to wipe the table. Meanwhile, her son was already seated and playing with the toy car on the table surface.
Walking up to them, the waitress asks, "Dirty…?", before leaning over to inspect it, then giving Sindu a "judgemental look". Afterwards, the waitress fetched a soaking wet towel and made the situation worse.
Giving up, Sindu takes out her own tissue to clean the table.
She also notes that all the servers were just idly standing at the side, but none of them were offering a highchair for her son. The mother doesn't let the latter fact get to her, and it can be assumed that her child is at the age where sitting on a normal chair is technically enough.
The real deal breaker was when Sindu tried to redeem a drink coupon on the Swensen's application but was outright ignored by the waiter who was serving their food.
---
Advertisements

---
Sindu initially thought that he was getting another server since the waiter came out from the kitchen—like work delegation between the serving the floor and helping the kitchen—but nope; he goes straight back into the kitchen without telling anyone about her request.
Worse, there was no cutlery provided.
At this point, Sindu kind of snaps.
Join our Telegram channel for more entertaining and informative articles at https://t.me/goodyfeedsg or download the Goody Feed app here: https://goodyfeed.com/app/
Revelations
Sindu goes over to the counter and tells the manager to follow her back to the table since she needs to care for her three-year-old son.
Careful not to raise her voice and make a scene, she recounts her experience in the restaurant thus far.
The mother was under the perception she was getting this subpar treatment because it was only her and her son, which meant that she would be paying less than two paying adults.
The manager listens to her outpour of grievances patiently, before he revealed that 90% of the staff were teenagers with autism who came from the Association for Persons with Special Needs (APSN) school.
It's one of those moments where you realise, technically, you're the one who's being unreasonable.
Never a nice feeling to have.
Hence, Sindu apologised profusely and suggested that they should make their special needs known to their customers just like KFC does.
---
Advertisements

---
It doesn't have to be something as obvious as a badge; it could just be a displayed sign outside before customers step into the restaurant.
When Sindu later checks the Google reviews, she observes that many reviews also complain about the customer service. She even goes as far as describing the reviews as "brutal".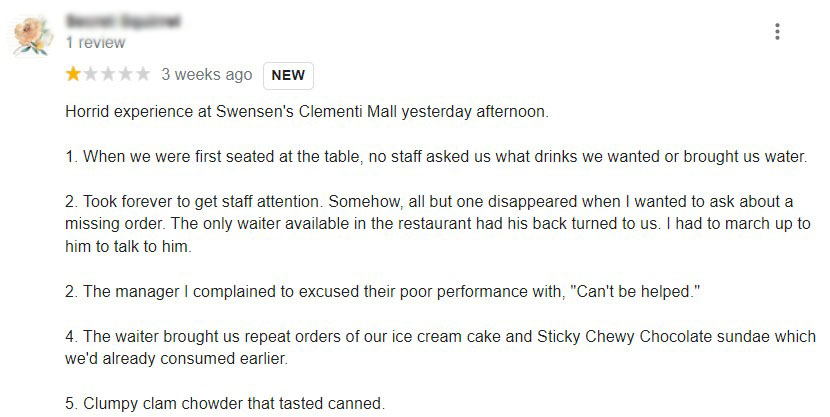 The Point of The Post
Honestly speaking, Sindu should be credited for apologising for her ignorance, however unknowing it was, and it takes a noble person to confess to her mistakes online.
The mother goes on to applaud Swensen's for the inclusive employment and asks everyone to be patient with the servers.
She also hopes that no one will boycott the Clementi branch because the poor service isn't intentional on the servers' part, and they are trying their best.
The moral of the story, Sindu writes, "Please don't jump the gun too quickly like I did."
---
Advertisements

---
Her post is also influenced by the things she's seen floating around on social media, whereby there are photos and videos of misbehaving children, and the audience tends to blame the parents for not controlling them.
"We will never know their story," said Sindu, adding that we shouldn't judge the parents as "bad" simply because their children are acting in either an abnormal, unruly naughty, or uncontrollable way.
There's always more than meets the eye.
The Short Update
The Facebook post has gone widely viral since its publishing, garnering more than 4,4000 likes, 4,500 shares and 412 comments.
It appears that Sindu has received some heat for her initial complaint about the service. She therefore speaks straight to those who don't seem to get her point, writing, "For everyone [that is] saying I should have been kind regardless of special needs or not, and that I acted in a self-entitled manner and calling me names— Sure!"
---
Advertisements

---
In the sort of attitude that follows "do unto others as you would have them do unto you", she states that the people who criticise her shouldn't react if a waiter ever slams their food on the table, places it in front of the wrong person, doesn't give any cutleries or gets outright ignored by the staff for 20 minutes.
She also tells her critics to go and get their food on their own, and don't complain when the server treat them like a pet.
She ends her update with a single line, "Be kind first before advocating others to do that."
Words never spoken truer.
Read Also:
Featured Image: Google Maps

Here's a rather unexpected timeline of the $2.8 billion money laundering case in Singapore as revealed by Minister Josephine Teo during a parliament sitting on 3 October 2023:
Read Also: