---
Advertisements

---
Free.
Every Singaporean's favourite word next to "Sale" and "Chope".
If you're looking for a place to dine for free while supporting a local startup restaurant founded by youths, Nic & Tom Eatery is hosting an event giving out free Chinese and Western fusion meals from 27 July to 29 July to celebrate their reopening.
How To Fill Your Tummy For Free
Before you bring your entire entourage down to Chinatown, here are some things you need to note in order to be able to eat free at their restaurant:
Be a follower of their Instagram account
Like their latest Instagram post, share it on your Instagram Stories, and tag three friends who are not with you on the day you eat in the comments section.
All drinks and food are available under the promotion except for the Lobster Paofan and Crème Brûlée.
Applicable for dine-in customers only
As a reminder, you should also take care in ordering only what you can consume, as they have stated that food wastage will be chargeable.
What's on The Menu
Hold onto your jaw because we're about to drop some drool-worthy pictures on your screen.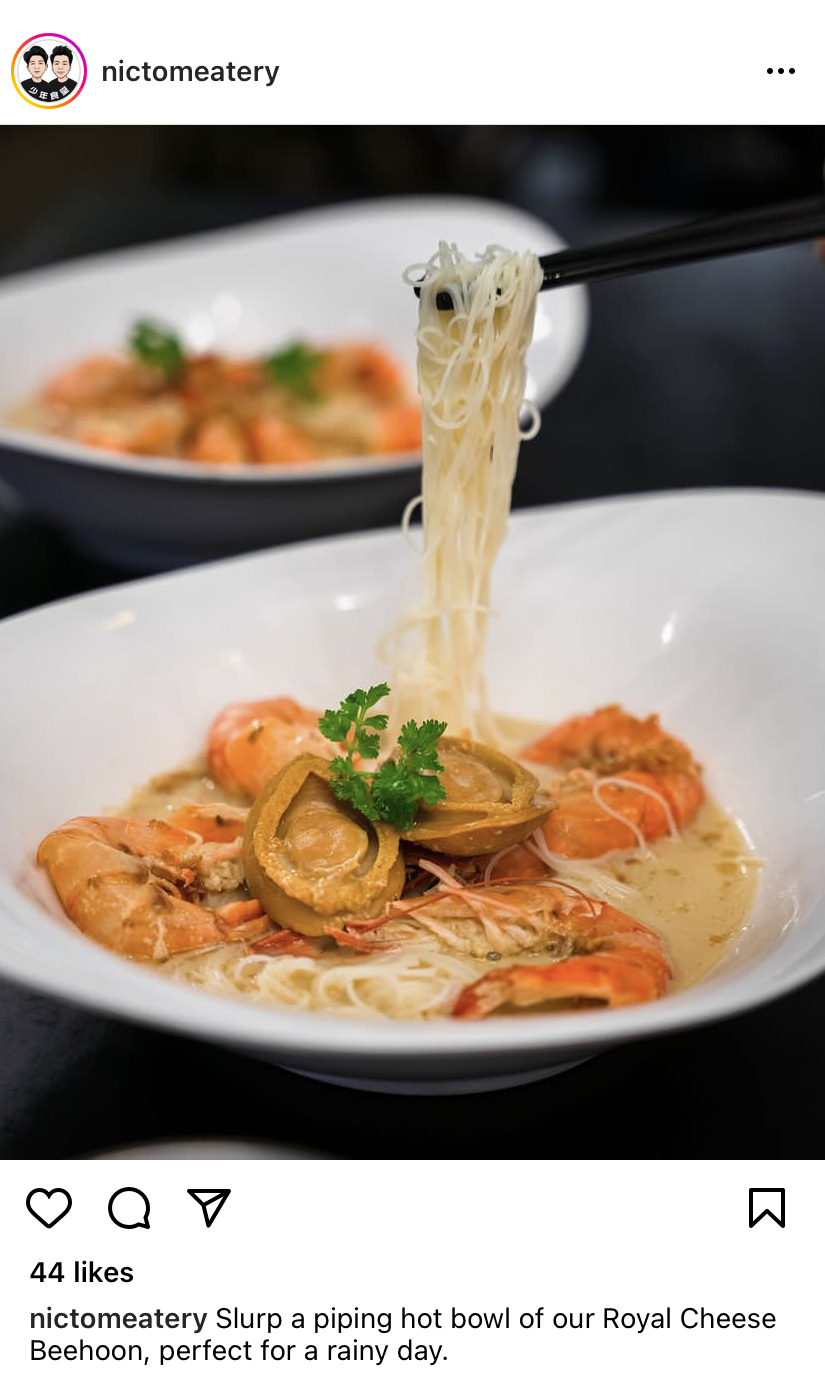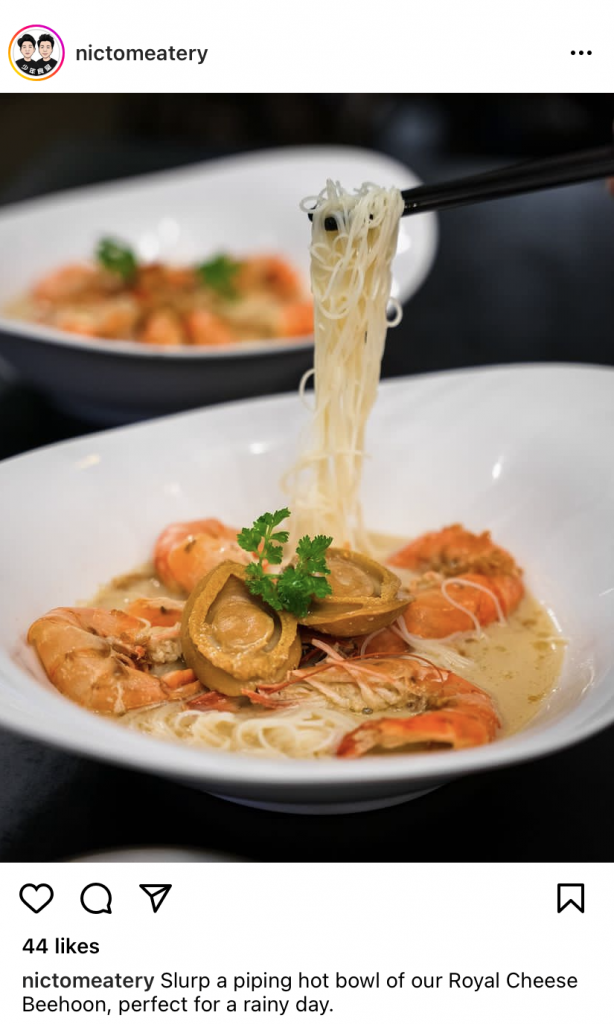 Their signature Abalone Cheese Beehoon boasts a rich and creamy flavour profile, filled with succulent abalone pieces, fresh prawns, and scallop immersed in a cheesy broth. At just RTP $15.90, this chef-recommended dish is a steal.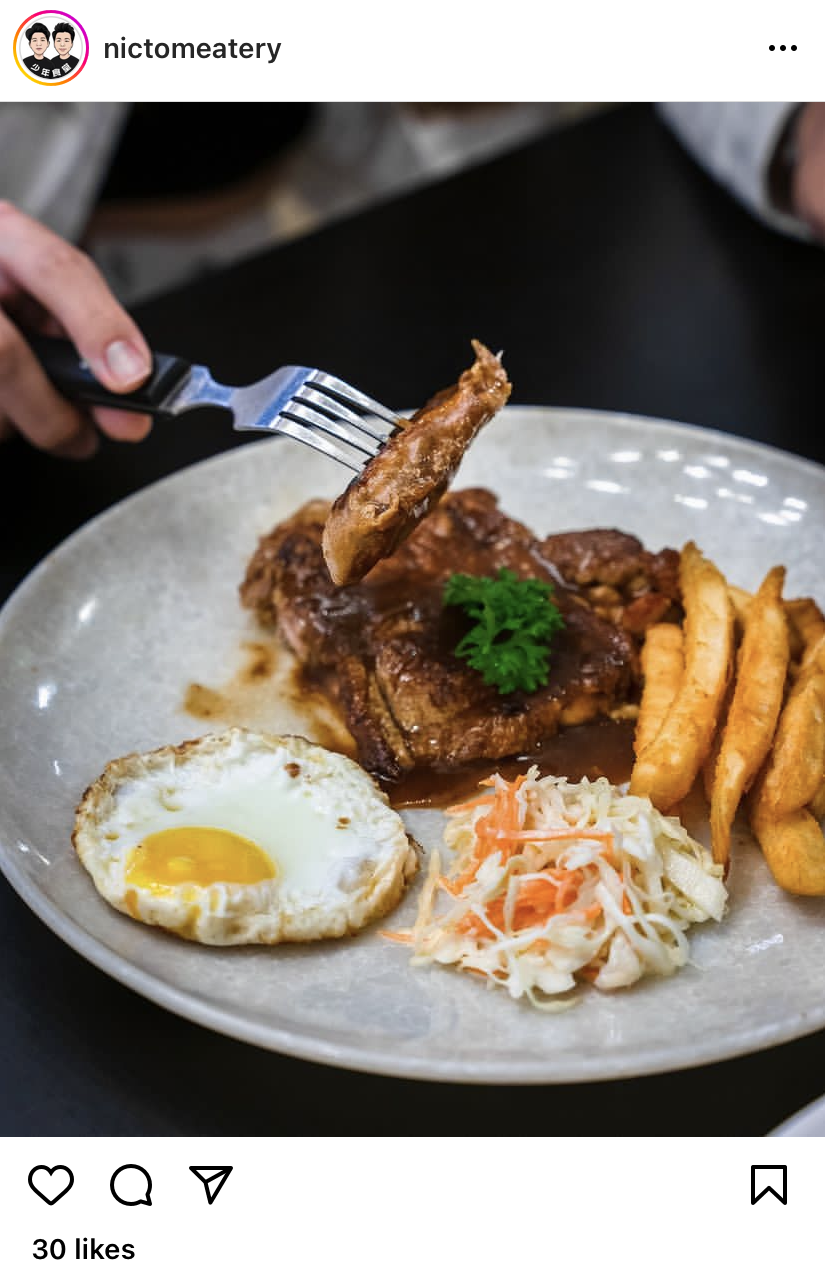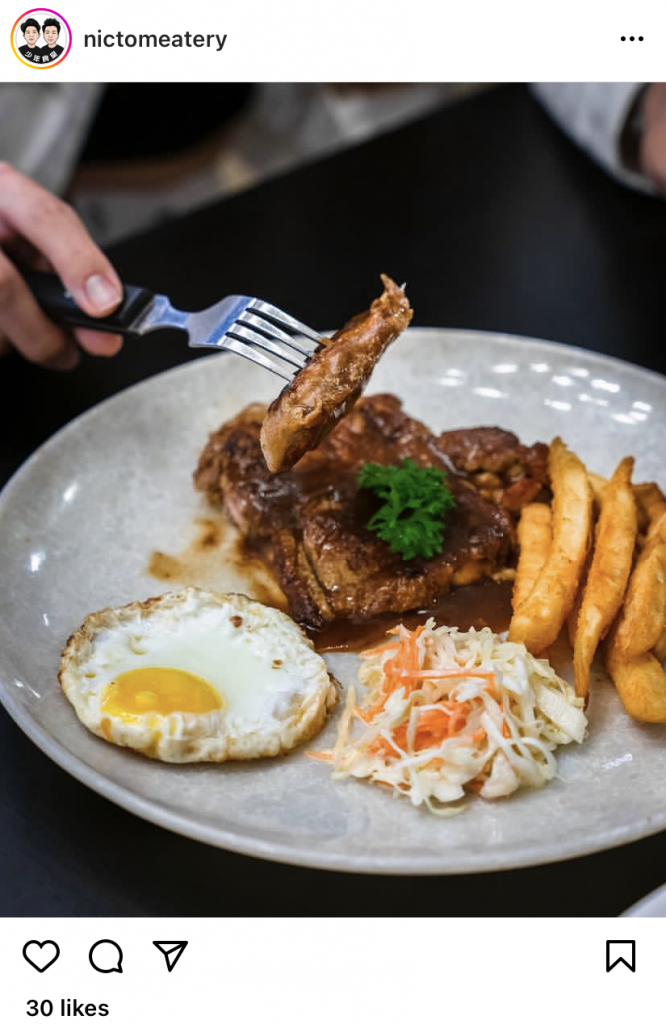 If you're craving something completely Western instead, their Classic Chick Chop (RTP $7.90) might interest you. It comes with a deliciously grilled and well marinated chicken thigh with a mushroom sauce, along with the essential sides of a sunny side up, fries, and some coleslaw.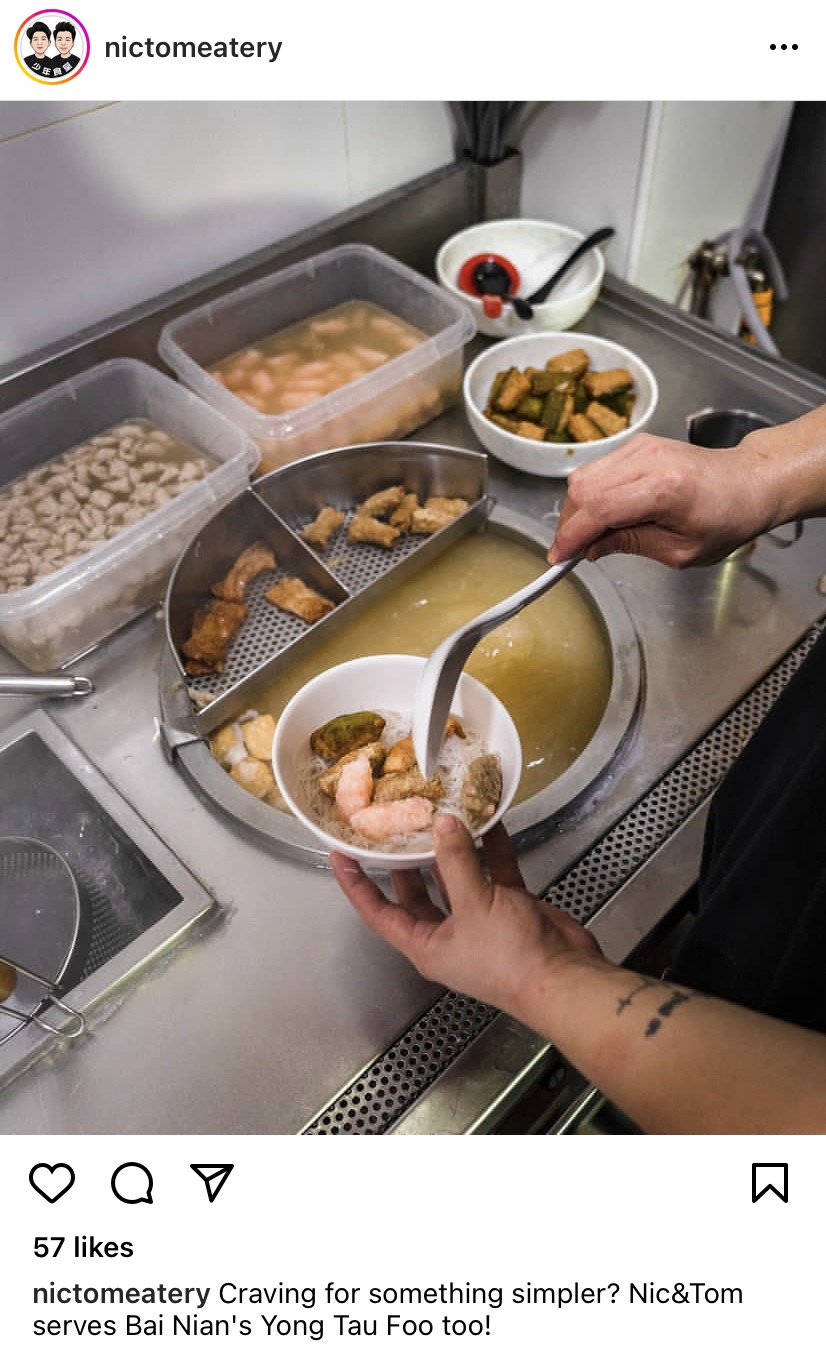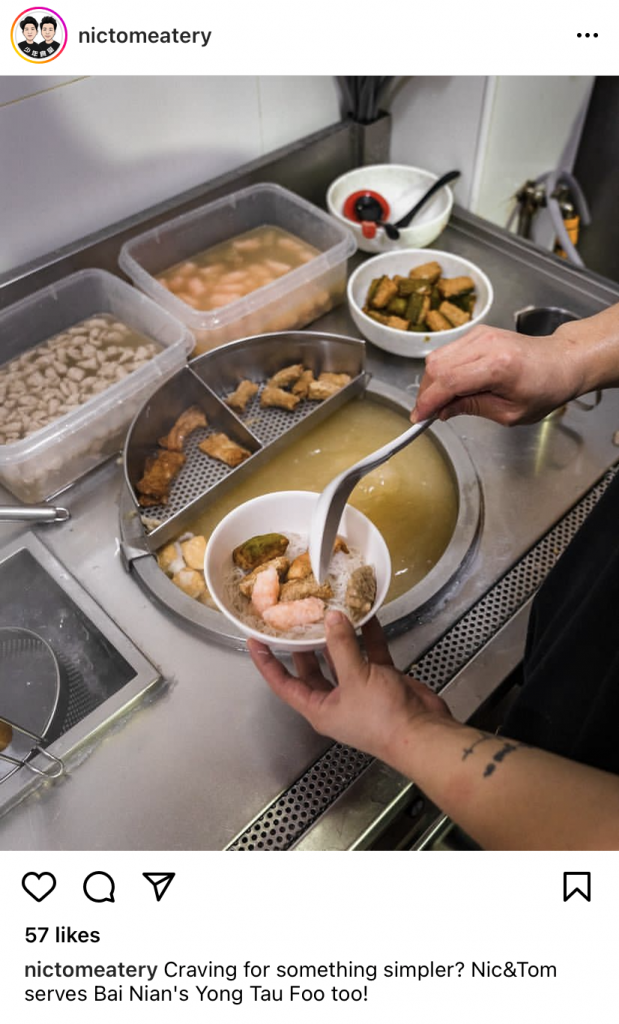 Noodle lovers, you can also expect to enjoy Bai Nian's iconic Yong Tau Foo (RTP $5.90) at their eatery, due to the chefs' affiliation with the owners.
All together, their extensive and affordable menu holds a total of 36 food items, 11 drink options, some of which are homemade, and one dessert. While you're there, be sure to also check out the must-try Tuckshop rice (RTP $1.90), their most affordable item on their food menu.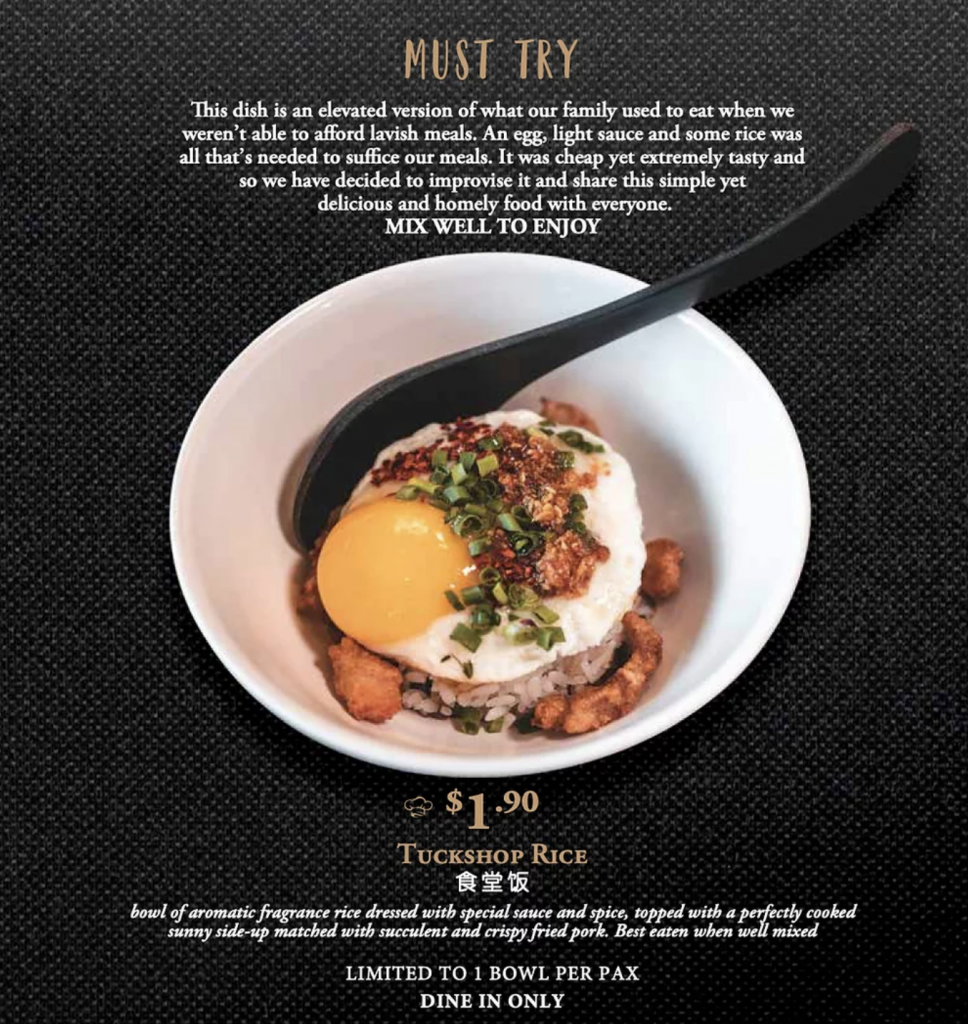 A Family-Inherited Interest in Food & Beverage
Nicholas Lim and Tommy Pang, a cousin duo behind this eatery, are relatively young to be starting up their own restaurant business at just 22 and 25 respectively.
Despite their tender age, both of them have experiences in the F&B industry, owing to the days they spent helping out in their Dad and Uncle's store, Bai Nian.
The pair had often innovated their own dishes which they now hope to share with as many others as they can through their venture, Nic & Tom Eatery. They had started the business three years ago in Serangoon Gardens, but shut down last month due to high rentals.
"We're really appreciative of everyone that has been so supportive towards us the past 3 years. This journey was not easy, we are really grateful for this opportunity to showcase our food. We want to take this chance to give back to our customers and community to try our humble food," they wrote on their Instagram.
And try your food, we certainly will. Head down to their new store at Sago Street during the three-day promotion period for a free lunch, and check out their menu if you're interested in finding out their other special dishes.
Read more:
Featured Image: Instagram (@nictomeatery), nictomeatery.com