Remember how Health Minister Gan Kim Yong said that even though daily cases are at an all-time low, we shouldn't let down our guards?
During the period where it seems like Covid-19 could reach 0, Minister Gan said that the only way this could happen is if a Covid-19 vaccine is available.
After all, with Singapore opening up to more countries, cases could be missed and the coronavirus might be transmitted from imported cases.
Turns out, he knows exactly what he's talking about.
A Lady Who Might Have COVID-19 Visited Singapore Island Country Club 7 Times Before Testing Positive in Japan
A lady who flew from Singapore to Japan on 18 Oct 2020 was tested positive for Covid-19.
Before she left Singapore, it was reported that she had visited Singapore Island Country Club seven times.
The country club in question swiftly posted a notice on its website after coming to know about the Covid-19 case.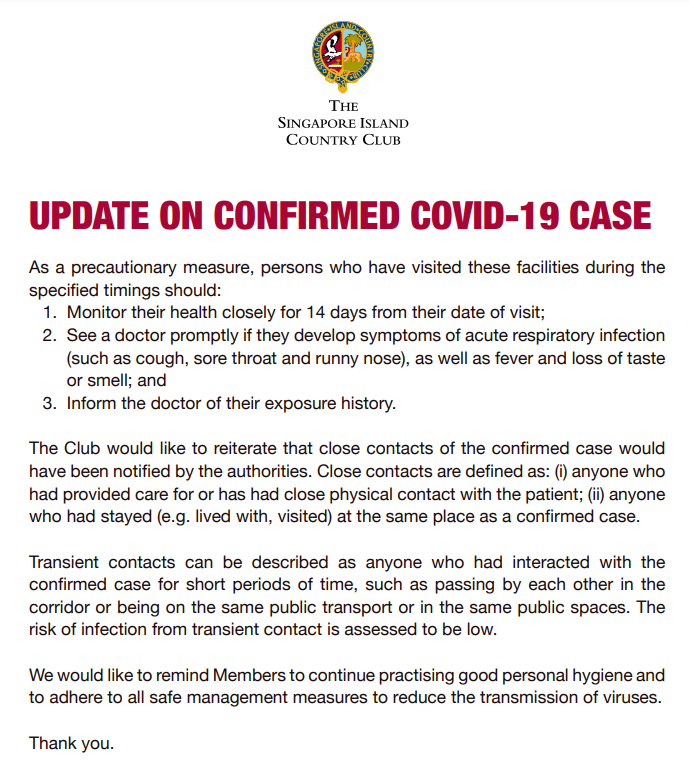 They ask that all visitors monitor their health for the next 14 days, and to see a doctor immediately if they experience even the slightest symptoms.
All close contacts have been notified by the authorities, they added.
Golf, Tennis & Squash
Other than the advisory, Singapore Country Club also revealed the dates of visits by the woman:
2 Oct
5 Oct
9 Oct
12 Oct
13 Oct
14 Oct
16 Oct
Facilities that she has visited include the golf courses, female changing rooms and the Tennis and Squash Complex.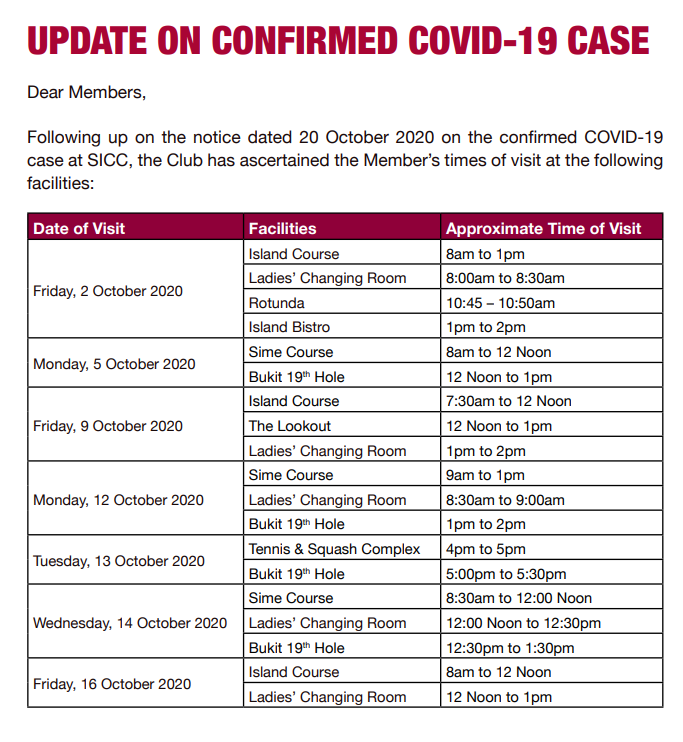 It seems that the woman spends about 4 to 5 hours at the club every visit.
A Spate Of Imported Cases
If you've been paying attention to the daily reports put out by the Ministry of Health (MOH) over the past week, you'll quickly come to realise two trends:
Local transmission (community and dormitories) has fallen
Imported cases are increasing
Singapore is in the midst of trying to work out travel arrangements with as many countries as possible to jumpstart the tourism ecosystem in Singapore.
---
Advertisements
---
We're going to allow people to travel to Hong Kong for holiday soon.
Thailand is welcoming Singaporeans for leisure travel again, albeit with strict requirements.
And in total, we have travel arrangements with 8 countries, including Brunei and New Zealand, at the moment according to the Safe Travel website.
What all this means is that imported cases can potentially increase beyond what is being reported daily.
And while we do have substantial protections in place in the form of 14-day Stay-Home-Notices and admirable contact-tracing capabilities, experts are of the opinion that they would definitely miss some cases.
So get your TraceTogether up and working on your phone, or if you're concern about battery life, get a TraceTogether token to bring around everywhere with you.
---
Advertisements
---
See a doctor immediately if you suspect, even the slightest, that you might have the coronavirus.
And who knows, we might just end up like New Zealand, except without the pesky second wave.