---
Advertisements

---
Last Updated on 2023-06-07 , 4:23 pm
You may know Ms Cynthia Koh as an actress from Mediacorp.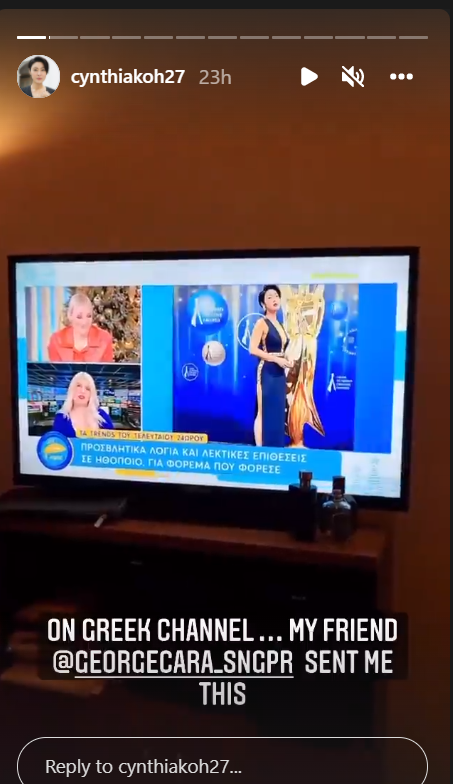 The 49-year-old actress is currently managed by The Celebrity Agency based on the actress' Instagram profile bio.
But that is not all to Ms Koh.
She recently obtained a certification after learning about sound healing and has started to buy instruments to connect with this hobby of hers.
Here is what she has shared about her sound healing journey.
Cynthia Koh Is Now a Certified Sound Healer
Earlier this month, homegrown actress Ms Cynthia Koh posted on Instagram to share with her followers that she gained a diploma in sound healing.
View this post on Instagram
The caption of her post shared that she spent "2 weeks" to "learn all about sound healing from Michele and Nestor". The location of the post was tagged as Alicante, Spain.
There was also a touching exchange of "personal transformations" and sharing of "healing journeys" with all those who came "from all corners of planet earth".
After the short training, she is now "armed with [her] diploma" and "ready to put what [she] learnt to good use".
---
Advertisements

---
She includes several hashtags in her post, including the hashtags #soundhealingtraining and #alternativetherapy.
For those who are unaware, sound healing is "the practice of using different sounds to improve your physical health and emotional well-being".
Congrats to Ms Koh for obtaining a new certification!
Cynthia Koh Just Purchased an Instrument for Sound Healing
Now, Ms Koh has shown her followers once against that her interest in sound healing is no passing fad. Merely obtaining certification was not sufficient for her.
A few days ago, Ms Koh took to Instagram again to share about her sound healing progress. This time, she told her followers that she had a "new baby".
View this post on Instagram
Before you gasp at the possibility of a new scandal, this "baby" is actually a musical instrument.
In the post, Ms Koh can be seen lovingly stroking the strings of an instrument, which produces a calm sound. The instrument appears to be made of light-coloured wood and has at least ten separate strings. There is also a circular pattern in the middle of the instrument, made out of holes in the wood.
The caption to this video mentions that the instrument took some time to tune, but it was all worth it for the "beautiful tune" made by the instrument.
Ms Koh can be seen playing the instrument with another lady, though the identity of the lady is not elaborated upon. What Ms Koh does share with her followers is that she is part of the "first monochord sound healers in Singapore".
---
Advertisements

---
Can we expect Ms Koh to start commercialising her knowledge about sound healing for the benefit of others soon?
She Has Been Into "Healing" for a While Now
Before you question Ms Koh's venture into sound healing, know that this appears to be a step in her journey towards emotional and physical healing through alternative methods of treatment.
Ms Koh seems to have been in and a believer in the alternative healing scene for quite some time now. In fact, her Instagram bio proudly proclaims that she is an "intuitive practitioner in Reiki" and "sound healing".
She also references "Bach Flower Remedies", which is supposedly a "safe and natural method of healing discovered by Dr Bach from 1930s in England". It purports to "gently restore the balance between mind and body by casting out negative emotions such as fear, worry, hatred, and indecision which interfere with the equilibrium of the being as a whole".
That sounds quite wholesome to us.
As further testament to Ms Koh's exploration into alternative healing, her Instagram story highlights include one named "Healing". A quick scan through the stories saved in this highlight reveals that it is largely dedicated to Ms Koh's sharing about her Reiki journey (and that of others who have been helped through Reiki).
---
Advertisements

---
Do not worry if you have not heard of Reiki before. We are here to help you. Or rather, Ms Koh is.
One of Ms Koh's stories in the "Healing" highlight is a screenshot of the Wikipedia page explaining the concept of Reiki. The image says that Reiki is a "Japanese form of energy healing" and is a type of "alternative medicine". Practitioners use the transfer of "universal energy" through their palms to encourage emotional or physical healing.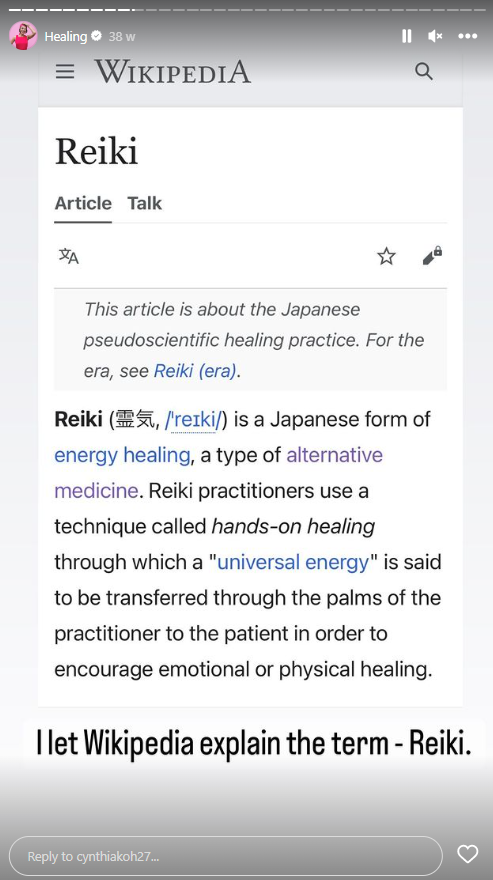 This seems to tie in with the idea of sound healing and Bach Flower Remedies, which we know that Ms Koh practices.
Before you dive headfirst into the world of such alternative medicine, know that opinion is divided as to whether such treatments are actually effective.
While some may point to personal anecdotes of how listening to calming or meditative music aided in lifting one's spirits, the New York Times reported in 2019 that the evidence of sound healing being effective is still limited (though the findings were similar to the calming effects of music or meditation).
---
Advertisements

---

Here's a rather unexpected timeline of the $2.8 billion money laundering case in Singapore as revealed by Minister Josephine Teo during a parliament sitting on 3 October 2023:
Read Also: