---
Advertisements

---
Lest you're not aware, phishing scams are as old as snake oil salesmen. These types of scam, whether via SMS, emails or even WhatsApp, are so common that I'd be a billionaire should I get one cent for each message I get from these scammers.
But nowadays, it has been on our radar after the OCBC SMS phishing scam went viral.
A grand total of S$8.5 million was lost to scammers, with some losing their life savings. In the latest update, OCBC said that the affected victims will receive "full goodwill payouts" covering the amount they lost, so the scammers are probably swimming in cash now while OCBC shareholders drown in their tears.
So it's no surprise that other banks are now on the ball with this in case they have to fork out millions of dollars for a mistake that they didn't intentionally make.
DBS Warns of New SMS Phishing Scam That Claims That Your Account Is Suspended
If OCBC has to pay out $8.5 million, you can bet that DBS would've to pay a lot more if their customers were scammed.
Three hours ago, DBS warns their customers about a new SMS phishing scam that looks suspiciously similar to the OCBC phishing scam.
Here's what they've written:
[SCAM ALERT] Scammers impersonating DBS may target you via SMS phishing. Please do not click on any SMS with clickable links. DBS will never ask for your account details or OTP over the phone, email or SMS. Please be assured that we are actively taking down such phishing sites.
It's time to be smarter as we move towards a smart nation.
Join our Telegram channel for more entertaining and informative articles at https://t.me/goodyfeedsg or download the Goody Feed app here: https://goodyfeed.com/app/
OCBC Phishing Scam
So, how did the OCBC phishing scam work?
---
Advertisements

---
The impersonators would send an SMS to the victims, claiming that there were problems with their bank account and asking the victims to click on a link. The link then redirected victims to a fake bank website where they would have to key in their online banking account login details.
Now you might be wondering why the victims were so gullible to click on a link that would have made most go sus. Well, in this case, the scammers cloned a legitimate sender ID which was OCBC, allowing their phishing SMSs to appear in the same thread as legitimate messages from the bank.
For those lucky enough to not have received the SMS personally, here is an example: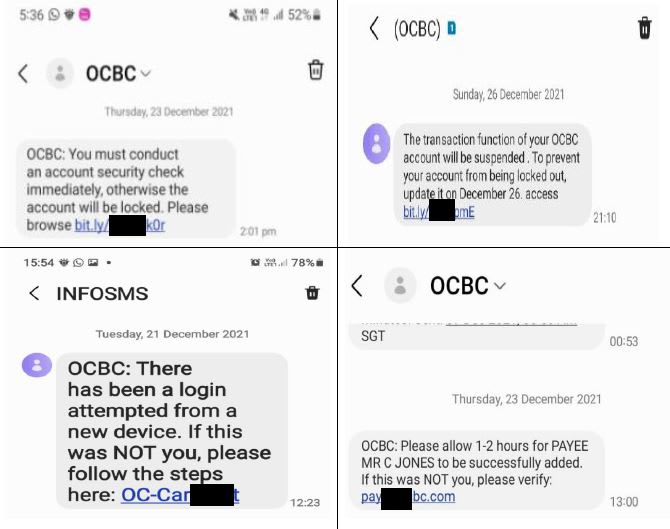 The Monetary Authority of Singapore has stated that they will consider taking the appropriate supervisory actions following the OCBC's  review of their processes.
MAS is also working with the Association of Banks in Singapore on measures that all banks should take to ensure that digital banking remains "secure, efficient, and trusted".
Maybe…they should just stop sending SMSes? #justsaying
You can watch these videos to know more about scams in Singapore:
Read Also:
Featured Image: Facebook (DBS)

Here's why a 4-day workweek might finally really be possible in Singapore soon:
Read Also: