January 2021 might be ending and we might have ended the reign of 1918 as the second-wettest January of all time but here's one thing that'll never end here in Singapore: Deals.
And this week is no different.
From two KFC zinger burgers for the fraction of its usual price to cheap branded sports shoes, 1-for-1 deals and more, here are the 10 best deals of this week you really cannot miss.
Two KFC Zinger Burgers + Nuggets For S$8.80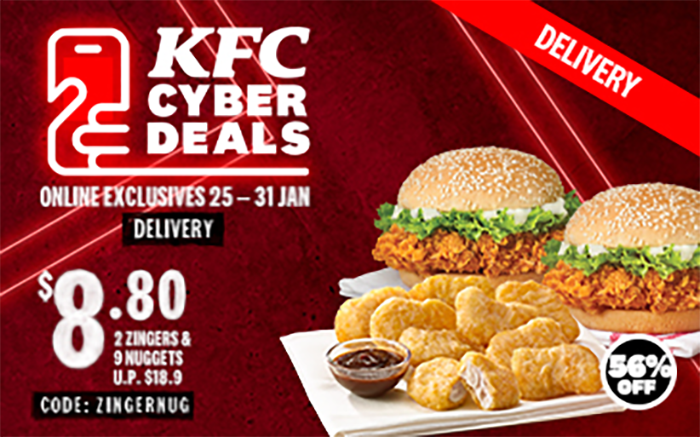 From now until 31 Jan 2021, you can enjoy two KFC Zinger Burgers and 9-piece nuggets for $8.80 (U.P S$18.90), exclusively for delivery only.
You are limited to one redemption per transaction and it's not valid with other promos, offers and discounts.
So if you're craving for some sinful, spicy delicious burgers, this might just be the one for you.
You can click here to find out more (and order as well lah).
50% OFF All Pizzas At Marché Mövenpick Singapore Bar & Bistro Outlets
As a wise old man once said, money can't buy you everything but it sure as hell can get you a lot of pizzas.
And it's something that Marché Mövenpick is taking seriously.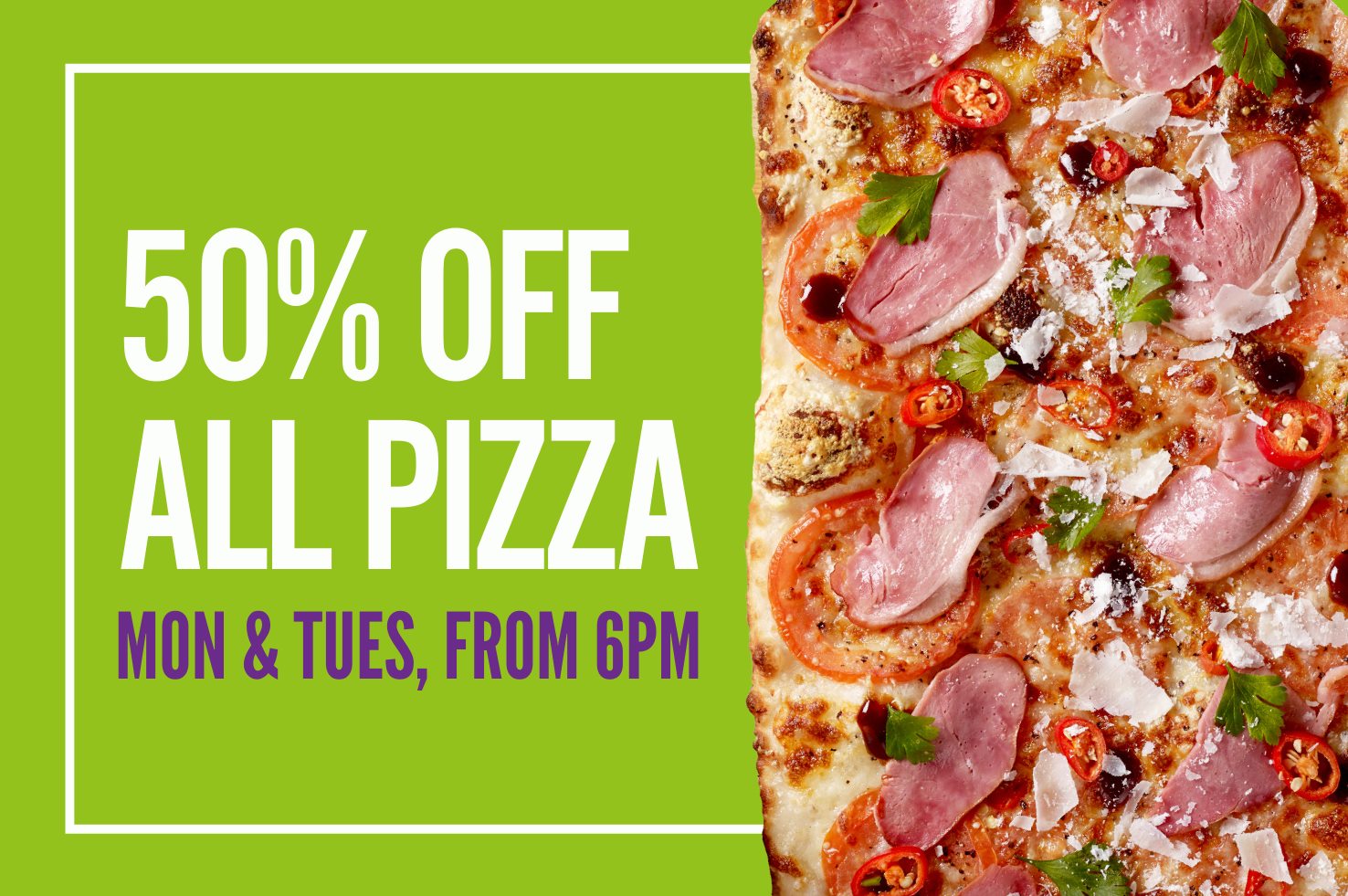 On Mondays and Tuesdays, after 6pm, you can enjoy 50% OFF gourmet pizzas from Marché Mövenpick Singapore Bar & Bistro outlets located at Raffles City and JEM.
If that doesn't tempt you into giving up your New Year's resolution, here's a sneak peek at their gourmet pizzas: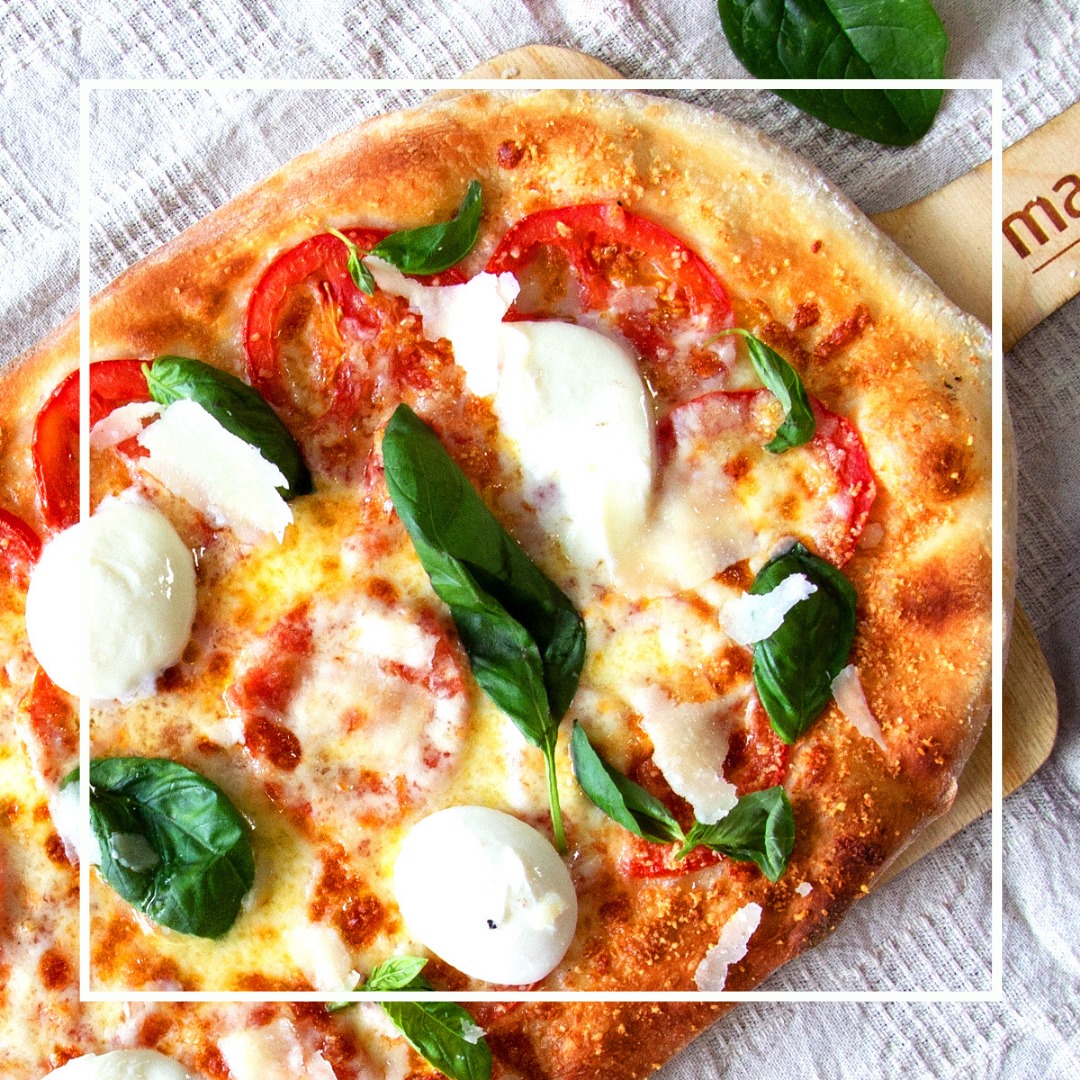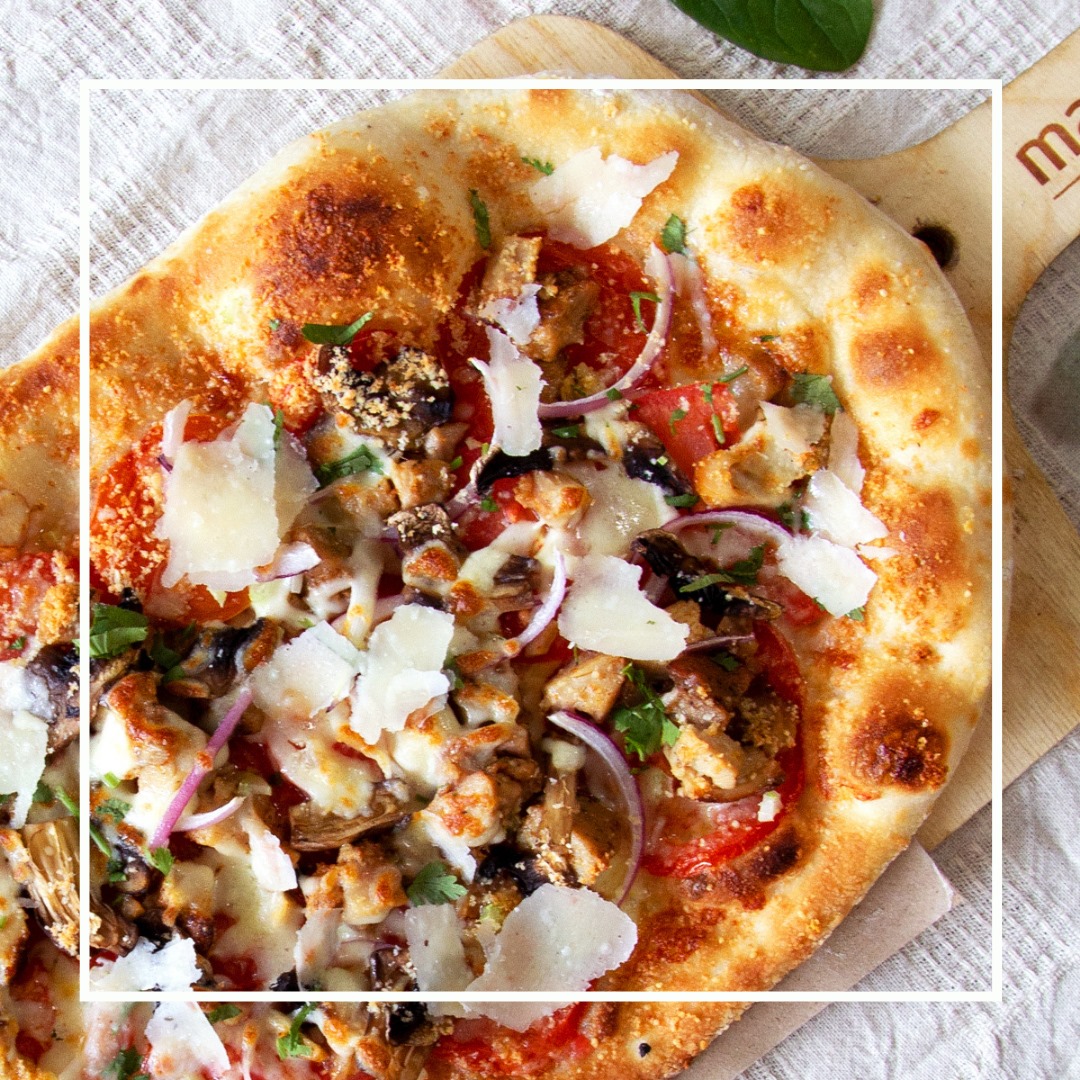 As mentioned, the promotion is valid for all pizzas from the JEM and Raffles City outlets and it's available in-store only (for dine-in or takeaway).
---
Advertisements
---
The best part? No minimum spending is required so if all you want is cheap pizzas, you can do that.
You can read their full Facebook post below:
1-For-1 McDonald's Breakfast Deluxe
In case you've missed it, McDonald's Singapore has been running an entire month's worth of deals since 2021 started exclusively for app users: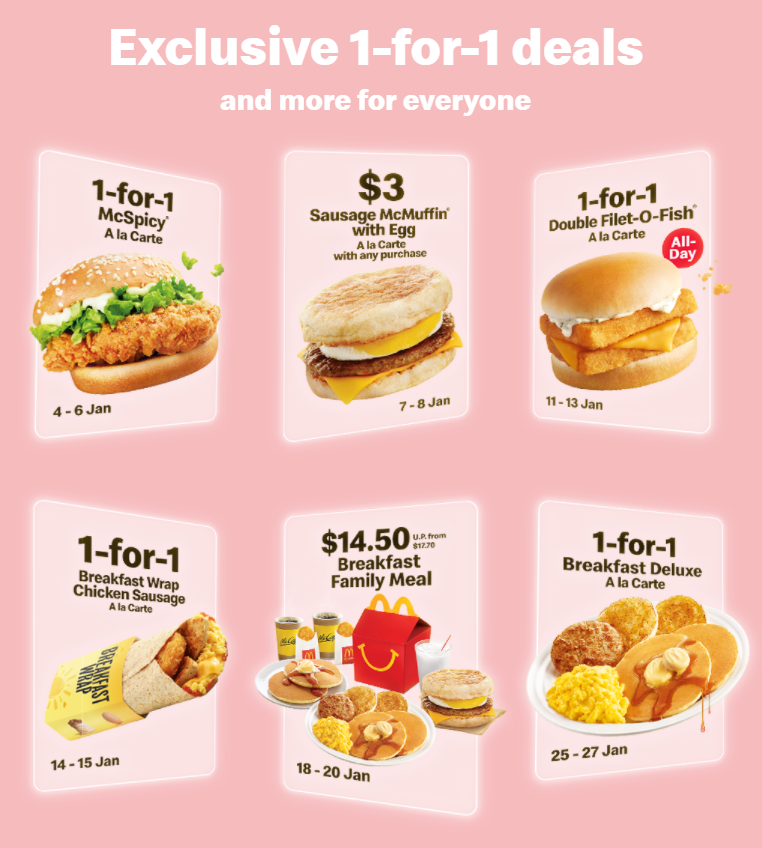 And this week is the last week if you want to catch the tail end of their deal.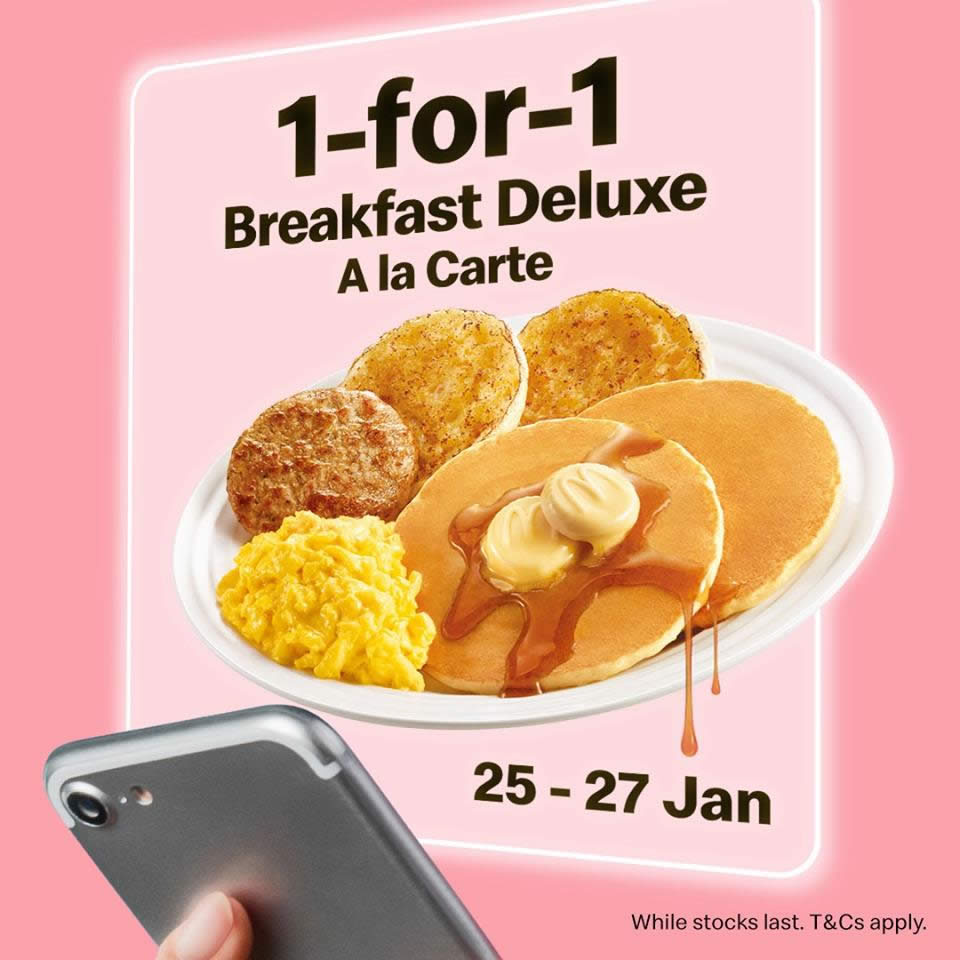 If you're working from home and you want a good pick-me-up, the McDonald's Breakfast Deluxe might just be what you need.
Filled with the best from McDonald's breakfast menu, including pancakes, muffins and scrambled eggs, you can now get two sets for the price of one.
---
Advertisements
---
Terms and conditions apply:
The deal is available while stocks last.
Visuals are for illustration purposes.
Limited to one redemption per customer per day.
This deal may not be used in conjunction with any other promotions or discounts.
Valid at all stores in Singapore except NTU, Polytechnic stores and delivery.
You must log in before you can redeem any deals.
Once you have redeemed this deal, you will not be able to redeem this again until 24 hours later.
This deal cannot be exchanged for cash. No refunds allowed.
Products may contain allergens. Full allergens list can be found at www.mcdonalds.com.sg/allergens-listing
Prices vary according to location.
McDonald's reserves the right to change the offers, menu and offers period anytime without prior notice.
Up to 80% Off Nike, Adidas & Other Branded Shoes in Redhill Warehouse Sale
From 28 to 31 Jan 2021, LINK is having a warehouse sale featuring shoes from brands like Nike, Adidas, and Puma with discounts of up to 80%.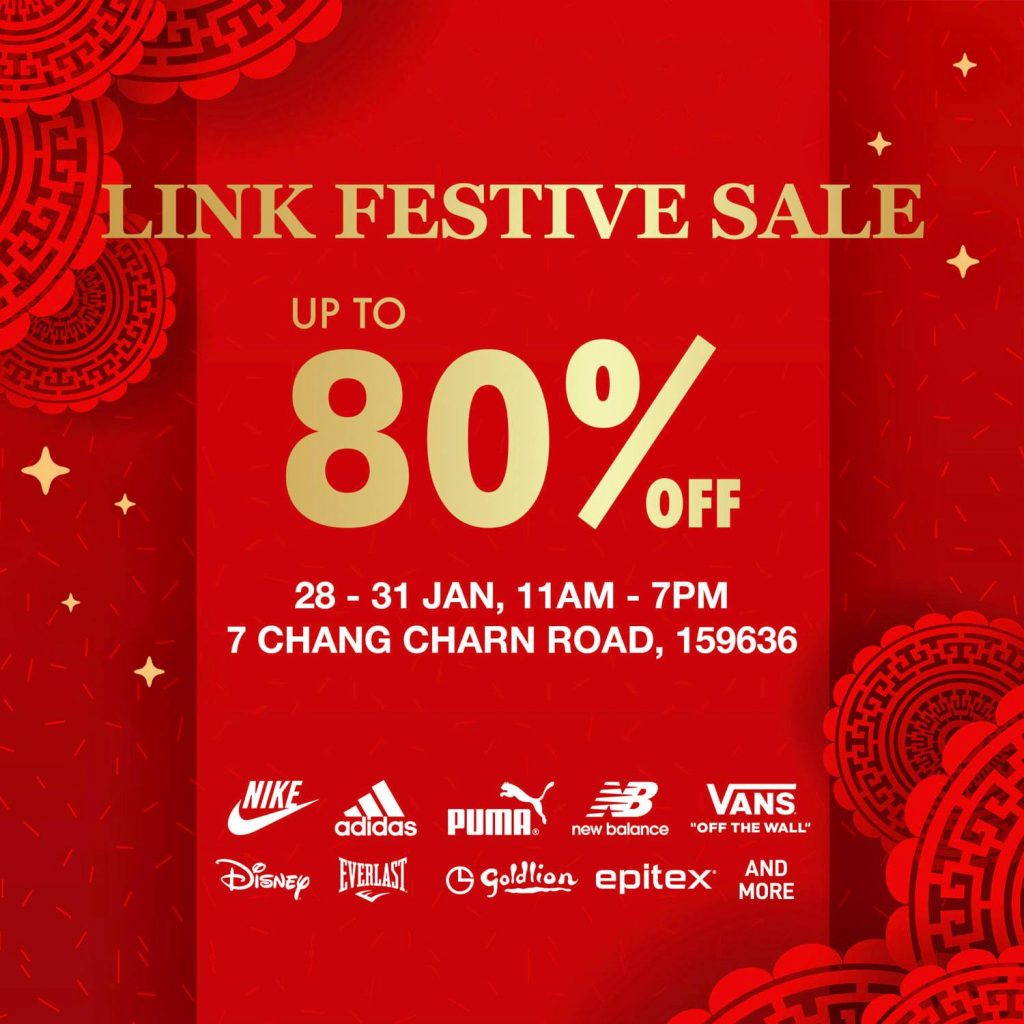 Here's a sneak peek at what'll go on sale.
In this sale, LINK is offering everything from Nike Air Force 1's to Air Max's for just $80 a pair.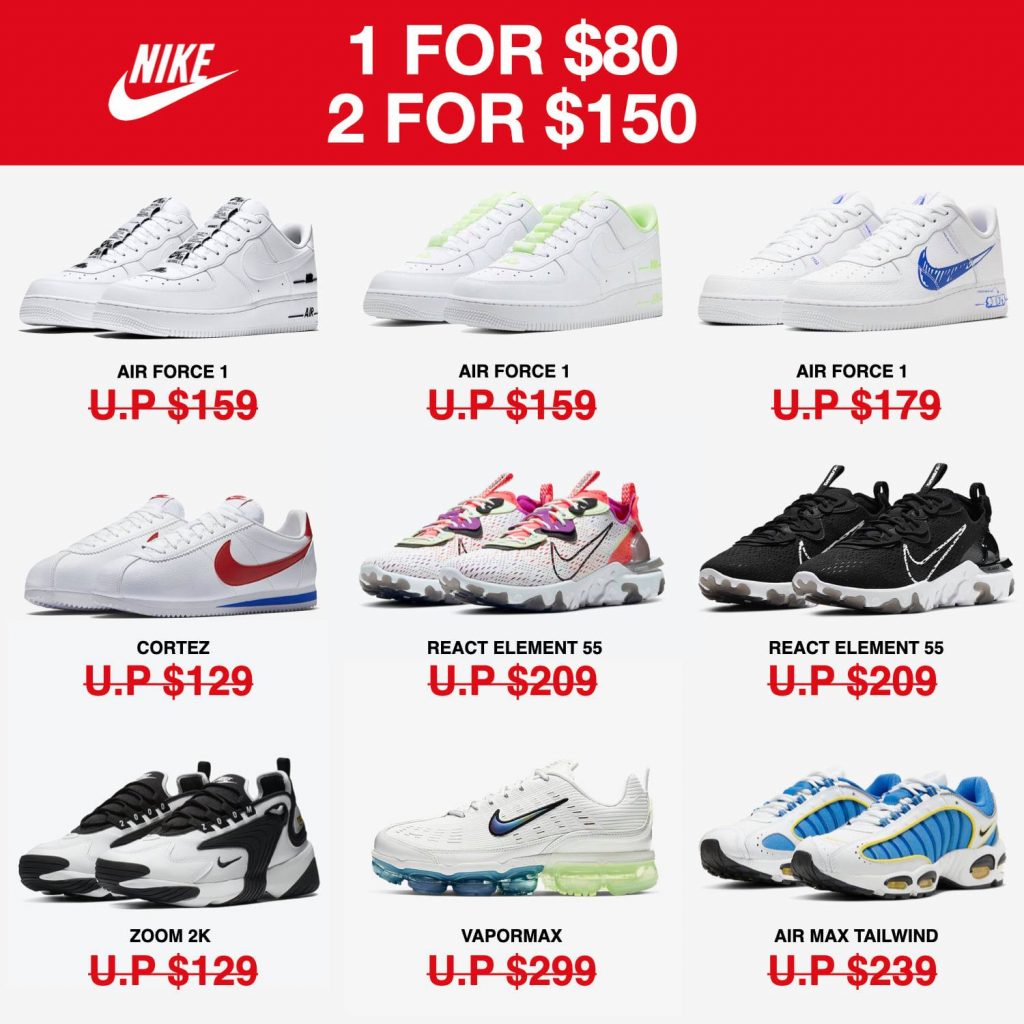 Better yet, if you and your significant other want to get a matching pair, or you want to get two pairs for yourself, you could also go for the 2 for $150 offer, as you'd pay just $75 for each pair!
---
Advertisements
---
If you're a loyal fan of Adidas and would never cross over to the dark side, you'd be happy to know that the same offer is available for several pairs of Adidas shoes!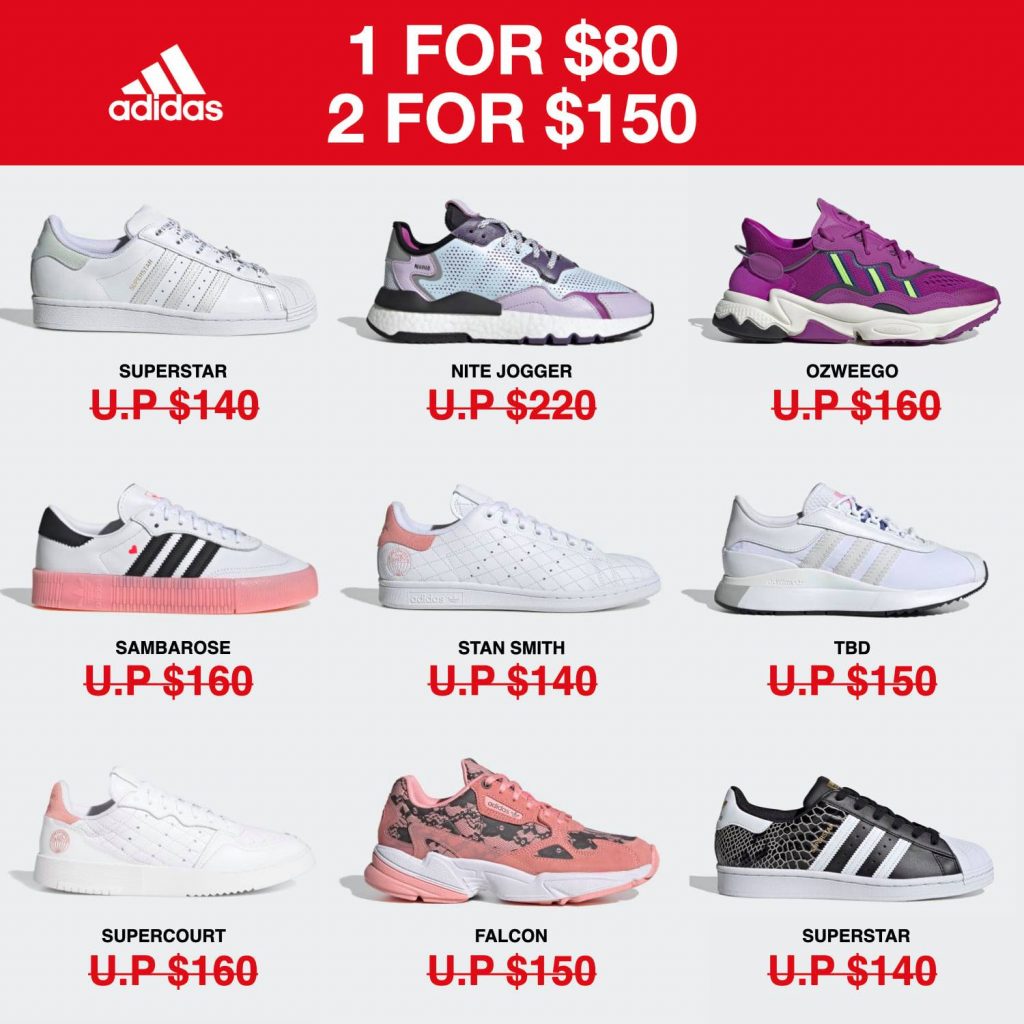 And yes, this includes the beloved Stan Smith design.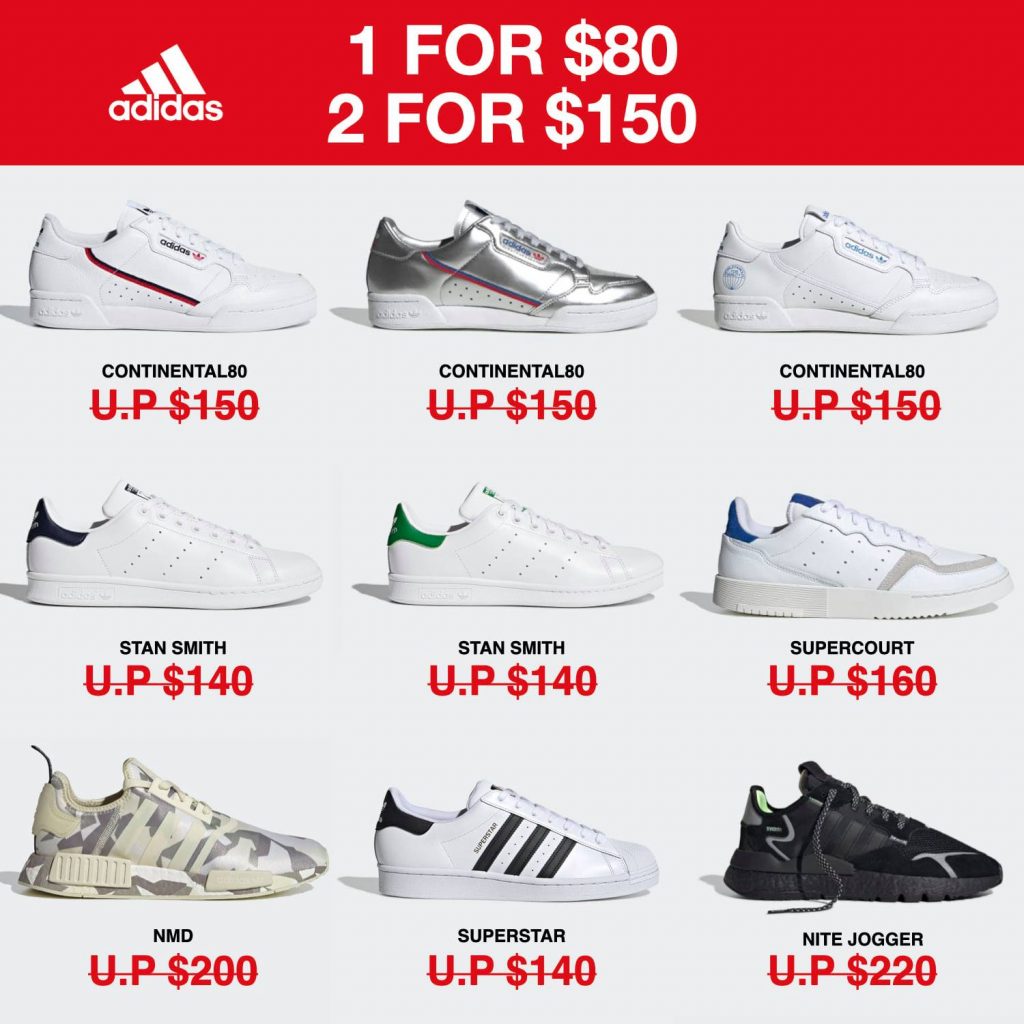 If your fashion choices can be described as "90s aesthetic", you might like some of the shoes Puma has on offer instead.
---
Advertisements
---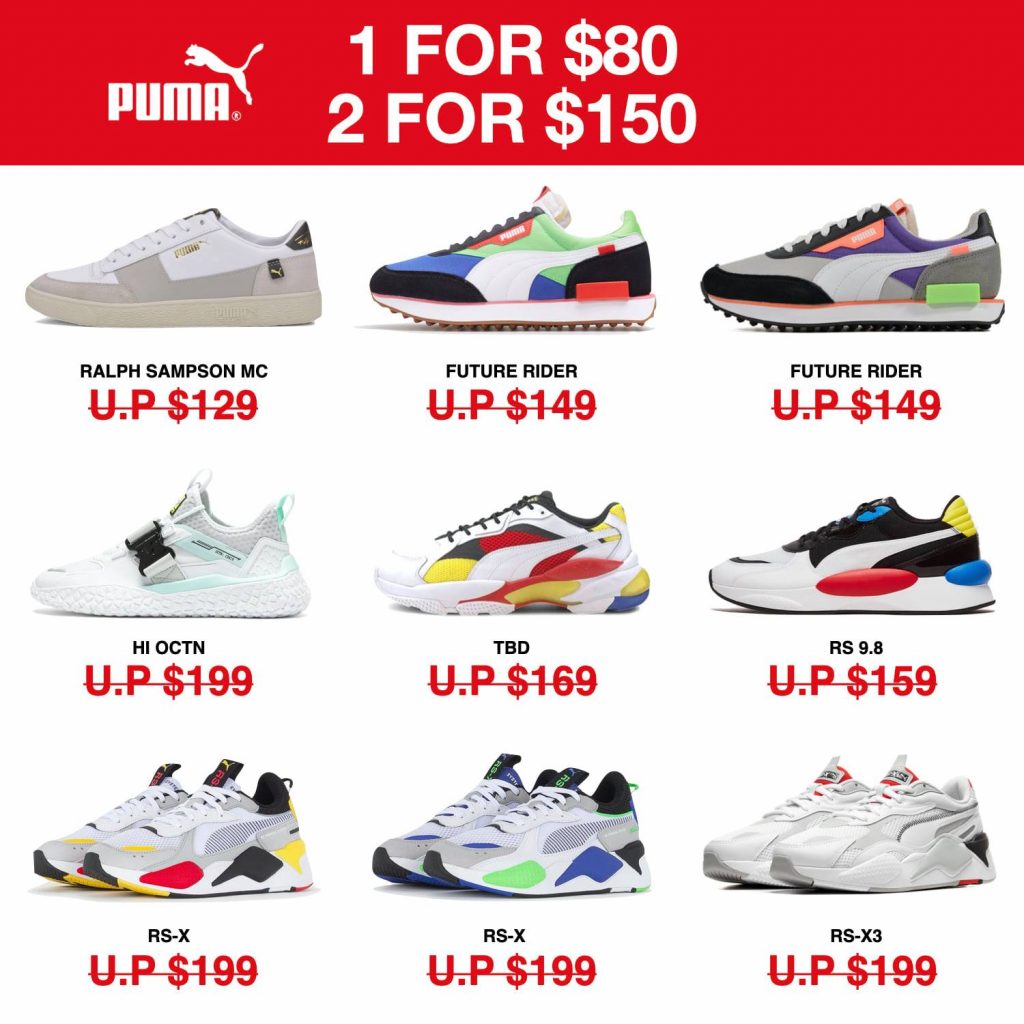 The pick of the bunch has to be the modernised 80's design of the Future Rider, one of Puma's most popular shoes.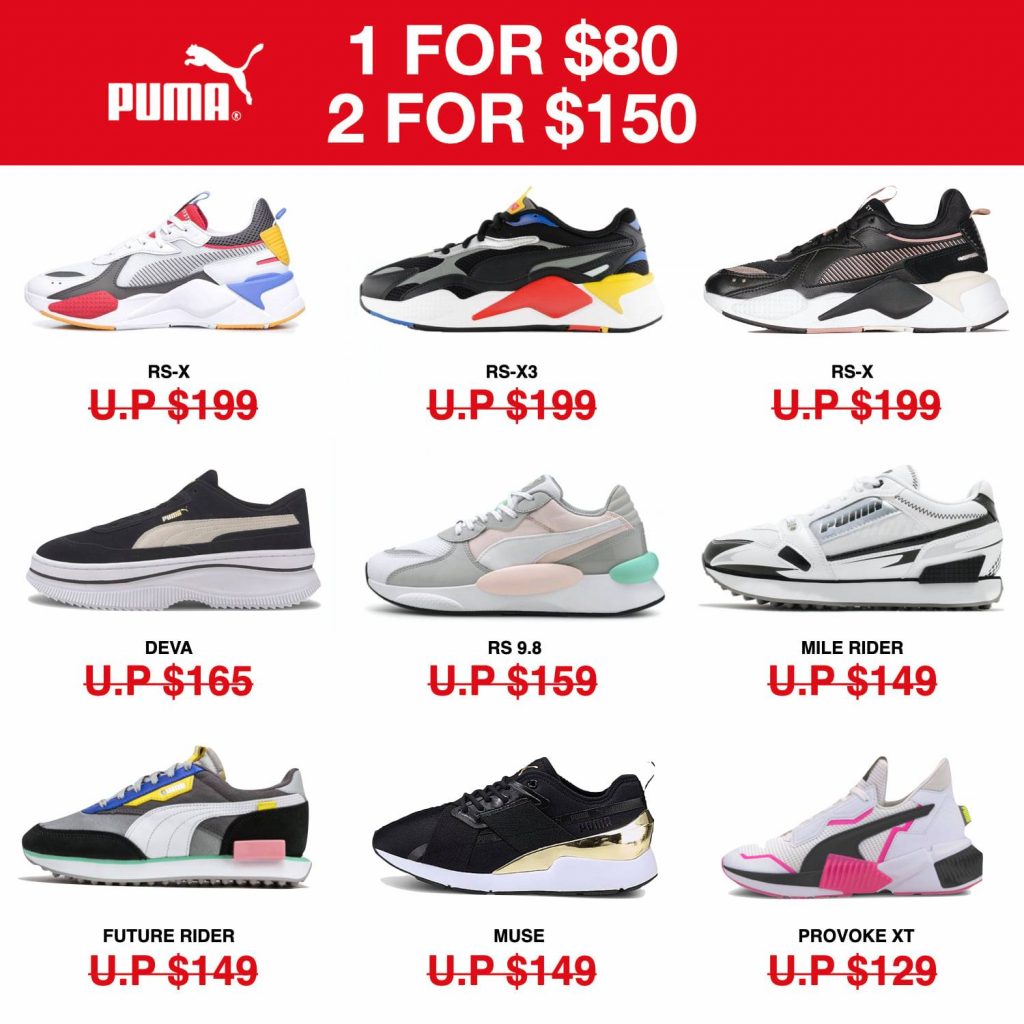 There are more to the sale and you can find out every detail about it here.
One thing for sure, though, this warehouse sale is taking place in Singapore, and therefore, a queue is likely to form.
---
Advertisements
---
So it'd be a good idea to head down early to avoid crowds, as safe distancing should be our priority.
Address: 7 Chang Charn Road, Singapore 159636
Operating hours: 11am –  7pm
Nearest MRT: Redhill Station
Up to 70% off Steamboat Items, Including Abalone, in Jurong Warehouse Sale
If you're looking for great deals this CNY to make scrumptious dinners without breaking your bank, the Far Ocean warehouse sale is where you need to be at.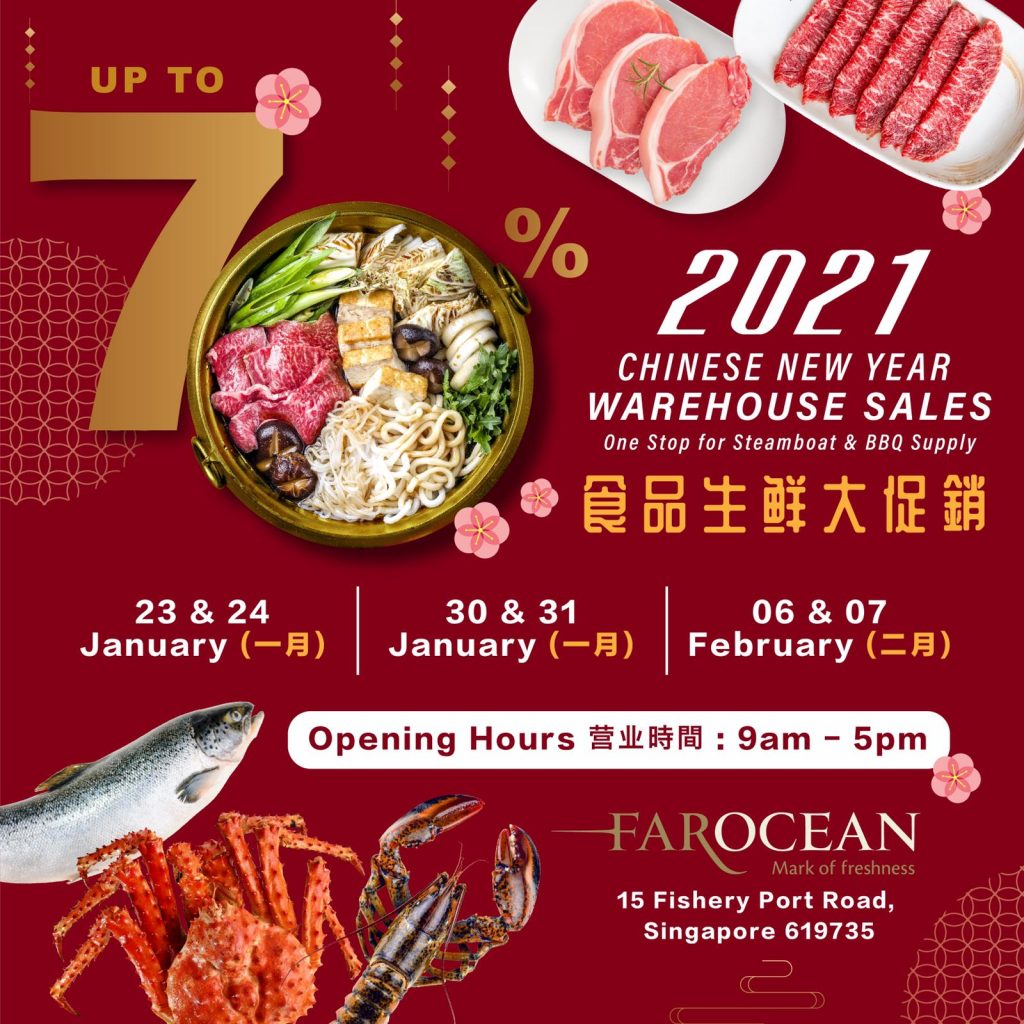 The best part? Their warehouse sale is only going to open on the weekends so you don't have to use your annual leave to enjoy the up to 70% off your favourite CNY ingredients.
Here are the dates to keep in mind:
---
Advertisements
---
23 & 24 Jan 2021
30 & 31 Jan 2021
6 & 7 Feb 2021
Due to Covid-19, the warehouse will have a capacity limit of 240 pax with safe markings to indicate 1-metre safe distancing.
Key items in their sale include:
Braised Abalone (1 can): S$8 (U.P S$18)
Japanese Cooking Scallops (1kg): S$18 (U.P S$44) / Claimed to be the cheapest in Singapore
US Short Plate Beef Shabu (300g): S$8 (U.P S$18)
Kurobuta Pork Belly Shabu (200g): S$10 (U.P S$15)
Chilean Salmon Fillet (1kg): S$25 (U.P S$44)
Black Cod Steak Cut (1kg): S$50 (U.P S$70)
Chilean Seabass Steak (1kg): S$60 (U.P S$88.50)
Ang Kar Prawns (1kg): S$20 (U.P S$29.90)
They also have specially-bundled discounts and free gifts for different spending at the sale, which you can find out more here.
Location: 15 Fishery Port Road, Singapore619735
Dates: 30 & 31 Jan / 6 &7 Feb 2021
Operating Hours: 9am to 5pm
Website: Click here
1-For-1 Fish & Crisps Set At Big Fish, Small Fish
Love fish and chips? Or in this case, fish and crisps?
When it comes to fish and chips, Big Fish Small Fish is one place that'll come to your mind.
---
Advertisements
---
Well, here's one additional reason to pay them a visit: a 1-for-1 deal.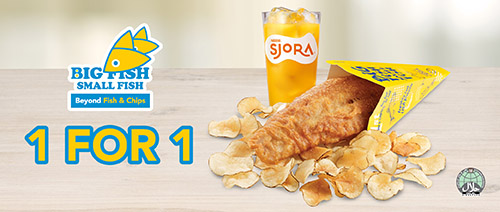 From now until 28 Feb 2021, simply flash the e-Coupon, found here, to enjoy the deal.
It's available at all outlets in Singapore and you can only order 1 Sea Bass Fish & Crisps per transaction only.
You can find your nearest Big Fish Small Fish outlets here.
---
Advertisements
---
And since we're on the topic of fishes…
7. 1-For-1 Deals At Manhattan Fish Market
From now until 31 Mar 2021, you can enjoy fish dishes at the Manhattan Fish Market outlets in Singapore for cheap.
Known for their delectable meals, The Manhattan Fish Market Singapore is running attractive deals of up to 50% off right now.
This includes deals like the Dory Fish & Chips and Grilled Dory N Garlic Herb Rice for just S$17.90 (U.P S$28.80)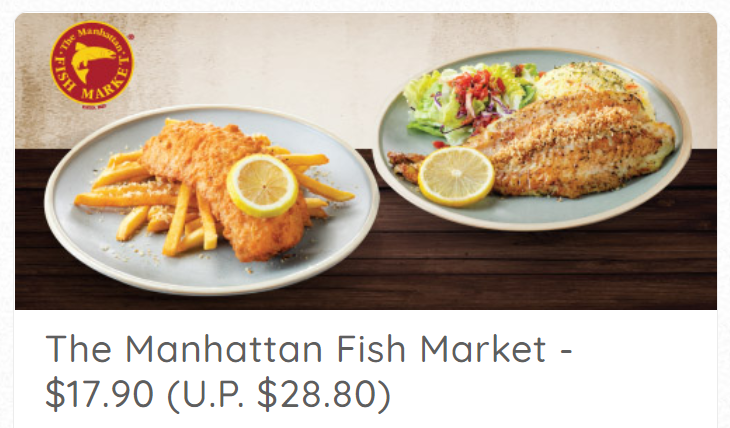 ---
Advertisements
---
Or the Baked Dory 'N Garlic Herb Rice and Seafood Aglio Olio for S$18.90 (U.P S$33.80)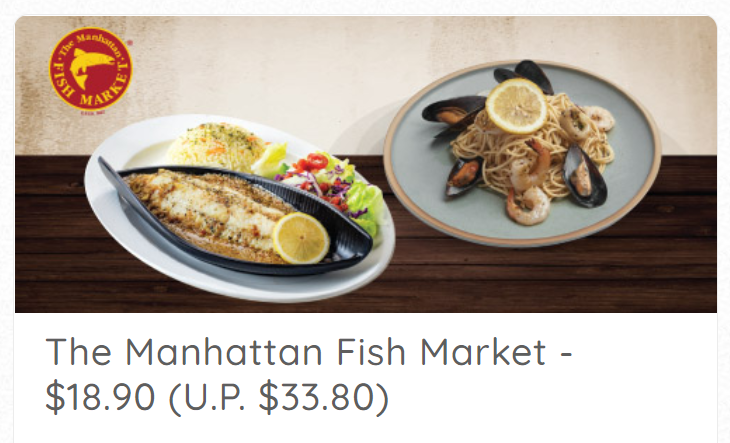 And for those who are going for a full-blown feast instead of buddy meals, the feast for four at S$42.90 ($68.80):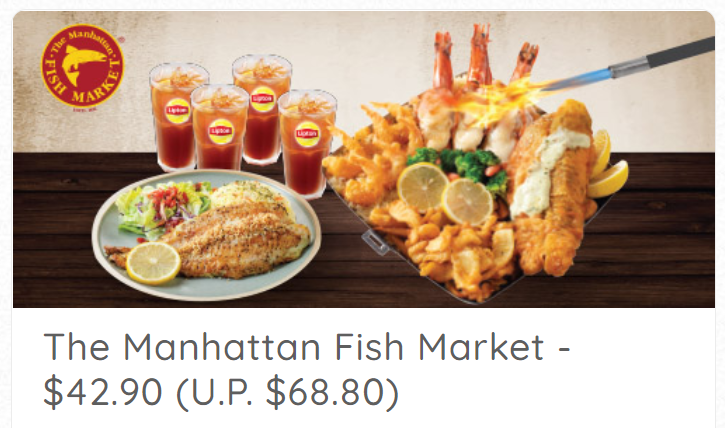 All three deals are valid until 31 Mar 2021 for dine-in only except on the eve and public holidays.
---
Advertisements
---
The eCoupons, which can be found here, here and here, must be presented upon ordering.
As you can probably tell by now, these are just the tip of the iceberg and there are plenty more F&B (and more) deals to be found here.
Wing Huat Loong 永發隆 Chinese New Year Warehouse Sale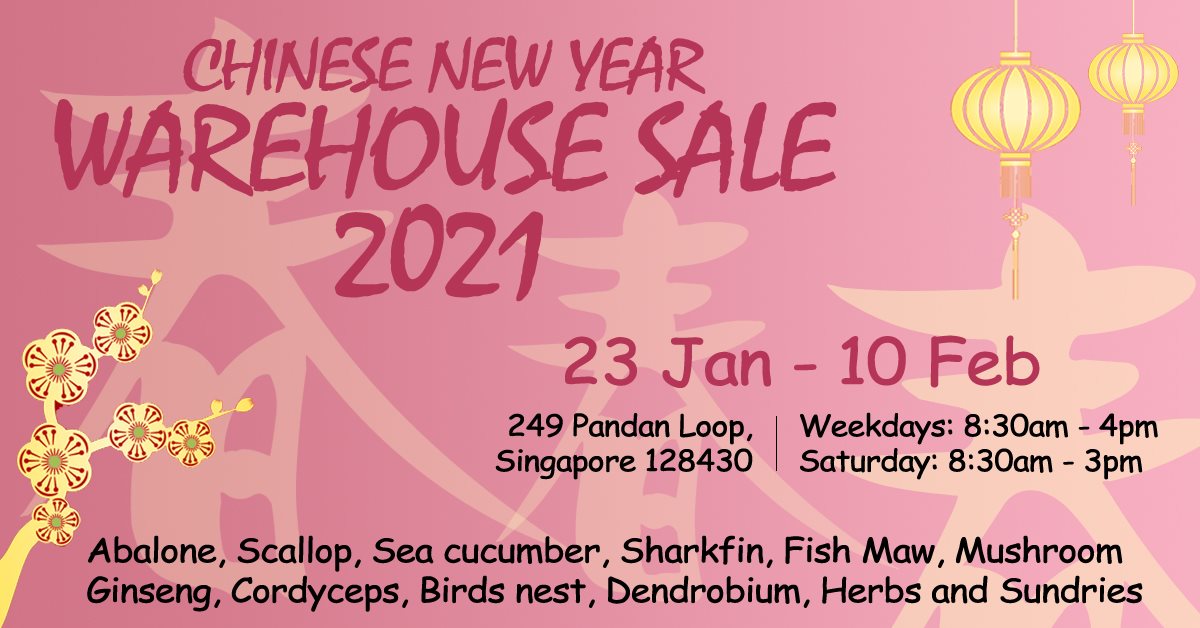 Looking for a place to get all of your CNY shopping done…for cheap?
Well, you might not want to miss out Wing Huat Loong's Chinese New Year warehouse sale where they offer CNY ingredients like abalone, scallop, sea cucumber and more at a discount.
---
Advertisements
---
The warehouse sale will take place from 23 Jan 2021 and end on 10 Feb 2021 in the west of Singapore.
For those who need pen cai, they even have an early bird promo going on right now:
Address: 249 Pandan Loop Singapore 128430
Operating Hours: 8.30am to 4pm (weekdays) / 8.30am to 3pm (Saturdays)
50% OFF Second Diner At Ala Carte Buffet At Shangri-La The Line Restaurant
Feel like splurging on yourself and your partner this month, and have enough annual leave to spare?
How about eating at a 5-star hotel's restaurant for 50% off the second diner?
Believe it or not, that's exactly what The Line at the Shangri-La Hotel Singapore is offering for their ala carte buffet, The Flavours Of The World.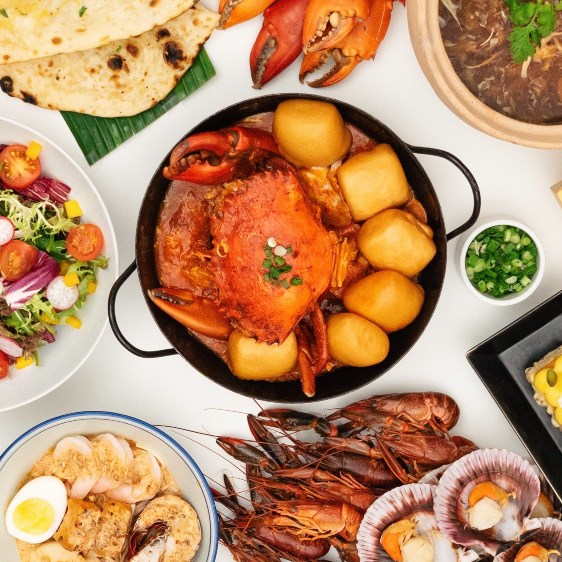 From now until 30 Jan 2021, the second diner for their lunch buffet on Mondays to Sundays can enjoy 50% off the buffet price.
To redeem, simply quote <THELINE50> when you make your reservation either through call, email, or online.
The promotion is valid for adults only and the 50% off promotion applies to every second diner.
There'll be over 88 delectable dishes from The Line's newly created made-to-order menus, including fresh seafood on ice, sushi, authentic Thai salads, naans and more.
You can click here to find out more.
Nostalgic Mr Softee Flavour At 2 For $2
Mr Softee is 7-Eleven's iconic soft-serve answer to Singapore and, this CNY, they're going to level it up even more.
One, by making it cheap and two, by offering it in a flavour that'll bring Singaporeans back into their childhood memories.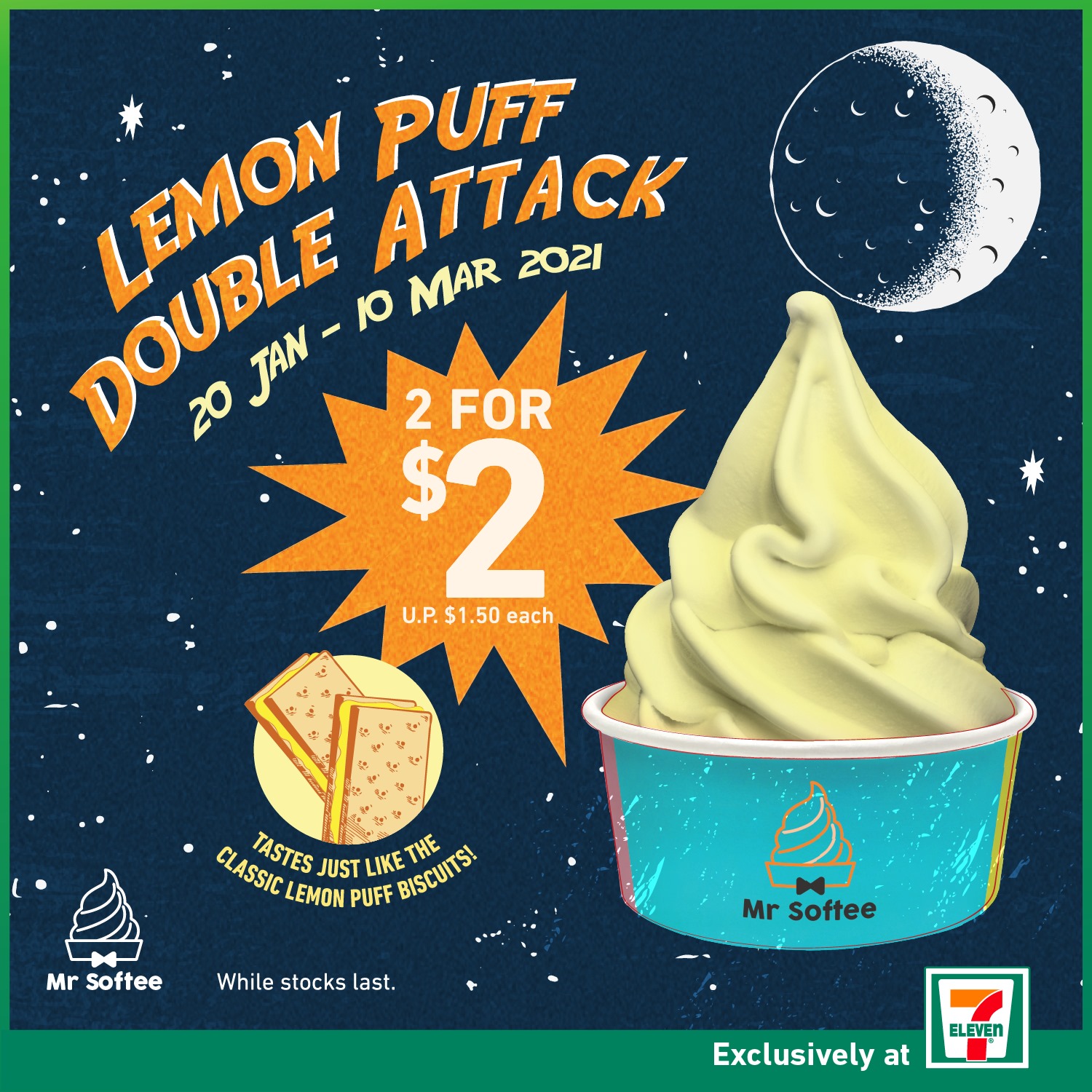 From now until 10 Mar 2021, 7-Eleven Singapore is giving you a Mr Softee that tastes exactly like the classic lemon puff biscuits of your childhood.
The best part? They're giving it to you at $1 per cup (2 for $2) instead of the usual $1.50 per cup price.
Need to complement your ice cream with some food? 7-Eleven's latest hotpot for one and an onigiri that's converted from a don might just be perfect for you.
You can read all about it here.
You can click here to find your nearest 7-Eleven outlet.
So there you go; the ten best deals happening this week. Have we missed out any?
Feature Facebook (LINK outlet store / Marche Movenpick / 7-Eleven Singapore) / KFC Singapore
Like writing? Goody Feed is looking for writers! Click here for more info!