Back in 2018, when PM Lee says he wants Singapore to use electronic payments everywhere, from hawker centres to restaurants, people scoffed.
Possible meh? We got old people here leh.
Everyone?! I'll love to see how the Government plans to do it.
Fast forward to almost 3 years later, more than 10,800 stalls from hawker, coffee shop and canteen in Singapore now offers electronic payments.
How did they do it? By incentivising both stall owners (give them money to adopt the system) and patrons (you can read more about that below).
And the best part?
They're still in the midst of getting people on board, meaning you still have a chance to take advantage of all the freebies going around right now.
Scan, Pay & Win
Launched by the SG Digital Office, the Scan, Pay & Win lucky draw is an initiative to encourage consumers and hawkers in Singapore to adopt cashless payment when they transact at hawker centres and markets, coffeeshops and industrial canteens.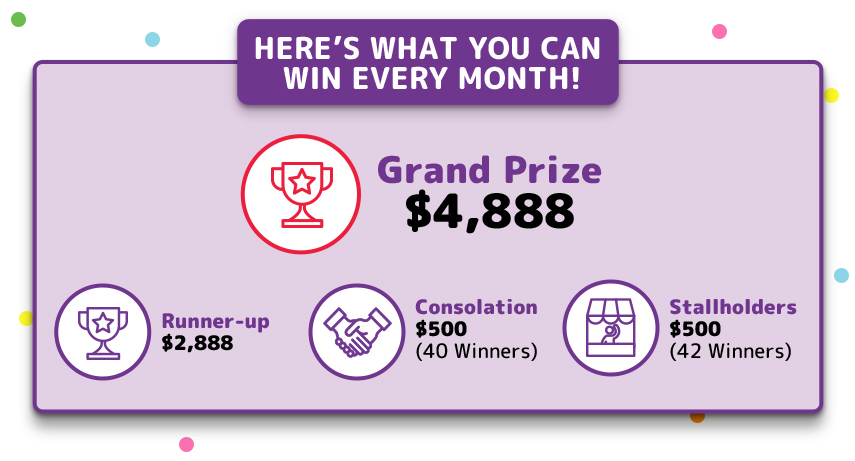 Users stand to win up to S$4,888 per month and more when they scan the SGQR code with participating apps during payment.

You'll get 1 chance to win for every $1 spent, capped at 100 chances per transaction.
But wait, that's not all.
Diners SG Pay
If you're a Diners Club cardholder, I've got great news for you.
Diners Club cardholders who download the Diners SG Pay App and register their Diners Club Card will get even more rewards on top of what's being offered by the Scan, Pay & Win campaign.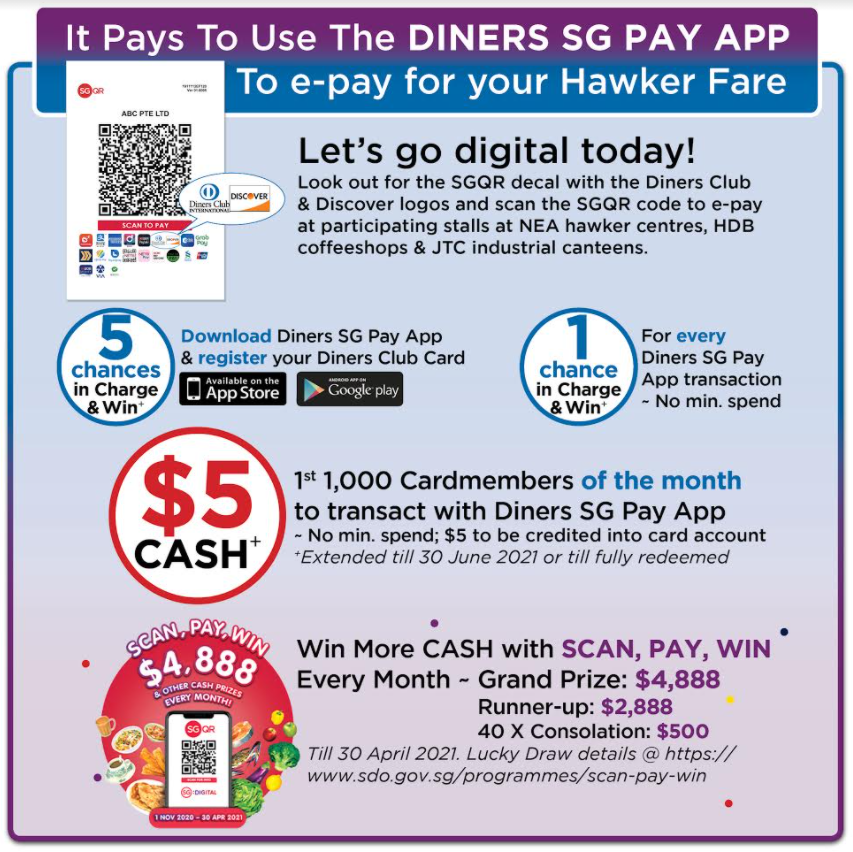 From now until 30 Jun 2021 (or until fully redeemed), the first 1,000 cardmembers of the month to pay with Diners SG Pay App will get S$5 credited into their card account.
No questions asked, no minimum spend required.
Details and participating stalls can be found here.
Other than that, you'll get 5 chances for Diners Club Charge & Win Lucky Draw when you download the app and register your Diners Club card.
Thereafter, every Diners SG Pay App transaction to pay for your hawker food will net you one additional chance for the draw with no minimum spend.
As for why that last part is so important, you have to know more about the lucky draw.
The Charge & Win Lucky Draw
Think of Diners Club Charge & Win lucky draw as an upsized version of Scan, Pay & Win.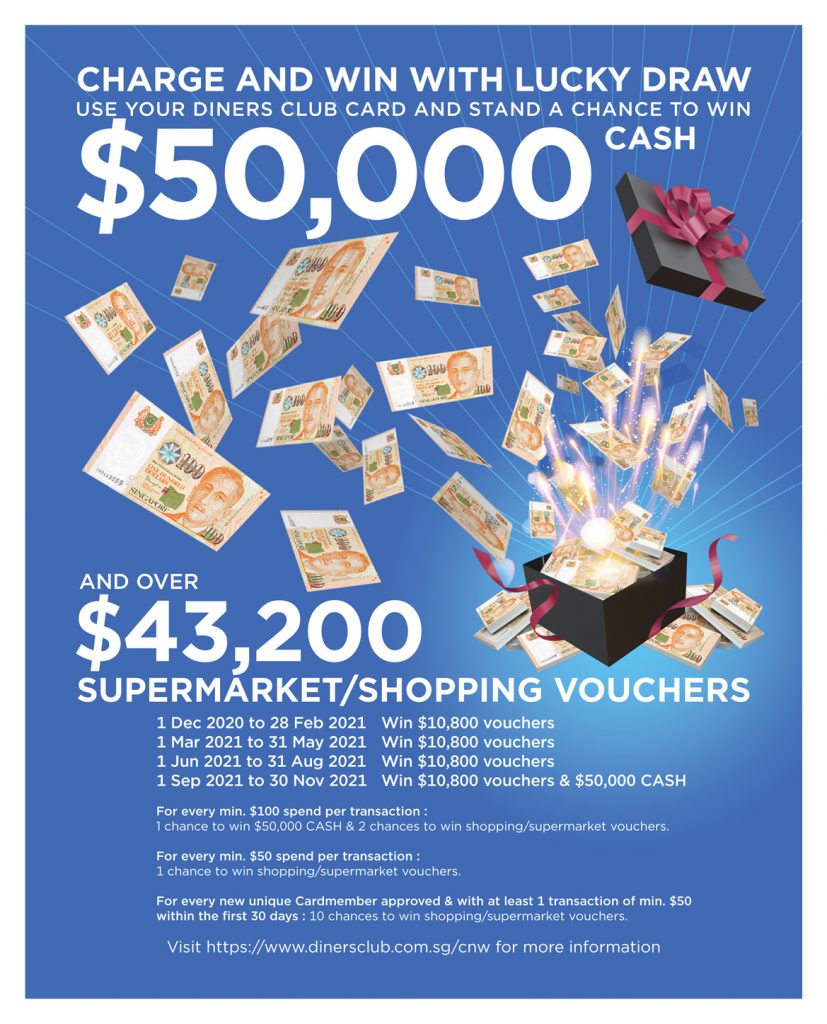 The draw takes place every quarter and has S$10,800 worth of vouchers up for grabs (36 winners x S$300 vouchers).
Normally, to qualify for the lucky draw, you'll only earn one chance with a minimum spend of S$50 in a single transaction with your Diners Club card.
However, as part of the Diners Club SG Pay App promotion, every transaction at hawker centres will give you one additional shot at the supermarket/shopping vouchers.
That's right, with no minimum spend.
So no matter whether you pay S$50 for a zichar meal or a S$3.50 mee pok, you'll still get one chance.
Don't say we bojio hor.
In the final quarter, from 1 Sep 2021 to 30 Nov 2021, things get a lot more interesting.
Instead of simply having S$10,800 worth of vouchers up for grabs, there's also a cash prize of S$50,000 waiting to be won.
To qualify for the grand prize, you'll need to spend a minimum of S$100 on a single transaction for one chance.
You can find out more here.
And So, What Are You Waiting For?
If you're a Diners Club cardholder, download the Diners SG Pay App today and enjoy the upsized rewards.
Diners Club (Singapore) Pte Ltd is a direct banking and payment services company that collaborated with many well-known companies in Singapore.
Long-time Goody Feed readers might be familiar with them through the DON DON DONKI (DONKI) Diners Club Card.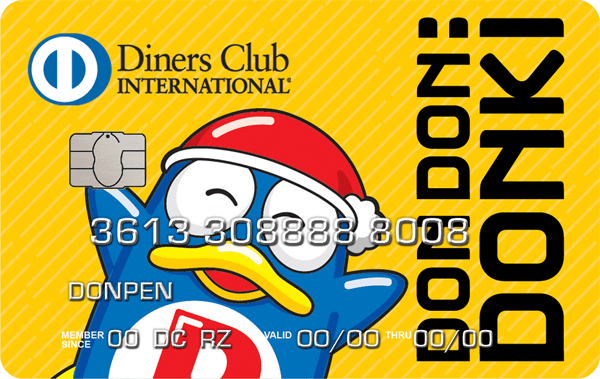 Other notable collaborations include VICOM (offering high fuel savings of up to 23.2%), Sheng Siong (aka 16-month-bonus supermarket) and more.
If you're in the market for a new credit or charge card with upsized perks for selected companies, including zero per cent instalment plans and up to 58 days interest-free credit period, Diners Club might just be what you're looking for.
You can find out more information about their cards here.
This article was first published on Goodyfeed.com and written in collaboration with Diners Club (Singapore) Pte Ltd.
Feature Image: 2p2play / Shutterstock.com