When cashback cards were first introduced, consumers couldn't believe their luck.
Wait, you're going to give me money for spending money? Is this the real life?
It's no wonder that cashback cards are popular with Singaporeans, since shopping is our national sport.
Singaporeans are the one group of people to whom the expression "shop till you drop" doesn't apply, because our energy for purchasing things is inexhaustible.
So, why don't more Singaporeans have cashback cards?
One word: low rebates and minimum monthly spends. 
Reader: That's like six words.
Some cashback cards out there offer decent rebates, but you're required to spend hundreds of dollars a month with the card.
Others don't require a minimum monthly spend, but offer unattractive cashback rates.
Now, there's one card that might just take the cake.
Diners Club Introduces New CASHBACK Card With Up to 5% Cash Rebate
Diners Club is introducing its very first cashback card which will allow you to save more as you spend more!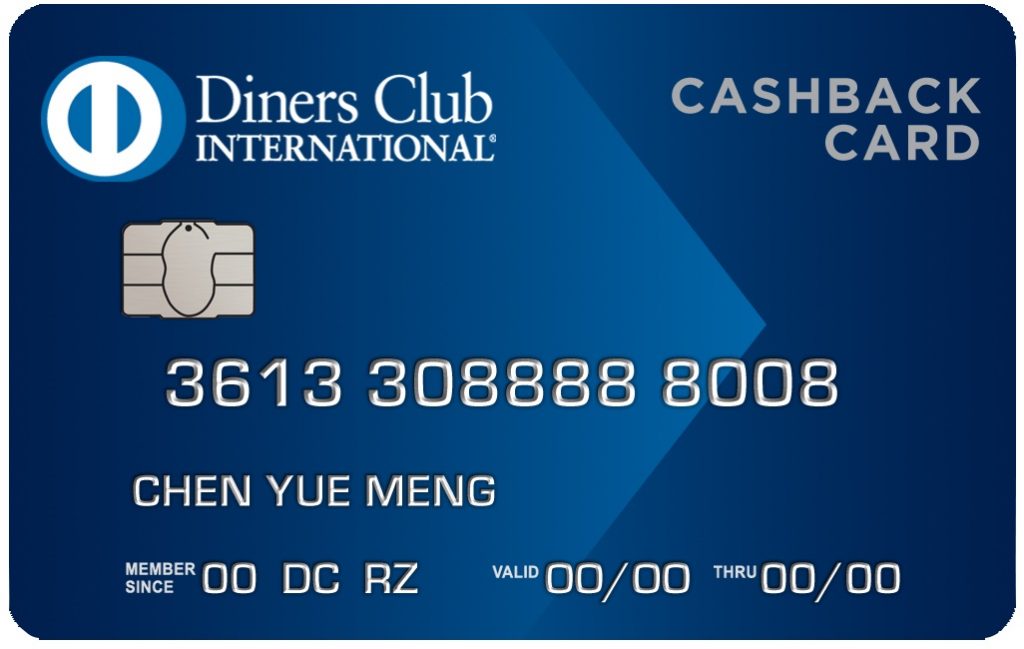 Consumers with the new consumer credit card can earn up to 5% cash rebate for all eligible transactions!
Even if you don't use the Diners Club's CASHBACK Card one month and purchase 50 pairs of shoes the next month, you'll still be entitled to up to 5% cash rebates for the second month!
There's simply no pressure to spend, but when you do, you'll get some of that money back.
For the first year, there is no annual fee!
So, how does it work?
Three Spending Tiers
Cash rebates are doled out to consumers with the Diners Club's CASHBACK Card based on which spending tier their transactions come under.
For this card, there'll be three spending tiers:
First $0 to $149.99 – 0%
Next $150 to $299.99 – 3%
Next $300 and up – 5%
Here's a little table to help you understand how your cash rebates will be calculated.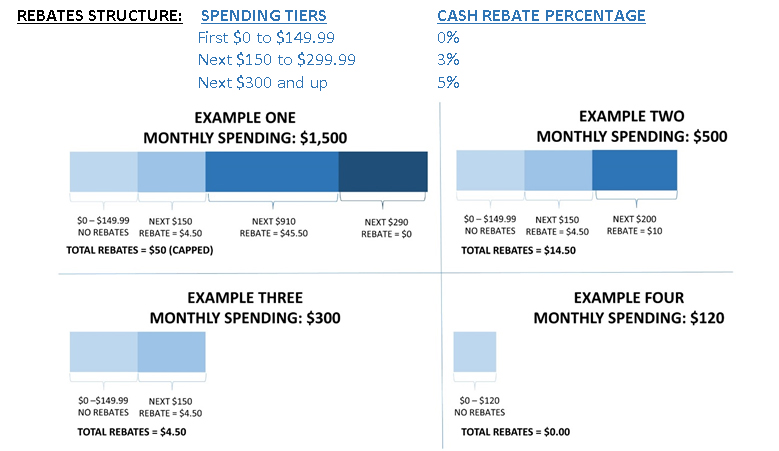 So, once you spend $300, you'll instantly get a cash rebate of $4.50. And if you end up spending an additional $300 or more, you'll get a 5% cash rebate.
Things to Note
Spending is based on transactions processed by Diners Club (based on posting date from merchants) from the 1st day to the last day of every calendar month (in Singapore dollars, unless otherwise stated).
Cash rebates earned are also capped at S$50, and reflected in the same month's Statement of Accounts,  meaning all transactions from 1st to 31st January 2021, for example, will be reflected in January 2021's Statement of Accounts.
The cash rebates earned will be offset and reflected in the same month's Statement of Accounts (SoA).
If there weren't enough incentives above for you to go out and get Diners Club's new CASHBACK Card, well, what about the chance to win nearly $95,000 in cash and vouchers?
The Charge & Win Lucky Draw
More specifically, I'm talking $50,000 in cash and over $43,200 in supermarket and shopping vouchers!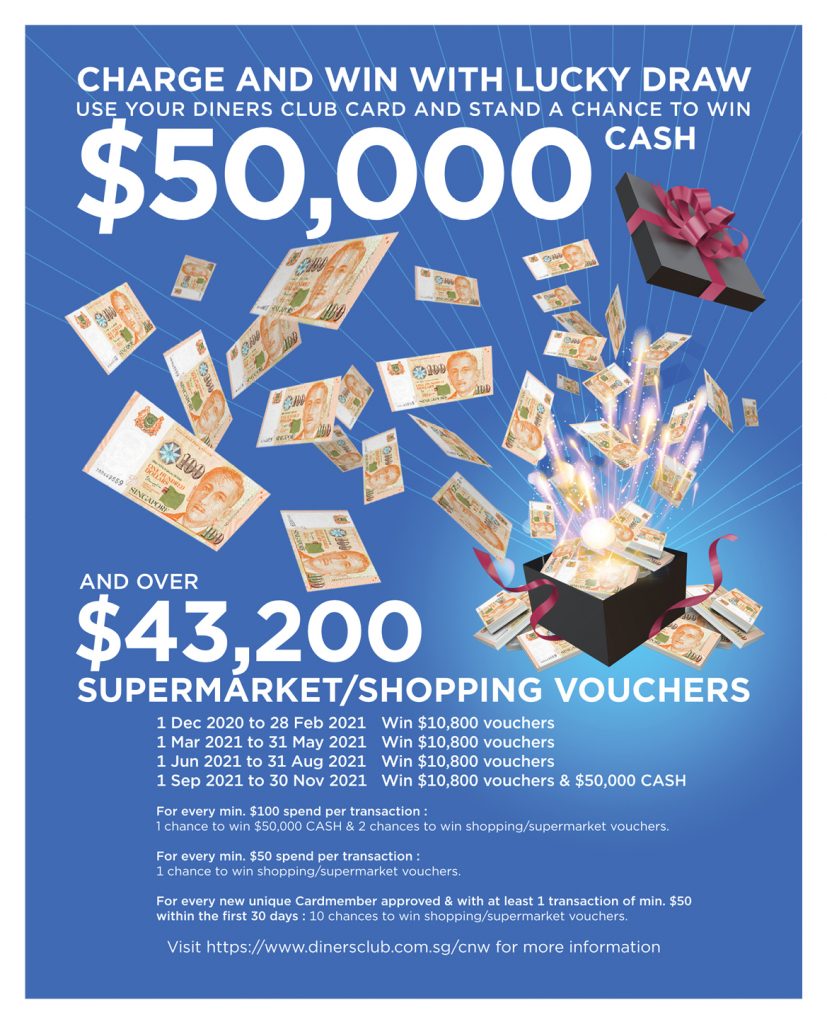 So, how does it work?
Launched on 1 Dec last year, the draw takes place every quarter and has S$10,800 worth of vouchers up for grabs (36 winners x S$300 vouchers).
The current qualifying period will go on until 31 May 2021, for which the lucky draw will fall on 9 July 2021.
To qualify for this lucky draw, all you need to have is a Diners Club's card, which means there's no better time to get the Diner Club's CASHBACK Card!
And once you get your card, you're automatically entered into the draw.
For every new unique Cardmember approved and with at least one transaction of a minimum of $50 within the first few days, you'll get 10 chances to win $300 worth of shopping and supermarket vouchers.
For every minimum spend of $50 per transaction, you'll get one lucky draw chance to win these $300 vouchers.
For every minimum of S$100 spend per transaction, you'll get one lucky draw chance to win the $50,000 cash prize and two lucky draw chances to win the $300 vouchers.
Terms & Conditions For Lucky Draw
Already planning your dream holiday with all that money you're going to win? Well, here are some terms and conditions you should take note of first.
If a card account is renewed during the promotion period, it is not considered as a new unique Diners Club cardmember and will not be awarded the 10 lucky draw chances.
The Lucky Draw chances are not transferable.
How to Apply
Certain that you want the new Diners Club's CASHBACK Card? Well, here's how to get it.
From today (15 April) onwards, you can head to their website to make an application.
For those who don't know, Diners Club (Singapore) Pte Ltd is a direct banking and payment services company that has collaborated with many well-known companies in Singapore.
Loyal readers of Goody Feed will surely be familiar with their DON DON DONKI (DONKI) Diners Club's Card.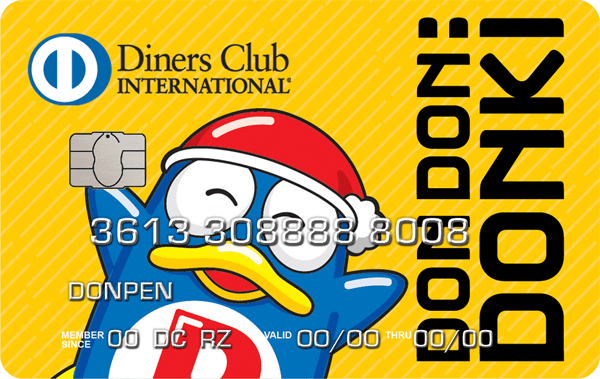 Diners Club also has joint ventures with VICOM (offering high fuel savings of up to 23.2%) and Sheng Siong, to name a few.
So, if you're looking to hop aboard the cashback card train, Diners Club's new consumer credit card might be the one for you.
This article was first published on Goodyfeed.com and written in collaboration with Diners Club (Singapore) Pte Ltd.
Featured Image: N Azlin Sha / Shutterstock.com