---
Advertisements

---
On 21 February 2022, Russian President Vladimir Putin recognised the independence of Donetsk and Lugansk, two eastern provinces of Ukraine which had been controlled by Russian-separatist groups since 2014.
After an emotional speech on the state-run television that declared Ukraine as ancient Russian lands, Putin was witnessed signing mutual aid agreements with the Head of the Donetsk People's Republic Denis Pushilin and Head of Luhansk People's Republic Leonid Pasechnik.
Afterwards, Putin proceeded to order the Russian army to launch a peacekeeping mission in the aforesaid areas.
US: Russia's Pretext Before Invading Ukraine
According to a Reuters witness, they saw tanks and other military hardware being moved into the breakaway regions of Donetsk and Lugansk.
There were five tanks in a column at the edge of Donetsk and two more in another part of the town.
However, no insignias were visible on the military vehicles.
At an emergency United Nations (UN) Security Council meeting on Tuesday, US Ambassador to the United Nations, Ms Linda Thomas-Greenfield, vocally declared that the Kremlin's deployment of "peacekeepers" in Eastern Ukraine was "nonsense".
Her words at the meeting were a reiteration of Washington's stance, wherein they saw Russia's military movements, which were inching closer to Ukraine's capital, as part of Russia's pretext for invading Ukraine.
Ms Thomas-Greenfield also stated that there would be heavy consequences across Ukraine, Europe, and worldwide if Moscow were to carry out an invasion, to say nothing of the humanitarian toll that would surely increase significantly.
Likewise, UN Political Affairs Chief Rosemary DiCarlo warned that the risk of a "major conflict" was real and could not be allowed to take place.
Following this, she repeated the United Nations' founding principles and commitment to sovereignty, independence, and territorial integrity of Ukraine, within internally recognised borders.
---
Advertisements

---
Sanctions and More Sanctions
In response to the recognition of the Donbas Region's independence and Russia's military movements, a whole string of sanctions has been set out against those who recognised the breakaway, while also targeting the separatists' regions as a whole.
United States President Joe Biden will be using an executive order that prohibits "new investment, trade, and financing by US persons to, from, or in," the Donbas Region. The White House added that it will "also provide authority to impose sanctions on any person determined to operate those areas of Ukraine."
White House spokesperson Jen Psaki stated that this current set of sanctions are separate from the sanctions that US and its allies have prepared, should Russia officially invade Ukraine.
In essence, these sanctions are just a warning shot; US Secretary of State Anthony Blinken chimed in, elaborating that the purpose of the executive order is "to prevent Russia from profiting off this blatant violation of international law".
Simply put, these sanctions were triggered when President Putin disregarded their warnings and effectively smothered any possibility of peace negotiations for the Donbas region and Ukraine, which had been previously established by the Minsk-II protocols. 
The European Union has also agreed to a "limited package" of sanctions against Russia, targeting those that were responsible for the decision.
Apart from that, the Baltic states have called on the EU to impose more sanctions after the Kremlin recognised the Ukrainian breakaway regions as independent republics. 
The Baltic states of Estonia, Latvia, and Lithonia used to be Soviet Union satellite states before the Communist Regime collapsed.
British Foreign Minister Liz Truss announced in a Twitter post on Tuesday (22 Feb), that the United Kingdom (UK) will follow up with more new sanctions against Russia.
As a whole, the current situation is starting to mirror what happened to Crimea after its annexation in 2014.
---
Advertisements

---
Some will directly target Russia and certain individuals, but most of the future sanctions will probably be aimed at Donetsk and Lugansk.
It won't hurt Moscow directly, but in terms of indirect financial spending to support these new separatist allies will be costly in the long run.
For instance, after numerous sanctions were placed against Crimea, limiting its foreign trade and tourism sector, Russian Economist Sergey Aleksashenko estimated that Russia has spent $5 billion per year to keep Crimea afloat.
And this is not taking into account the military expenditure of arming Crimea yet.
Putin's Passionate Speech Pre-Independence Recognition
Given that Russo-Ukraine tensions have existed since the Euromaidan Protests in 2014, mounting slowly over the years and escalating even faster with the deployment of Russian troops near the borders in late 2021, Russian President Putin has long anticipated the West's response.
During his impassioned speech prior to recognising Donetsk and Lugansk's independence, Putin said, "They are threatening us again with sanctions, which, by the way, I think they will introduce anyway as Russia's sovereignty strengths and the power of our armed forces grows.
---
Advertisements

---
"A pretext for another sanctions attack will always be found or fabricated. Regardless of the situation in Ukraine."
The Russian President continues to accuse the West of ultimately trying to slow down the development of Russia. History shows that they have done it, and he believes that they will do it again.
His predictions have rung true; just a day after the conference and the mutual declaration of independence he held with the leaders of the Donbas region.
Thus, the current state of the Eastern European map—Ukraine in particular—looks like this: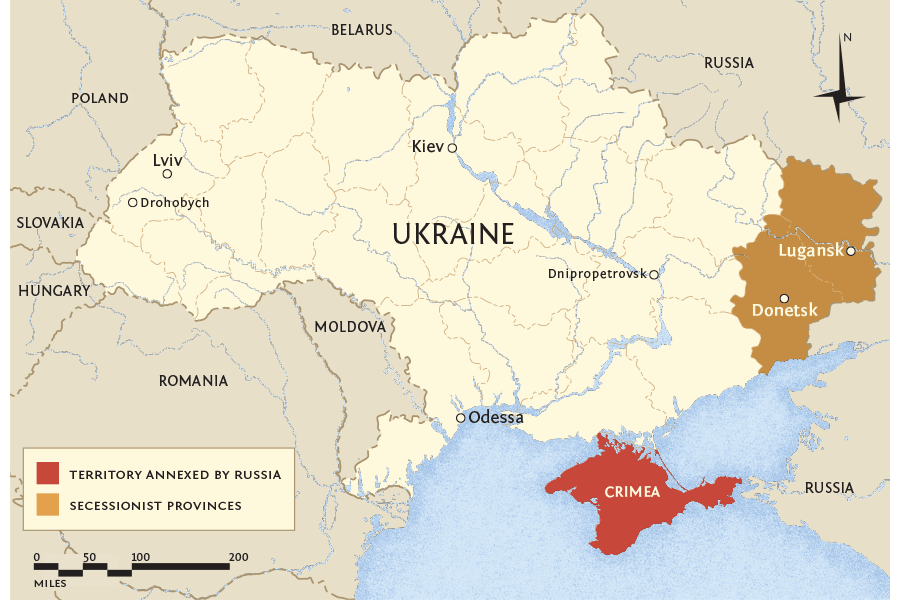 Putin Claims that Ukraine is Russian Ancient Lands
Besides recognising the independence of the two breakaway Eastern Ukraine regions, a visibly agitated President Putin rants about how Ukraine has traditionally belonged to Russia, stretching as far back as the Ottoman Empire.
---
Advertisements

---
This belief is not new.
As far back as July 2021, Putin has even published a 5,000 word essay called, "On the Historical Unity of Russians and Ukrainians", a rare insight into what he thinks of the entire geopolitical situation of Ukraine, the implications it will have on Russia's security interests, should Ukraine fall into Western hands.
Putin repeats this stance, quoting that Modern Ukraine was completely created by Russia, or more precisely, the Bolsheviks which was the Marxist faction led by Vladimir Lenin which eventually became the foundational basis of the Soviet Union.
Therefore, Putin asserts that "Ukraine never had a tradition of genuine statehood", and it would not be far off to call the country 'Vladimir Ilyich Lenin's Ukraine', since he was its author and architect.
Boiling Down to Russia's Security Interests
Ultimately, Putin's goals are complex and yet simple:
He wants to extract the promise that Ukraine is to never join the North Atlantic Treaty Organisation (NATO), because "it would serve as a direct threat to the security of Russia".
With regards to his concerns, NATO and Ukraine have repeatedly rebuffed that they never had such intentions.
From the Kremlin's perspective, Ukraine is a barrier between Europe and Russia that can easily be turned into a springboard for Western powers to use against Russia.
---
Advertisements

---
From NATO's perspective, they think that the "peacekeeping operations" in Donbas region is a means to continue fuelling conflict in Eastern Ukraine, as well as an excuse for a further invasion, as part of his territorial expansionist policies and reclamation of Soviet lands. 
After all, Crimea had been annexed by Russia in 2014.
China's Response to the Rising Conflict
Compared to the other countries that have started to advise its citizens to leave the country, China seems more indifferent or less wary.
China merely warned its citizens against going into "unstable" areas, but didn't outright tell them to get the hell out of the dodge.
In a statement on the Chinese Embassy website, it wrote, "At present, the situation in eastern Ukraine has undergone major changes. The Chinese Embassy in Ukraine reminds Chinese citizens and Chinese-funded enterprises in Ukraine to pay attention to safety notices locally and do not go to unstable areas."
Overall, it seems like a neutral stance which doesn't deny the declaration of independence and the breakaway from Kyiv. 
Read Also:
Featured Image: Shutterstock / helloRuby

Here's why a 4-day workweek might finally really be possible in Singapore soon:
Read Also: