Esora, a Japanese fine dining restaurant that earned its first Michelin Star last year, has fired its chef Shigeru Koizumi over multiple accounts of mistreatment against the staff.
In an Instagram post on Monday (17 Jan), Esora stated: "As a company, we are committed to providing a safe and positive work environment for all our staff and cannot accept any behaviour that jeopardises this."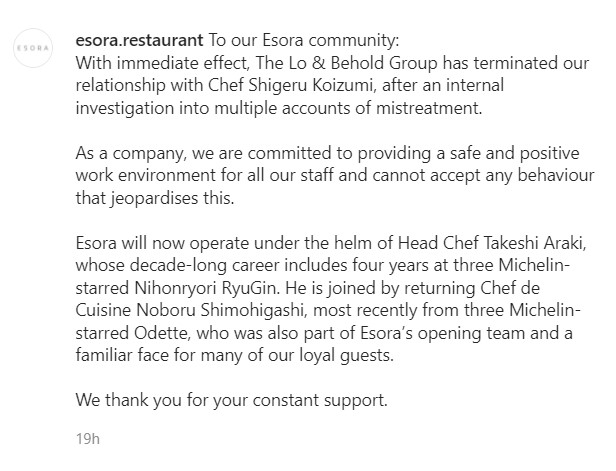 Since then, Esora has effectively cut ties with Shigeru Koizumi after an internal investigation that led to the exposure of multiple accounts of mistreatment.
Since Koizumi's employment was terminated on 17 Jan, and his employment pass likewise cancelled, the now-unemployed chef will only have 30 days to remain in Singapore.
Allegations Shrouding Koizumi
The abrupt firing of Chef Shigeru Koizumi came as a shock to the Food & Beverages Industry, as well as the ruthless manner in which it was carried out.
According to the Business Times, several restaurateurs had remarked that it was "highly unusual for a chef or any staff to be terminated in such a public manner, as such issues are managed internally."
It doesn't help matters that Esora and its leading company The Lo & Behold Group have maintained their silence after their cryptic Instagram post, refusing to take questions from any news sources.
However, the decision to fire Koizumi might not be that much of a surprise, when considering the fact that allegations of staff mistreatment have plagued Koizumi before, which had played a part in Esora's closure in 2019.
The omakase restaurant had only been open for slightly more than a year then, the first Japanese fine dining restaurant under the Lo & Behold group.  
Prior to its brief closure, it had announced that Koizumi was leaving Singapore for a much-needed break, but now there seems to be more to that particular tale.
Esora was supposed to re-open shortly thereafter, but due to the outbreak of COVID-19, its reopening was postponed to 2021 and it earned its first Michelin star the same year.
Join our Telegram channel for more entertaining and informative articles at https://t.me/goodyfeedsg or download the Goody Feed app here: https://goodyfeed.com/app/
The Good, The Bad, and The Ugly
As previously mentioned, public firings of chefs and staff alike are very rarely seen in the Food & Beverage Industry, but staff mistreatment isn't exactly uncommon.
Under high-pressure environments, especially in busy restaurants, it's not uncommon for chefs to behave roughly or lash out at the staff.
Heck, in terms of staff mistreatment, we haven't even touched on the topic of how customers might treat their servers as if they are less than humans, having to serve their every whim and getting impatient if they aren't catered to immediately.
An owner of a Japanese restaurant also gave his opinion, saying that he had witnessed such mistreatment happening in kitchens where the chef is a perfectionist and not in perfect control of his emotions.
He continues to say, "Also in Singapore, you are dealing with staff who can't always take the pressures of a fine dining kitchen."
---
Advertisements
---
Should we apologise on behalf of our countrymen, or should we say that your standards are too high, and there's only so much a person can take?
We're human; we crack under pressure, we make mistakes.
Reportedly, many chefs who are now heading their own restaurants have admitted that they have been abused in kitchens here and overseas before.
The last time a similar case was publicised was in 2011, when Swedish chef Ebbe Vollmer departed from Jaan at Swissotel the Stamford after he allegedly hit one of his subordinates during service.
The chef denies having committed such an act of violence, and the hotel merely stated that he left for personal reason afterwards.
Future of Esora
Putting aside Chef Shigeru Koizumi's departure, taking the helm as the new Head Chef is Takeshi Araki, whose decade-long career includes four years at a Michelin-starred Nihonryori RyuGin.
---
Advertisements
---
Joining the ranks of chefs in Esora will also be the returning Chef de Cuisine Noboru Shimohigashi, who was once part of Esora's opening team.
In essence, it seems like everything will return to functioning order in Esora, with a higher approval score from its staff and customers alike for being transparent about its company policies.
Read Also:
Featured Images: Instagram (@esora.restaurant) & Restaurant Esora
---
Singapore will be hosting Dota 2's The International this year. Here's why it's such a big issue: