Let me define the term "office mate" for you: it is a noun, not a verb.
It simply means someone who works with you in the office. It definitely does not mean spicing up your personal relationships through people in the office.
Unfortunately, the managers at ETHOZ Group treated it as a verb instead. They proceeded to conduct their hiring process with the good of their… very personal interests in mind.
---
Advertisements

---
Here's how they got exposed.
Screenshots of Emails About Female Job Applicants Posted Online
Screenshots of emails between male employees of Singaporean company, ETHOZ Group, was posted on Instagram by Wake Up, Singapore on 7 February.
The names of the men were redacted, but the contents of the emails showed them making comments on the physical appearance of the female job applications. They even made sexually suggestive comments about some of them.
There were both positive and negative comments, and they're all really inappropriate. Here, I'll let you judge for yourselves.
---
Advertisements

---
Comments On Physical Appearances: "Massage Girl"
There were comments about physical appearances, and even labelling one applicant as a "massage girl".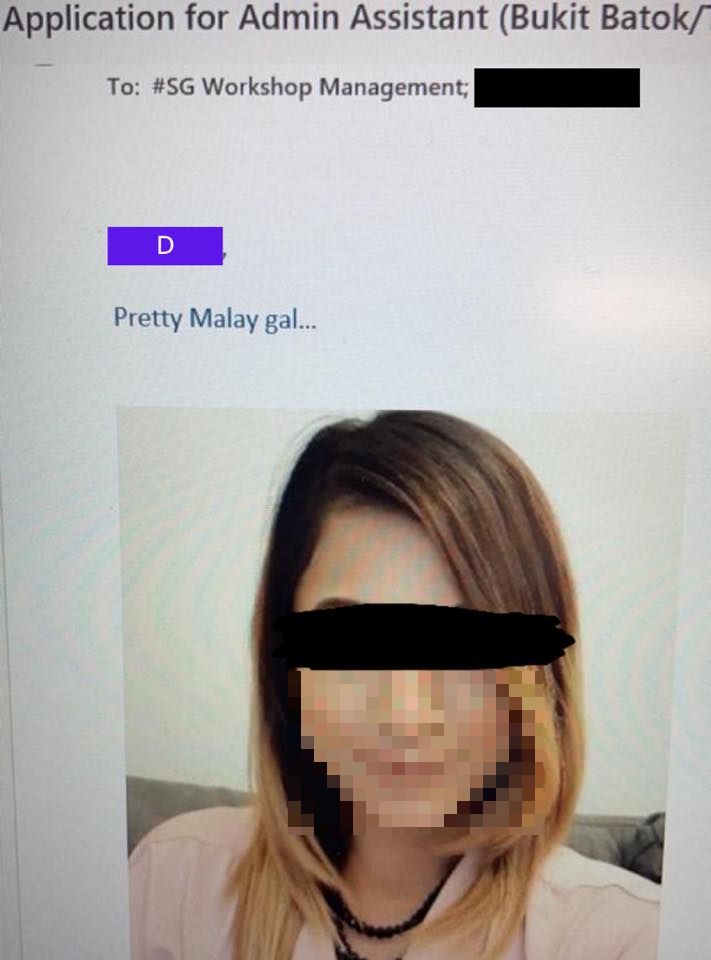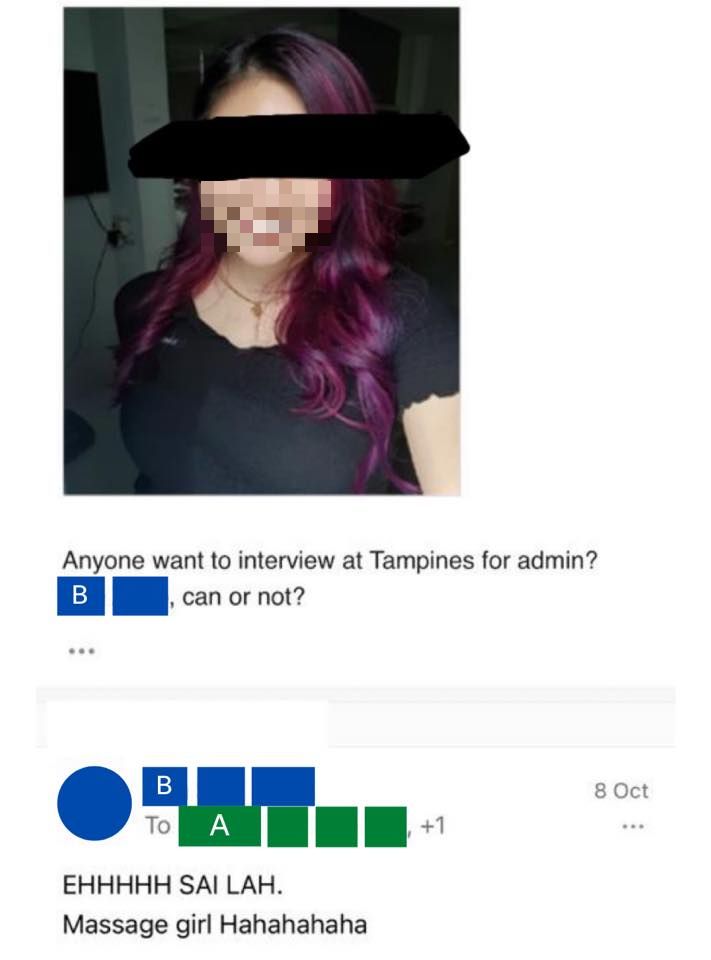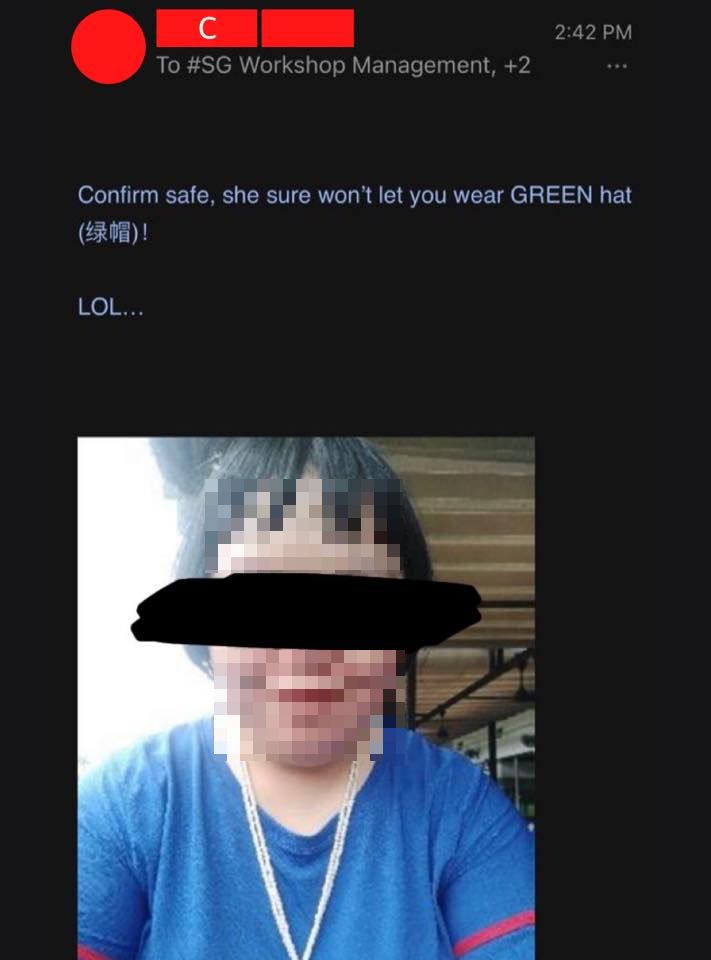 FYI, in Chinese slang, "wearing a green hat" is slang for getting cheated on.
"Bring Her Home For Personal Use"
If commenting on physical appearances weren't inappropriate enough, they took "office mate" as a verb to another level: talking about having sex with the applicants.
"Bring her home for personal use"? Almost as if he's treating women as objects… Oh wait, that's exactly what he's doing.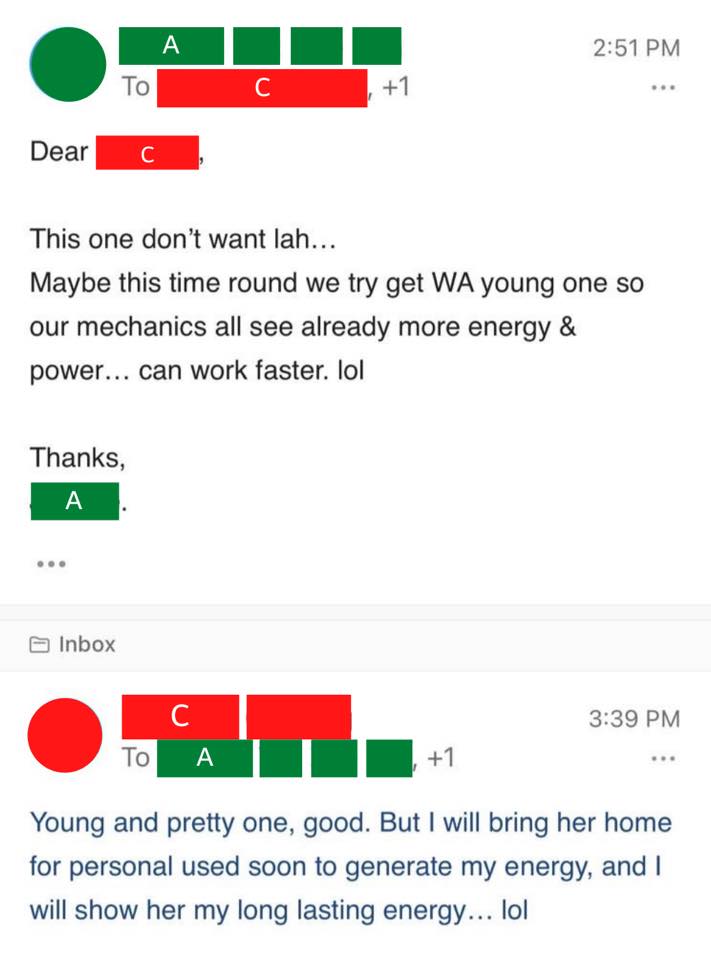 Another screenshot showed a perfectly professional email, suggesting that an applicant be considered for Fleet Admin instead of Workshop Admin due to her experience.
But of course, he had to follow that email up with another sexually suggestive comment: "If not, [Man B] can consider to bring her (potential gf) home for his private use."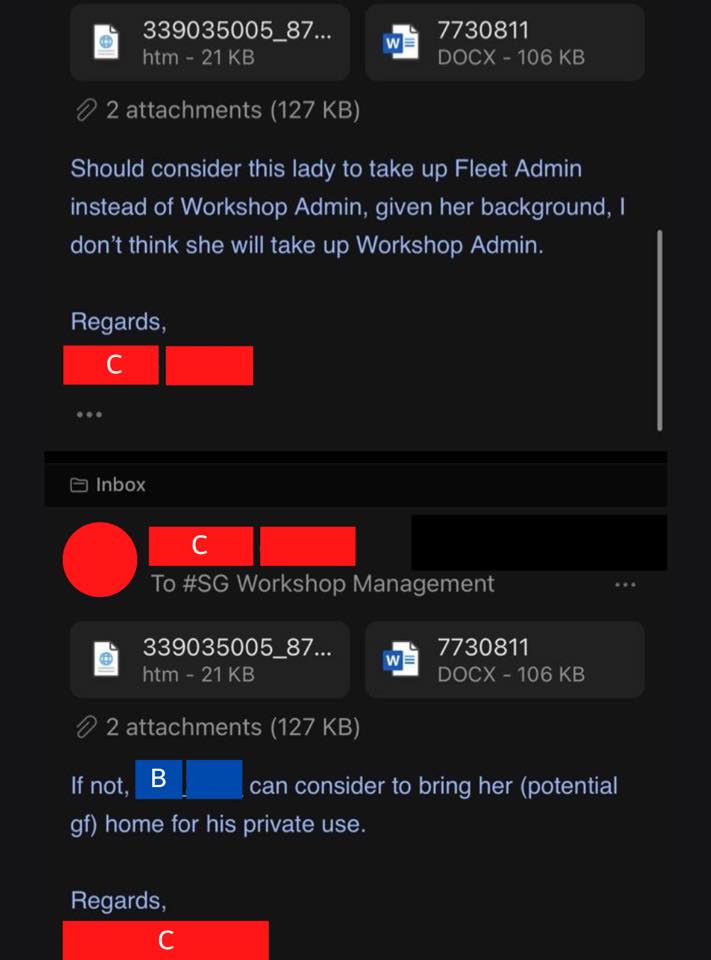 Well, given how they're objectifying women left and right, I'm not surprised that they're desperately looking for partners in the workplace. After all, they must not have seen much "personal use" given their rather lacking mindsets.
ETHOZ Group "Will Not Condone Such Behaviour"
ETHOZ Group provides motor vehicle repair services and offers rental, leasing, and financing of motor vehicles.
---
Advertisements

---
The company has since confirmed that the emails were between its workshop managers, who are now former employees.
Chief executive of ETHOZ Group, Ms Cindy Oh, said that they "take the issue very seriously and will not condone such behaviour in our workplace".
The company will conduct a full investigation and take the appropriate disciplinary actions.
Join our Telegram channel for more entertaining and informative articles at https://t.me/goodyfeedsg or download the Goody Feed app here: https://goodyfeed.com/app/ 
What Can The Victims Do?
Ms Amarjit Kaur, a partner at law firm Withers KhattarWong who specialises in employment law, said the victims can accuse the workshop managers of harassment, and causing alarm or distress.
These contravene the Protection from Harassment Act, and could also breach employment rules.
Additionally, the Tripartite Guidelines on Fair Employment Practices disallows engaging in discriminatory hiring practices on the basis of a candidate's appearance or race. Given how these managers were assessing candidates on behalf of the company, the company might also be found to breach TAFEP's guidelines.
However, the road to justice may not be a smooth one, as the managers can defend themselves by saying that the emails were not intended to be seen by the victims.
---
Advertisements

---
Additionally, just because a company email was used, it doesn't automatically make the company liable for the managers' actions.
Read Also:
Featured Image: Wake Up, Singapore