On Thursday (17 Feb), the Housing and Development Board (HDB) released 3,983 flats for sale under the February 2022 Build-To-Order (BTO) exercise.
These include the Kallang/Whampoa HDB units launched under the Prime Location Public Housing Model.
The BTO flats are spread across six projects in both mature and non-mature estates in Geylang, Kallang/Whampoa, Tengah, and Yishun.
---
Advertisements

---
Types of Flats Available
The flats range from two-room Flexi to five-room apartments, targeted to "meet the diverse housing needs of first-timers, second-timer families, seniors and singles".
In a news release, HDB stated that these new flats will be priced with a "generous subsidy" as it takes into account factors like location, flat attributes, and prevailing market conditions.
In implementing the subsidy and controlling the price, the prices of the new BTO flats are comparatively lower than the transacted prices of the resale flats nearby.
BTO Flats in Yishun
For those who wish to move into a new flat sooner, they can consider the two projects in Yishun, namely the Yishun Boardwalk and Grove Spring, which have shorter waiting times of 26 to 30 months or less.
They are also the most affordable flats among the February 2022 BTO Flats.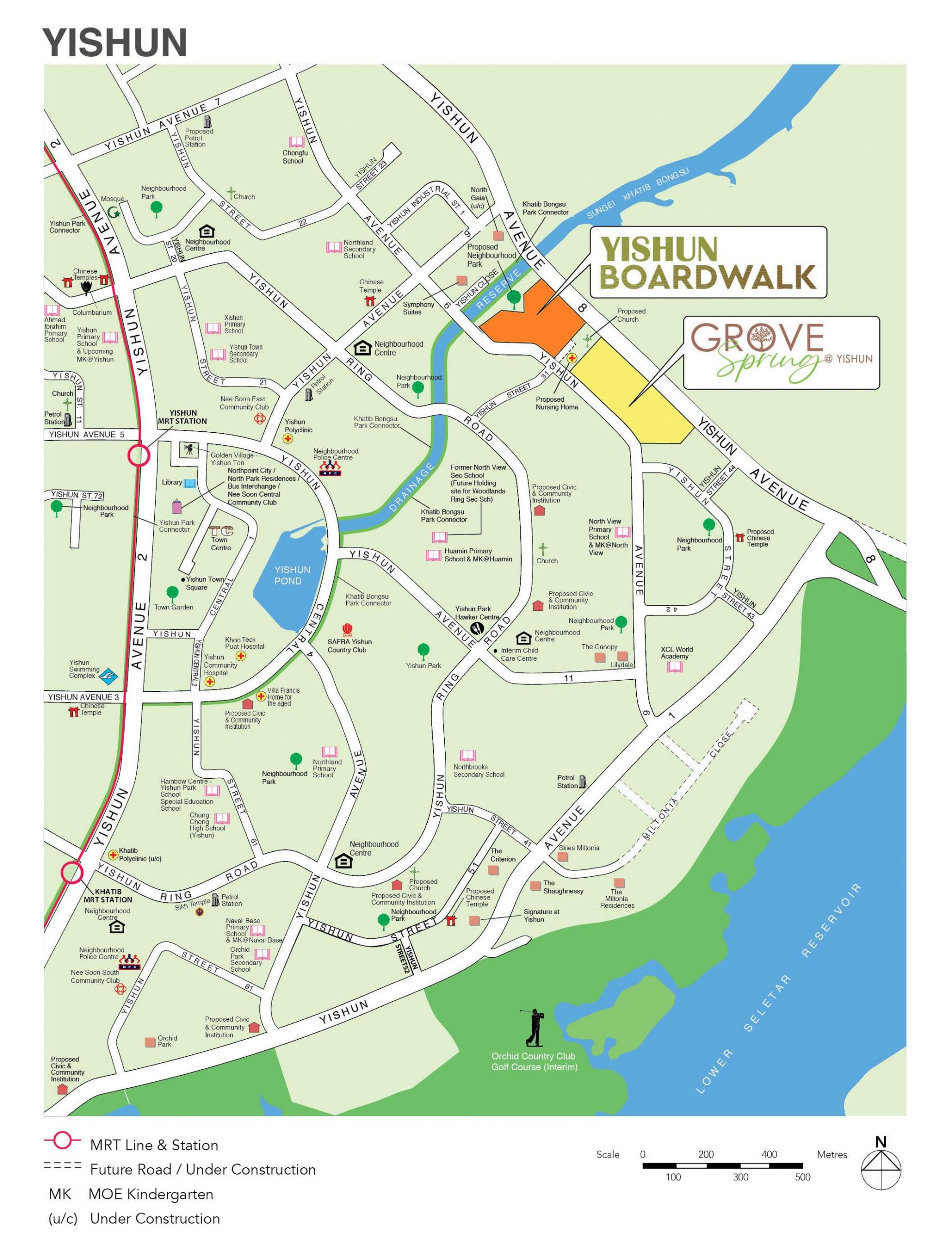 For Grove Spring @ Yishun, there are 987 two-room flexi, three-room, four-room, and five-room flats across eight blocks in an area bounded by Yishun Avenue 6 and Yishun Avenue 8.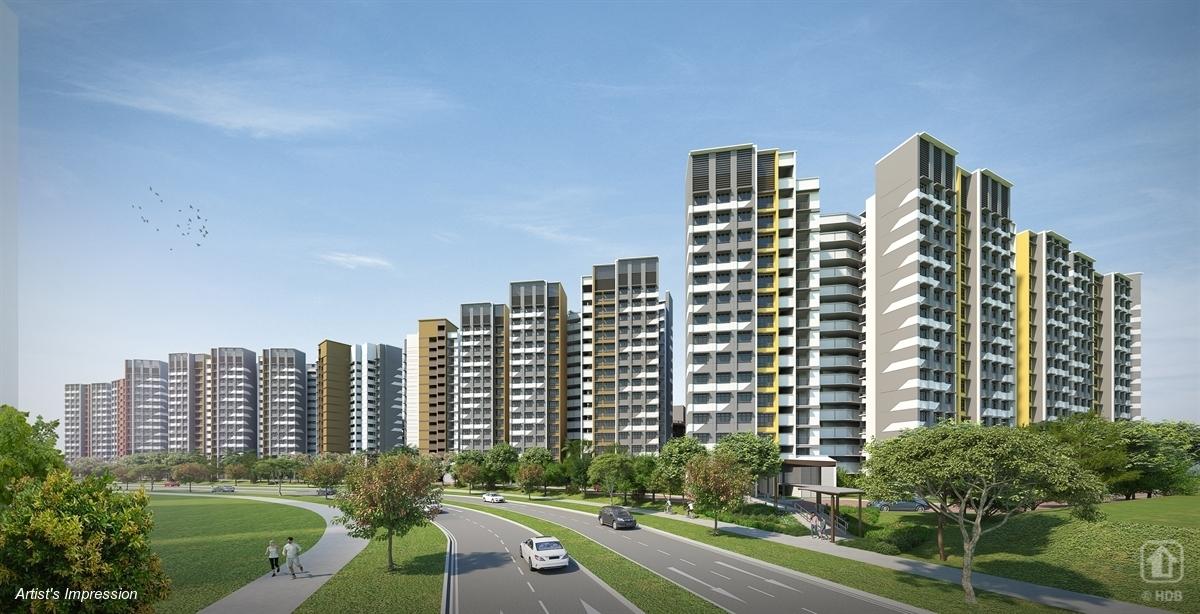 The starting prices for the units are as such:
$180,000 for three-room flats

$270,000 for four-room flats

$385,000 for five-room flats
Whereas for Yishun Boardwalk, which is just next to Grove Spring, is a much smaller project.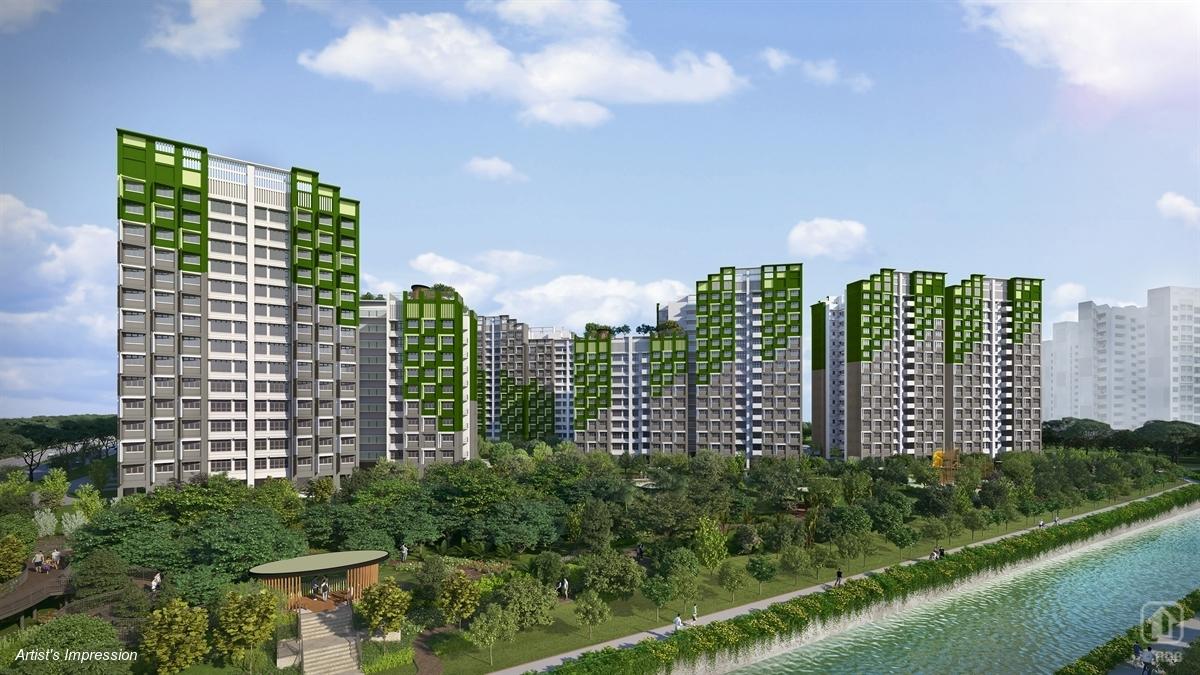 It offers a total of 852 two-room flexi, three-room, four-room, and five-room flats spread across eight blocks as well.
For Yishun Boardwalk, the prices starting from:
$189,000 for three-room flats

$276,000 for four-room flats

$410,000 for five-room flats
Moreover, the HDB has promised that at least 95% of the 4-room and bigger flats have been specially reserved for first-timer families, so that category of people will have a higher chance of securing flats in the new projects.
To reduce the financial strain on eligible first-timer families, they have the benefit of enjoying the enhanced Central Provident Fund (CPF) Housing Grant, which can reach up to $80,000, thus making the flats more affordable.
---
Advertisements

---
Those qualified for the mentioned grant can purchase a four-room flat in Yishun Boardwalk and Yishun Grove Spring for $210,000, which is nearly half the price of transacted resale flats in the area.
Since first-timer families can make use of their CPF contribution to pay off their mortgage loans, buyers will "generally require little or no cash outlay in servicing the payments of their flats".
BTO Flats in Plantation Creek
One of the bigger projects in this BTO flat exercise is Plantation Creek in the Plantation District, where 713 four-room and five-room flats are on sale next to the Pan-Island Expressway (PIE).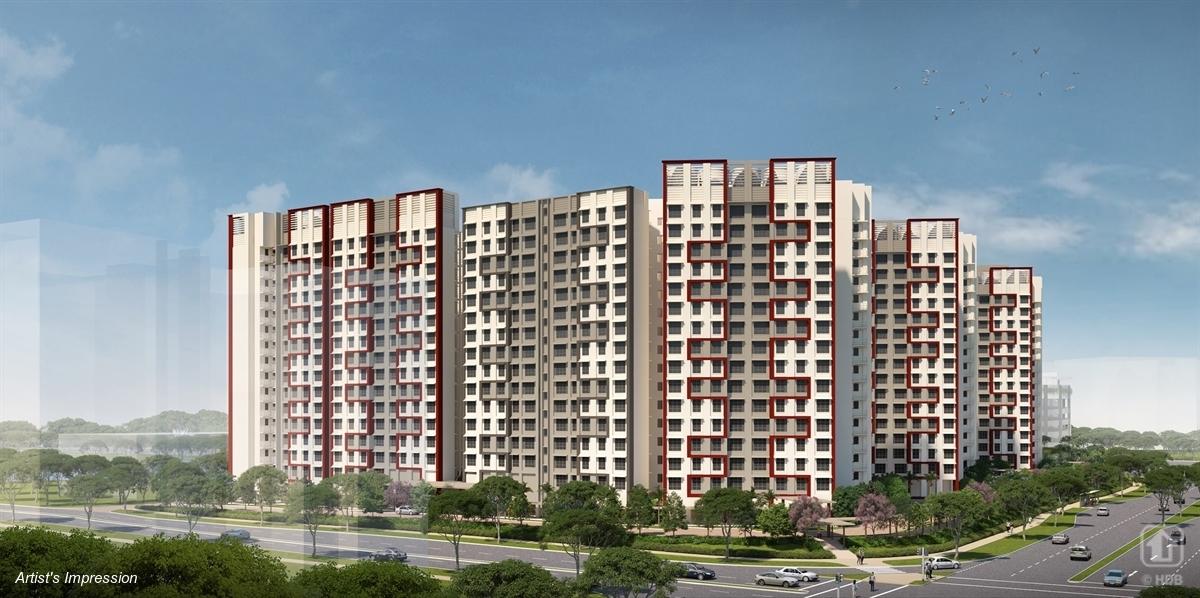 However, these flats will only be completed in 44 months, which is around three-and-a-half years, placing its deadline in the second quarter of 2026.
Prices for four-room flats start from $309,000, while five-room flats start at $420,000.
BTO Flats in Parc Flora @ Tengah
Next up  is Parc Flora @ Tengah, located in the car-free town centre of Park district.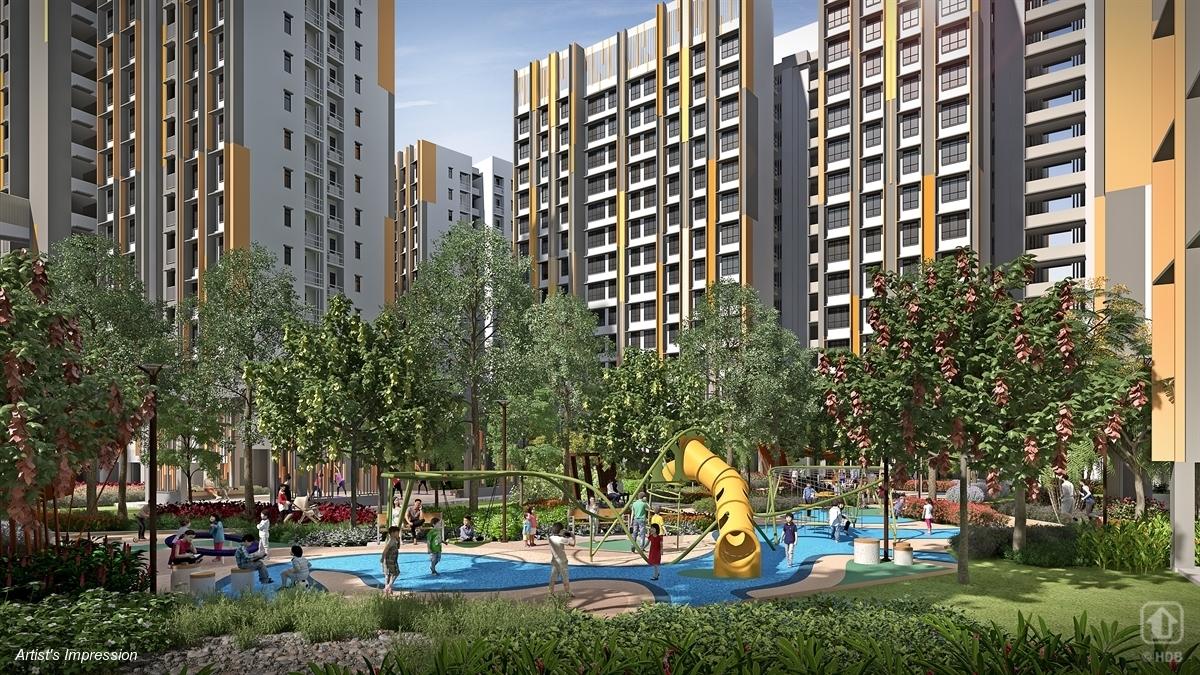 This smaller project has 560 two-room flexi, three-room, four-room, and five-room flats on offer.
---
Advertisements

---
The starting prices on this property are as follows:
$231,000 for three-room flats

$332,000 for four-room flats

$428,000 for five-room flats
In comparison to Plantation Creek, buyers ill have to wait for 36 months, as its construction is slated for completion in the third quarter of 2025.
BTO Flats in Dakota Crest @ Geylang
Last but not the least, Dakota Crest is located along the Geylang River and the Geylang Park Connector. It is close to both Mountbatten MRT station and Dakota MRT Station.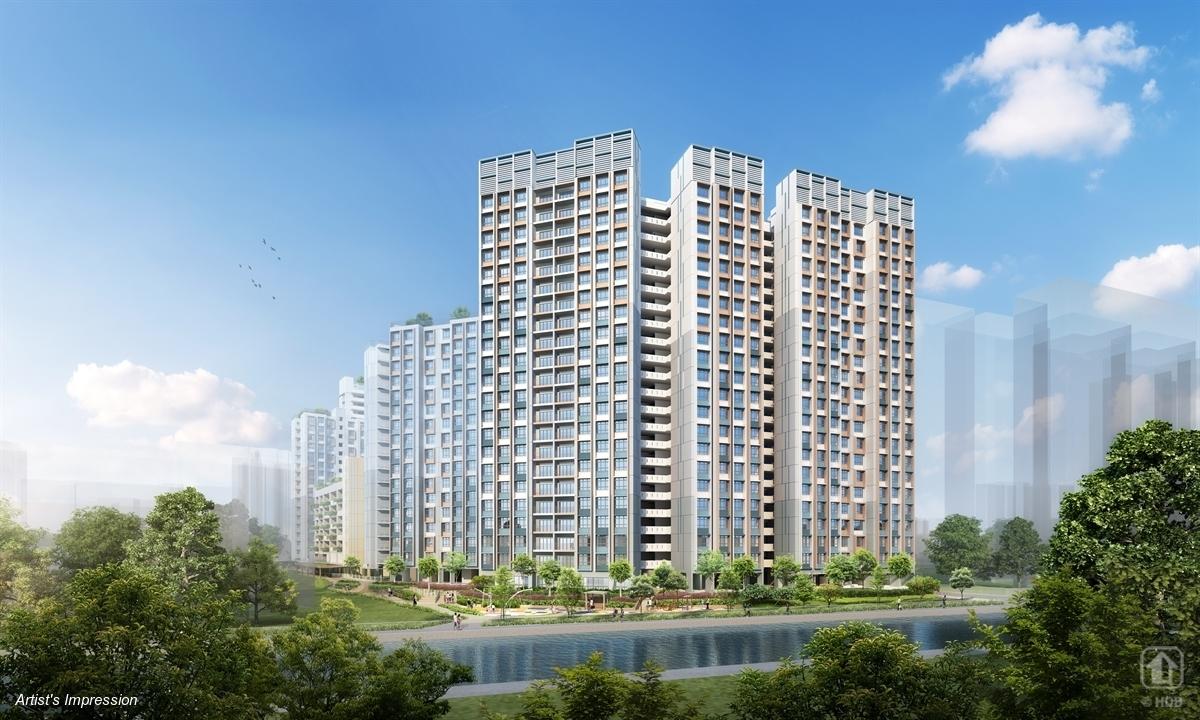 There are 443 units of two-room flexi, three-room, and four-room flats. It is also the longest project in this BTO exercise, where it will take approximately 63 months for the property to reach completion.
The prices for three-room flats start from $352,000, and $522,000 for four-room flats, making them the most expensive units in a mature estate.
---
Advertisements

---
Kallang/Whampoa: Second Project Under Prime Location Public Housing Model
Besides the normal BTO flats mentioned above, the units at Kallang/Whampoa are launched under the Prime Location Public Housing (PLH) model which aims to keep the new public housing built in prime and central locations affordable and accessible for all Singaporeans.
The project called King George's Height in Kallang/Whampoa is the second one under the PLH Model, with the first being in the Rocher area, which was launched in the 2021 November BTO sales exercise.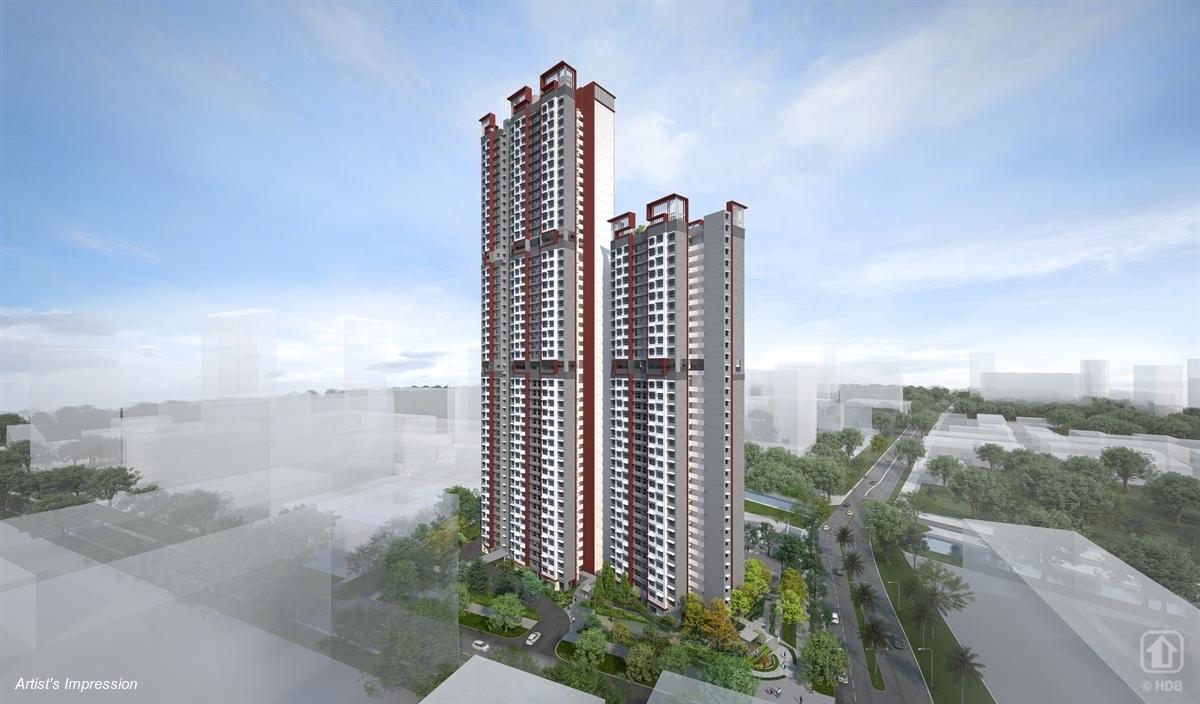 Up to 20% of these apartments will be made available to first-timer families, whilst 2% will be set aside for second-timer families, under the Married Child Priority Scheme.
It should be noted that this is two-thirds of the usual quota, and this is because the HDB wants to provide more opportunities for Singaporeans who don't have any family living in the area to also have an opportunity to live there.
Without any grants, three-room flats in this property can range anywhere from $353,000 to $462,000, while four-room flats can sell for $488,000 to $675,000.
---
Advertisements
---
But there will be additional subsidies on top of the BTO flats subsidies for properties under the PLH model, which will be explained in further detail later.
Join our Telegram channel for more entertaining and informative articles at https://t.me/goodyfeedsg or download the Goody Feed app here: https://goodyfeed.com/app/
Applications for the flats will be closing next Wednesday (23 Feb) at 11:59pm on the HDB website.
Furthermore, 5,3000 flats will be offered in areas such as Bukit Merah, Jurong West, Ghim Moh estate in Queenstown, Toa Payoh and Yishun in May 2022.
Another 6,300 to 6,800 flats will be made available in towns like Ang Mo Kio, Bukit Merah, Choa Chu Kang, Jurong East, Queenstown and Woodlands in August.
Details concerning the exact locations and number of flats will be released closer to the launch date.
---
Advertisements

---
Normal BTO Flats Versus PLH Model Flats
Besides the location difference—which can actually hold a lot of significance to a buyer that cherishes convenience—what sets apart a BTO Flat under the PLH model compared to one that isn't?
Well, for starters, BTO flats under the PLH model have a longer Minimum Occupancy Period (MOP) of 10 years before they can resell the flat, as compared to normal BTO flats that only have a MOP of 5 years.
Secondly, PLH model flats have additional subsidies on top of the substantial subsidies provided for all BTO flats, but there is also a 6% subsides clawback clause upon resale.
The reason for the subsidy clawback, as explained by the HDB, is to offset the initial subsidies that were provided when the PLH BTO flat was bought from HDB, and this subsidy clawback only applies to the first buyer that bought the unit from HDB.
Thirdly, all BTO flats must be bought by one Singaporean citizen or Permanent Resident at least, and it is only eligible for married couples and families.
---
Advertisements
---
Singles above the age of 35 are allowed to buy 2-room Flexi BTO flats from the HDB, or a 2 to 3 room resale flat, if they can afford it, but they are not allowed to purchase flats under the PLH model.
Fourthly, buyers of PLH model flats must prove that they don't own or have an interest in private property or disposed of any in the last 30 months.
Lastly, PLH model flats can never be rented out in its entirety, regardless of whether it has been resold before or not. 
Reasons For the Restrictions on PLH Model Flats
As any Singaporean would know, property and resale flats are notoriously expensive in the country.
There are several factors for that like scarcity, limited land space on this tiny island, strong demand for resale flats, rising costs of living, so on and so forth.
---
Advertisements
---
Another unfortunate part about having a gathering of wealthy people within the small city-state is that there is the proclivity for property investment as a financial derivative, which in turn, leads to property speculation.
A fine example of the "lottery effect" is the Pinnacle @ Duxton, a 50-storey residential development in Singapore's Central Business District (CBD) area in Cantonment Road, where five-room Pinnacles flats could be sold for over S$1 million in 2014, and S$1.12 million in 2016.
From that example, it's apparent how appealing property in prime locations are.
The overwhelming demand for the flats alone would drive up the prices.
Hence, the instatement of longer minimum occupancy periods, the prohibition of renting out the entire flat, the additional subsidy to increase affordability, disallowing singles from buying the property…
---
Advertisements
---
All of these policies were introduced to deter property speculation in these prime locations, especially the targeted resale restrictions through longer MOPs, the subsidy clawback, and not allowing any sales or disposal of property within the previous 30 months.
In lieu of these property speculators/collectors, the government wants to encourage real ownership and occupancy of these PLH model flats instead, hence why they deliberately drove down the prices with additional subsidies as well.
The subsidy clawback can also be seen as a measure to encourage longer house ownership rather than selling off the property, and this is further enforced by the HDB which won't allow overly high resale prices in order to maximise to gains and negate the clawback.
Most importantly is the aspect of "affordability", because the government doesn't wish for the PLH model flats to just exclusively belong to the super wealthy.
As a whole, these policies are implemented to keep housing prices lower, although it's quite unfortunate that it will barely impede the continuously climbing prices of resale flats.
---
Advertisements
---
Nevertheless, the HDB is trying to do what it can.
Read Also:
Featured Image: Housing and Development Board