---
Advertisements

---
If there's one thing that all Singaporeans love, it's free delivery.
And with that, it's easy to see why anyone would want to save as much as possible on things such as delivery charges, even if it means getting a subscription of sorts for those who use delivery services often.
However, the choice to invest in such a subscription may not seem worth it at first glance sometimes, especially for this man who ended up having a $7 delivery fee when he tried to order food from LeNu at Bedok Mall.
At the same time, his wife, a non-subscriber, was only charged $3.50, half of his fee, despite both of them trying to place an order from the same restaurant at the exact same time.
The man involved in the incident, Louie Lui, then decided to post about his unpleasant experience on LinkedIn on Tuesday (6 September).
GrabFood Unlimited Subscribers Get Vouchers for Delivery Fees, But Initial Delivery Charge Was Higher than Non-Subscriber
In his post, Mr Lui wrote that his wife wanted to order some food on the day of his puzzling discovery.
"I thought – hey I should do it instead, because I am a monthly subscriber of Grab where I get a coupon for $4 off delivery (there's a minimum spend)," he recounted.
However, even though Mr Lui's account had a discount voucher credited to it, he realised that it would not have made much of a difference if he had ordered via his wife's phone instead.
The reason?
Although Mr Lui had a $4 delivery voucher, the delivery price quoted to him on his phone at the checkout page was $7.
On the other hand, the price quoted on his wife's phone when she tried to order from the same restaurant was $3.50, half of Mr Lui's charge, even though she is apparently not a GrabUnlimited subscriber.
---
Advertisements

---
This meant that Mr Lui would only be able to save $0.50 even if he had used his $4 voucher.
In his post, Mr Lui also provided viewers with two screenshots of him and his wife's phones at the checkout page of Grab.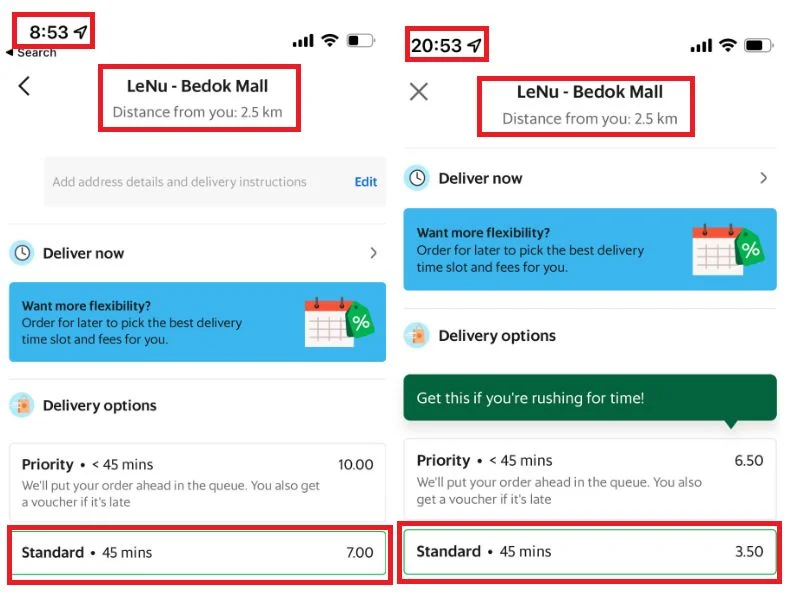 The screenshots also highlighted how the couple were using the Grab application at the same time, that they had ordered from the same restaurant and that the prices that he was looking at were for the same "Standard" category.
"I refreshed the app on both phones, did everything I could. Still the same. It wasn't a surge pricing, it was a price catered to me, the subscriber with a $4 voucher," he added.
Mr Lui's post has also since been circulated on other social media platforms.
Netizens' Response
In the comments section of Mr Lui's LinkedIn post, many commenters criticised Grab for the delivery pricing issue, with some even saying that the company was out to "cheat" their subscribers.
Others also shared that they have had less-than-ideal experiences with Grab and that they have stopped using the delivery platform ever since.
Apart from that, there were also netizens who said that they would "reconsider" their use of the application in the future.
Grab's Response
After Mr Lui posted about his experience, Grab got back to him about the issue raised the day after the incident (7 September).
Apart from updating netizens that he had received a response from Grab, Mr Lui also included the message he had received in the comments section of his post.
---
Advertisements

---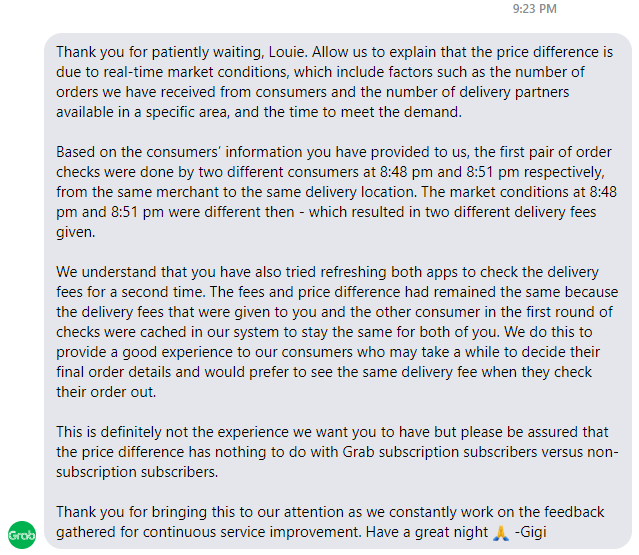 According to Grab's response, "real-time market conditions" including "the number of orders [that Grab receives] from consumers and the number of delivery partners available in a specific area" affect the delivery price shown to consumers.
In addition to that, Grab also noted that Mr Lui's wife and himself keyed in their orders at slightly different timings, with one of them doing so at 8.48pm and the other at 8.51pm.
"The market conditions at 8.48pm and 8.51pm were different then – which resulted in two different delivery fees given," Grab explained.
Confused? Don't be, because remember: the time you see on the screenshot is the time they took the screenshot, not the time the order was placed.
Join our Telegram channel for more entertaining and informative articles at https://t.me/goodyfeedsg or download the Goody Feed app here: https://goodyfeed.com/app/
With regards to the fact that the charges remained the same despite Mr Lui refreshing both his and his wife's phones, Grab said that the delivery fees issued to customers "in the first round of checks [are] cached in [their] system to stay the same", meaning that the delivery prices shown to customers will not change within that short amount of time.
"We do this to provide a good experience to our consumers who may take a while to decide their final order details and would prefer to see the same delivery fee when they check their order out," Grab added.
---
Advertisements

---
In addition to that, Grab also highlighted that the difference in delivery fees "has nothing to do" with the fact that he is a GrabUnlimited subscriber while his wife is not.
And in response to Grab's message, Mr Lui wrote in his LinkedIn comment, "Case closed.
"I failed to consider that there'll be a grace period during different surge timings. Good info to have!"
Read Also:
Featured Image: LinkedIn (Louie Lui) + TY Lim / Shutterstock.com

Worker's Party just agree with PAP on something, but there's another reason why they did that. Watch this to the end and you'll understand:
Read Also: