---
Advertisements

---
You probably would have heard at least a friend or two laments about how the guys in Singapore do not have the faces or appearances of superstars.
You may want to show these friends this article to refute that.
One man has been spotted resembling Jay Chou and Soong Joongki, and he's in Singapore.
Here's more about the doppelganger.
Netizens Spot Man Who Looks Like Both Jay Chou and Song Joong-ki
Earlier this month, netizens visited Facebook to post their sighting of a "star" in Singapore.
Or, more accurately, a man who resembles a blend of two superstars.
Here is the image of the man for your reference.
Can you guess who he looks like?
Many netizens pointed out that the man who was photographed bore a resemblance to the legendary Jay Chou from Taiwan.
Indeed, the single eyelids and short hair does bear some resemblance to the Asian King of Pop.
Here is a photo of Jay Chou if you want to compare the two men.
View this post on Instagram
For those who miss Jay Chou after his tour stop in Singapore at the end of last year, this may be your chance to catch a glimpse of someone who looks like him.
If you are not into the Chinese entertainment scene but instead prefer Korean actors and idols, you may find that the same man bears some resemblance to popular Korean actor Song Joong-ki.
For those unaware, Song portrayed a military captain in the popular 2016 K-drama, Descendants of the Sun.
Again, with the short hair and mono-lids, this man spotted in Singapore does bear some resemblance to the popular actor.
Here's Song Joongki if you want to make a comparison.
View this post on Instagram
The actor recently attended a Louis Vuitton event and has become a new dad, thanks to his second wife.
Man Is Selling Egg Tarts at a Popular Dim Sum Eatery Near Jalan Besar
If you are unsatisfied with images and want to see the man for yourself and judge if he resembles either (or both) of the stars, then hanging around Jalan Besar might do the trick.
According to netizens in the comments section, the man sells "dim sum" at a "Jalan Besar" outlet.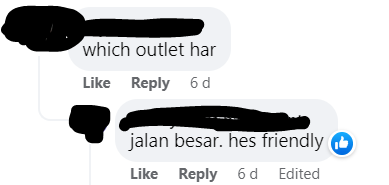 This appears to be corroborated by the fact that the man is standing in front of a case of egg tarts in the photo.
---
Advertisements

---
What do you think about the resemblance? Could he be the brother of both stars?