---
Advertisements

---
I guess the man's got to find a way to feed himself after Atome (allegedly) dropped him as a brand ambassador.
That's right, we're talking about Jeff Ng. If you're still a fan of the local busker following his various scandals, then you might want to hang tight as Jeff Ng has officially hinted that he'll be having a concert sometime in September this year, with tickets being potentially released this month.
If you're new to him and his scandals, you can watch this first:
First Mentioned During a Pre-Scandal Performance
The possibility of Ng hosting a concert for himself first arose during one of his basking sessions back on 25 June, where his Mandopop covers drew in thousands of spectators outside of The Cathay.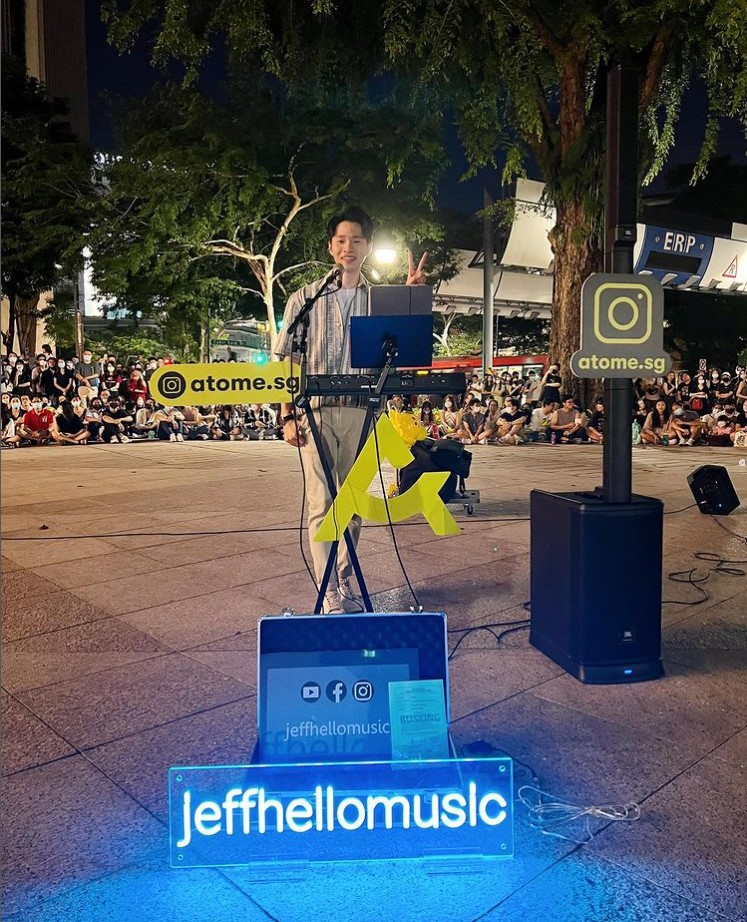 He revealed to adoring fans that he hoped to host a concert sometime in August. However, the scandal broke out just a week after this announcement.
Hinted an Upcoming Concert during a Radio Interview
When interviewed by MediaCorp Capital 958 on 5 August over live radio, Jeff stated, "Actually, I have a surprise for everyone in September. It's considered a personal event. So… (tickets) will go on sale in August. I think it's (easy to) figure out what (I'm referring to)."
The singer also shared that he had upcoming performances scheduled at the Gardens By The Bay on 9 August, and Tampines West Community Club on 13 August.
The busker will also be performing at National Day "private events".
Has He Addressed the Scandal?
Jeff was one of the performers in the imPAct Open House organised by the People's Association at Hong Lim Green. Not many knew about his performance, and only 30-40 people were there before more came when they realised it was him.
It was then when a Zaobao reporter approached him, and he didn't shy away from questions. When asked how his mood had been recently, he merely said, "Ok, I'm writing new songs, and a new song will be released next."
---
Advertisements

---
As to whether he's worried that the saga might affect his popularity, he said, "I'll let nature take its course. What's most important is to continue to do good music. This experience has also inspired me to write some new songs."
He also added that the experience made him "grow up".
He then hurried ended the interview, but thanked the reporter politely before leaving.
We'll have to see if he addresses his fans face to face at the concert.
From Café Gigs to a Potential Concert
If you're curious as to how Jeff Ng got his start, he first learned how to play the keyboard and sing in a same café where his teacher performed at.
Jeff had applied for a job as a waiter there while waiting for his polytechnic semester to start. Soon after, he realised he love singing when he found himself often singing along to the tunes performed at the café as he worked.
Eventually, he got his own spotlight when he succeeded in an audition with the café to perform as a singer at 19 years old.
He eventually took to the streets and started his busking sessions, where he quickly gained the attention of fellow Singaporeans.
Concert Details are Yet to be Confirmed
Ever since talks of a concert surfaced, there has been an outpouring of questions regarding this matter whenever Jeff Ng has performed.
Many of them concerned ticket prices, and Jeff Ng has mentioned that he hopes that everyone can afford to come and see his performance.
---
Advertisements

---
Because let's be real, not everyone feels the same way these guys do, especially not after the scandals.
He often covers famous singles sung by Jay Chou and JJ Lin, though concert attendees will likely here more than just covers during his concert.
Some fans have also commented that he shares an uncanny resemblance to JJ Lin's style of singing, and cited that as one the reasons for his quick rise to fame.
Too bad his predecessor won't be performing in Singapore anytime soon, and we can't just go support him instead.
Oh wait.
Read More:
Featured Image: Instagram (@jeffhellomusic)
---
Advertisements

---

Here's why a 4-day workweek might finally really be possible in Singapore soon:
Read Also: