---
Advertisements

---
Last Updated on 2022-07-07 , 7:21 pm
Recently, everyone is talking about Jeff Ng and is looking forward to see him outside The Cathay Cineplex soon, but the man has decided to cancel his highly anticipated performance on Saturday, claiming that it was due to COVID-19.
But let's face it: it's probably due to one of these accusations that probably made Ivan Lim a saint.
If you prefer to watch a video on what has happened instead, here's one we've done:
Still here? Well, here are the eight alleged scandals that have been circulating online.
Now, if you're someone who really believes that he's cancelled his latest busk due to COVID-19, then you probably need to know this: These are merely accusations, so they're, like what Amber Heard's lawyer would say, "Hearsay."
So take it with a pinch of salt (first).
The Petty Revenge
For the first, we'd have to go all the way back to 2016.
According to Facebook user Ah Ree Anne, she, together with a few other friends in which one of whom was Jeff, was scheduled to fly back to Singapore from Taiwan. However, Jeff hadn't gone for the trip due to personal reason.
As they in the airport on their way back to Singapore, they realised that Jeff had changed the return flight dates—for all of them, which he allegedly could do so since he was part of the group. The Facebook user claimed that he had done so to "get back" at her as she has helped his ex-girlfriend to move on from him.
For this accusation, the case isn't strong, though: while it's clear that the Facebook user wasn't attacking Jeff due to his newfound fame as the post was made back in 2016, Jeff did reimburse $1,800 after they touched down in Singapore with new return tickets.
---
Advertisements

---
Secondly, Jeff had allegedly changed the details of all other passengers' details instead of his details, as he was the only person who cancelled the flight. This means that it could be an honest mistake.
Nevertheless, the Facebook user, in recent days, has shared accusations made against Jeff, so it's clear that while six years have passed, she's not forgiven him.
Why u Unfollows Me When You Followne Moi?
The second part of Stranger Things season 4 might have just dropped, but Jeff Ng's Instagram might be even stranger.
Other than a sudden spike in followers since the scandal broke (more on that later), and him setting his account to private, then public for a few hours to announce the cancellation of his performance via Instagram Story and back to private, it's also alleged that he's monitoring his Instagram followers like how he monitored his ex-girlfriend.
Someone posted a screenshot of him asking a follower why she had unfollowed him on Instagram—in English that's even worse that the Goody Feed blue cat.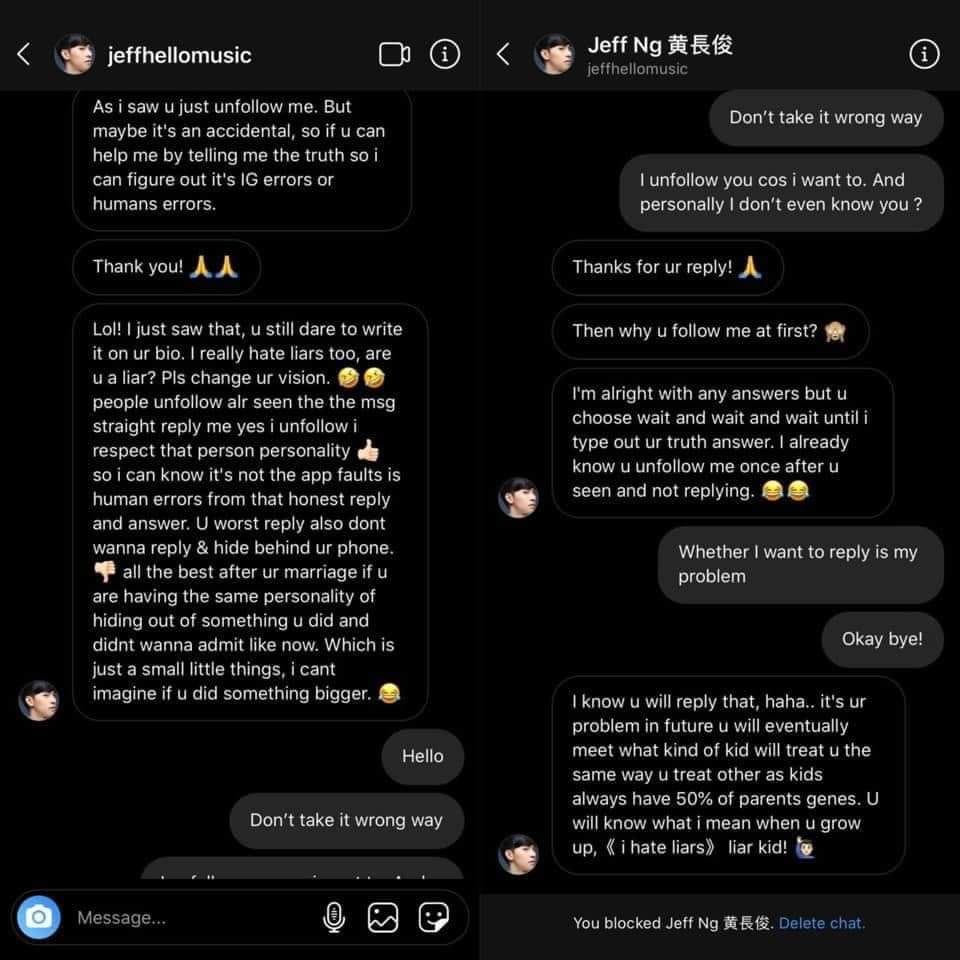 When the follower wrote that she has unfollowed him because she wanted to, and that she technically didn't really know him personally, Jeff replied, "Then why u follow me at first?"
That was followed by passive aggressive attacks that you'd only hear in primary schools.
This is also why you'd often read comments like "he's busy asking people why they unfollow him" in recent days.
And that's not all.
Dee Kosh 2.0?
Lest you didn't know, it was recently revealed that Dee Kosh did abuse his stardom to lure people to have sex with him. You can watch this video to the end to know more:
---
Advertisements

---
Well, Jeff didn't do that, but he allegedly did try to use his influence to some extent.
According to Instagram user calistahuiru, who's also a musician, they found each other on Instagram, and then started to talk on WhatsApp. calistahuiru claimed that he "pressured" her to be his student, but she refused.
Jeff then allegedly tried to convince her by saying how good and influential he is, and proceeded to spam her with calls and messages.
It's unknown whether calistahuiru could've been the same person as the previous point, though.
The First Accusation That Stayed
The first accusation that stayed actually happened on 29 June 2022.
Prior to that, Goody Feed was notified of several TikTok videos that accused Jeff Ng of misconduct in the past, but before we could investigate further after viewing the videos, they were taken down (more on that later).
---
Advertisements

---
So this Facebook post by Khim Ng, a singer as well, is officially the first of the many.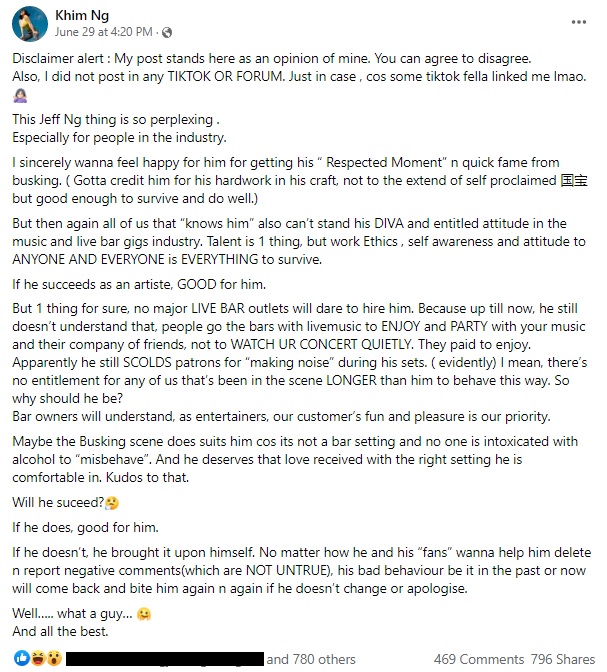 In her post, she repeated what was shared in those deleted TikTok videos: Jeff would want people to listen to his songs quietly, and would get angry when the diners were unappreciative of his performance.
The post slowly gained traction, but what fueled the entire saga is the next accusation.
The Ex-Girlfriend Who Let the Cat out of the Bag
This entire accusation is so damning, we'd need a whole article to explain what happened: you can read it here.
For brevity's sake, here's what she accused Jeff of:
---
Advertisements

---
She claimed that during their time together, Jeff was super possessive, calling and texting her, and also controlling her life to a large extent
When they were not together and Jeff was trying to get her back, he would harass her with other phone numbers, and there was once when she received 218 missed calls from him in a night
She accused him of being a serial cheater
She claimed that he has little empathy
She agreed with the "diva" attitude that Khim Ng mentioned in her post
This is also the post that garnered a response from Jeff, who apologised and claimed that he was then "young and reckless".
The post, which was made on 1 July morning, has since been shared over 3,500 times.
Admin of Jeff Ng's Fan Club No Longer a Fan
Yes, even before Jeff became a "国宝 "(national treasure), he had a fan club.
And an ex-admin of his fan club had some tea to spill.
According to Facebook user Candy Mei Cui, she had been supporting Jeff for a few years but she suddenly suffered the wrath of Jeff when she was found supporting other singers that he hated.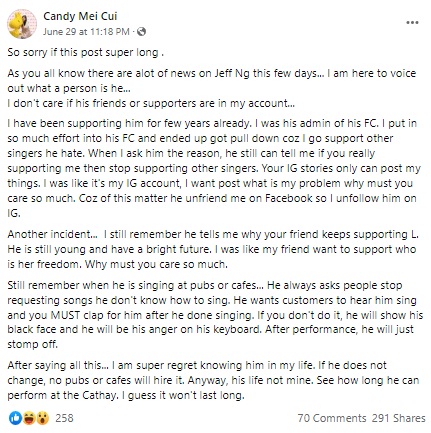 Jeff allegedly restricted her from supporting other singers, saying that if she really supported Jeff, she should stop supporting them.
Candy also claimed that whenever he sang in pubs or cafes, he would ask people to stop requesting songs that he didn't know how to sing. She then echoed what others have mentioned: he would get triggered if no one clapped for him, and would stomp off if he didn't get the appreciation that he thought he deserved.
Stranger Things Season 5: @jeffhellomusic
Since the saga "officially" surfaced on 1 July 2022, something weird happened to Jeff's Instagram account.
---
Advertisements

---
Before 1 July, he has less than 80k followers. However, all of a sudden, he now has well over 140k followers.
Could it be due to the saga?
Someone realised that the new followers were mainly overseas users, which leads to speculations that those are fake followers.
Of course, there's a possibility that someone had bought the followers for him—and that could be why he made his account private. No one knows what really happened, but as of today (3 July), the followers count is still increasing, and his account is still private.
Stranger Things might have ended, but Jeff's Instagram has just started.
The Very, Very First Accusation
Remember the deleted TikTok videos that accused Jeff of misconduct in bars?
Well, all of them focused on this review: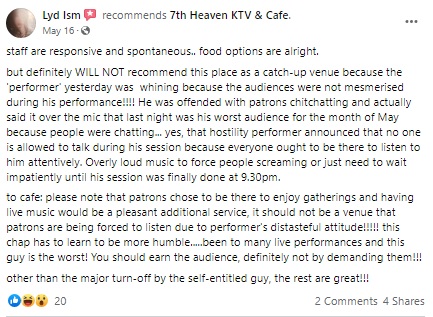 Someone had posted on 7th Heaven KTV & Café's Facebook Page, claiming that a performer had demanded people to listen to him "attentively"—a trait that has been repeatedly mentioned by others, including Khim Ng.
It's unknown why those videos were removed, though, but the Facebook review is still there.
Once again, do note that Jeff has only responded to one accusation (the one by his ex-girlfriend), so the rest are merely…hearsay, despite the various screenshots posted online.
According to Jeff in an earlier interview with Mediacorp, his next performance is on 9 July (since his 2 July performance was cancelled).
Would he do a Daryl Aiden Yow, or an Eden Ang?
Read Also:

Here's a rather unexpected timeline of the $2.8 billion money laundering case in Singapore as revealed by Minister Josephine Teo during a parliament sitting on 3 October 2023:
Read Also: