Note: This article was written when people all over the world wonder whether Orange or White was sus and would be voted out. It's now confirmed that Orange is voted out.
And of course, since this article is about Kamala Harris' history, nothing has been changed. Except that we should start calling her Ms Vice-President-Elect instead.
With Joe Biden winning the election, history is also made as Kamala Harris will now be the first female Vice-President of the United States. So how much do you know about her, except that when you spell her name backwards, it's Alamak?
1. Indian-African-American Descent 
Born on 20 October, 1964, Kamala Harris has Indian and Jamaican blood in her.
Donald Harris, her father, is a Jamaican man who taught economics at Stanford University. Having migrated from Madras, India in 1960, now known as Chennai, her mother Shyamala Gopalan Harris worked as a physician and in cancer research.
Kamala's sister, Maya, became a public policy advocate as well, showcasing the family's achievements as high-flyers in their respective careers.
Don't let your mom see this, for she might start pressurising you to get a better job too.
2. Her Name Means Lotus
Kamala's name has a beautiful meaning behind it too, for it means "lotus" or "pale red" in Sanskrit.
Hindu goddess, Lakshmi, who is the Hindu goddess of prosperity, good luck, and beauty, also goes by the name Kamala and is typically portrayed with a lotus flower.
Her middle name, Devi, is also a Sanskrit word that means goddess and is the name of another Hindu goddess.
When asked about the meaning behind these names, Kamala's mother shared that she hoped for she and her sister to be strong women, as a culture that worships goddesses would produce strong women.
Well, it looks like it really did manifest into the success of both daughters.
3. Cooking Is Her Passion Too
Kamala isn't shy to show off her love for cooking and whipping up mean dishes in the kitchen as well.
As a woman in politics, where they are sadly typically subjected to stereotypes of homemakers that have no place in politics, Kamala's confidence shows that she can indeed own both the kitchen and the office.
Kamala shows off some of her recipes on Instagram, and has even demonstrated her cooking prowess on Instagram live videos, having taught fellow Senator Mark Warner how to make a good tuna melt sandwich after a viral video of him butchering one.
She's even appeared in a cooking video on YouTube with actress Mindy Kaling, making the Indian delicacy of masala dosas, which you can watch here.
---
Advertisements
---
4. She Is An Author
Just like how the writers here at Goody Feed would like to think that we're good at writing, Kamala has proven herself to be a good writer for she is actually an author as well, adding on to her list of capabilities.
These included two non-fiction books, one of which is a book regarding criminal recidivism, which talks about how and why criminals have the tendency to commit crimes repeatedly. Titled Smart on Crime: A Career Prosecutor's Plan to Make Us Safer, the book was released in 2009 and was said to have been a model on the topic.
Following that, in 2019, she also released a memoir titled The Truths We Hold: An American Journey.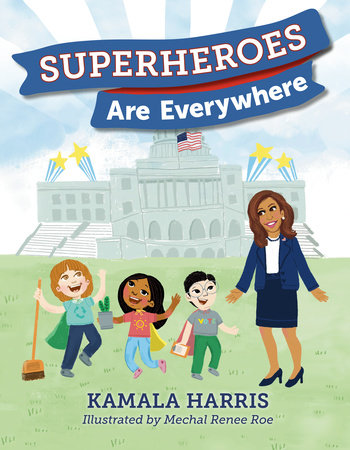 Interestingly enough, she also wrote and released a children's book titled Superheroes Are Everywhere in the same year, aimed at encouraging children to become superheroes themselves. So wholesome. 
---
Advertisements
---
5. Married With Two Stepchildren
In 2014, Kamala got married to California attorney Douglas Emhoff, who was once her partner-in-charge in the time she was an attorney.
The couple does not have any children of their own, but Kamala is the stepmother to Douglas' two kids from his previous marriage. She is affectionally known as "Momala", as the children call her.
6. She Was A Law Attorney
Holding a degree in law from Hastings College after studying political science and economics from Howards University, Kamala began her career as a deputy district attorney in Oakland starting from 1990.
Kamala's reputation and rank rose subsequently after her pursuits of prosecuting difficult cases regarding gang violence, drug trafficking, and sexual abuse.
In 2010, she won the position of attorney general of California, making history as the first woman and first African-American in the position.
---
Advertisements
---
7. And Then A Senator
Harris ran for the seat of US Senator in 2015 following the upcoming retirement of Barbara Boxer, campaigning for immigration and criminal-justice reforms, increases to the minimum wage, and protection of women's reproductive rights.
She won the seat in 2016 and has been active in her position until this day.
So yes: she's a politician for four short years before making a dash towards the White House.
8. Stands Up For Minorities And Others
In her career as attorney general, Kamala was known for refusing to defend Proposition 8, a law in California that led to the ban of same-sex marriages.
When the proposition was ruled unconstitutional in 2013 and same-sex marriages were allowed, Kamala officiated the marriage of two of the plaintiffs in the case, Kris Perry and Sandy Stier as the first same-sex marriage in the state.
---
Advertisements
---
Other than that, Kamala also developed a program aimed at assisting emergency rooms to identify signs of child sexual abuse with the San Francisco Department of Public Health. The Coalition to End the Exploitation of Kids was also co-founded by her.
9. She Was Originally Running To Be President
If you've been keeping up with American politics, then you might have already known that Kamala was once a potential candidate for the presidency as well.
She announced that she was running for president in the 2020 elections in January 2019, to initial welcome and was seen as a leading contender at the time.
However, Kamala's campaign came to an end in December 2019 when she dropped out of the running due to falling polling numbers and low campaign funds raised.
Well, remember: Joe Biden dropped out when he lost to Obama, and then joined Obama to be his Vice-President. Look where Biden is at now.
---
Advertisements
---
10. First Black Woman On A Major Party's Presidential Ticket
When the time came for Democratic presidential candidate Joe Biden to choose a vice-president as a running mate in August 2020, Kamala was chosen following her endorsement for him earlier in the year.
This makes Kamala the historical first African-American woman to run on a major party's presidential ticket in the US after 244 long years.
Only two other women have ever been nominated for vice-president for a major party too, which are Sarah Palin by the Republican party in 2008 and Geraldine Ferraro by the Democrats in 1984.
In the meantime, you might want to read these 10 facts about Joe Biden, who'll soon be the oldest President in the history of the US.
Like writing? Goody Feed is looking for writers! Click here for more info!