---
Advertisements

---
Last Updated on 2022-12-16 , 12:59 pm
As China eases up on its COVID restrictions, it might open its borders soon enough. 
In other words, the concentrated pool of 1.3 billion fidgety people sick of staying home will begin to tsunami outwards to other nations.
So, what does this mean for Singapore? 
Ong Ye Kung Urges More People to Take Bivalent Jab As China Opens Up
Although we currently enjoy the peace of a COVID-scarce society, things are about to change. 
Health Minister Ong Ye Kung urges us to get the bivalent vaccination shot. 
But if we already have the COVID vax shot, won't we be protected?
While the above is true, Mr Ong established the risks of mutations as China opens up. In other words, we might have protection against virus A, but China's virus B, virus C, and others can still penetrate our defences. 
In his visit to one of the newly deployed mobile vaccination teams on Monday (12 December) at Hong Kah North Community Centre, the minister announced: "Everything, in general, is calm, but at the same time, we also want to be prepared."
On Facebook, he has announced that only 60% of the elderly are "up to date with their COVID-19 vaccination.
"With MTVs, we hope more seniors will get themselves up to date with vaccinations."
Wait, but what's the difference between the normal jab and the bivalent one?
When a vaccine is "bivalent", it means that the vaccine stimulates an immune response against two different antigens. The bivalent COVID-19 vaccines include a component of the original virus strain to provide broad protection against COVID-19 and a component to provide better protection against COVID-19 caused by the omicron variant.
Essentially, better lor.
Join our Telegram channel for more entertaining and informative articles at https://t.me/goodyfeedsg or download the Goody Feed app here: https://goodyfeed.com/app/
Mobile Vaccination Team
On 6 December, the Ministry of Health announced that eight mobile vaccination teams would be deployed progressively, starting from Monday, to heartland locations. 
The following is the deployment location and schedule of the teams: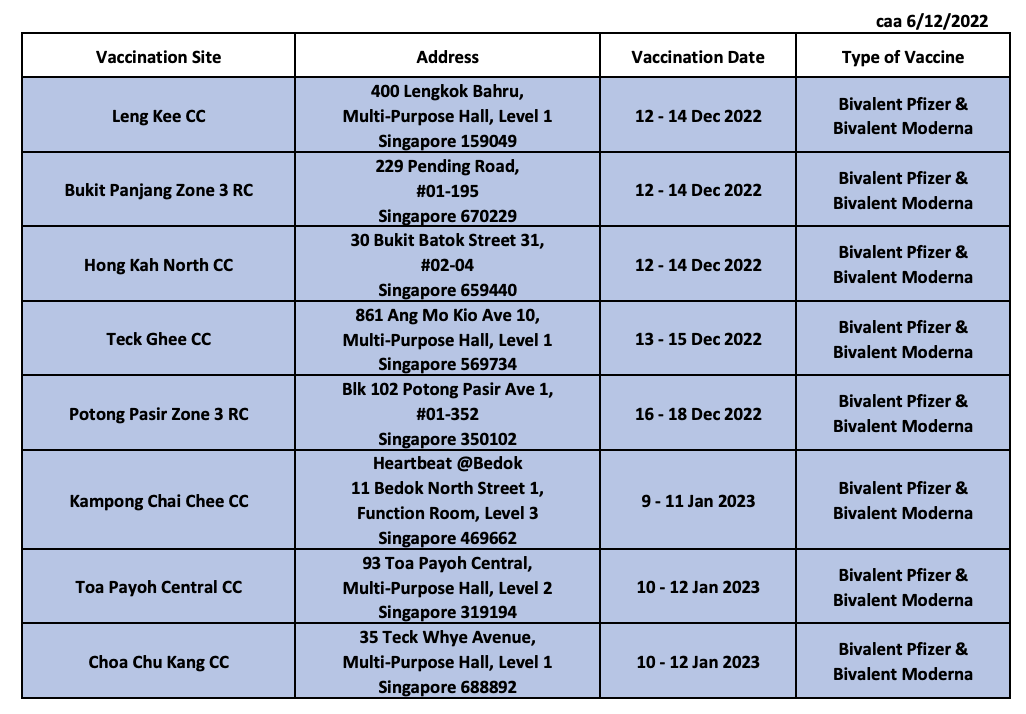 To attract more seniors, those aged 60 years and above can walk in for their jab. For the rest, vaccination slots will be allocated on a first-come-first-served basis, subject to venue space and vaccine availability. 
The teams work from 9 am to 1130 am and from 1 pm to 5 pm. 
On China and Their Opening
China's opening is an inevitable one. 
---
Advertisements

---
"They're taking very decisive steps to open up their economy and society. This (is) bound to drive up infections, which we are not so worried (about) because our resilience is high, and we've gone through three waves this year," Mr Ong said. 
"But the question is, with 1.3 billion people mostly uninfected, (when) the disease starts to spread, we are bound to get mutations.
"What we worry more (about) is what kind of mutations may come out of China. So that's what we're watching."
First get vax, then relax. 
Read also: 
Featured Image: today + Ong Ye Kung / Facebook

Fresh grads, you don't need any experience to earn up to $4,200 with this "secret":
Read Also: