---
Advertisements

---
Sick of hearing overly loud vroom vrooms? It turns out that NEA and SPF are tired of it, too.
They've fined 25 motorcyclists for "excessive noise emissions" on 28 November in their joint enforcement operation.
One motorcyle was recorded to emit noise up to 113.5 decibels, which is louder than a regular hand drill which emits up to 90 decibels of noise.
Imagine 25 of these motorcycles driving past you.
66 Fines Issued for Vehicular Offenses
On 28 November, the Singapore Police Force and the Land Transport Authority held a joint operation at Woodlands Checkpoint.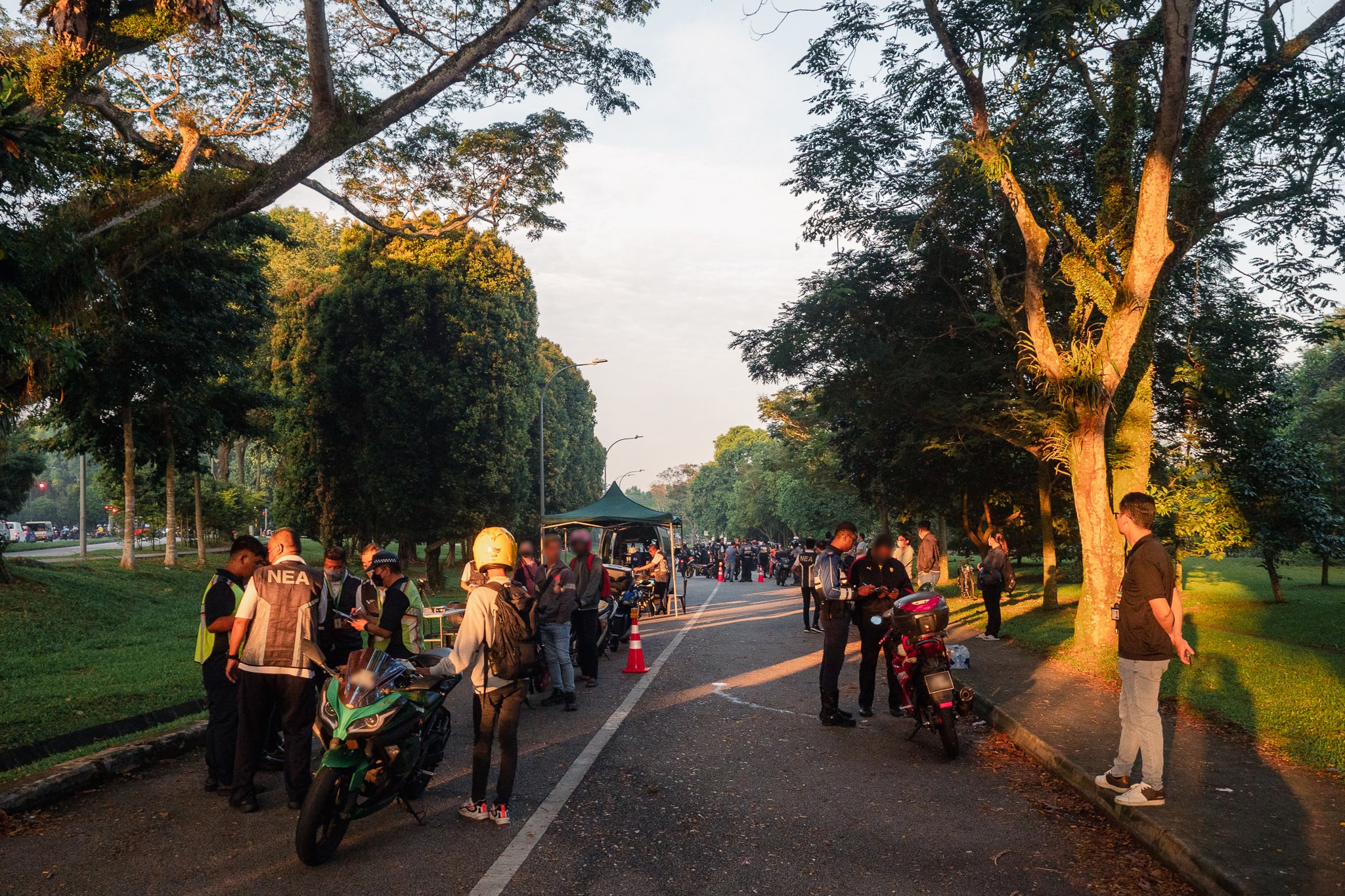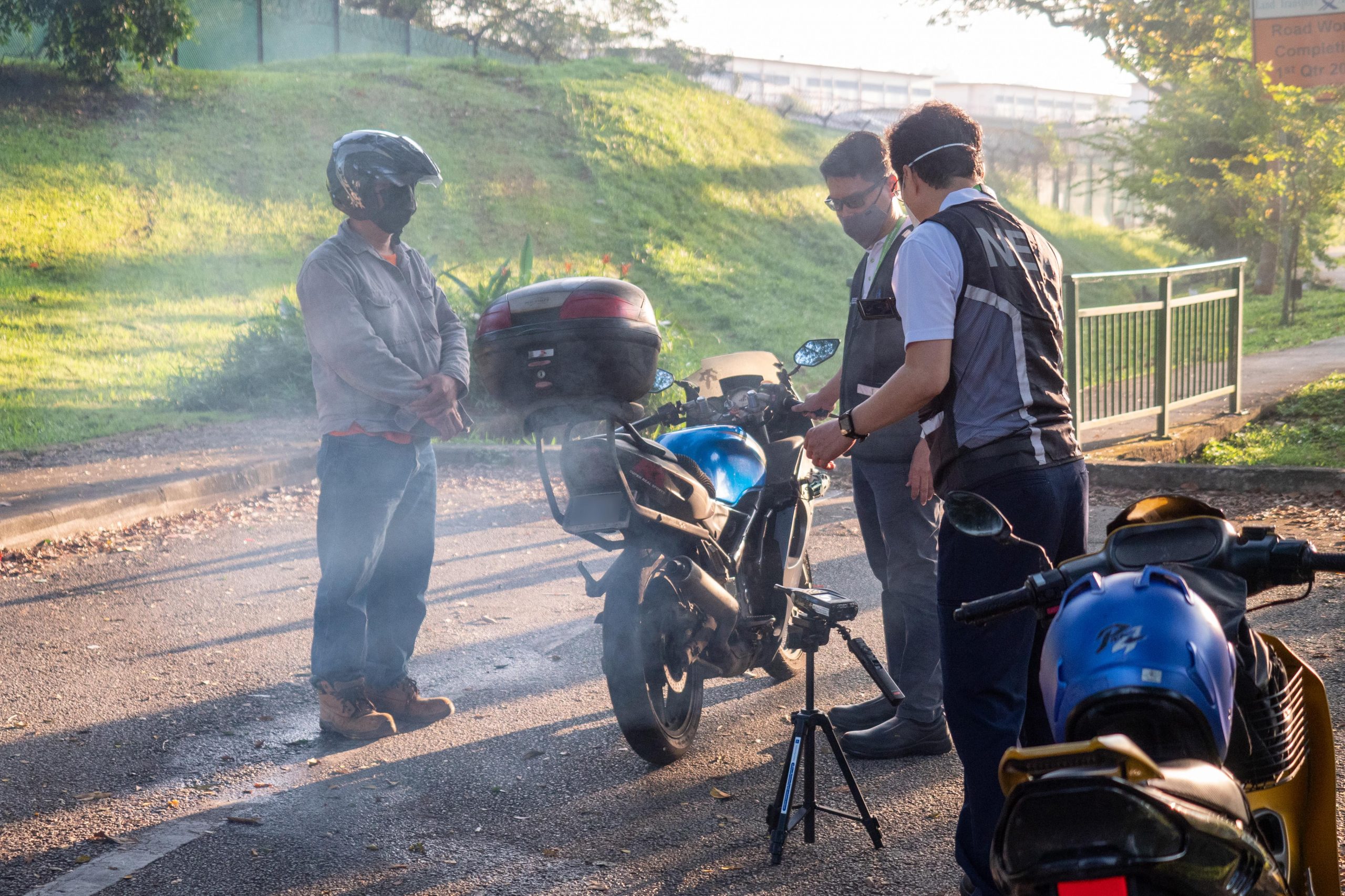 In their efforts to remind motorists to adhere to environmental and road safety regulations, they issued a total of 66 fines for vehicular offences:
4 fines for smoke emissions
25 fines for excessive noise emissions
24 fines for failing to comply with technical and regularity requirements (such as improper licence plates)
13 fines for driving without a valid riding licence and using a motor vehicle without insurance coverage
Regulations to Follow
Scared you kena fine? Here is a list of regulations you must comply with.
All vehicles, including foreign-registered vehicles entering Singapore, must comply with safety and emission requirements. Licence plates must be properly displayed.
Additionally, from 6 April 2023, all local motorcycles registered before 1 July 2003, along with all foreign-registered motorcycles, must meet the following emission limits:
4.5% carbon monoxide by volume, and either
7,800 ppm Hydrocarbons (for 2-stroke engine), or
2,000 ppm Hydrocarbons (for 4-stroke engine).
From 1 April 2023 onward, motor vehicle noises will have to fall within a band of between 68 decibels for cars, and 77 decibels for motorbikes. These will follow the United Nations' noise standards.
The current standard is up to 94 decibels for motorbikes, and between 96 and 100 decibels for other vehicles depending on engine location. These follow European Union and Japanese standards.
Join our Telegram channel for more entertaining and informative articles at https://t.me/goodyfeedsg or download the Goody Feed app here: https://goodyfeed.com/app/ 
Cleaner and Healthier Environment for Singapore
Reducing vehicle smoke and noise emissions will help Singapore achieve, as well as sustain, a clean and healthy living environment.
"Foreign motorists entering Singapore with their vehicles are urged to play their part to keep our environment clean and safe," stated NEA, LTA, and SPF.
The three agencies will continue to conduct regular enforcement operations against errant motorists, and will not hesitate to take firm actions against anyone who flouts the rules.
PS: if you want to snitch on any errant motorists you know, you can submit details like the vehicle registration number, location, date and time of the incident to any of these platforms:
For exhaust emission-related reports: contact NEA at nea.gov.sg/feedback, 1800-CALL-NEA (1800-2255 632), or through the myENV app on IOS/Android.
For road safety-related reports: contact SPF at this online form, the Traffic Police Information Hotline at 6547 0000, or lodge a police report at any police centre/online.
For technical/regulatory requirements-related reports, contact LTA at their hotline 1800 2255 582, or at their OneMotoring website.
Read Also:
Featured Image: NEA

Fresh grads, you don't need any experience to earn up to $4,200 with this "secret":
Read Also: