---
Advertisements

---
In order to build a comfortable living environment after being diagnosed with terminal liver cancer, an uncle in his sixties spent $13,000 to install nine air-conditioners in home.
However, this caused the neighbours living above his unit to complain about the water condensation forming on their floors.
Mr Liu Zhiyun, a resident who stays in Block 258A on Compassvale Road told Shin Min Daily News that the neighbour who recently moved into the unit downstairs would turn on his air-conditioner for long periods of time which has adversely affected the lives of his family.
Although Mr Liu has gone downstairs to complain and negotiate the matter numerous times, the problem has not been resolved and his family has been enduring silently for more than two months.
Mr Liu recalled that the day after the new neighbour installed his air-conditioners, the floors in his house became cold and damp. The very next day, water started to condense on the surface, and all the rooms in his house—from the bedrooms to the living room—were affected.
As such, the Chinese newspaper reporter visited the neighbour downstairs, Mr Huang, who is a 64-year-old retiree.
He explained that due to the hot and humid weather, he turned on the air-conditioner and kept the temperature at 18 degrees Celsius. However, he did not expect that he would receive complaints.
Apparently, Mr Huang had been diagnosed with terminal liver cancer last year. After selling his house to afford the treatment, he is now renting the four-room flat.
It has only been months since he moved into his current residence, and in order to live comfortably, he spent $13,000 to install nine air-conditioners, plus two condensing units.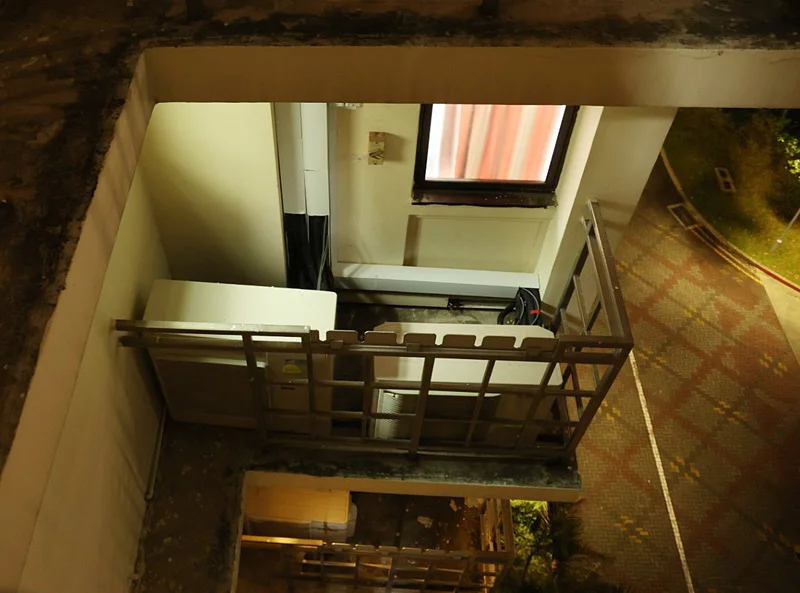 Reaching A Compromise
On Sunday (21 Aug), the two households reached a compromise, and they would each take a step back.
Based on Shin Min Daily News' understanding, the two residents met up to negotiate on Sunday night, before they finally hammered out a solution.
---
Advertisements

---
Mr Huang said that he would start to reduce the duration that the air conditioner stays on, and he would only turn on two air-conditioners in the master bedroom when he is sleeping.
The retiree expressed that he has little choice in the matter, because he needs to have two air-conditioners running for some time before he can fall asleep comfortably. He also promised that he would turn off the air conditioners in the living room and the other two rooms if they are not in use.
In response, Mr Liu said that he accepted his suggestions, but he would only decide after seeing the results. If it is not ideal and water is still condensing on his floors, then the problem hasn't been solved yet.
High Electricity Bills Every Month
Mr Huang also mentioned that he would keep the air-conditioners running for long periods of time in his previous houses too, and he would spend more than $1,000 on the electricity bill.
His current utility bill is much lesser now.
"I only spent $350 plus on my utility bills last month. This is already considered cheap," he said.
He added that if he fails to reach a consensus with his neighbour, he will choose to move away and find another suitable place to recuperate.
Join our Telegram channel for more entertaining and informative articles at https://t.me/goodyfeedsg or download the Goody Feed app here: https://goodyfeed.com/app/
Wearing Several Layers at Home
When Mr Huang answered the door on Sunday, the reporter noted that he was wearing a blue long-sleeved hoodie over a green sweater, as well as three to four layers of clothes inside, and a pair of black short pants.
Towards this, Mr Huang remarked that a warm body temperature helps to improve his immunity. He is actually afraid of the cold, but for the sake of comfort, he can only turn on the air-conditioner and wear a few more layers.
When the reporter was standing in the corridor to conduct the interview, they could feel the chilly air coming out from the house in waves.
---
Advertisements

---
Neighbours Worried About Their Flooring
Owing to the build up of water condensation, Mr Liu's family has to mop the floor thrice a day.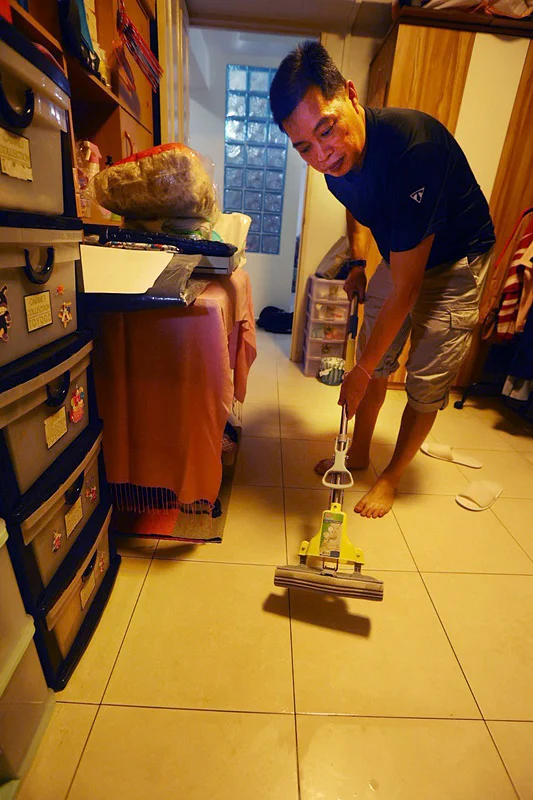 For the past two months, his family has been stepping on cold and damp floors every day, and his wife needs to mop to the floor thrice a day.
Despite her best efforts, Mr Liu nearly slipped and fell, so this problem was giving him a headache.
His wife also noted that the door and walls of the master bedroom have started to become mouldy.
Hence, she is very worried that the floor might crack from the constant changes in temperature.
Too Many Air-Conditioners
According to the information on the HDB website, three-room, four-room and five-room flats, as well as executive maisonettes, three-generation standard flats and four-room executive apartments can install air-conditioner condensing units (ACU) that can withstand a maximum total running current of 8.50 amps.
---
Advertisements

---
The maximum allowed weight of an ACU is 80kg.
Typically, an ACU can support four to six air conditioners, and its weight is around 43kg to 56kg, though it is dependent on the brand and model.
For a four-room flat, installing four to five air-conditioners is more than enough.
If there are too many air-conditioners and it is left running for an extended period of time, it will create condensation and affect the houses on top of and below the unit.
Operating nine air-conditioners at once will definitely make the small apartment too cold, and this will in turn, cause the water vapour to condense.
---
Advertisements

---
Honestly, nine air-conditioners is a bit of an overkill.
Read Also:
Featured Image: Shin Min Daily News 新明日报

Worker's Party just agree with PAP on something, but there's another reason why they did that. Watch this to the end and you'll understand:
Read Also: