---
Advertisements

---
Due to the pandemic, we've all grown accustomed to face masks. For those that are not aware, Gaming hardware company Razer has now ventured out of its usual gaming product line-up, selling N95-grade Zephyr masks instead. 
However, Razer has stopped claiming that they are N95 certified. 
Here's what happened.
Youtuber Calls Out Razer's Dishonest Marketing
We know we are serious about masks when we make video reviews for them, and that was what Youtuber Naomi 'SexyCyborg' Wu from Shengzhen, China, did.
In her video, Wu took issue with Razer's claim that their products were "N95".
The whole is not greater than the sum of its parts; tucking N95 filters into a mask does not mean the mask is N95 certified, she mentioned. The whole mask has to be tested for protection. She voices her dissatisfaction by saying, "I'm not happy with the N95 grade business, it's just deceptive marketing."
She said that the Zephyr masks have not passed any certifications for filtration, hence it cannot be labelled  as "N95".
Wu also noticed flaws in Razer's design, pointing out that the silicone face gasket is too loose to "form an airtight seal."
Ever since the video was uploaded on 1 November 2021, it has garnered more than one million views and 17,000 likes.
Razer Removes N95 Claims
One might credit the video for getting Razer to retract its claim, but Razer has played its part by taking "guidance from regulatory agencies to establish our testing protocols," as mentioned on their website.
Razer claims that "each set of filters has been confirmed by third-party lab testing to meet a 95% Particulate Filtration Efficiency (PFE) and 99% Bacterial Filtration Efficiency (BFE) for up to 72 hours in a normal environment,"  offering "greater protection" than cloth or disposable masks.
They have made it clear that its Zephyr masks are neither N95 certified nor are they suitable for use in medical settings.
On Jan 8, Razer also tweeted a link to its webpage to clarify the testing protocols for the mask.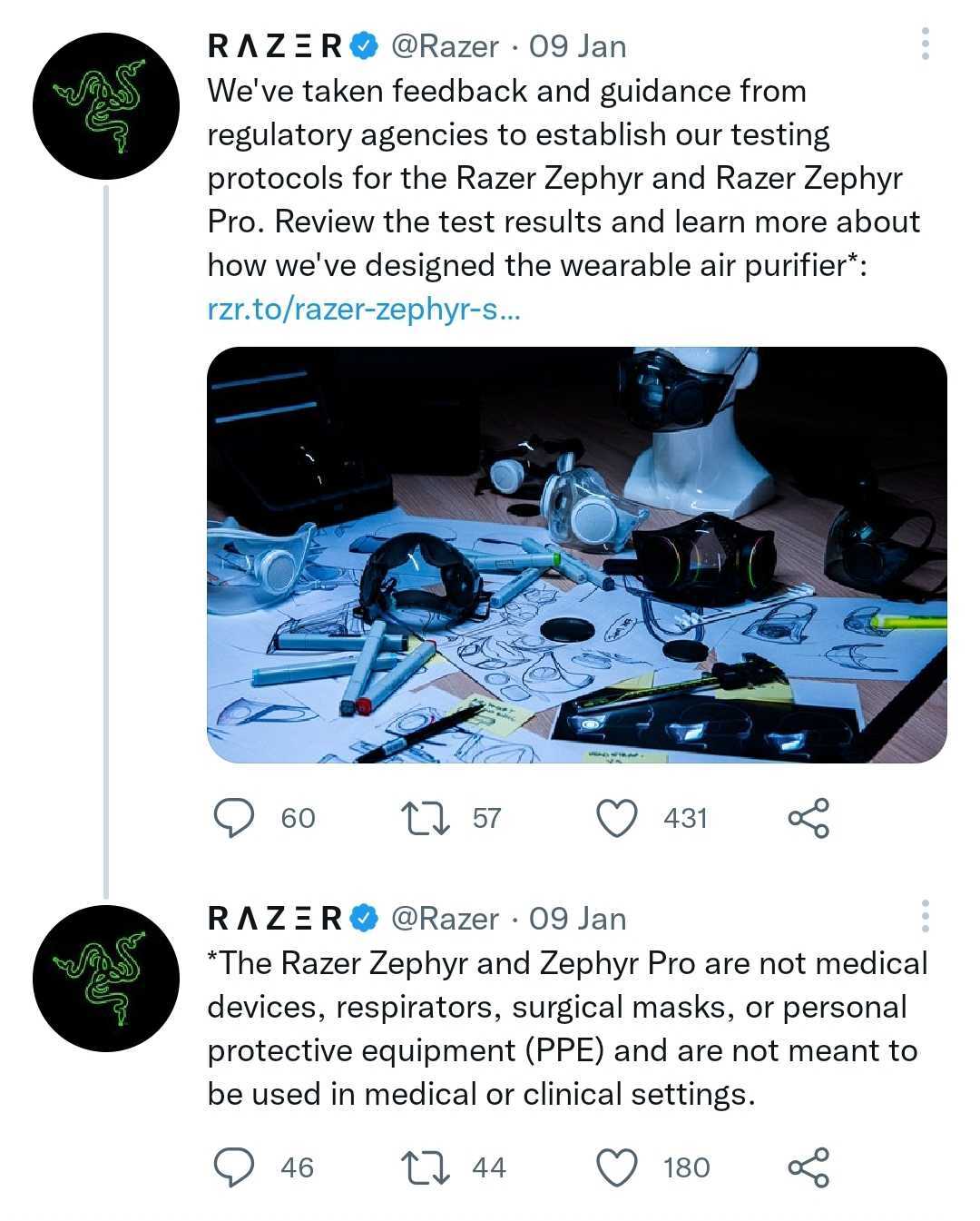 Insufficiently Addressed?
While Razer has provided us with a seemingly satisfactory response, it was not enough for Wu.
On Jan 10, Wu mentioned in a long Twitter post that the masks have gained a deceptive reputation, as many "immune-compromised individuals and healthcare workers all over social media are calling it a N95 mask."
It has reached the point where she has seen cheap knock-offs of the uncertified Razer N95 mask being produced in her own city, which can be a threat to public health because it is generally ineffective and yet it is being sold with the impression that it is.
She called for Razer to remove the mask from the market while requesting for a full redesign, and told them "not to profit from a fraud."
Join our Telegram channel for more entertaining and informative articles at https://t.me/goodyfeedsg or download the Goody Feed app here: https://goodyfeed.com/app/
Razer's Reaction to the Comments
According to Vulcanpost, Razer's spokesperson clarified that "the wearable by itself is not a medical device, nor as an certified N95 mask."
Additionally, they will be removing the "N95 Grade Filter" label from the product to avoid further confusion or alleged deception. 
They will be reaching out to existing customers to highlight this issue, urging those with further questions to contact their customer service.
---
Advertisements

---
A Leading Lifestyle Brand
Apart from face masks, Razer offers a myriad of quality products. In a Facebook post, they announced that one of its gaming mice (Razer Basilisk V3) topped the PC Gamer's list as Best Gaming Mouse 2021.
Razer has also recently opened a pop-up store in Funan Mall for all to swing by.
Perhaps Razer should stick to what they have always been good at instead of branching out into such risky ventures they know little about.
Read Also:
Featured Image: YouTube (Naomi 'SexyCyborg' Wu)

Fresh grads, you don't need any experience to earn up to $4,200 with this "secret":
Read Also: