---
Advertisements

---
For most of us, our hairstyles matter.
Experiencing a bad haircut at least once in your life is a universal experience. 
It probably caused a lot of shame and side-eyes in the following weeks.
Unfortunately, this is apparently what this young boy had to experience. 
Uneven Haircut
On 13 February, an anonymous Facebook user posted the boy's haircut on the Facebook group Complaint Singapore Unrestricted.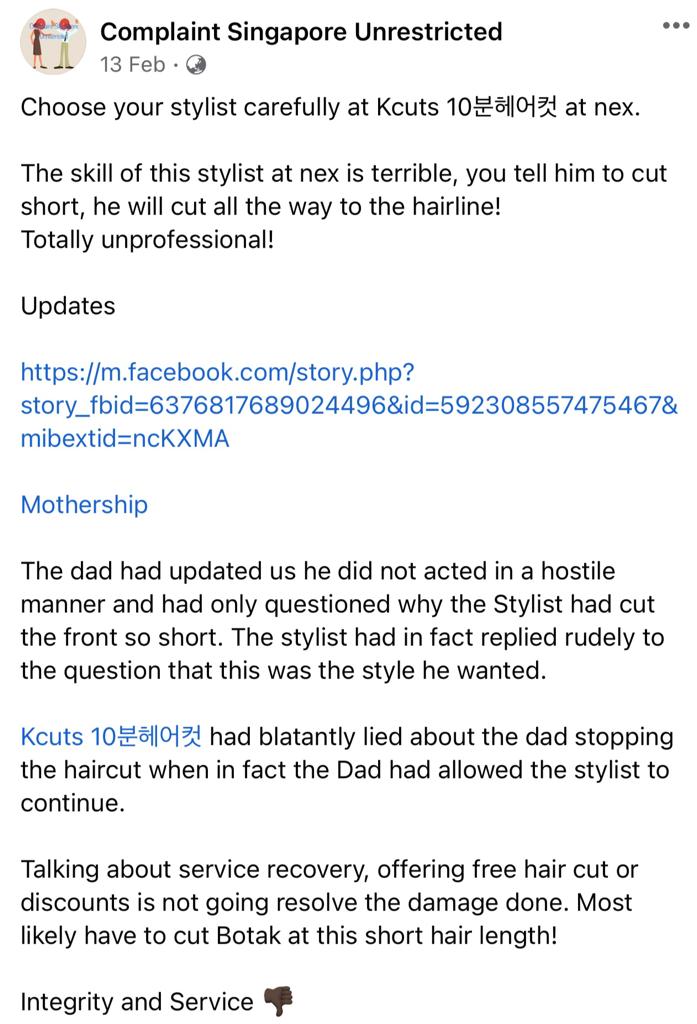 The user said, "The skill of this stylist at NEX is terrible, you tell him to cut short, he will cut all the way to the hairline! Totally unprofessional!"
"Choose your stylist carefully at kcuts 10분헤어컷 at NEX."
---
Here's Why We Might Not Need to Vote in Presidential Election 2023 After Tharman's Announcement:
---
The boy's haircut appears less than ideal, as seen from the photos accompanying the post.
From this image, you can tell how uneven his fringe is.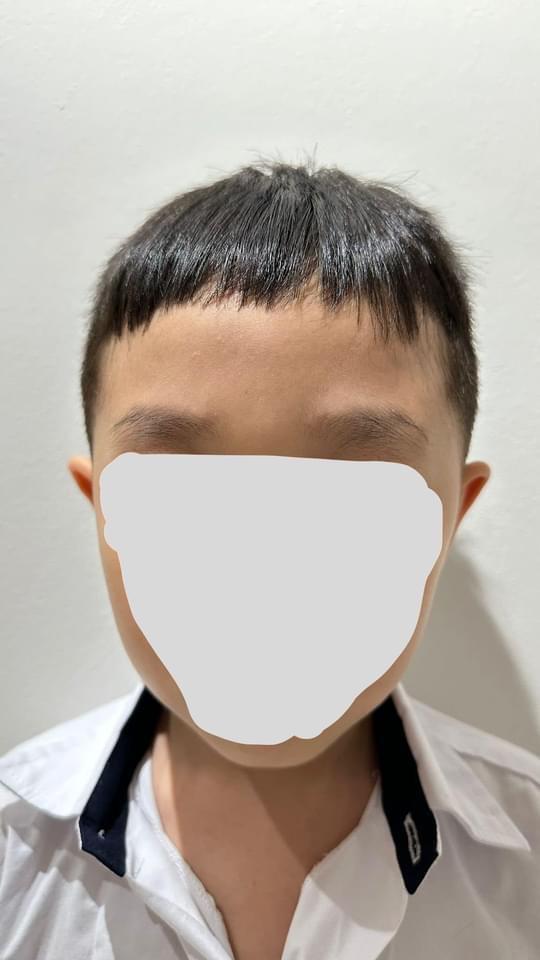 Furthermore, his fringe is so short that it's almost to his hairline.
This other photo shows a tuft of hair protruding from the boy's head, pointing to the fact that the hairstylist had missed a whole chunk of hair.
---
Advertisements

---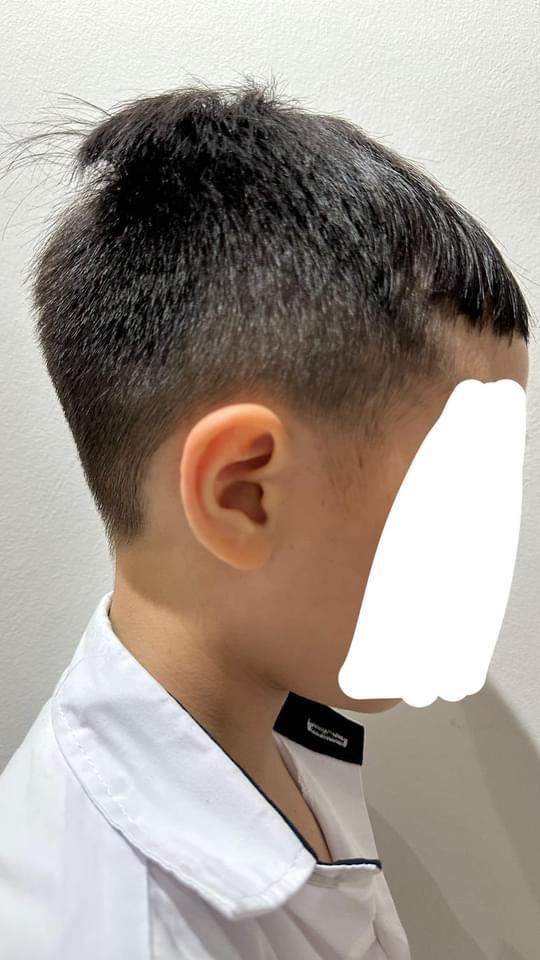 The Salon's Side of the Story
kcuts told Mothership that the boy's father had opted for a "spiky hairstyle" for the boy.
However, the stylist cut his fringe too short.
kcuts said that it "definitely regrets this poor cut".
Apparently, the stylist has also admitted to cutting the boy's fringe too short.
kcuts also mentioned that upon witnessing this haircut, the boy's father became "extremely upset immediately" and behaved in a "hostile" manner.
According to kcuts, the boy's father did not let the stylist continue with the haircut to even out the hair length.
kcuts also stated that since then, the boy's parents have not reached out to the salon to express their dissatisfaction. 
The salon's representative told Mothership, "The boy's parents did not write or contact us but slammed our brand immediately on social media. This is unfair as we would have taken our best effort to provide customer recovery."
"Lowest Cost Quick Cut Provider"
kcuts emphasised its efforts to maintain affordable services without hard selling packages to its customers.
Calling itself an "honest business", it also claims to be Singapore's "lowest cost quick cut provider".
---
Advertisements

---
kcuts has acknowledged its mistake.
It said, "With so many stylists on the ground with so many varying requests from customers of all ages, there will definitely be some mistakes or poor cut by stylists at times, which is extremely regrettable like in this case."
The salon added that it tries to provide service recovery in such cases.
Usually, it would ask the salon's manager to touch up the haircut or offer a free haircut on the next visit.
It added that the stylist who styled the boy's hair had received ratings of four out of five stars on the salon's app.
kcuts also said that the stylist had been negatively affected by the attention received on social media.
---
Advertisements

---
He has since been temporarily transferred away from the NEX outlet.
Is kcuts Lying?
Since explaining its side of the story on Mothership, the post on Complaint Singapore Unrestricted has been updated.
Apparently, the boy's father did not act in a hostile manner.
He had only questioned the stylist as to why he cut his son's fringe so short.
Allegedly, the stylist responded rudely to the question.
---
Advertisements

---
According to the update, kcuts had lied about the boy's father stopping the haircut. In fact, he apparently allowed the hairstylist to continue.
The post added, "Talking about service recovery, offering free hair cut or discounts is not going to resolve the damage done. Most likely have to cut Botak at this short hair length!"
However, nothing has been confirmed.
Only the CCTV will know what really happened.
About kcuts 
According to its website, kcuts prides itself on giving Korean-themed hairstyles in under ten minutes.
It has over 70 outlets in Singapore.
You can probably find at least one outlet in your neighbourhood.
Besides providing swift haircuts, the salon's prices range from only $10 to $15.
---
Advertisements

---
Netizen Response
The Facebook post has since gone viral, with 861 shares at the time of writing.
Though most agreed that the boy's haircut was uneven and lopsided, they also wondered what the family expected.

Since the salon offers relatively cheap haircuts, some netizens suggested that while the haircut wasn't ideal, the family got their money's worth.

Some agreed that kcut's service recovery didn't matter. After all, who would want to return to a salon that had previously given them a bad haircut?

Others also pointed out the increase in price for a kcuts haircut due to the GST hike.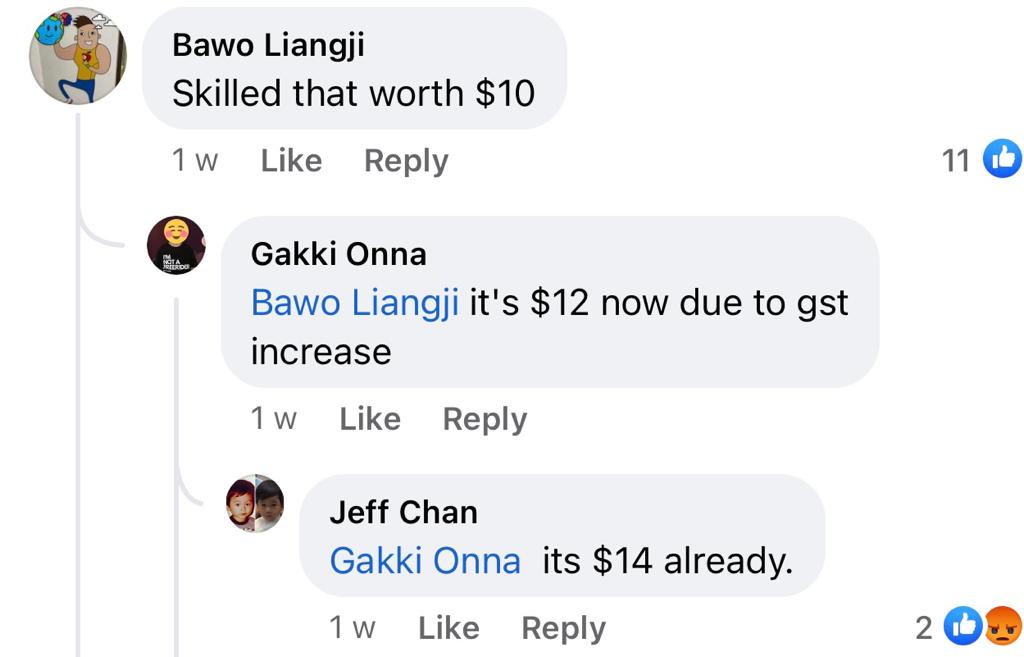 Interestingly, this incident demonstrates the Rashomon Effect 2.0, which you can learn more about in this video.

Join our Telegram channel for more entertaining and informative articles at https://t.me/goodyfeedsg or follow us on Twitter : https://twitter.com/goodyfeed
Other Viral Bad Haircuts
Unsurprisingly, bad haircuts tend to go viral.
It also appears that such horror stories don't just come from budget salons.
In September 2022, a TikTok video of a user's lousy haircut went viral.
The user, @AmandaO1wong, had asked for curtain bangs but ended up with a choppy cut.
The hair salon had reached out to offer her "hair services" in exchange for a post.
She ended up paying $88 for the haircut.
Other kcuts Stories
On Beauty Undercover, a website where users rate salons and beauty professionals, kcuts only has a one-star rating.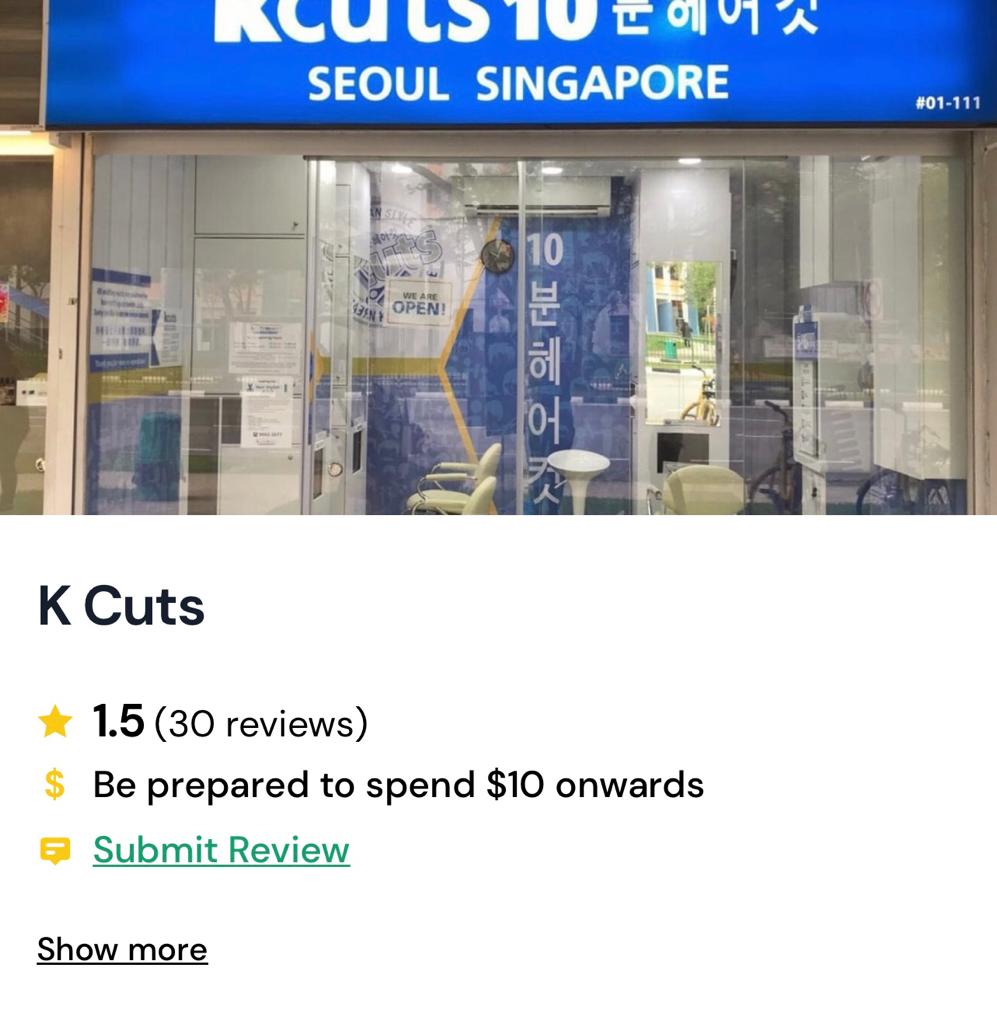 Of 30 reviews, 24 reviewers gave the salon a one-star rating.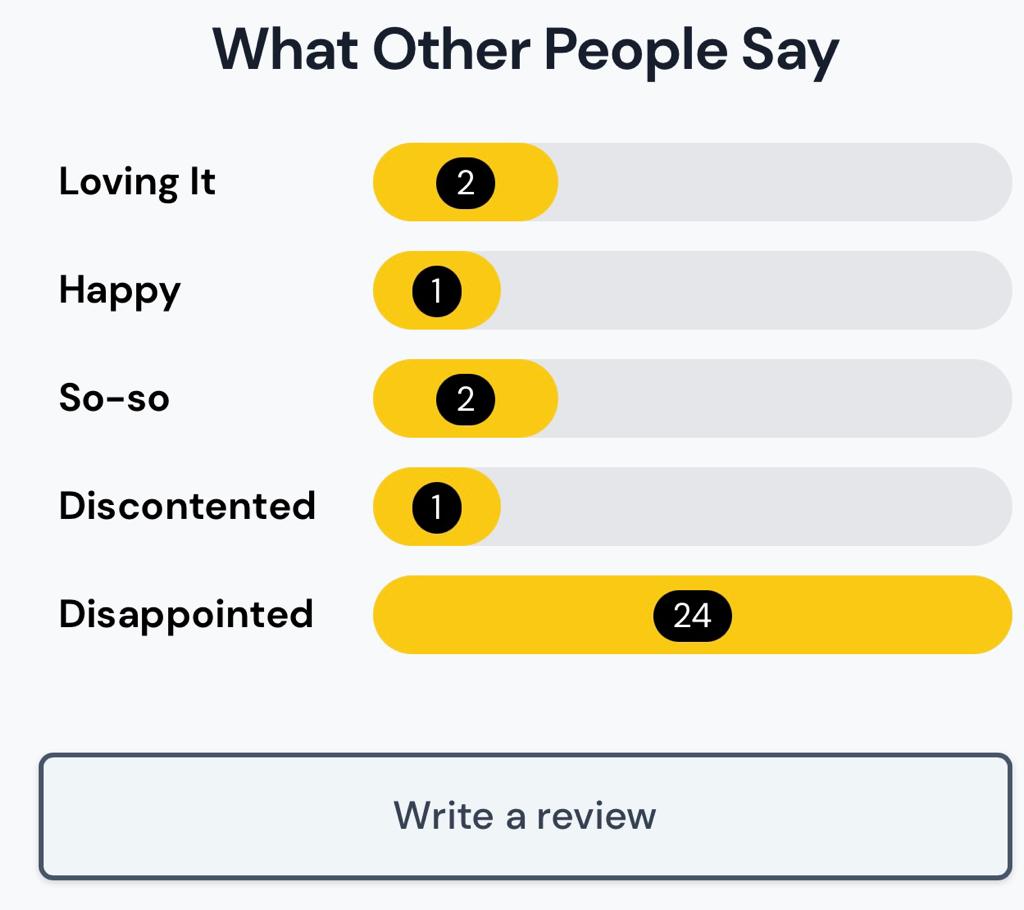 Some reviewers who gave the salon one star posted the haircuts that kcuts had given them.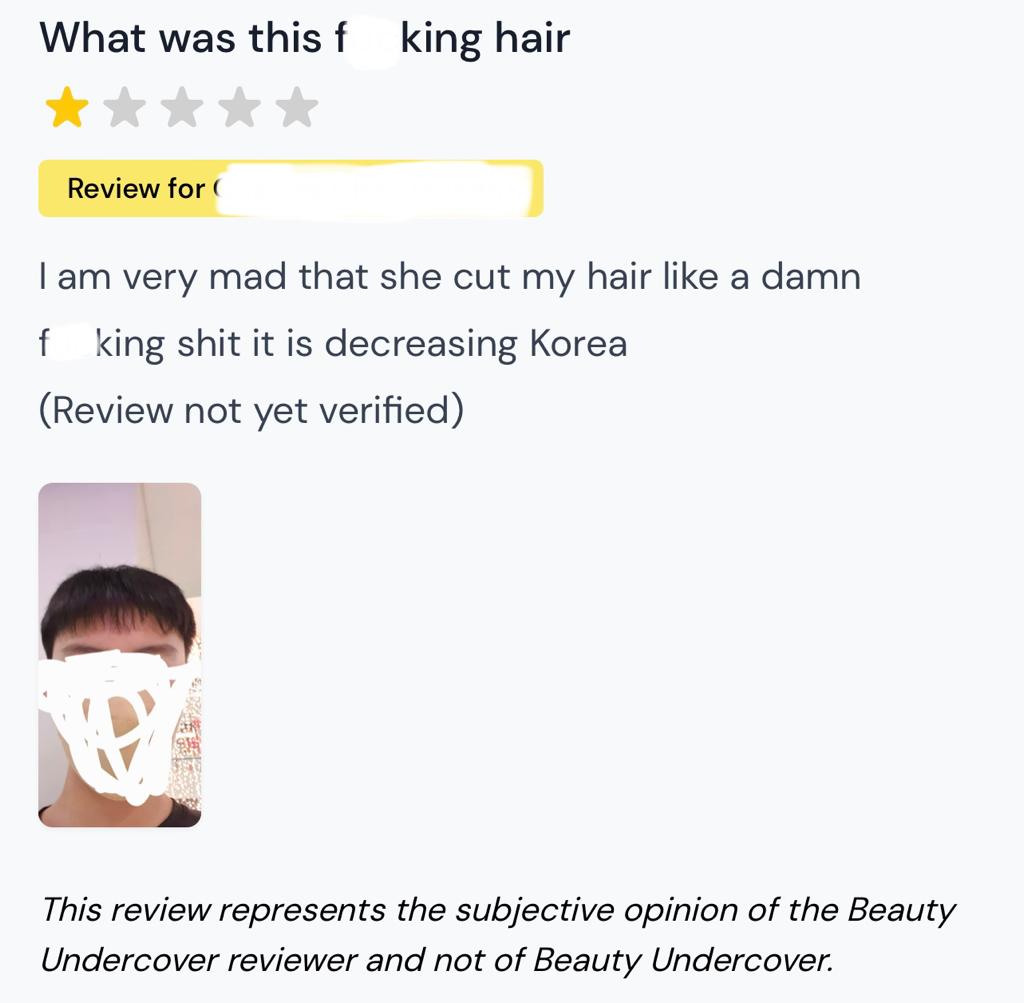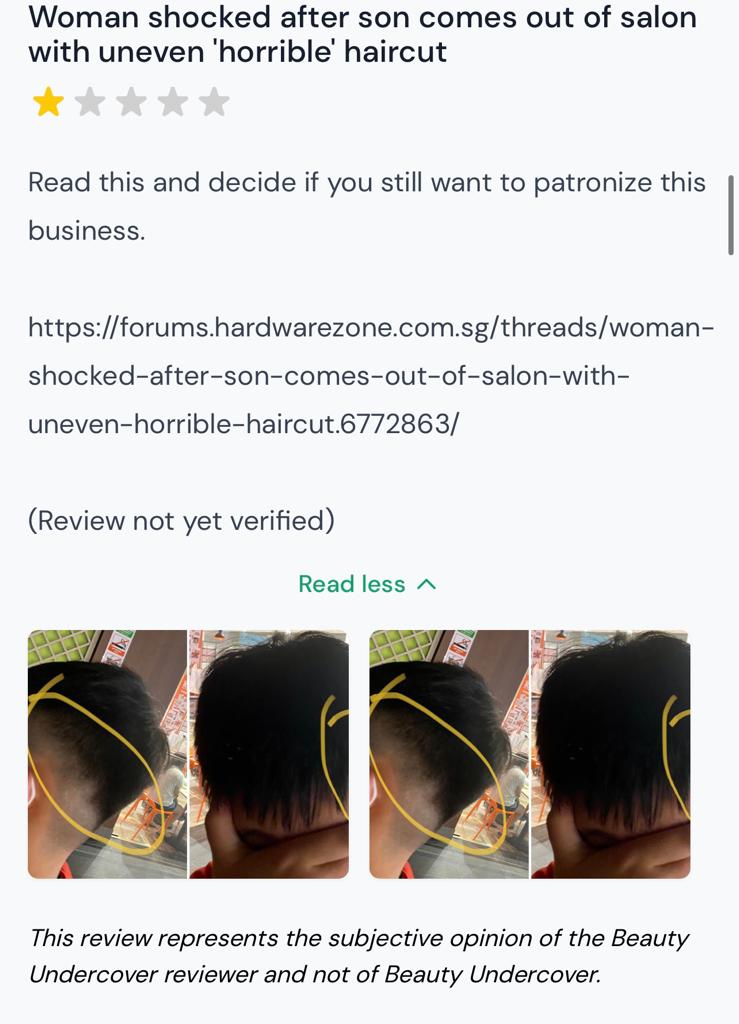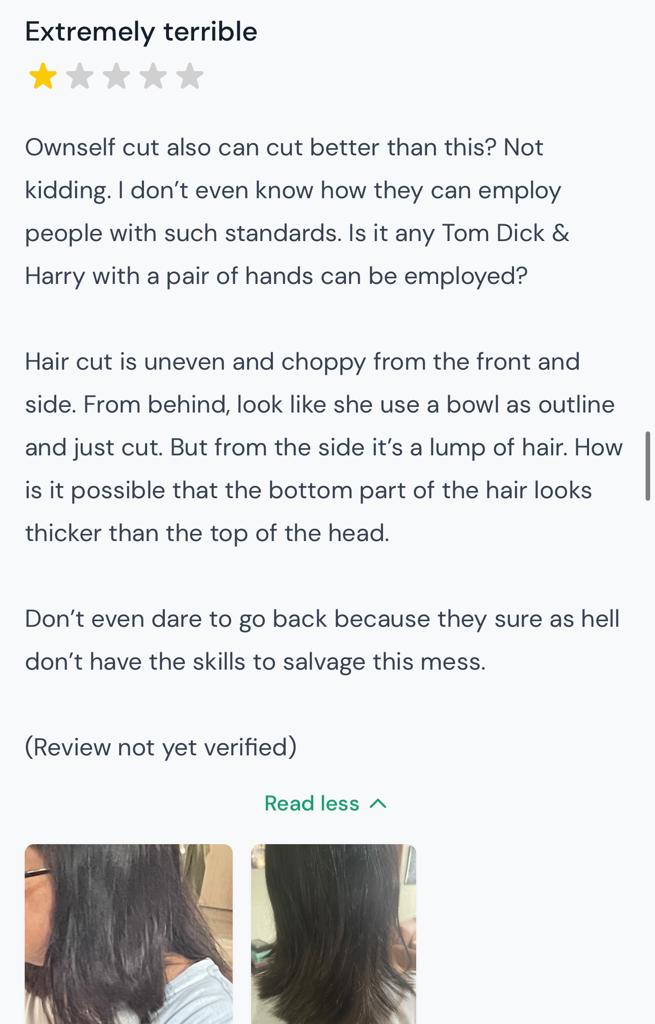 Needless to say, they weren't happy at all.
If your hairstyle means a lot to you, maybe it's better to learn to cut your own hair instead.