---
Advertisements

---
Rules are made to be followed, despite what others might think.
Just look at this Scoot flight, who couldn't legally land since a family didn't stay seated and fasten their seatbelts.
Delays Flight Landing, Told Passengers to Fasten Seatbelts
This TikTok revealed how a Scoot pilot had to delay the landing of flight TR285, from Bali to Singapore, due to a group of uncooperative passengers.
In the video, the Scoot pilot can be heard over the intercom system, saying that he would discontinue the flight's approach to Changi Airport. This was because he was informed that there were passengers not seated with their seatbelts fastened.
Explaining his actions, the pilot said that they are not legally allowed to land the plane if the cabin is unsecured.
Fact check: this is true. According to the Civil Aviation Authority of Singapore, one must remain seated with your seat belt fastened, until the plane has come to a complete stop and the 'fasten seat belt' light is turned off.
He then says that the plane will turn around and try to land again, and warns that the airport police will get involved if passengers refuse to cooperate.
Applause could be heard from one of the passengers at the end of the announcement. Sarcastic or not, we'll let you decide for yourselves. 
Local Authorities Get Involved
The video then cuts to a shot where the aircraft finally managed to land at Changi Airport. A stewardess is heard informing the passengers that local authorities will be getting on the flight, and to stay seated.
Another shot shows the authorities discussing with flight staff.
Auxiliary police were then seen walking toward the difficult passenger, which was met with lots of stares and people filming. Ah, the typical kaypoh Singaporean behaviour.
---
Advertisements

---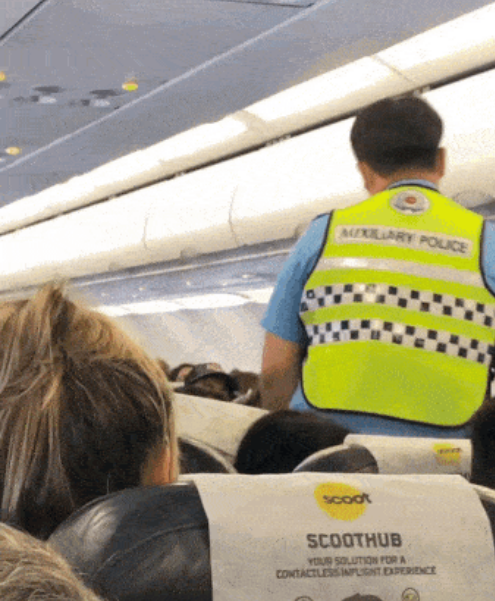 Another shot then showed a woman carrying a baby following the police, and of a man at Changi Airport talking to police officers.
Join our Telegram channel for more entertaining and informative articles at https://t.me/goodyfeedsg or download the Goody Feed app here: https://goodyfeed.com/app/ 
Suspected That Kids Were Not Seated
Although it wasn't clear what really happened, the TikTok user suspected that some kids did not stay in their seats, which was why the plane couldn't land.
The whole family was also apparently questioned by the police once we landed.
The OP then ends with "so ya please parent your children, very annoying", which sums up their experience on the flight.
Read Also:
Featured Image: TikTok (@audikhalid)

Worker's Party just agree with PAP on something, but there's another reason why they did that. Watch this to the end and you'll understand:
Read Also: