---
Advertisements

---
Last Updated on 2023-01-30 , 5:46 pm
With Singapore being a multicultural society, I'm sure most of us are accustomed to being considerate towards others when they engage in religious activities or rites.
Of course, unless these rites mean that you and the rest of your Housing Development Board (HDB) block can't get any sleep.
But it seems like that's (unfortunately) the case for some residents in Sengkang, who have apparently had to tolerate the sound of non-stop chanting and wooden fish knocking for almost one month now.
For the unaware, the wooden fish is a hollow wooden (well, duh) instrument that Buddhist priests beat when chanting to create a rhythm.
Not a random fish that somehow turned to wood lah.
Here's what has been happening and what the residents in the area have to say.
Residents' Complaints
Recently, a resident named Mdm Li (Hanyu pinyin) told Shin Min Daily News that chanting and wooden fish knocking sounds have been coming from an individual at 201C Compassvale Drive.
According to Mdm Li, who lives in one of the blocks opposite 201C Compassvale Drive, the noises started on 2 January this year.
They have been going on ever since for almost 24 hours every day, which sounds like a real-life horror story to anyone trying to sleep at night.
(Yes, that's pretty much everyone.)
She added that the volumes of both the chanting and wooden fish knocking are extremely loud and have gotten louder over time.
In particular, the noises are especially loud at midnight, which has disturbed many residents' sleep.
Residents Formed Search Party to Find the Source of Chanting and Wooden Fish Knocking
After three weeks of tolerating the noise, the residents in the area decided that they could no longer take it anymore and decided to take matters into their own hands.
At around 8 pm on Thursday (26 January), Mdm Li decided to go to Block 201C with her two daughters and neighbour to try and find the noise source.
When they reached the ground floor, the group found over ten people who had also come out of their houses and wanted to find out where the noise was coming from.
In total, almost 20 residents were present. They ended up forming a "search party" of sorts to try and figure out where the sounds were coming from.
However, the search party was still unable to find the source of the noise even after they spent two hours combing through two HDB blocks.
Mdm Li's neighbour also told Shin Min that the chanting and wooden fish knocking sounds become increasingly prevalent after midnight as the rest of the area usually starts to quieten down around that time.
She added that many residents are unable to sleep due to the noise and expressed her wishes for the resident playing these sounds to be more considerate of the other residents around them.
Another Resident Put Up a Notice, Others Complained on Facebook
And it seems like the residents who joined the search party aren't the only ones who are frustrated with the noise.
---
Advertisements

---
On Tuesday (24 January), a Facebook user named Samuel Ho Chuan Jie took to the COMPLAINT SINGAPORE Facebook group to air his grievances regarding the same issue.
In his post, he ranted about how inconsiderate his neighbour was.
He also revealed that he had called the police twice in the past to try and resolve the issue, but was told that the police would report it to HDB instead. He mentioned that the police officers told him that the police only handles emergency cases.
"Since when did noise disturbance in the [neighbourhood not] warrant a proper investigation?" he questioned.
"Imagine hearing the chanting 24/7 when you reach home, about to sleep, and even when you wake up and go to work!" he added.
Apart from that, Ho also highlighted that no physical wakes were held in the area recently, meaning that the sound was coming from someone's home instead.
---
Advertisements

---
Join our Telegram channel for more entertaining and informative articles at https://t.me/goodyfeedsg or download the Goody Feed app here: https://goodyfeed.com/app/
He also attached a photo of a handwritten notice that another resident apparently put up in the area.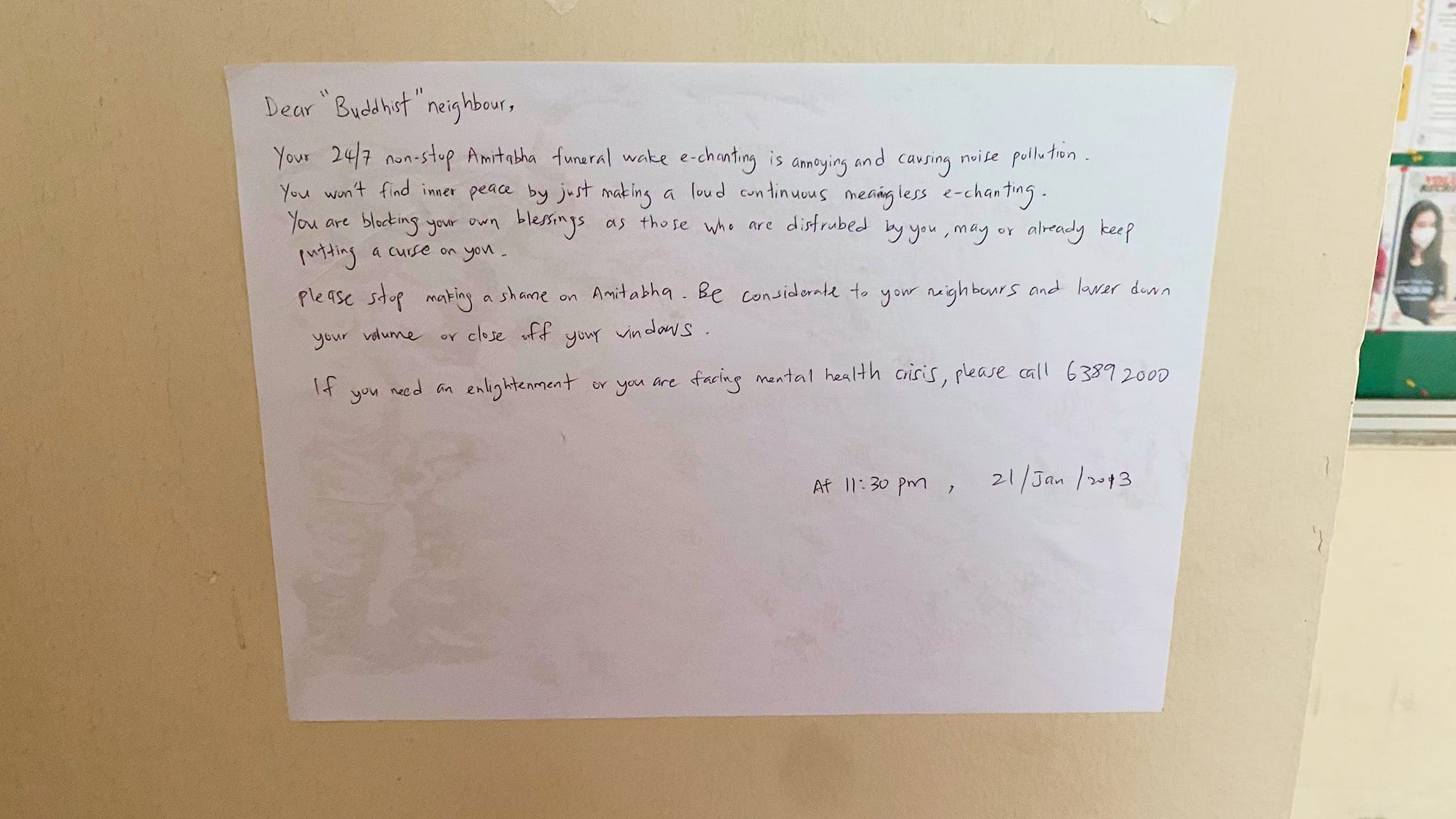 In the notice, which was dated 21 January, the resident wrote that the "24/7 non-stop Amitabha funeral wake e-chanting" was "annoying" and that it was "causing noise pollution".
"You won't find inner peace just by loud continuous meaningless e-chanting. You are blocking your own blessings as those who are disturbed by you may [have] already [put] a curse on you," the individual added.
The person also wrote that whoever is making the noise should try to be more considerate of the other residents around them and suggested that they either lower the volume of the chanting and wooden fish knocking or close their windows.
The notice ended with the resident writing, "If you need enlightenment or [if] you are facing [a] mental health crisis, please call 6389 2000."
---
Advertisements

---
(Yes, that's the Institute of Mental Health (IMH) hotline.)
Read Also:
Featured Image: Shin Min Daily News, Facebook (Samuel Ho Chuan Jie)

Fresh grads, you don't need any experience to earn up to $4,200 with this "secret":
Read Also: