---
Advertisements

---
A female diner complained that a stallholder mistakenly assumed that she was secretly photographing her.
The stall worker called her "crazy", hit her hand, and even tried to snatch her phone.
Frightened, the female diner called the police right then and there.
However, the other stall workers of Kopitiam Square said that the female diner would always come looking for trouble every time she dines at the coffeeshop.
What Happened?
The incident took place on 16 August, at around 11am, at Kopitiam Square in Sengkang Square.
Mrs Wu, 58, told Shin Min Daily News that when she went to Kopitiam Square to take away some food that day, she was holding her phone as she looked around.
All of a sudden, the female staff from the Spinach Soup Stall rushed over and scolded her loudly, "Are you insane, why are you taking photos of me?"
This stunned the housewife.
She recounted that her phone just happened to be pointed at her, and she was not taking photos of her. She did not expect that the stallholder would hit her hand, and even try to snatch away her phone.
In the midst of the struggle, her phone fell to the ground.
The stallholder's abrupt behaviour gave her a bad scare.
However, it also convinced Mrs Wu that she should film this scene.
The cycle repeated itself: Mrs Wu tried to record what was happening (for real this time), the female worker tried to take her phone, they fought, and the phone fell to the ground.
For the second time.
Hope Mrs Wu invested in a good screen protector and phone case, or else her screen might be bust.
"Back then, I yelled, 'She hit me, she hit me', but no one came to help. I quickly left the scene, called the police, and also informed the manager of Kopitiam Square."
She added that the manager asked for the details after the incident, and she told the manager that she hoped the stallholder could be reasonable.
When the Chinese newspaper reporter went down to the coffee shop, the female worker retorted that it was Mrs Wu who instigated the conflict first.
She was reluctant to elaborate further.
Another stall worker, who wants to remain unnamed, also said that he saw the female worker eating her meal at first. Then the female diner seemed to aim her phone at her.
He did not personally witness what happened afterwards, but he did hear the female diner shout she was "hit". 
---
Advertisements

---
As a side note, the image of Kopitiam Square featured in the Shin Min Daily News article was provided by Mrs Wu.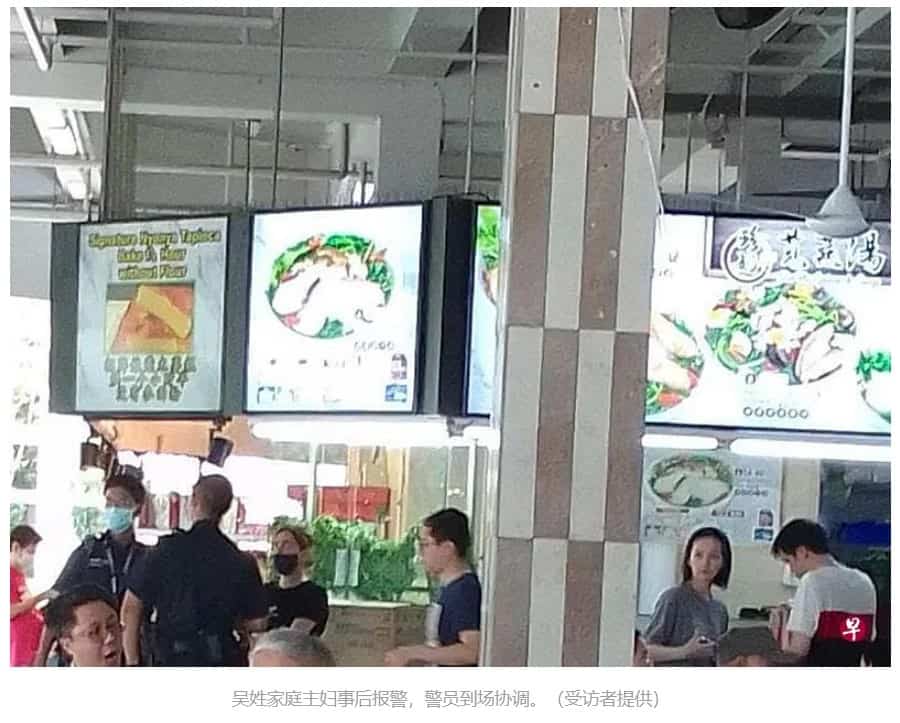 Read Also:
Featured Image: Google Maps