---
Advertisements

---
Let's be honest for a second: none of us are strangers to illegal streaming sites.
Back when streaming platforms like Netflix and Hulu were not popularised yet, and subscriptions were too costly for a student's allowance, we would probably use these sites to watch our favourite K-dramas and animes, or to catch up on a sports match that happened at 3AM in the morning.
Alas, the Singapore court is cracking down on these illegal streaming sites once more.
99 domain names have been added to the site blocking list, including addresses like SportsBay, 123Movies and KissAsian.
The new order from the Singapore High Court was made on behalf of BBC Studios, Discovery Communications, Spanish football league LaLiga, the English Premier League and TVB International, whom the copyright of the illegally streamed TV shows, movies and sports channels belong to.
All major Internet Service Providers (ISPs) – namely M1, MyRepublic, Singtel, Starhub and ViewQwest – were informed that they have to block these web addresses by the end of August, said Asia Video Industry Association (AVIA).
MyRepublic, Singtel, Starhub and ViewQwest have already complied with the order.
Past Site Blocking Court Orders
Site blocking can be a very effective tool against online piracy and countering the harms it causes.
In February, nearly 150 web addresses that were linked to the same websites were blocked, after the High Court ruled in favour of the copyright orders.
The February court order also allowed for "dynamic site blocking", which lets the copyright holders notify the ISPs to block web addresses that point users to the same illegal websites.
Hence, 99 web domains, as opposed to just web addresses, were added to the blocking list this August.
The people who run these websites are terribly sneaky.
For instance, if "kissasian.me" gets banned, alternate web addresses like "kissasian.land" or "kissasian.ru" will pop up to give users access to the same content.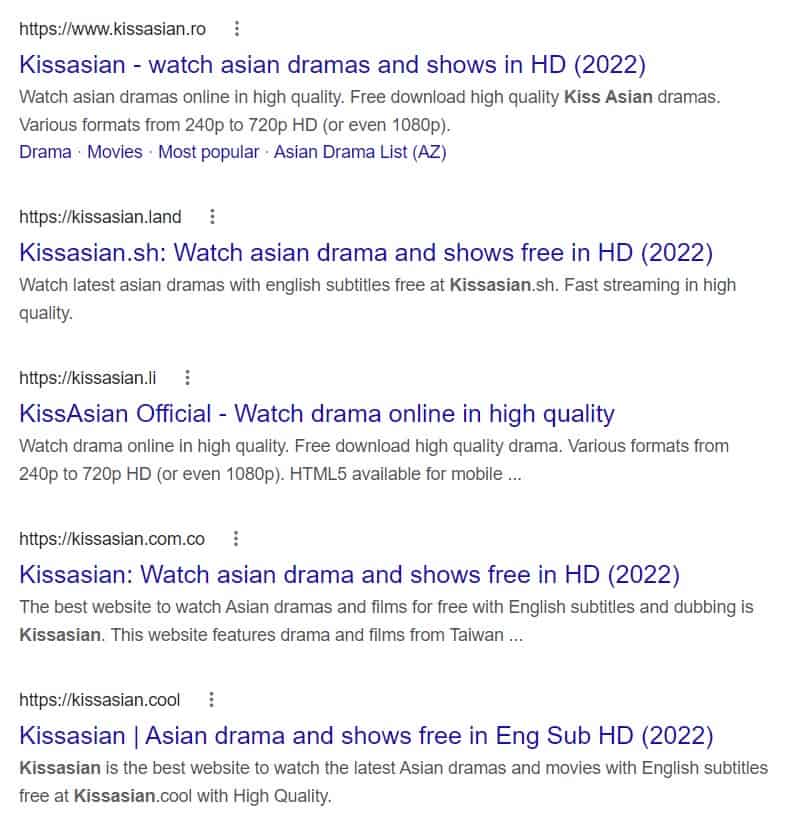 In order to counter the endless cat-and-mouse chase, the court introduced dynamic site blocking, which targets the use of alternate web addresses that sidestep the original block. 
The earliest court order for dynamic site blocking was issued in 2018, against 53 piracy websites.
The 2018 ruling also abolished the need for copyright holders to make separate court applications to block these alternate web addresses.
It must have been tedious to fight against online piracy back in 2018. Can you imagine having to file an application every other day when these alternate web addresses breed like flies?
In a survey conducted by YouGov in December 2021, one-third of 1,000 respondents in Singapore stated that the site blocking has changed their content viewing habits. They started subscribing to legitimate streaming services instead of using these illegal sites.
This is another victory for the copyright holders.
… Until you realise that more people are using Virtual Private Networks (VPNs) to bypass these blocks.  
---
Advertisements

---
Read Also:
Featured Image: VectorMine / Shutterstock.com

Fresh grads, you don't need any experience to earn up to $4,200 with this "secret":
Read Also: