---
Advertisements

---
If you're looking for a new date activity or just some fun with your family and friends, get ready, because Singapore is about to open our very first instant noodle-themed experience playground called Slurping Good!
First Instant Noodle-Themed Experience Playground in S'pore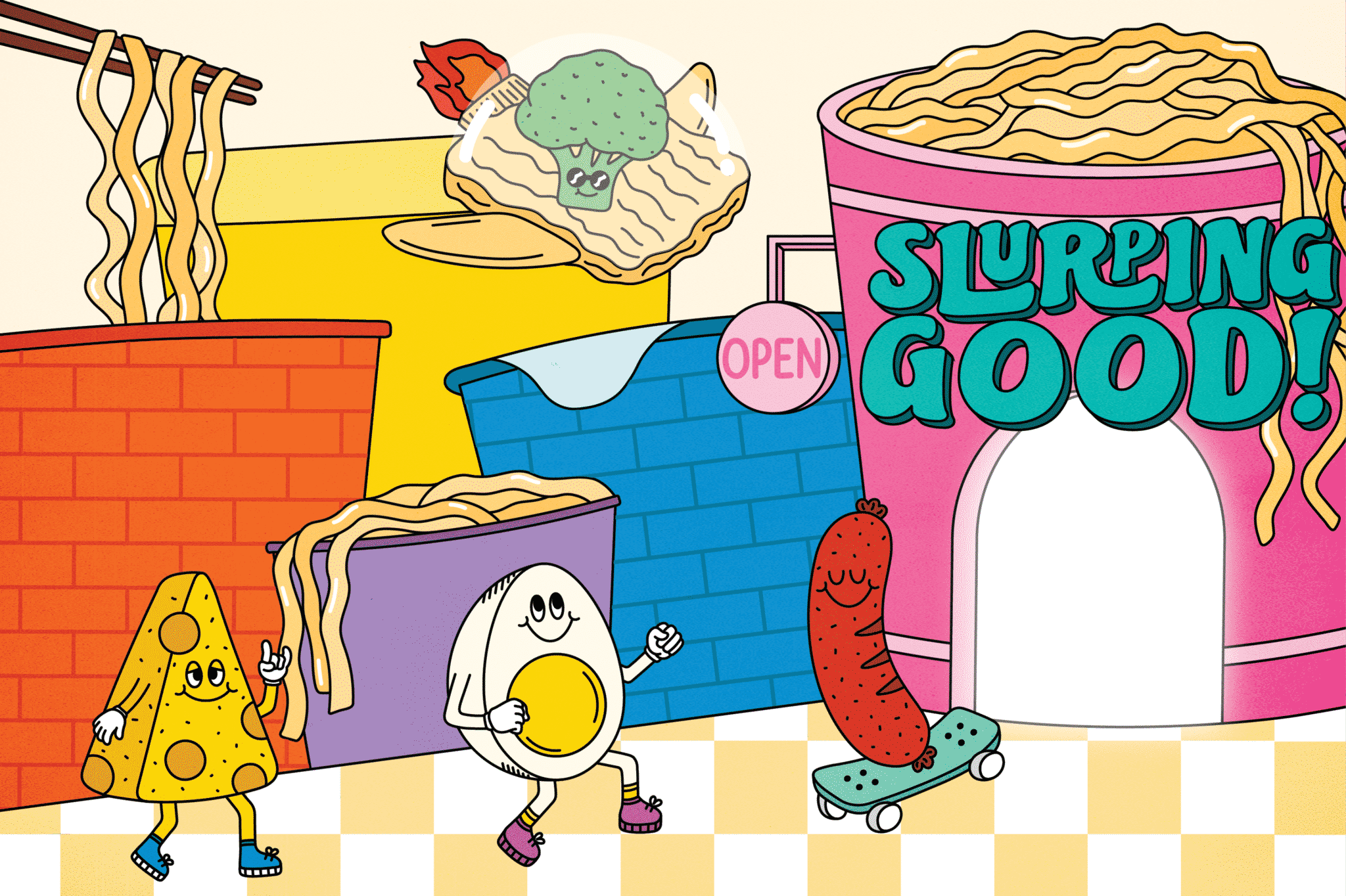 Slurping Good! is going to be opening at Tekka Place right beside Eatbox and will have a total of 13 interactive spaces for you to visit.
These spaces will span over two floors, giving everyone enough space to explore and take as many photos as you want.
And with Eatbox right beside Slurping Good!, you're bound to have a great time because you get to fill your tummies right after.
The food hall features 20 booths and four kiosks of international cuisine and fusion fare, ensuring that there's something for everyone.
1.7m Tall Cup Noodles
One of the interactive spaces is called "My Dream Cup Noodles by Nissin". As you can guess from the name, this space is in collaboration with Nissin Foods Singapore (NISSIN).
In case you didn't know, NISSIN is the pioneer of instant noodles, with its founder inventing the world's first instant noodles, Chicken Ramen, and the world's first cup-type of instant noodles, NISSIN Cup Noodles. 
In this interactive space, you'll find a 1.7m tall installation of Singapore's number one cup noodles flavour. Get creative and share your own favourite or dream Cup Noodles flavour.
Once you're done exploring this space, you can move on and slide your way into noodle-mania at the Chu Qian Yi Ding Slider!
Don't worry, because they have both child- and adult-sized noodle slides, so adults, feel free to slide down the slides without worrying about being seen as too old to be playing!
Murals, Installations, Games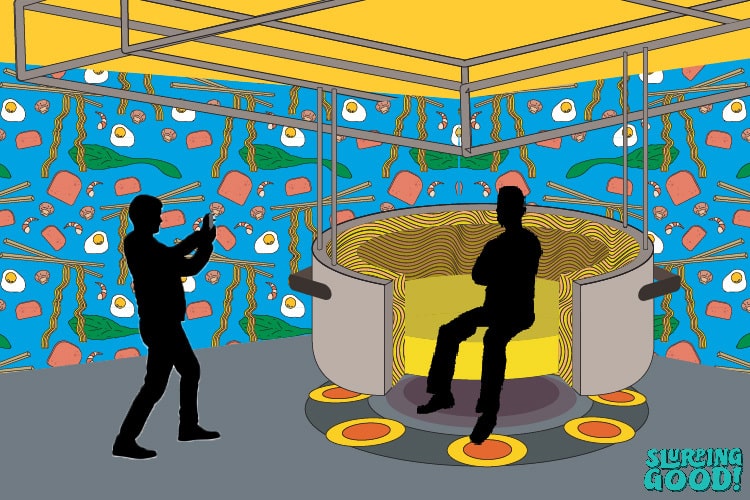 As you walk through a noodle archway, you'll see pretty much any noodle you can possibly dream of. Continue along to view the most important ingredient companions that make our instant noodles meal complete.
---
Advertisements

---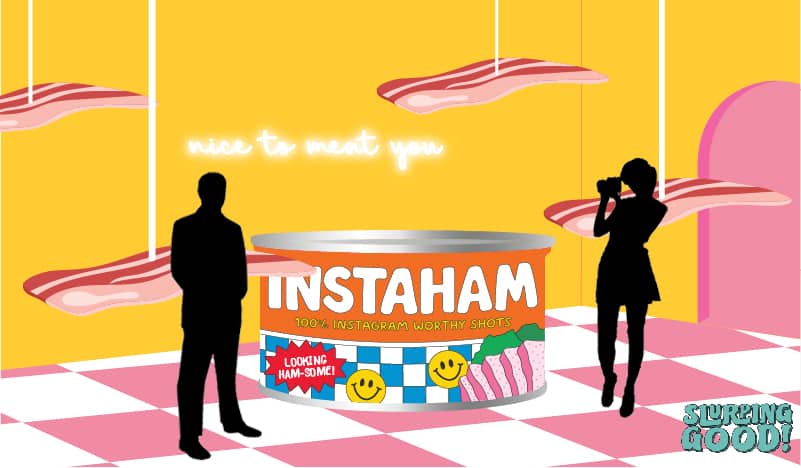 These ingredients are displayed in the form of murals, installations, and games to celebrate their contributions to one of the most convenient and eaten meals of all time. Take photographs with ingredients like egg, meat, greens, seafood, and cheese.
Freebies Available
Each visitor will also receive a complimentary tote bag containing a retail voucher that can be used at the merchandise store, an F&B voucher that can be used at the Soul Good Noodle Bar located in Eatbox, a pack of Nissin instant noodles as well as instant noodle claw machine tokens.
They will also receive complimentary tokens to Lazada's Claw Machine that will be located at the Marketplace. Try your luck and you might get a chance to win Lazada vouchers worth up to $50!
And when you purchase your multiple tickets from Lazada, you can receive up to $5 Eatbox vouchers upon entry.
Event Details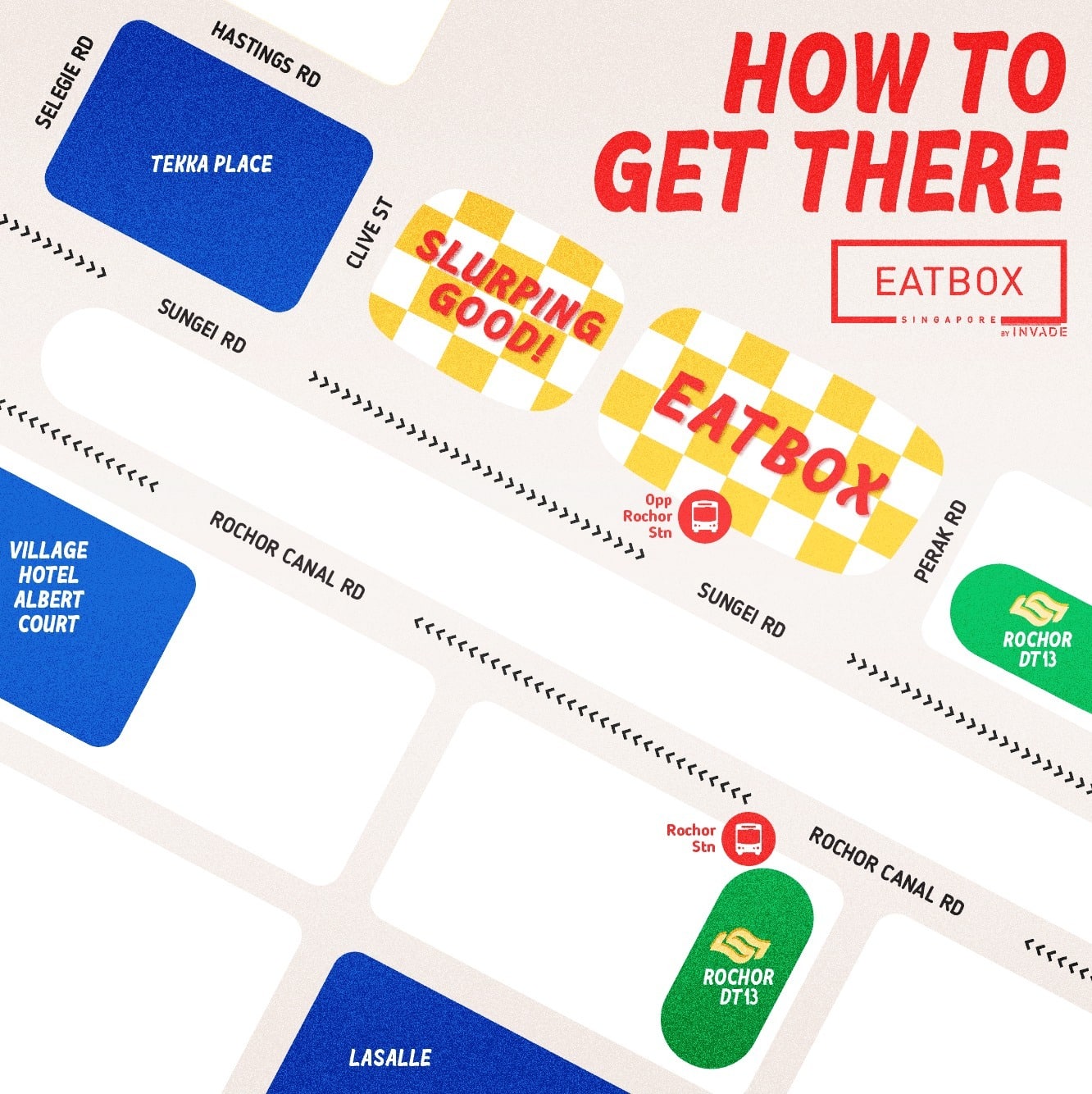 Now that you know all about the exhibition, here's what you need to know about the little details.
Slurping Good! Experience Playground
Event Start Date: 24 September 2021
Opening Hours: Monday to Sunday, 10am to 10pm (*Take note that last entry is 30 minutes before closing!)
Ticketing: $21 (inclusive of $1 booking fee), free entry for children under the age of three
Address: Tekka Place, Annex Building, 2 Serangoon Rd, #01-51/52/53/54, 218227 (located next to Rochor MRT station)
Eatbox Singapore
Opening Date: 3 September 2021
Opening Hours: Monday to Sunday, 8am to 10:30pm
Ticketing: Free
Address: Tekka Place, Annex Building, 2 Serangoon Rd, #01-55/56/57/58/59, 218227
Marketplace
Opening Date: 22 September 2021
Opening Hours: Monday to Sunday, 10am to 10pm
Ticketing: Free
Address: Tekka Place, Main Block Basement 1, 2 Serangoon Rd, #B1-12/18/19/21/22/23/24, 218227
Read Also: 
Featured Image: Slurping Good

Here's why a 4-day workweek might finally really be possible in Singapore soon:
Read Also: