---
Advertisements

---
Soh Rui Yong has grabbed the headlines once again, but not for the reasons you think.
Everyone started talking about the two-time SEA Games champion early last month when he issued a now-infamous challenge to the country to beat his 2.4km timing of 6 minutes and 53.18 seconds.
Then, news emerged that the two-time SEA Games champion had lost a legal battle and was ordered to pay his former running teammate Ashley Liew S$180,000 for defamation.
Back when he issued the 2.4km challenge, Soh promised the winner S$700 in cash and 700 bottles of sports drink.
Now it seems that thanks to his athletic prowess, he'll be getting all the ramen he wants for a year. 
Soh Rui Yong Signs 1-Year Sponsorship with Takagi Ramen for $20K & a Year's Supply of Ramen
In a bid to support his quest to qualify for the Asian Games Marathon, local ramen chain Takagi Ramen, which is started by the founders of the now-defunct The Real Singapore, is sponsoring Soh in a year-long deal.
As part of the sponsorship, Soh received $20,000 in cash and is entitled to an unlimited supply of ramen at the outlet for a year.
Announcing the deal in a Facebook post, Takagi Ramen said being an athlete in Singapore is tough as "training often has to take a back seat to working to keep food on the table."
It said together with his current sponsorships from Pocari Sweat and UnderArmour, this new sponsorship will allow Soh to focus on his training full-time.
The 30-year-old hopes to qualify for the Asian Games Marathon in 2022, and must compete in the upcoming Valencia Marathon on 5 Dec in order to do so.
To qualify for the games, Soh must run 42 kilometres in under two hours, 23 minutes, and 42 seconds.
Woah.
If successful, Soh will be the first-ever Singaporean to qualify for the competition.
"Ramen For the Average Singaporean"
Commenting on his new sponsorship, Soh said he "immediately related" to Takagi Ramen's slogan, which is "Ramen For the Average Singaporean".
"I really respected the portion size provided, compared to some other ramen shops that charge more but give smaller portions," he said.
"I'm delighted to represent the only ramen restaurant I know that offers ramen for sub $7!" he said in a Facebook post.
Well, he's certainly right about the prices; have a look: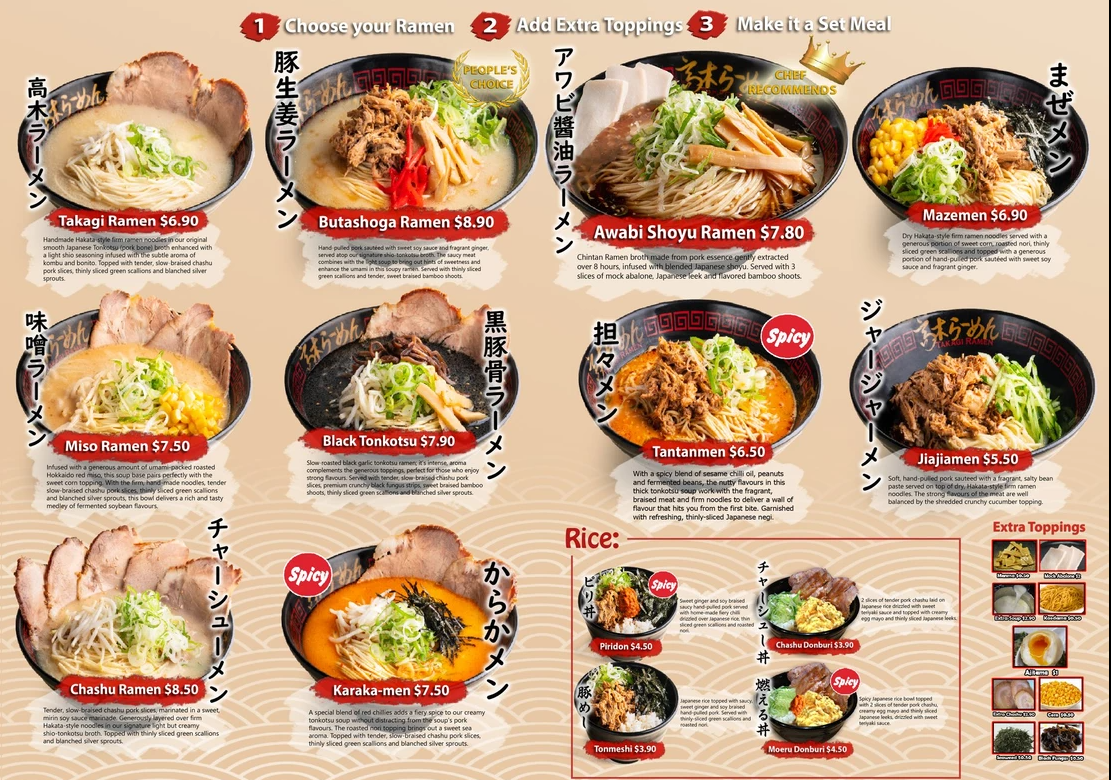 They also make their own brand of bubble tea.
Trained in His Father's SAF-Issued Shoes During His Formative Years
In their press release, the ramen chain noted that it was never a smooth road to success for Soh, who took four years to win his first title at the National Schools Cross Country Championships.
"Soh comes from an average background and during his childhood he was never an athletic prodigy. Born in a family of blue-collar workers, Soh spent years training in his father's SAF-issued shoes until he saved enough money to buy his own pair of running shoes," it said.
---
Advertisements

---
"It was his tenacious attitude and dedication to work hard which led him to become Singapore's top marathoner today."
That's right, kids, work hard to achieve your dreams, and maybe someday, someone might offer you a year's supply of ramen.
Reader: I have finally found my goal in life.
Read Also:
Featured Image: Facebook (Takagi Ramen)

Fresh grads, you don't need any experience to earn up to $4,200 with this "secret":
Read Also: