---
Advertisements

---
Last Updated on 2022-09-20 , 6:35 pm
An interview was cancelled, shots were fired, and netizens gathered to share their opinions on the Intern vs Employer interview saga.
Whether you were on #teamintern or #teamboss, you've got to admit this episode made us more aware of the generational differences in attitudes within our workforce.
Now, it appears that the boss has gone onto his Facebook account to address the entire issue.
In case you have no idea what's going on, here's a brief rundown of what happened.
Employer Cancels Interview with Prospective Intern after She Asks for a Virtual Interview 
A Facebook user Jeffrey posted about an incident on 15 September, with the tagline: "Call me a boomer, but I seriously think our future is f***ed."
A student was looking for an internship at his company, and Jeffrey shared that she had actually left her previous company just one day after joining due to a toxic environment.
Upon reaching out to Jeffrey to ask if his company was still hiring interns, he "gave her the benefit of the doubt" and decided to grant her an interview.
Following this, she proceeded to ask Jeffrey if it was possible to have a virtual interview instead for reasons not mentioned, which clearly ticked him off.
He then decided to cancel the interview by sending her a text that read, "On second thoughts, I think let's cancel the interview. All the best."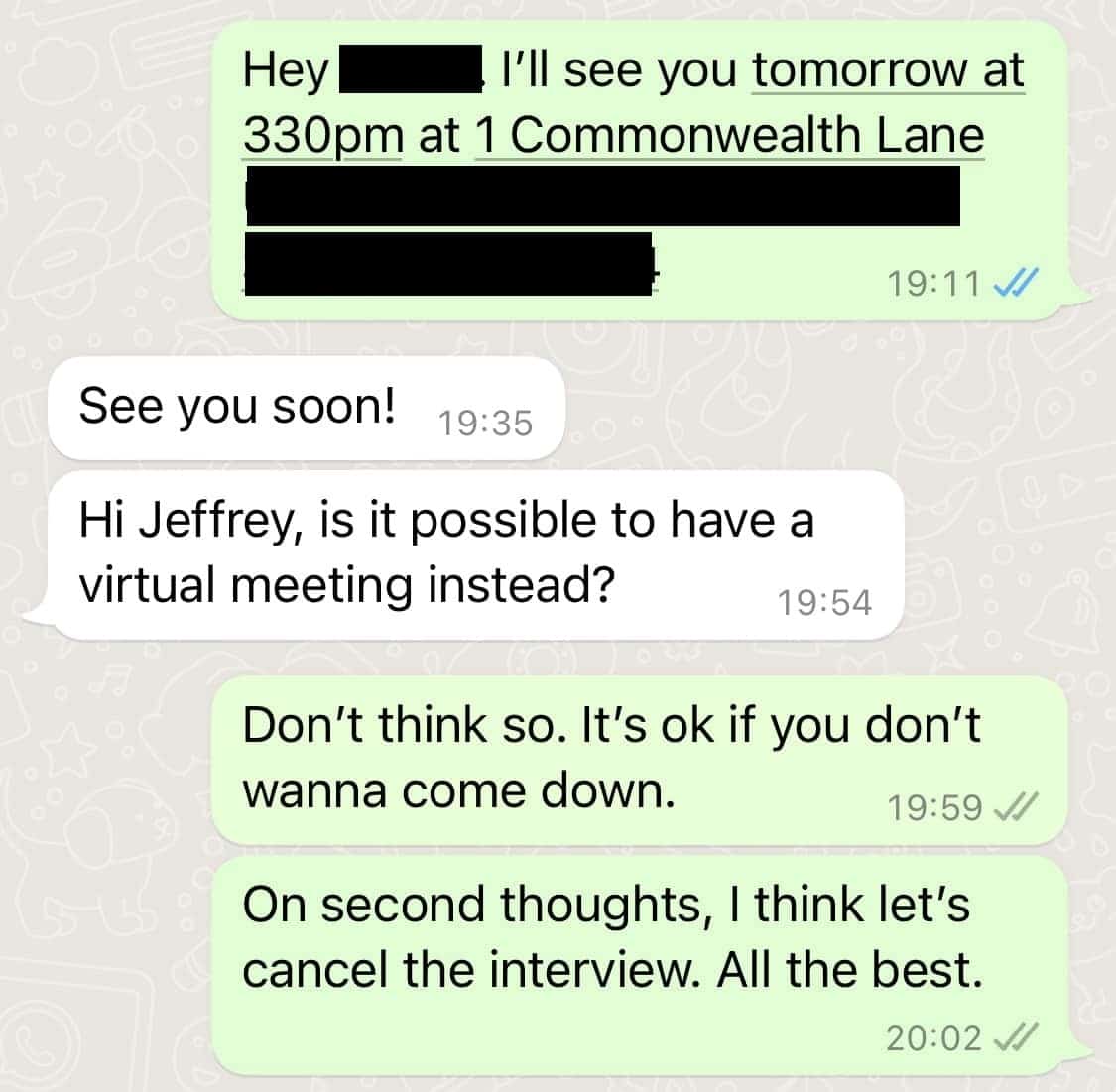 Along with posting a screenshot of the conversation on his Facebook Page, he went off on a rant about how he prefers to hire "foreigners who are hungry and hardworking to work here", and also said, "F*** all these rules and laws protecting entitled Singaporeans."
Needless to say, these strong words got some netizens got riled up, and they went on to express their views on the now viral post.
The Intern Allegedly Flaked on Jeffrey Before
In his follow-up Facebook post, Jeffrey begins by saying, "Now that I've gotten everyone's attention, it's time for some clarifications."
Of course, Jeffrey. Where there's tea, Singaporeans will be there.
He then continues to express that he has no problem hiring Singaporeans, saying, "I've been running my own little agency for the past 21 years. Over the past decades, I've hired Singaporeans whenever I can."
He goes on to say, "I've taken in interns from local institutions. Not because they're cheap labour but more to give them a taste of what the real world is like and hopefully allow them to make an informed decision when they graduate on whether this is the right career for them. Most have been lovely people to work with."
In the case of Sarah, the intern whom he cancelled the interview on, Jeffrey alleges that she had previously reached out to him to ask for an internship opportunity back in June this year, but failed to reply after Jeffrey followed up with her a week or two later.
This led him to believe that she either wasn't keen anymore or had found another company to intern at.
Hence, he was surprised to see that she had reached out again last week to ask if he was still taking in interns, as she found that the company she was interning at was "having some legal issues" and had a toxic culture that was "not for her."
Despite finding it strange that she felt this way after only a day of working at the company, he decided to arrange a meeting with her and agreed to text her his address.
19 minutes later, she asked for a virtual interview, and that was when Jeffrey admitted he "got angry and frustrated that no reason was given whatsoever" and decided that he "shouldn't bother anymore."
---
Advertisements

---
Recent Hires Led Jeffrey to Adopt a Negative View of Young Singapore Workers
In his post, Jeffrey also shared about his unpleasant experiences with working with two Singaporean interns he hired from local institutions this year.
"Something is seriously wrong when Year 3 design students come in for internships and barely know how to use Photoshop or Illustrator. These interns go for 1.5-hour lunches, oversleep when they work from home and don't give a damn about deadlines."
He went on to compare their work ethics with foreign students he's worked with before.
"It's maddening and frustrating when you see the lack of hunger vs the can-do attitude of the foreign students I came across when I was teaching part-time," he wrote.
While a sample size of two isn't enough to generalise anything, I guess we can't blame the man for being exasperated with young local hires following this incident.
What are your thoughts on the entire incident? Are you still on #teamintern or #teamboss?
---
Advertisements

---
Or do you feel called out because you too, take 1.5 hour, if not 2-hour long lunches, every day?
In the meantime, if you're #teamintern, you might want to watch this to know more about what your boss can't do to you:
Read More:
Featured Image: Facebook (Jeffrey Koh)

Fresh grads, you don't need any experience to earn up to $4,200 with this "secret":
Read Also: