---
Advertisements

---
In this day and age, there's no doubt that technology has offered us much convenience.
Unfortunately, it's also given people more ways of causing harm to others, sometimes in unfathomable ways.
Recently, some Singaporean and other Asian girls have unfortunately drawn the short end of the stick, for images of their faces have been photoshopped onto bodies in lingerie and "compromising positions".
Here's what has been happening and what the experts have to say.
One Victim Posted About Her Experience on TikTok
Recently, a TikToker with the username @ninjabread_ uploaded a video featuring her talking about her experience of being one of the victims who had her and her friends' faces photoshopped onto bodies with lingerie.
In the video, she shared that she posted an image of her and her friends wearing cheongsams (traditional Chinese dresses) when they got together during the recent Chinese New Year (CNY) period.
According to her, the group had gotten together for a potluck during CNY and took the photo to celebrate the event.
However, she later found out through one of her Instagram followers that someone had photoshopped the photo so that all the women in it were "wearing" lingerie.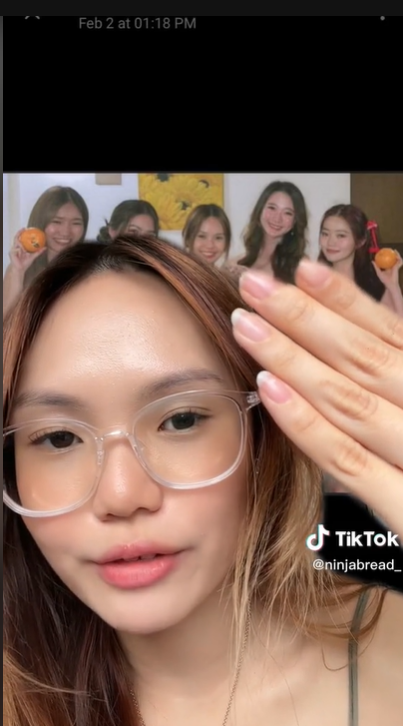 @ninjabread_, whose real name is Jordelia Tan, shared that an Instagram follower told her that the photo was being circulated in a Telegram chat.
Ms Tan, 23, expressed her shock and noted that the photo looked "quite realistic", meaning that someone had actually put effort into making the doctored photo.
She also said that she was extremely repulsed by the photoshopper's actions and kept wondering about the person's intentions behind doing so.
---
Advertisements

---
Ms Tan then mentioned that the photo was innocent, but the photoshopper made it sexual.
She also pointed out that no one should have to experience this.
Reported the Telegram Group Afterwards
According to Ms Tan, the Telegram group is called SGWikiLeaks, which apparently circulates all sorts of doctored photos featuring Asian women and girls in sexually provocative attire and positions.
In the Telegram group, it was claimed that some of the women featured in the images were Singaporean and that the group was related to another group that used to share such content as well.
(Yes, I know which group you're thinking of. You're probably thinking of a group named after a popular rice dish in Singapore that isn't chicken rice.)
After her discovery, Ms Tan reported the group on Telegram and said that she intends to file a police report soon.
More About SGWikiLeaks
According to the accounts of the SGWikiLeaks administrators, there are several Telegram chats with the same name on the messaging platform.
While most of the groups have anywhere from 4,000 to 22,000 members, the main chat group has over 26,000 members.
One of the group chats even requires members to pay a fee of US$250 (approximately S$333) for admission.
Although the location where the group is based was not disclosed, the group advertises itself as a group that provides obscene material of mostly Singaporean women.
---
Advertisements

---
Police's Response
Regarding this issue, the police confirmed that it has received reports regarding SGWikiLeaks and that investigations are ongoing.
The police also warned members of the public that transmitting obscene materials by electronic means is against the law in Singapore.
Apart from that, the police also encouraged individuals to file police reports if they are aware of such activities.
Cybersecurity Expert's Opinion
Mr Yeo Siang Tiong, the general manager for Southeast Asia at cybersecurity firm Kaspersky, mentioned that the large amount of easily accessible online data with people's faces and bodies fuels the existence of such chat groups.
This means that cybercriminals can get the photos that they want to use for photoshopping with much ease, and this also results in females being at a higher risk of falling victim to digital violence and sexual exploitation.
He added that stricter prosecution and more severe penalties should be introduced for such groups' administrators.
---
Advertisements

---
Additionally, more education for people to learn how to counter cyber exploitation should also be implemented from a young age.
AWARE's Opinion
As for Ms Kelly Leow, senior communications manager at the Association of Women for Action and Research (AWARE), she highlighted that the spreading of doctored photos in these Telegram groups likely falls under image-based sexual abuse, which is a category under technology-facilitated sexual violence.
She added that AWARE is "very concerned" with how "popular" these Telegram groups and other similar online platforms are,
According to her, 227 cases of technology-facilitated sexual violence were filed with AWARE's Sexual Assault Care Centre in 2021.
Out of the 227 cases, half of them included image-based sexual abuse.
---
Advertisements

---
Ms Leow also pointed out that even though the spreading of images does not constitute physical sexual harassment, it is no less "real" or valid than physical sexual abuse since these experiences can still be very traumatising for victims.
As a matter of fact, it might even cause even more distress for victims due to the unpredictable nature and spread of these images, as well as the impact of these actions.
SG Nasi Lemak, A Similar Group in the Past
And this isn't the first time that such Telegram groups have been set up in Singapore.
Back in 2019, four men were arrested after members of the public filed multiple reports against the SG Nasi Lemak Telegram group between March and October 2019.
The group, which was set up in November 2018, also involved the spread of obscene photos and videos. Most of the group's content apparently involved images and videos of Singaporean women.
SG Nasi Lemak, which also promoted vice activities, reached 44,000 members at its peak and required members to share pornographic material to continue being members of the group.
Eventually, 29 members were granted administrative rights within the group.
Join our Telegram channel for more entertaining and informative articles at https://t.me/goodyfeedsg or download the Goody Feed app here: https://goodyfeed.com/app/
Two of the men involved in the group pleaded guilty to possessing obscene films and were sentenced to a year of probation each in 2020.
---
Advertisements

---
In 2021, one of the group's administrators admitted to distributing obscene material, facilitating the provision of sexual services, and possessing obscene films.
The 39-year-old administrator was sentenced to nine weeks' imprisonment and was issued a fine of $26,000.
In the same year, another 27-year-old man pleaded guilty to transmitting obscene material via electronic means and possessing obscene images and was sentenced to one year of mandatory treatment.
If convicted of possessing obscene films in Singapore, individuals may face up to six months' imprisonment and a maximum fine of $20,000.
Read Also:
Featured Image: Jordelia Tan

Singapore has nearly 6 million people now,and there's a big problem. It's not about overcrowding; it's something more serious:
Read Also: