When you think of durians, you either go "It's delicious" or "Ew gross".
The polarising king of fruits is deemed delectable by some and disgusting by others mostly due to its pungent smell and creamy texture that is not for everyone.
But if you're on team #ihatedurian, you might want to reconsider your position as Thailand has just released a "non-stinky" version of Durian.
This Pak Chong-Khao Yai durian is a variety of the famous Mon Thong strain, grown in the northeastern Nakhon Ratchasima province of Thailand, the world's biggest durian exporter.
It apparently has a sweet taste, pleasantly dry and soft flesh, but most importantly, no strong smell synonymous with durians.
Still not convinced? We must admit we aren't too sure about it either.
But maybe its credentials will woo you into giving it a go.
It Was Accorded the Geographical Indication Certificate
The Geographical Indication (GI) cert is given to products which correspond to a specific geographical location and have characteristics or qualities attributable to that particular place. For instance, Scotch Whisky is registered as a GI in the European Union. Champagne, the sparkling wine which was traditionally produced in Champagne, France, has since been awarded a GI status in both the French province and Cambodia.
The local governer, Chusak Chunkoh, along with Thai authorities, presented the GI certificates to 39 farms in the Khao Yai and Pak Chong areas during the Pak Chong-Khao Yai GI Durian Festival last weekend. This comes after the Department of Intellectual Property had registered the Pak Chong-Khao Yai variety as a GI product last year.
The fruity festivities were sweetened by a durian showcase, allowing guests to indulge in the durian harvest. Apparently, durian connoisseurs who attended had nothing but praises for the new variety.
In the event which was co-hosted by the Tourism Authority of Thailand, Miss Universe Thailand beauty queens were also present, and we're guessing they savoured fruit buffet as well.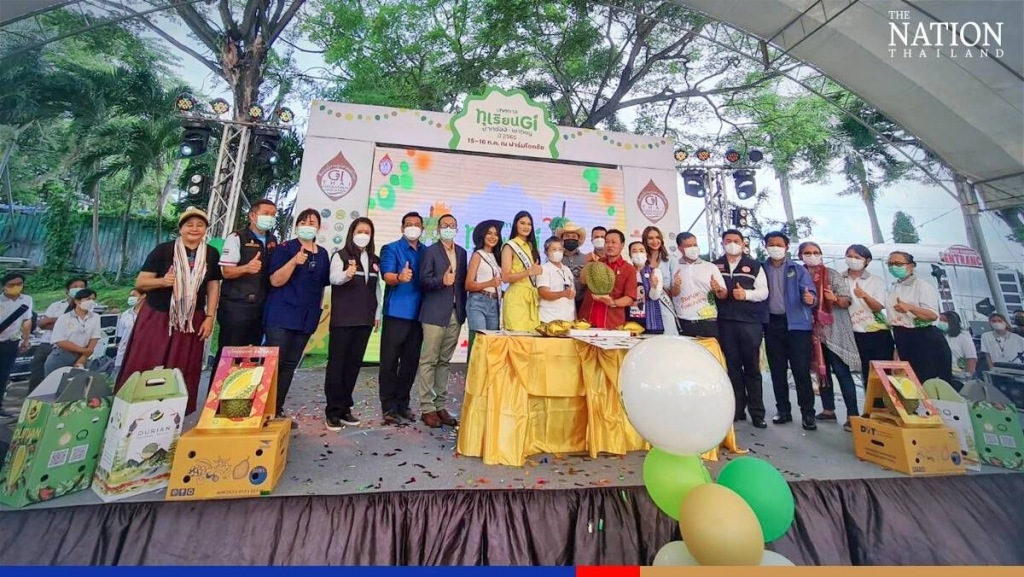 A Fruit that's Been Ousted from Our Transport Systems
The equally loved and loathed fruit finds its origins in Southeast Asia, but due to its overpowering smell, is also banned on public transport and commercial indoor spaces in multiple countries in the region.
Thailand, Japan, and Hong Kong are amongst the list of places where you can get a fine for attempting to transport a durian on a public train or bus.
Those who gag at the sight of the spiky fruit have often compared the pungent smell to smelly feet, or even raw sewage. Some durian lovers wholeheartedly disagree:
One user, Richie Liang, wrote on Facebook that "A durian without its smell is nothing but an empty shell with no essence."
He also compared a "durian without its unique smell" to "a human being who has lost his or her soul."
---
Advertisements
---
It might be a tad bit dramatic, but it's safe to say he speaks on behalf of all durian lovers.
We also aren't sure if removing the smell might make it completely palatable for those who dislike eating durian, and I mean it could just end up tasting like an egg tart, but at least it's a start.
Read More:
Featured Image: Jerome Quek / shutterstock.com
---
A new virus has been identified in China, and it's infected 35 people. Would it be the next COVID-19? Watch this and you'd know: