---
Advertisements

---
It's not just us who are losing faith in e-scooter riders.
It's everybody in Singapore, including some e-scooter riders themselves.
After all, you can argue that it's just a small minority of e-scooter riders who are the bad eggs.
But one thing you got to admit is that their numbers are increasing.
That's if you infer from the fact that PMD-related accidents tripled.
So when this made the news, we're not surprised at all.
In fact, it's about time this was brought up.
But before that, let's look at something…lighter first. In fact, so light, you can't see it.
First, Transparent Tea. Now, Asahi Is Selling Transparent Coffee
In case you missed it, transparent ice lemon tea exists.
As well as transparent milk tea.
And now, there's transparent coffee as well.
Brewery and soft drink company Asahi released their drink, the Asahi Clear Latte from Delicious Water, earlier this month.
To make it taste like coffee, it contains espresso extract, milk ingredient components and whey mineral concentrate.
Soranews24, who reports on all things Japan said that the drink tastes like any other latte drinks, except that it has an "understated, semi-sweet bitter" aftertaste.
Another Japanese media outlet, Grape, said that people might find it more diluted compared to most iced coffees.
But really, compared to the drink, I'm loving the promotional video more instead.
Only in the free Goody Feed App:
Study Shows That Sengkang, Tampines & Sembawang Are The Most Expensive Places To Makan At in S'pore
So you live in one of these places? Well, good luck: a study just showed that the cai pngs there are the most expensive in Singapore. As for the cheapest places? Download our free app to read this app-exclusive article (it's not in our website or Facebook):
NTU Professor: Ban E-Scooters From Footpaths Coz They Can Kill People
Even if e-scooters are travelling at the legal speed limit of 15km/h, a collision with a pedestrian will still result in serious injuries.
The force generated will be about 800 joules, 9 times the force of an average person's punch.
---
Advertisements

---
That's enough to send a healthy adult male flying.
But that's not the worst of it.
If the person falls down headfirst, his skull will hit the ground at the speed of 15 to 20km/h or higher.
That's equal to 1.5 to 2 tonnes of force on the back of your head.
Possible consequences?
"Serious head injuries such as loss of consciousness, skull fracture, haemorrhage, tissue damage and so on," said Professor Yap Fook Fah from the School of Mechanical & Aerospace Engineering at Nanyang Technological University.
---
Advertisements

---
And if you're having a bad day, the rider might land on you.
Then it's GGWP.
Riders Unable To Stop in Time
Channelnewsasia also conducted a reaction test for e-scooter riders.
And this was what they found: Stopping or braking in time, even at the legal speed limit, isn't easy.
It took the rider 1.65 to 3.2m to come to a stop.
---
Advertisements

---
And when the rider was asked to ride at the speed of 25km/h, it took her 7m to stop her e-scooter.
By which time, it's already GGWP.
And when you add immature riders into the mix, accidents are just going to end up in tragedy.
So what say you? Ban them off the footpaths?
But remember, they're not just a nuisance on the footpaths. They're also pretty troublesome on the roads as well.
ComfortDelgro Buying New Taxis Might Indicate A Return To The Good Old Days
Taxi companies like ComfortDelgro might be seeing better days ahead.
On 7 May, ComfortDelgro announced that they'll be getting an additional 200 hybrid Hyundai Ioniqs for its fleet of taxis.
---
Advertisements

---
This is their first purchase after one and a half years and is due to the "growing line of would-be hirers".
They said that they had three hundred new hirers who signed up with them in the month of April.
Channelnewsasia reported that more private-hire drivers are considering switching back to the taxi business as they're finding it more stable compared to their private-hire days.
Experts spoken to were positive about the situation, even going as far as to say that the worst days of taxi companies are over.
Which the private-hire industry now stabilising, the taxi industry can also expect their revenue to stabilise as well.
As for Grab?
They said that their job as a technology company is to provide a platform for drivers, merchants and other partners in an efficient manner.
That and bring down the everyday costs for drivers and offer better welfare support.
Cutest McDonald's Delivery Ever Will Make Your Day
If you've worked in the service line before, you'd have been bombarded with weird requests from time to time.
But then, you'd get super cute requests like this.
On 17 May, Facebook user Amanda Tay decided to write something quirky on her special request for a McDelivery order.
She asked for a drawing of a dinosaur on a napkin.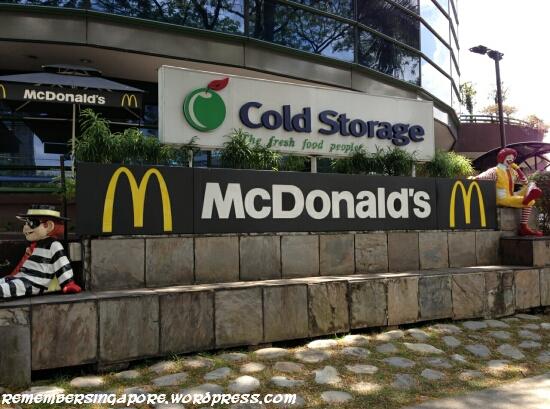 She didn't think that anything will come out of it.
Because it's ridiculous, right?
But then, she received this.
The drawing was signed off by the BWC team.
Whoever said that customer service standard has to suck in Singapore?
It's stories like these that make us want to appreciate them even more, no?
As for Amanda Tay, she's looking forward to her next McDelivery liao. We are, too.
S'pore's New Singing Competition, SPOP Sing! Looking For Aspiring Singers Aged 13 to 25
Do you dream of making money and singing on stage?
Do you feel like you have a voice that's meant to be shared with an entire nation?
Would you want to be the next JJ Lin or Stefanie Sun?
If you're between the age of 13 to 25 years old, you have the chance to do so liao.
Mediacorp is embarking on its next talent search for singers via the new show, SPOP Sing! where contestants reinvent local songs.
They want to showcase local music compositions, find the next voice which will put Singapore on the Mandopop map.
Nathan Hartono, Joanna Dong and Boon Hui Lu will be there to guide talented young singers hoping to break into the music scene.
You can find out more here.
Remember ah, if you heard about this competition from us and you happen to go far in the competition, must come to the office and sing for us leh.
Good luck!
14-Year-Old Teen Arrested For Trespassing With Airsoft Gun
On 21 May 2018, it was reported that a teenager trespassed onto private property.
He scaled the metal fence surrounding the property with a gun in his hand.
Three people at the scene were frightened and called the police immediately.
About 20 officers were deployed to the scene where they found the teen and placed him under arrest.
It was discovered that the "gun" he was holding onto was an airsoft gun, which requires a license to possess under the Arm and Explosives Act.
If he was found guilty of possessing it without a license, he could be jailed up to three years, fined up to $5,000, or both.
Remember, your age won't excuse you from all punishments. No matter whether you're 14 or a 40-year-old, you might still get into hot soup.
---
Always bored during your commute to and fro work or school? Here's the best solution: download our app for new articles, Facebook videos and YouTube videos that are updated daily…and most importantly, exclusive contents that are only available in our app! It's your perfect companion for your daily commute!

Fresh grads, you don't need any experience to earn up to $4,200 with this "secret":
Read Also: