---
Advertisements

---
Last Updated on 2023-06-12 , 9:30 am
Do you know that TikTok trend for "reasons why we can't go to war"? A uniquely Singaporean edition would be this: If your buddy accidentally touches someone else, you'd get so caught up flaming him that you'll forget to shoot the enemy.
Wong Li Lin recently found herself in Singaporeans' crosshairs after being caught on video "touching" Cristiano Ronaldo.
She has since responded by defending her actions.
Wong Li Lin Goes Viral For "Touching" Cristiano Ronaldo at Botanic Gardens
Last week, the Portuguese football star Cristiano Ronaldo visited Singapore to support his kaki Peter Lim's scholarship. The football star drew crowds of fans when he was spotted at Botanic Gardens on Friday (2 June).
The world's only tropical garden to be honoured as a UNESCO World Heritage Site is found in Singapore. There I visited my friend's NParks – Peter Lim tree. And met the beneficiaries of the NParks – Peter Lim Scholarship. Thank you for your love and support! Don't forget keep… pic.twitter.com/YJOhFG1urT

— Cristiano Ronaldo (@Cristiano) June 2, 2023
On Wednesday (7 June), a viral video surfaced on TikTok showing Cristiano Ronaldo taking a group photo with his fans at Botanic Gardens.
The catch? His heartbreaker smile could be seen fading off his face in the video, and for a good reason—netizens speculate he was irritated by Wong Li Lin, the auntie clinging onto his arm in the clip.
A smaller group of netizens theorised that Cristiano Ronaldo wasn't irritated by Wong Li Lin touching him but merely gesturing for his security guards to move away.
Or perhaps he was just dulan with the hot and humid weather or the mosquitos at Botanic Gardens.
---
Advertisements

---
What's your take on the reason behind Cristiano Ronaldo's expression in the viral video? You can read more about netizens' theories here.
Wong Li Lin Defends Her Actions of "Touching" Cristiano Ronaldo in Viral Video
Despite the media personality's initial silence, she has since responded to netizens' uproar on Friday (9 June), but not with an apology.
Instead, Wong Li Lin defends her actions in the viral video.
It sounds a little like what Jocelyn Chia did—perhaps it's a trend among "cancelled" Singaporeans now?
Join our Telegram channel for more entertaining and informative articles at https://t.me/goodyfeedsg or follow us on Twitter : https://twitter.com/goodyfeed
According to Lianhe Zaobao, Wong Li Lin shared that as the chief executive of Mint Media Sports, the event organiser, she had to be by Cristiano Ronaldo's side during the Botanic Gardens event.
The 50-year-old explained that although she did hold the football star's arm, she only did so to guide him through the steps of the event.
Wong Li Lin emphasised that she did not touch Cristiano Ronaldo beyond holding his arm.
It doesn't seem like she's apologetic for her actions—the TV personality even posted a photo of the pair on her Instagram last week.
View this post on Instagram
Suffice it to say; netizens weren't very happy with this Instagram post either. Her comments section was similarly flooded with netizens accusing her of making Cristiano Ronaldo uncomfortable with her "touching".
---
Advertisements

---
Regardless, Wong Li Lin brushed off all such negative comments in her interview with Lianhe Zaobao. The former actress and host merely explained that should others be in her shoes, they would similarly want to interact with the football legend.
It just so happens that this was her interaction with Cristiano Ronaldo.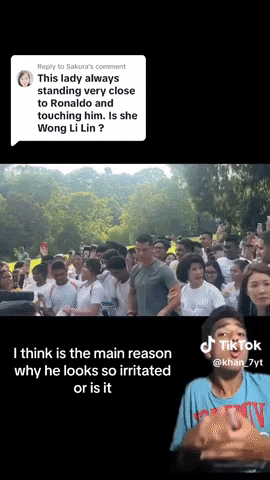 Tough luck.
What do you think? Are you Team Wong Li Lin or Team Netizens?

Here's a rather unexpected timeline of the $2.8 billion money laundering case in Singapore as revealed by Minister Josephine Teo during a parliament sitting on 3 October 2023:
Read Also: